Chicken and egg noodles are a classic combination that may be found in many cuisines throughout the world. From traditional chicken noodle soup to innovative fusion creations, these 15 chicken noodle recipes are excellent for a night in or a get-together with friends and family.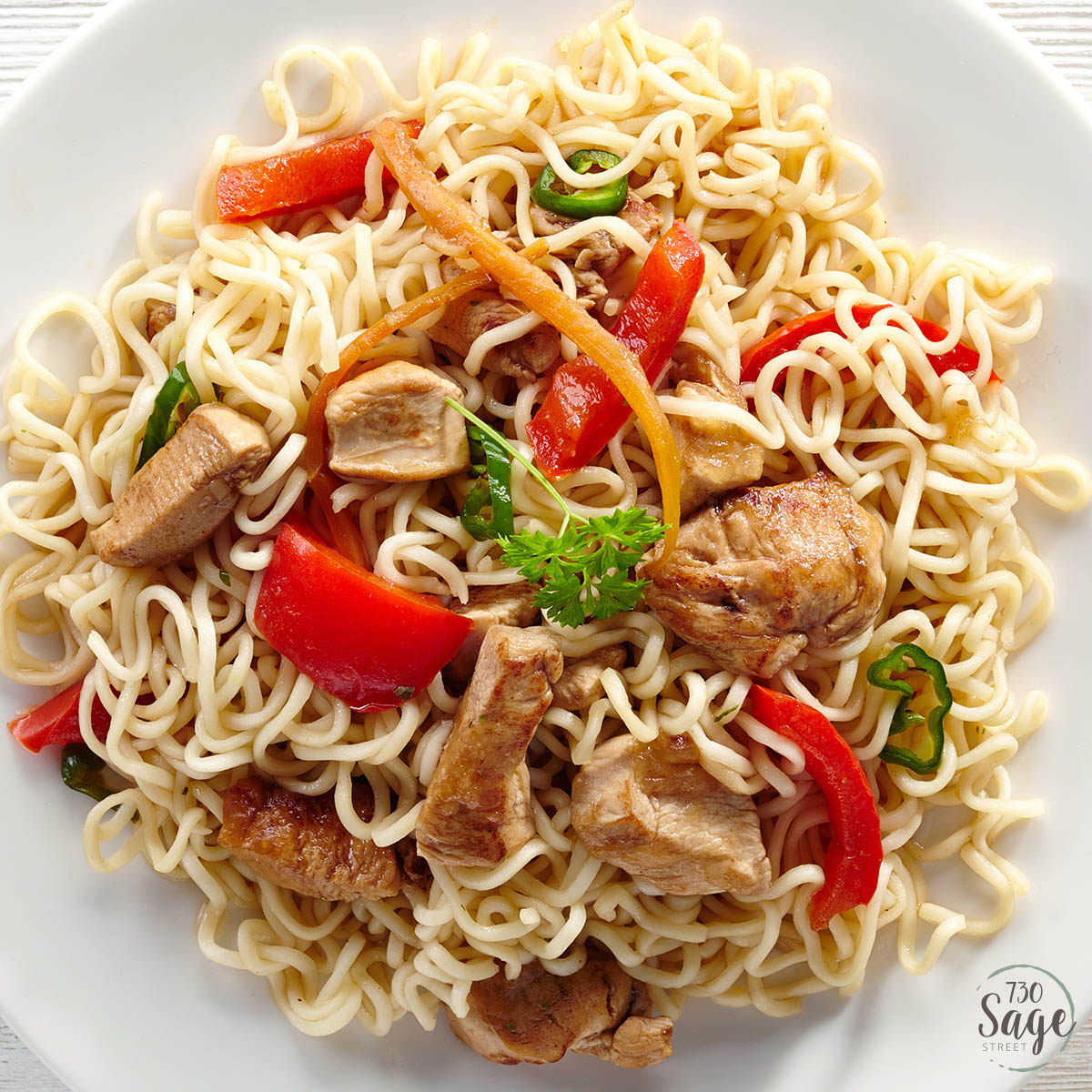 These 15 egg noodle chicken recipes, from basic to creative, will wow your taste senses:
This recipe for Quick Hungarian Chicken Paprikash is like taking a trip to Hungary via your taste sensations. The traditional sweet paprika adds flavor to the tender chicken, while the creamy sour cream sauce coats each broad egg noodle in a blanket of deliciousness.
As we enjoy each bite, let's think about Hungary's rolling hills and pretty villages and feel the warmth and comfort of this classic dish. Don't be afraid to spice things up with some Hungarian hot paprika, but be careful not to overwhelm the dish. Enjoy this simple yet satisfying meal with friends and family, and let it transport you to another world.
Chicken Stroganoff is a robust and tasty supper that will warm you up on a winter evening with its familiar tastes, so get ready to enjoy. Chicken breasts are slow-cooked to tenderness in a delicious broth with onions and mushrooms for extra flavor. The sour cream and dijon mustard sauce is the ideal complement to this traditional meal.
Let the flavors dance on your tongue as you serve it over a bed of airy egg noodles or mashed potatoes. Every taste will take you back to a time when you were snuggled up in a log cabin with your loved ones. For added color and flavor, finish with a sprinkling of minced parsley.
This Chicken Noodle Casserole recipe will take you back to simpler times and is excellent for a night in with loved ones. Deliciously fulfilling taste comes from the mixture of delicate egg noodles, shredded chicken, peas, carrots, and corn. The silky smoothness of the sauce comes from a combination of cream of chicken and cream of mushroom soups.
The aromas and tastes will remind you of your grandmother's famous casserole from your youth. Garlic powder and Italian seasoning are just two of the warming spices that elevate the taste of every meal. Enjoy the love and comfort it provides to your household by serving it hot and bubbling right out of the oven.
With its satisfying blend of tastes and textures, this Chicken Lo Mein dish is sure to be a hit with your dinner guests. The sesame oil adds a nutty taste to the perfectly cooked Chinese egg noodles. Shredded cabbage, thinly sliced onions, and carrots are added to a sauté of tender chicken breast, red bell peppers, ginger, and garlic.
The umami depth of the meal comes from a homemade sauce of soy sauce, water, cornstarch, vegetable oil, and oyster sauce. Lastly, bean sprouts are added so that every mouthful is a delicious delight.
You can't go wrong with this simple recipe for traditional Hungarian chicken paprikash. Coated in flour and browned, chicken breasts and thighs are then cooked in a sauce made from sweet paprika, salt, pepper, and chicken stock. Sour cream improves the meal tremendously by giving it a creamy texture and tangy flavor.
Enjoy the ideal harmony of tastes and textures by serving this wonderful mixture over No Yolks wide egg noodles. The robust flavors and generous servings in this dish will please even the pickiest eater.
Quick and simple, this Chicken and Egg Noodles dish is ideal for weeknights when time is of the essence. The ideal egg noodles are paired with soft pieces of cooked chicken, frozen veggies, condensed chicken soup, and milk to provide a warm and satisfying meal.
To get a harmonious flavor profile, season with salt and pepper to suit. If you're looking for a recipe that can feed a crowd yet is still simple to make, go no further; serve this hearty supper to your loved ones tonight.
The soft chicken breasts in this Chicken Piccata with Buttery Lemon Noodles recipe are coated in flour and fried in a combination of butter and oil till golden brown, creating a dish that is a joy for the taste senses. Capers give a wonderful acidity, and the dish's depth of flavor comes from a sauce prepared with garlic, chicken broth, white wine, lemon juice, and heavy cream.
For a bright and tangy taste, combine the cooked pasta with butter, parsley, lemon zest, and lemon juice. This recipe is guaranteed to please and wow your visitors when served with a handful of arugula, shaved Parmesan and chopped parsley.
A simple and delicious supper choice is this Creamy Italian Chicken with Spaghetti. Fettuccine noodles are prepared in a rich and creamy sauce made from low-sodium chicken broth and flavorful Alfredo sauce. Chicken, either raw or from a rotisserie, is added for nutrition and texture, while Parmesan cheese and chopped parsley brighten things up visually and flavorfully.
To make the spaghetti more creamier, melt some cream cheese and toss it in. Add salt and pepper to taste and serve immediately for a fast and fulfilling supper the entire family will love. This is especially useful on weeknights when you're in a rush but still want to eat well.
Delicious and versatile, this Chicken Stir-Fry Noodles dish is ideal for any gathering. Stir-fried with shredded cabbage, carrots, and a delicious spice combination made from soy sauce, oyster sauce, Worcestershire sauce, and Shaoxing wine, these fresh egg noodles are cooked to perfection.
Protein and taste come from bite-sized chunks of marinated chicken, while color and freshness come from toasted sesame seeds and chopped scallions. When combined with the ingredients, the noodles create a dish that is both flavorful and filling, so serve it hot and share it with your loved ones.
This recipe for Khao Soi Curry Noodles mixes delicate pieces of chicken with fragrant red curry paste, coconut milk, and a mixture of ingredients including curry powder, turmeric, fish sauce, and lime juice to create a mouthwatering and aromatic meal suitable for a comfortable night in.
The fresh egg noodles provide a great foundation for the curry's robust flavors, and the toppings of cilantro, bean sprouts, green onions, and fried noodles give the meal some welcome textural contrast. Add some Thai chili paste (Nam Prik Pao) on top if you like things hot. The fried noodles are a nice, crunchy addition that is simple to create.
Try this healthier take on Chicken Tetrazzini made with egg noodles and sweet Italian chicken sausage. Every mouthful is bursting with the savory flavors of brown mushrooms, onions, garlic, and peas that have been seasoned with salt and black pepper.
The thickened milk and stock mixture is poured over the egg noodles, making for a satisfying and flavorful dish. To finish it off, it's cooked till golden brown and topped with Italian bread crumbs, dried parsley, and grated Parmesan cheese. This traditional comfort food is ideal for a Sunday night dinner with the family.
Noodle Kugel is a timeless dessert that may be enjoyed year-round. It consists of cooked egg noodles tossed in butter and blended with a smooth combination of cream cheese, sugar, and eggs. This dish's rich texture and subtle sweetness come from evaporated milk, whole milk, and golden raisins.
This dish, baked to perfection, is a custardy delicacy that will have you and your guests begging for more. Don't pass up the opportunity to enjoy this classic dish.
Prepare to have your taste senses blown by this delicious Chicken and Broccoli Noodles dish! Chicken thighs and breasts are cut thinly and then marinated before being stir-fried. Finally, a delightful vegetable medley is made by sautéing onions and delicate broccoli together.
Add egg or wheat noodles and a stir-fry sauce with oyster sauce, soy sauce, vinegar, and sesame oil for a delicious and nutritious dinner. This recipe takes inspiration from Asian cuisine and is guaranteed to wow. For added crunch, top with spring onions or sesame seeds.
Get ready for a million-dollar taste with this Chicken Noodle Bake! This meal is not only creamy and substantial, but it is also likely to be a hit at whatever gathering you serve it at, whether it is an intimate supper with the family or a potluck with friends. This casserole is seasoned with onion and garlic powder, and it is topped with crispy French fried onions for the ideal crunch.
It is made with cooked chicken, egg noodles, cream of chicken soup, and a combination of creamy cheeses. This delicacy, which is baked until it reaches bubbling perfection, will make you feel like a million dollars with each delectable mouthful that you take.
Everyone in the household will go crazy over this Chicken Pot Pie Noodle Skillet. Chicken cubes are tossed with tender egg noodles in a sauce of butter, onion, garlic, peas, and carrots. This skillet, with its perfect blend of seasonings, is ideal for a warm and comforting midweek dinner.
This is a terrific way to repurpose leftover chicken and takes very little time to prepare. Enjoy the goodness while it's still hot!
How Do I Cook Egg Noodles For These Recipes?
Cook the egg noodles according to the package instructions until they are al dente, which means cooked but still firm. To do so, bring a pot of salted water to a boil and add the egg noodles. Cook them for about 5-7 minutes, stirring occasionally.
Once they are done, drain them in a colander and rinse them with cold water to stop the cooking process. You can also toss them with a little bit of oil to prevent them from sticking together.
Can I Swap Egg Noodles For Other Noodles In These Recipes?
If you're not a fan of egg noodles, there are other types of noodles that can be used in these recipes. Here are some options:
Spaghetti: a popular noodle that works well in many dishes, it can be cooked to different levels of doneness, from al dente to soft.
Linguine: a thinner version of spaghetti that is often paired with seafood or cream-based sauces.
Udon noodles: thick and chewy Japanese noodles that are perfect for soups or stir-fries.
Rice noodles: gluten-free and versatile, they are commonly used in Asian cuisine and can be served in soups, salads, or stir-fries.
Ramen noodles: originally from Japan, these thin, curly noodles are perfect for soups and stir-fries and come in many different flavors.