When it comes to having a baby, one of the most important things every new mom needs is a stroller and an infant car seat. These 2 things will be such an important mode of transport for the first 6-9 months (or more) of your baby's life, at least for the infant car seat. The stroller will be something that could last for years!
But not every stroller is created equal and when you are a mom on the go, the right stroller can make all the difference.
Now, I no longer have babies but my sister-in-law just had her second child in November. The poor boy was stuck in a pink car seat and stroller handed down from his older sister so I figured this was a good way to get her new son into something just for him.
Eddie Bauer Trail Hiker 3 Wheel Travel System
This travel system is designed for the family on-the-go!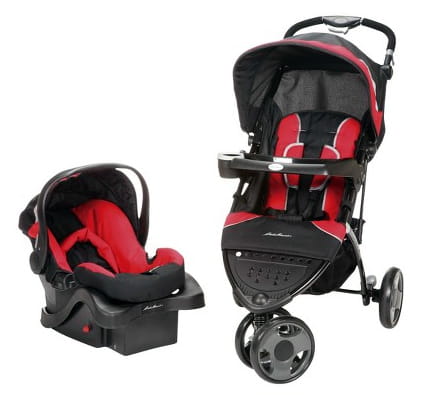 The Trail Hiker travel system is a one stop shop for your baby from birth to 50lbs. It features a one hand fold for easy transporting and has a parent organizer try with 2 cup holders & covered compartment for anything you might need to take on the go!

Car seat features include:

Featuring SureFit 35 Infant Seat via Quick Click™ acceptance
4 to 35lb occupant capacity for extended use
Side Impact Protection
Infant head support
Adjustable stay-in-car base

Stroller features include:

Multi-position seat recline
2-section adjustable canopy
Child snack tray with cup holder
5 point restraint system
Stroller holds child up to 50 lbs
Now, it's hard in Indiana in the middle of winter, especially with a newborn, to fully review a travel system, but we did the best we could to use as many of the features as possible. They have used the car seat much more than the stroller so far.
First of all, the color is spectacular. The red and black are very attractive and the fabric seems quite durable.
Car seat
The car seat features are listed above, but it fits snugly into the base and has side impact protection which is so much extra peace-of-mind that the baby is being protected in case of an accident. My sister-in-law really likes the car seat but it doesn't fit correctly into her small car. It does fit into their mid-sized SUV but in the Saturn sedan the front seat does not move far enough up to put the seat at the right angle on the back seat (per the level on the seat) for an infant. This is not a problem with other seats so it seems like maybe this one is longer.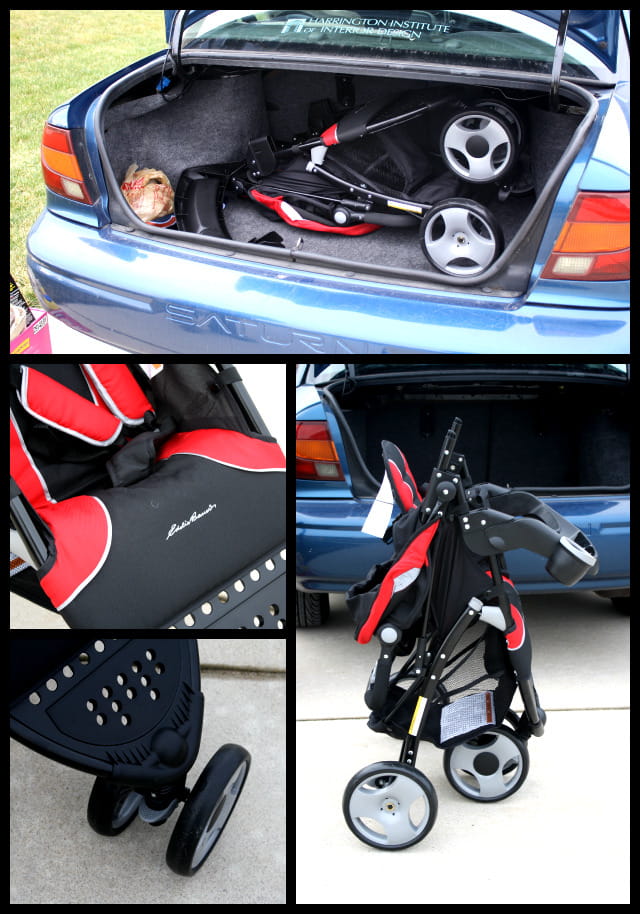 The grey cover is an accessory they added, I didn't want to wake him up so I left it on for the picture. He seems quite content in the seat!
Because it is a travel system, the car seat does snap into the stroller so you don't have to remove the baby from the seat to put them in the stroller.
Stroller
I took the stroller for a few turns around the driveway (empty as it was too cold for baby) and was impressed with the feel of it. It maneuvers so easy and the single front wheel makes it easier to push on not-so-smooth surfaces and up and down curbs and other obstacles.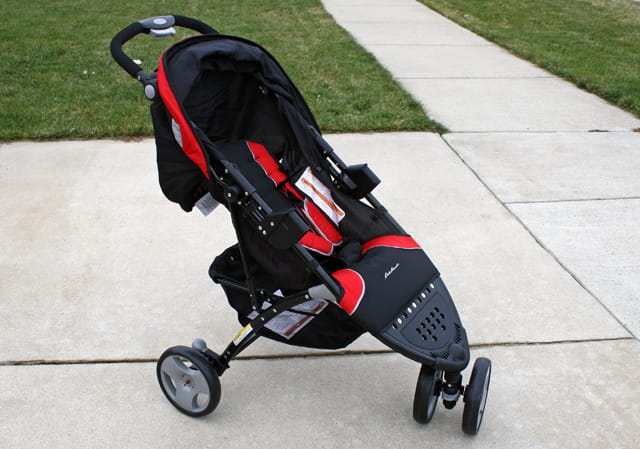 The basket seem quite roomy, there is ample storage and cup holders in the console (she likes the covered compartment) and it has an adjustable handle which is a great feature to have considering most people aren't the same height or don't have the same impression of what is comfortable. It makes sure it is easy for everyone to push.
My sister-in-law said the stroller is easy to fold and it does fit in her small trunk – but only if you remove the child's tray from the front of the stroller. The tray sticks out pretty far and the trunk will not close with the tray on.
Overall they will get some great use out of this system. The seat will hold a child up to 35 lbs (I bet her 4 year old daughter barely weighs that) and the stroller will hold him up to 50 lbs. With safety experts recommending kids stay rear facing for longer, they should get a lot of use out of that seat, and the stroller, well, my 5 year old daughter doesn't even exceed the weight limit so they should get a lot of use out of it as well.
Where to buy
The Eddie Bauer Trail Hiker 3 Wheel Travel System is available exclusively at Target for $249.99.
Note: we received the product shown to facilitate our review. Opinions expressed are our own.
Join our newsletter!
Subscribe to get updates and great stuff via email including subscriber-only goodies like free printables and giveaways.