EatSmart Precision GoFit Digital Body Fat Scale
I weigh myself almost every day.  I guess I am obsessed with it.  For me, even though they recommend that you only weight yourself weekly, I found that daily weighing motivates me more to eat better each day.  I still only log and count my weight on Friday mornings as accurate, but the rest of the week I use it as a guide.
Because I am currently doing an extreme fitness program called Insanity, weight is no longer as important a factor.  Now, body fat and muscle mass matter more than weight because as I build muscle and burn fat, I am actually gaining weight.  So I need a scale that will tell the whole picture because weight alone is not enough for anyone to use as a gauge of their overall fitness.
The EatSmart Precision GoFit Digital Body Fat Scale is perfect for my needs!
The EatSmart Precision GoFit quickly and easily measures body fat, body water, body muscle and bone mass using our newest ITO BIA technology. BIA sends a safe, low level electrical current through your body which allows your Precision GoFit to analyze your body in real time. The touch screen interface and automatic person identifier makes it one of the most user friendly bathroom scales on the market today. Tracking your goals has never been easier!

Features

Measuring Functions: %Body Fat, % Total Body Water, % Muscle Mass and Bone Mass
Proprietary Automatic User Identification Technology; Stores personal data for up to 8 users
EatSmart "Step-On" Technology – Get instant readings!
Large 3.5″ Blue LCD display with white backlight – Easy to read.
4 High Precision Sensors – Consistent and accurate measurement
Measurement Modes: Pounds / Kilos
Graduation Increments of .2 lbs. / .1kg
Ultra thin, sleek design with high quality tempered glass platform
Max Weight: 400 lbs / 180 kgs
Auto Calibrated; Includes 4 AAA batteries
This scale does just about everything you need a scale to do.  It records your weight, your % body fat, % total body water, % muscle mass AND bone mass.  Every day I can see exactly how my fitness regimen is changing my body on the inside.
(Disclaimer, I was fully clothed and holding my digital SLR while standing on the scale.  I had to add that in because when I first read the weight I panicked thinking I had gained over 6 lbs overnight!)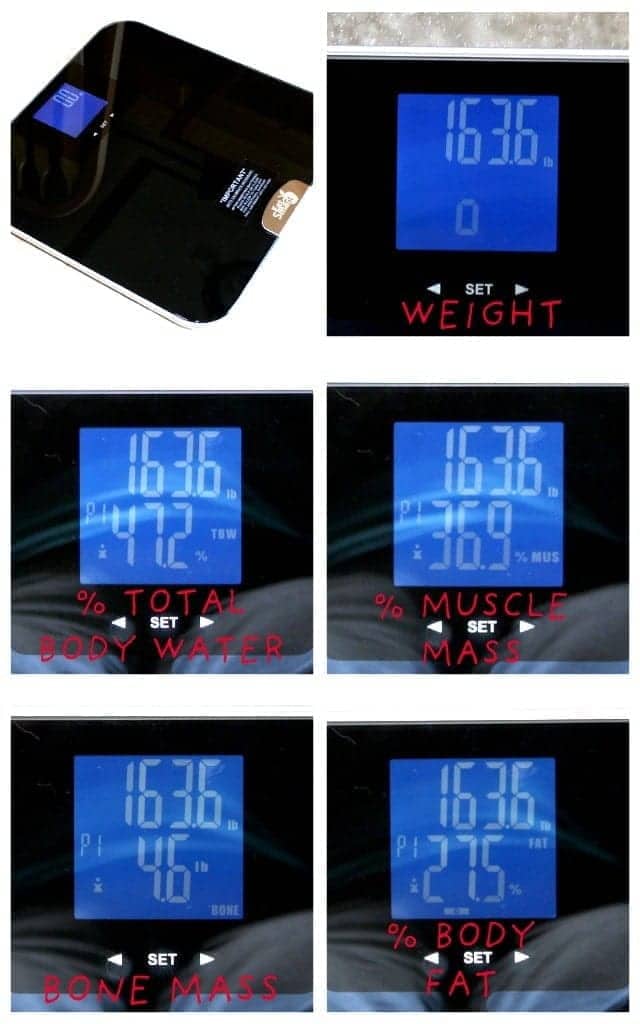 I really, really, really like this scale.
In addition to all the different things it measures, here are some other reasons why:
The size.  It's thin and sleek and pretty and fits perfectly behind my bathroom door leaning against the wall.  We have a tiny bathroom and this is important.
The glass top is not freezing cold when you step on it like a previous scale I had with metal sensors for measuring body fat.
Uses 4 AA batteries, no more weird expensive battery size that I can't find at a normal store.
The whole family can use it because it stores personal data for up to 8 people!
It's light and thin but also seems very sturdy and durable.
One feature this scale does not have, that I thought I would miss, is the ability to track the CHANGE in my weight and percentages from the last time I stepped on the scale.  I really was skeptical that I would not like the scale because of that, but honestly it doesn't matter.  In order to get the big picture, knowing what your last weight or last body fat % was, while important, doesn't tell the whole story.  You need to write the numbers down as you embark on your fitness journey so you can compare them to measurements from when you started.  So I have a small notebook that I use to write down all the numbers so as I progress I can compare not only to the LAST measurement, but to ALL of my measurements.
I'm currently using the EatSmart Precision GoFit Digital Body Fat Scale to track my muscle mass and body fat.  Because of the extreme workout program I am participating in, and the results I have seen with increased muscle strength and reduced waist and hip circumference, having this scale really gives me a detailed look at exactly what is happening on the inside of my body as I watch the changes on the outside.  It seems to be accurate, at least as far as registering the changes.  I haven't used it long enough yet to have enough of a comparison, but if it is like the other EatSmart product I own, the EatSmart Precision Pro Digital Kitchen Scale, it is accurate and reliable and will be something we use for years to come.
You can purchase the EatSmart Precision GoFit Digital Body Fat Scale at Amazon.com.
For more information about EatSmart and their quality products:
Twitter @EatSmartScales (link: https://www.twitter.com/eatsmartscales)
LIKE EatSmart Products on Facebook (link: https://on.fb.me/d3MFHO)
Note: I received the product indicated in order to facilitate my review.