One of the biggest challenges we face as moms who are trying to improve our families diets is how to eat healthy on-the-go, but Mott's is coming to the rescue with their Mott's Snack & Go Applesauce.
In my house when it's time to go somewhere, we scramble to make sure the dogs go outside, that they have water, toys and there is nothing they won't destroy or eat.  We make sure the kids go potty, we lock doors, we grab water bottles because it's been hot out, and we head out.
We rarely take into account what time it is or when we last ate.
And inevitably we are gone longer than we expected and are faced with whiney children.
Take a listen to this:


THAT is why most parents give in and just grab fast food or junk from the check-out lane. Imagine trying to shop and hearing that over and over and over again.
Now, I understand that kids are not easy to please either.  And younger kids you can't just hand them a banana or an apple and expect them to eat it unsupervised.  Some healthy snacks just aren't practical for on-the-go.
But all hope is not lost.
You CAN avoid fast food and check-out lane snacks while out and about with your kids.
There are 2 easy steps.
The first step I can't help you with.  You have to put on your big, mean, mommy hat and just say no.  It's hard at first but eventually they will stop asking.  As much.
For the second step, I totally have your back and I have provided a whole list of great options for you to make it not only possible for you to eat healthy on-the-go, but easy.
Before I get to the list, you have to realize that this requires some planning in order to be successful.  You have to prep snacks ahead of time or allow an extra 10 minutes or so before you leave to prepare food to take with you.  Once you do it a few times it will become a habit and you will realize that it's really not difficult at all.
I also recommend you have a small reusable cooler bag and a couple of ice packs in easy reach.  For drinks we usually fill up insulated BPA-free water bottles for ourselves.  They were an investment but my kids love having their own water bottle with them where ever we go.  I no longer hear "I'm thirsty" – EVER.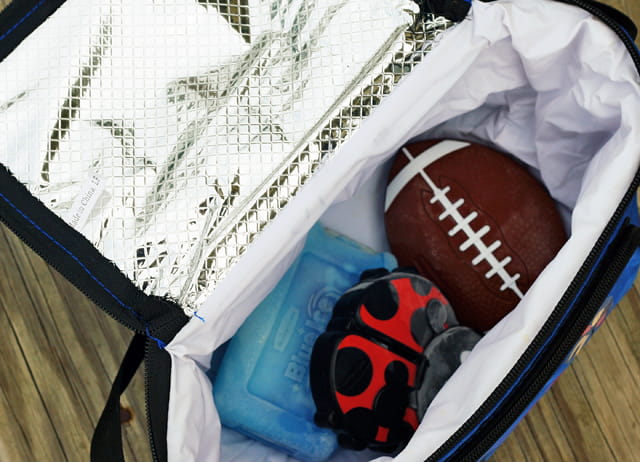 Healthy On-The-Go Kid's Snack Ideas
Cut up a block of cheese into bite sized pieces
String cheese
Portable yogurt tubes
100% juice boxes (or the water bottle idea I mentioned above)
Fruit leather
Raisins
Yogurt covered raisins
A baggie filled with their favorite healthy cereal (granola with dried fruit is a great option)
Granola / nutrition bar (look for brands with no HFCS and with only a few ingredients)
Baby carrots
Cut up an apple into slices
Grape tomatoes
Cucumber slices
Grapes
Handful of nuts
Hard boiled eggs
Popped popcorn
Squeezable no sugar added fruit pouches
I have found that when I provide my kids with CHOICES, even if they are all healthy choices, they respond much better and are more content when we bring our own snacks.  Think of the Japanese Bento idea when you are preparing it.  Also, remember, if you need to make a lunch instead of a snack, you can use the same types of food, just put more of them or a bit bigger quantities.  Think outside the box!
As I mentioned earlier, Mott's is helping us make providing healthy snacks easier with their applesauce pouches.
The pouches come in 2 varieties, natural and strawberry.  Both of them are designed to be healthy options for busy families on-the-go and have only 40 calories per pouch.
Mott's Snack & Go Applesauce Pouches have a taste kids love in a convenient package for on the go. They also have no added sugar and are an excellent source of Vitamin C. Find out more here.
These pouches are grab-and-go and are a great alternative to fast food and unhealthy sugar-filled snacks.  Kids love the shape and the function of the package, and of course, they love the taste of applesauce. Everybody wins!  And with a buy-one box, get-one free coupon, you also get a great deal too.  Click here for the coupon.
So, do you pack snacks when you are out and about with your kids or do you often find yourself stopping for fast food or buying last minute junk food in the check-out lane  at the store?  If you pack snacks, what do you include?  If you don't, what's stopping you?
Note: I received compensation for my participation in the Mott's Snack & Go campaign.
Join our newsletter!
Subscribe to get updates and great stuff via email including subscriber-only goodies like free printables and giveaways.