This low carb slow cooker shredded beef recipe was created as part of a sponsored post for SheSpeaks/Rubbermaid® #StoredBrilliantly
Note: make sure you scroll down for the recipe, and down even further for a great giveaway!
I've mentioned it before recently, but I'm going to talk about it again.
Baseball season.
It's baseball season which means a lot of evenings where I need something quick for dinner. Something that is easy but delicious. Something that also doesn't require a ton of cleanup because we most likely are rushing out to a game right after we eat.
Which is why I am so happy to have Rubbermaid BRILLIANCE storage containers to use for food prep and storage.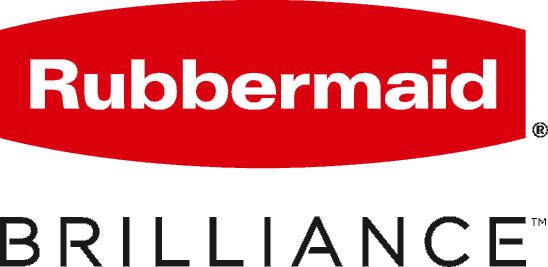 Rubbermaid BRILLIANCE food storage containers are perfect for busy families. You can use for meal prep, to store prepared meals, heat prepared meals (in the microwave) and then store any leftovers afterwards. They are leak-proof, crystal clear so you can see what's in them and are stain-resistant so they won't change colors or hold odors. They come in five sizes that stack together making them great for keeping your fridge organized. They are BPA-free as well!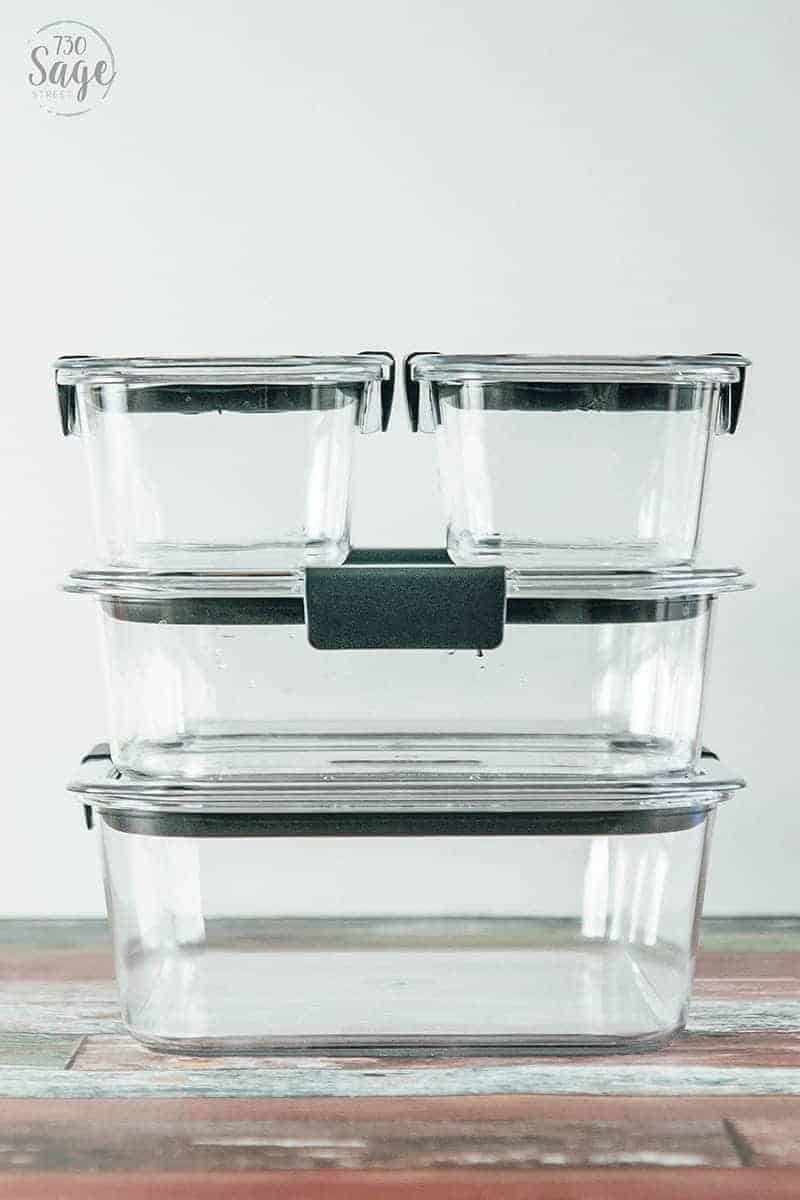 Rubbermaid BRILLIANCE leak-proof food storage containers made it easy for me to create my low carb slow cooker shredded beef recipe and have all of the fixins' ready ahead of time so when the meat was done in the slow cooker, I could just shred and serve. And cleanup was a breeze because I just put the lids back on the containers, and put them in the fridge.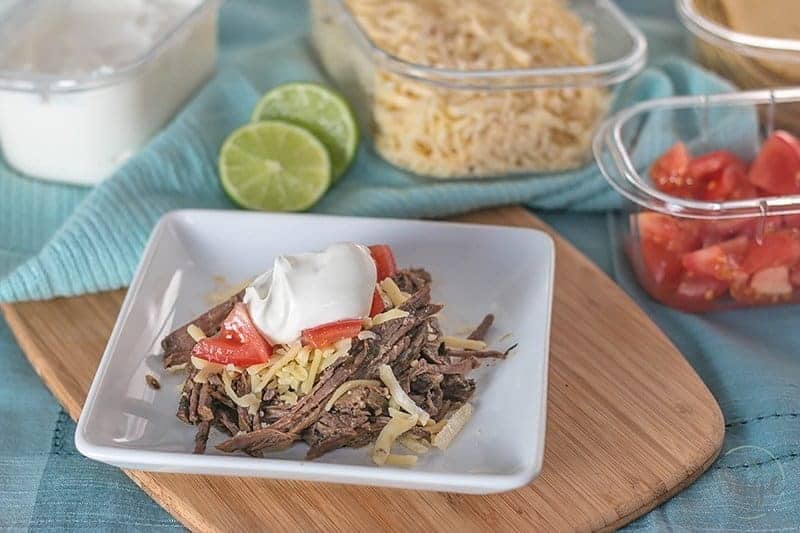 I used a large Rubbermaid BRILLIANCE container to prep the beef for cooking. I added a bit of oil and Kosher salt to the meat and let it rest in a container for a few minutes before searing in a pan. It was the perfect solution!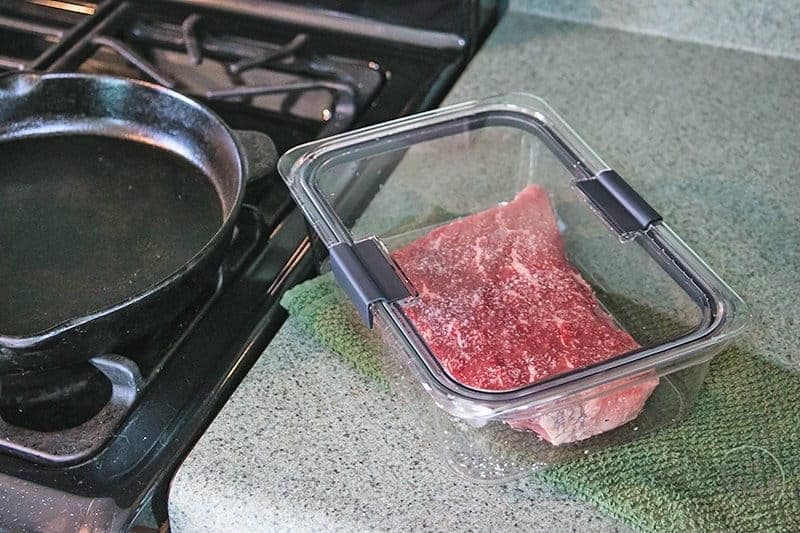 Once the meat was seared, I added all of the ingredients to the slow cooker.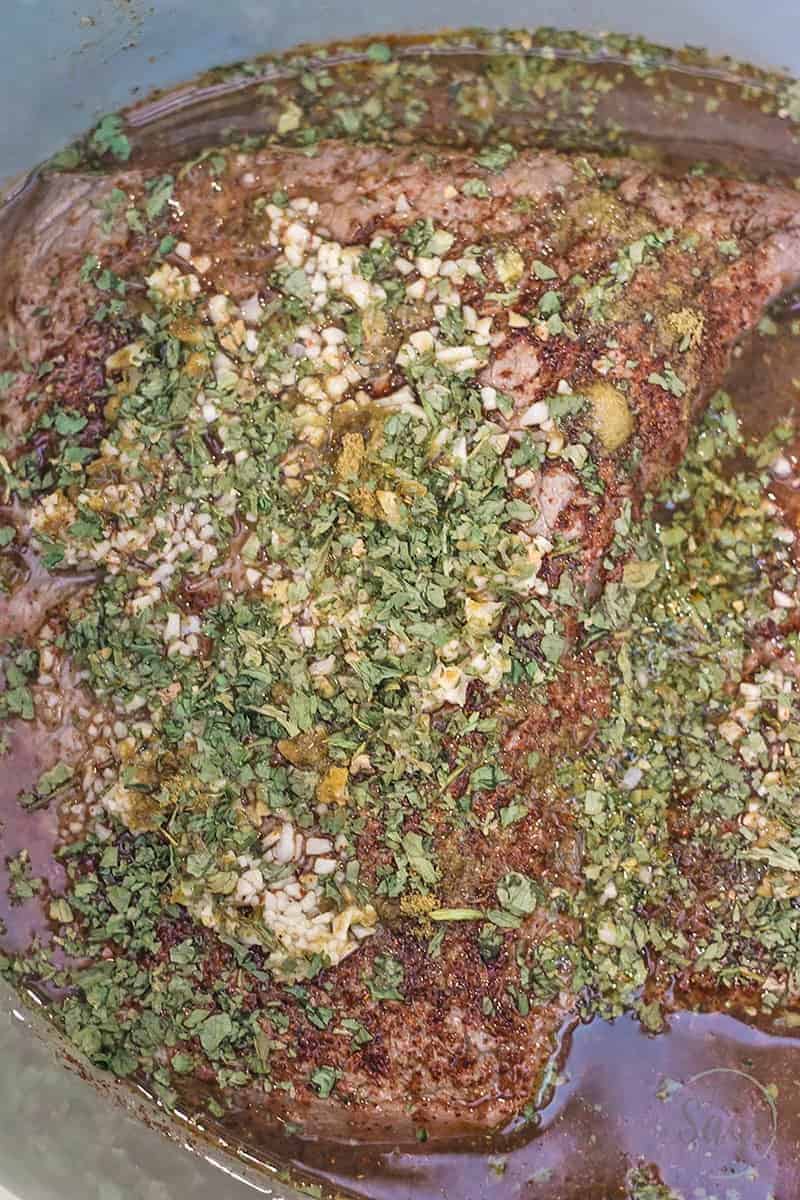 I then prepped the remaining dinner ingredients in the smaller Rubbermaid BRILLIANCE containers and put them in the fridge.
At dinner time, I removed the meat from the slow cooker and shredded it.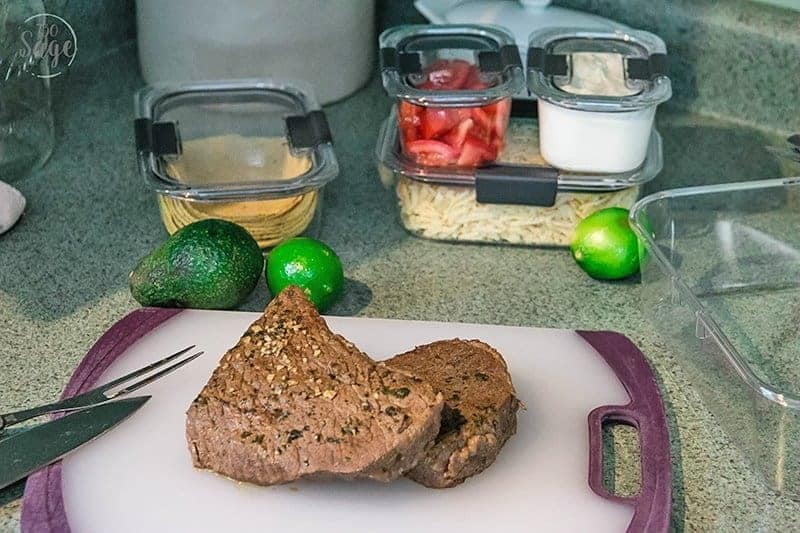 Then I added the meat and sauce to a large Rubbermaid BRILLIANCE container (after washing it from the raw meat).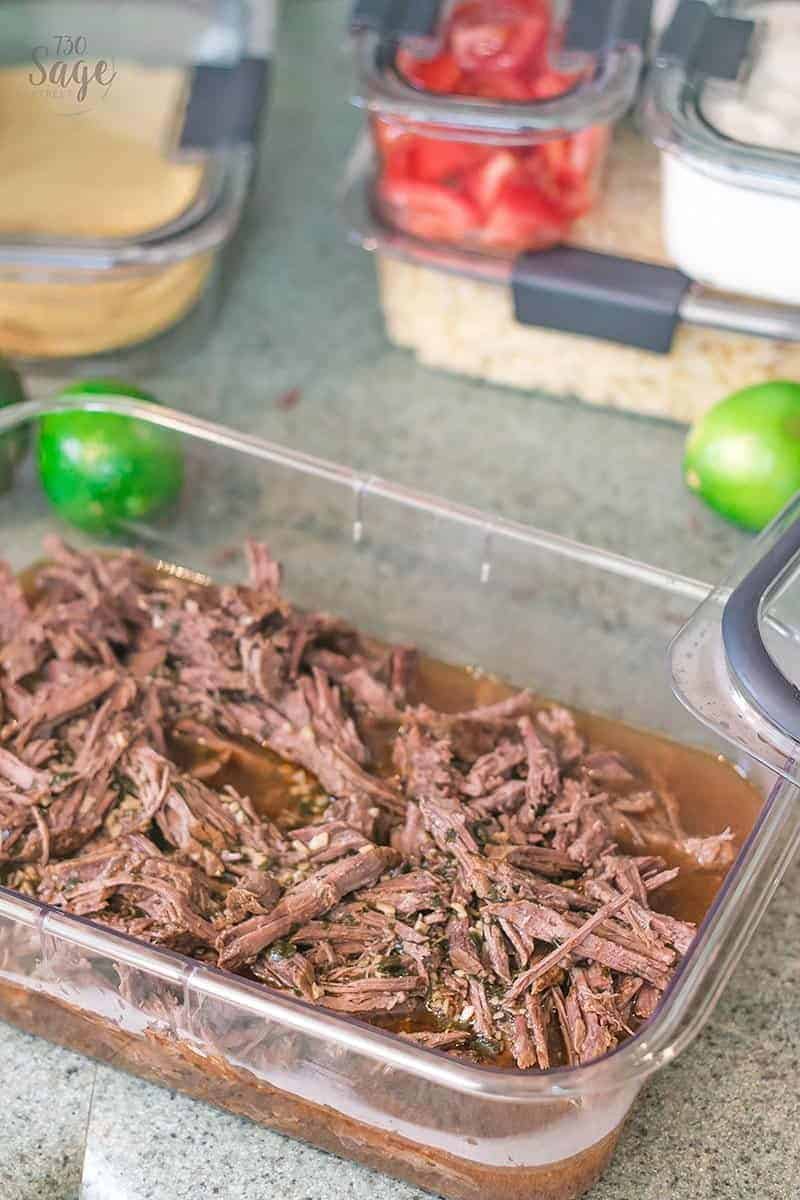 Then serve!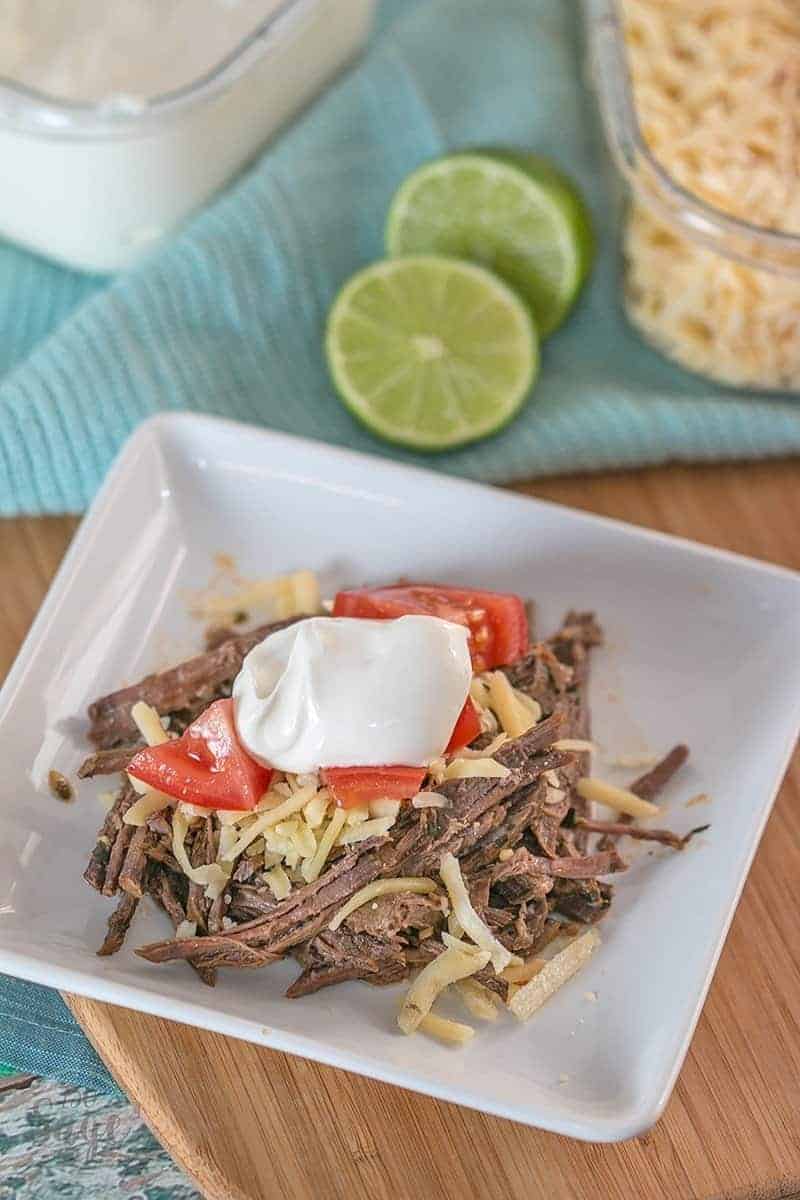 Low Carb Slow Cooker Shredded Beef – Chili Lime Barbacoa
(scroll to end of post for nutrition)
This. Was. Delicious.
I will definitely be adding this to my menu rotation, it was so good. Even my picky daughter liked it.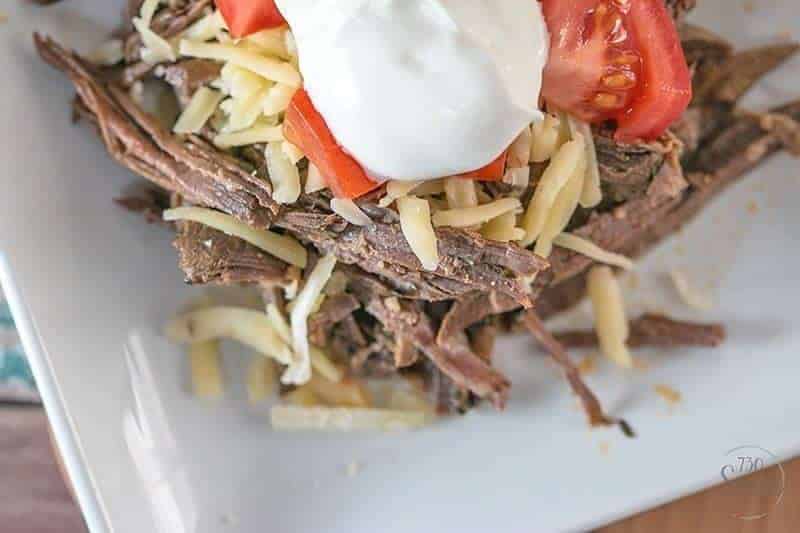 I served it to my kids with tortillas, I enjoyed it more as a "bowl" with my favorite toppings. You could add lettuce, avocado, whatever!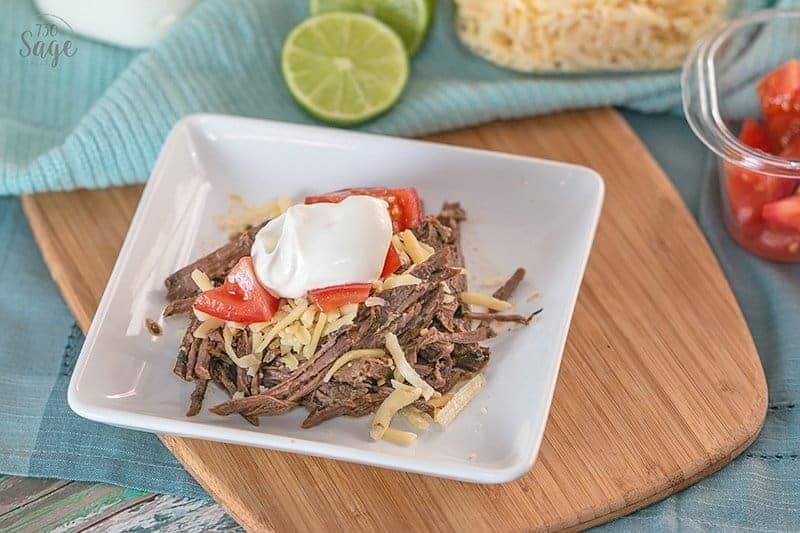 When we were done, I simply popped the lids back on the Rubbermaid BRILLIANCE containers and popped them back in the fridge. Lunch for the next day! These containers really are leak proof (my floor can tell quite a story – I dropped the one with the meat in it – no leaks) and I love the sound the seal makes when you put the lid on and close it. Whoosh!
For more information about Rubbermaid BRILLIANCE you can visit their website or follow their social channels below:
Twitter: @Rubbermaid
Instagram: @Rubbermaid
Facebook: facebook.com/Rubbermaid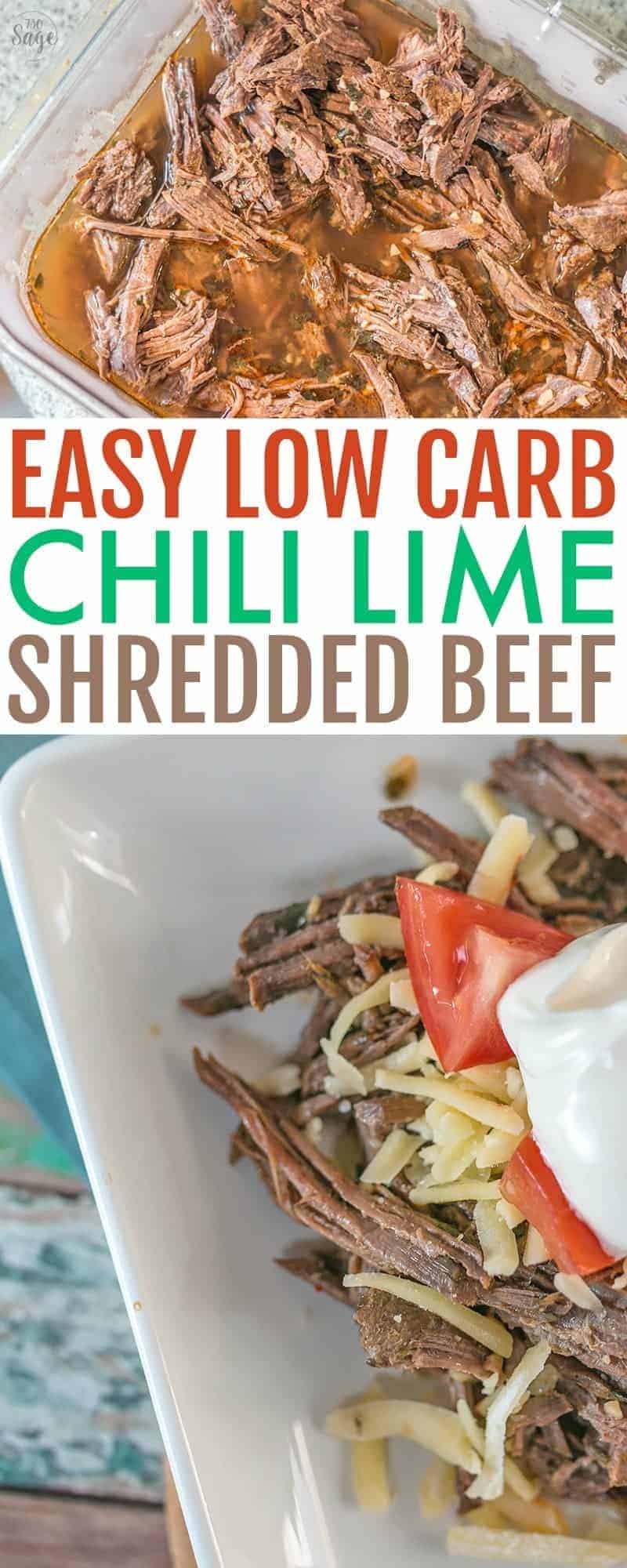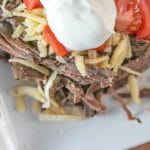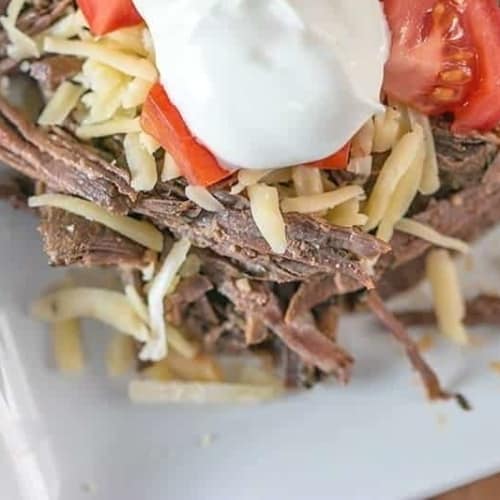 Easy Low Carb Slow Cooker Chili Lime Shredded Beef
Print
Ingredients
2 1/2

lbs

round steak

I used top round

2

tbsp

avocado oil

or other healthy oil

2

tbsp

Kosher salt

1 to 2

tbsp

chili powder

1 1/2

tsp

cumin

1

tbsp

dried cilantro

2

tbsp

minced garlic

1/4

cup

lime juice

2

cups

beef or vegetable stock
Instructions
Rub 1 tbsp avocado oil on both sides of steak and coat with kosher salt.

Let sit in a closed container for 10-15 minutes.

In the meantime, preheat a skillet over medium high heat with 1 tbsp olive oil.

Sear meat on both sides, 1-2 minutes per side.

Place seared meat in slow cooker.

Coat top of steak with chili powder, then flip and coat the other side. Add garlic, cumin, cilantro and minced garlic to the top of the meat.

Slowly pour lime juice around the sides of the meat, trying to keep the seasonings on top.

Slowly add broth around the meat, again trying to keep the seasonings on top of the meat.

Cook on low for 4-6 hours.

Remove meat from slow cooker and shred with two forks. It should shred easily. Place meat back in slow cooker or put meat and sauce in another container to serve.
Nutrition information is for information only. I do not guarantee its accuracy.