These 35 easy leftover steak recipes are just perfect to make delicious meals using your beef leftovers from the night before.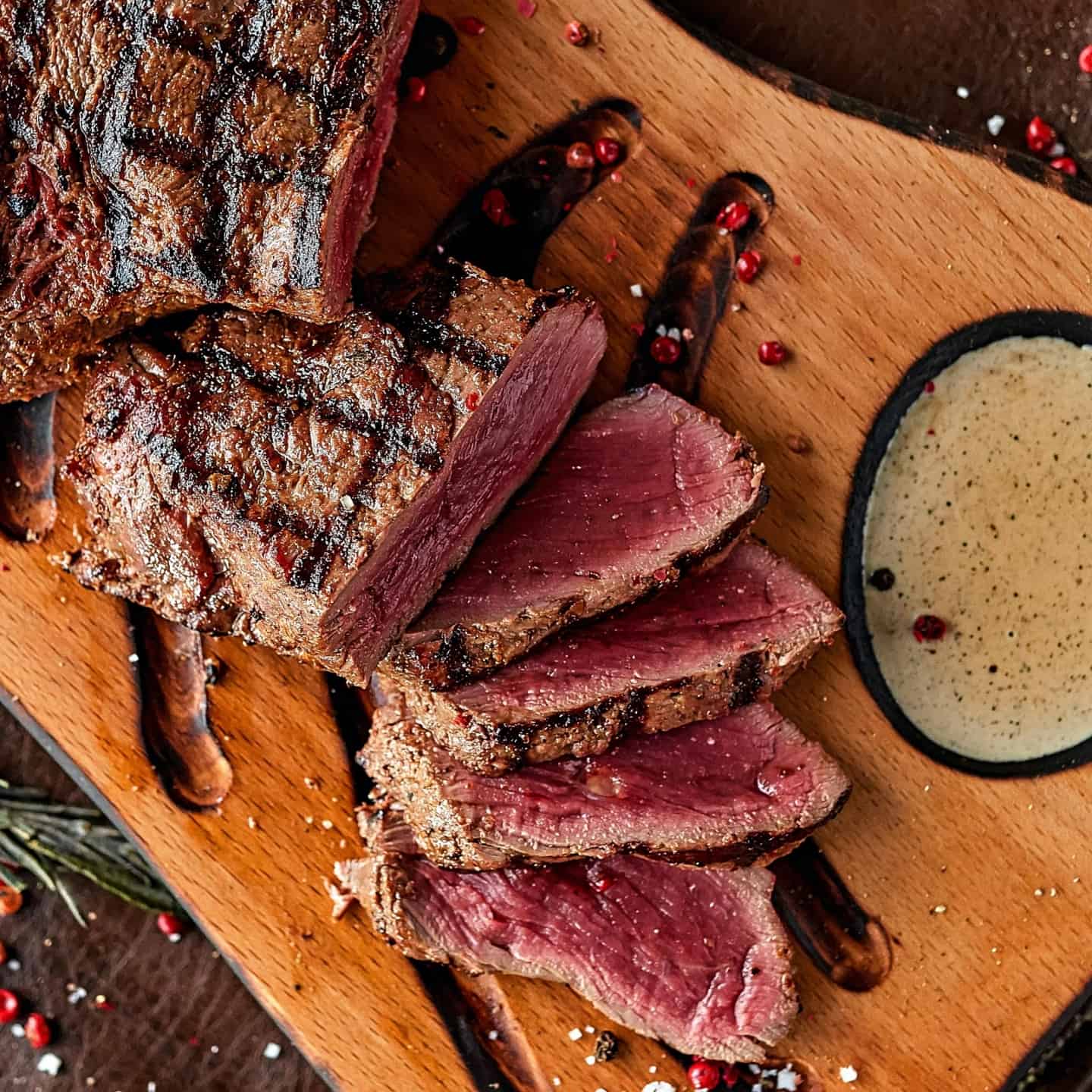 Whether you're looking for a new way to use up that extra meat or just want some hearty, filling recipes, we've got you covered.
You can also use smoked beef recipes for any of these recipes. By saying that, check out my mouth-watering smoked beef plate ribs, smoked beef back ribs and smoked tri tip recipe.
🙋 Frequently asked questions
How many days is Leftover Steak good For?
If you store your leftover steak in an airtight container, leftover steak can last in the fridge for three to four days or in the freezer for four to six months.
How do you revive leftover steak?
The best way to revive leftover steak without making it dry is to heat a skillet and place the steak in the pan away from the heat source, and add ¼ cup of water to the pan with the lid on to steam it. This will make sure the steak stays juicy in the middle.
All of these recipes are easy to follow and can be on the table in no time. So go ahead and give them a try!
One way to make use of any leftover steak is to make a good old classic stew that oozes with flavor.
This recipe works with any tender steak from last night's steak dinner and takes 2 hours to cook this stew with some hearty vegetables simmered in a delicious broth made with red wine, cream of mushroom soup, onion mix, and beef stock.
Serve it with some crusty bread to dip into the gravy.
If you're looking for leftover steak ideas, look no further than steak enchiladas!
These enchiladas are filled with shredded steak, black beans, bell peppers, corn, and cheese, then smothered in enchilada sauce.
They're easy to make and always a hit with family and friends.
Leftover steak recipes don't get any easier than a classic beef stroganoff.
This classic creamy dish is made with minimal ingredients like sour cream, spices, precooked steak, and mushroom soup.
The creamy sauce is absolutely delicious and perfect served over egg noodles or mashed potatoes to soak up the sauce. It's guaranteed to be a hit with your guests!
Start your the right way with a tasty steak and egg scramble breakfast!
This recipe is easy to make and only takes a few minutes to cook up. Simply chop your leftover cooked steak and eggs into a skillet and scramble everything together.
Top it with some shredded cheese and freshly chopped parsley for an extra special touch.
This recipe for leftover steak fried rice is so tasty and just as good as your local Chinese restaurant's fried rice dish. Fried rice is a classic dish that's easy to make and always a hit with the family.
Simply add some leftover flank steak or sirloin steak to a skillet with cooked rice, garlic, peas, eggs, and mushrooms, and fry everything together. Season it with soy sauce and sesame oil for an authentic flavor.
These Mexican street corn nachos are full of flavor and perfect for Mexican night!
The nachos are loaded with tender slices of steak and fresh street corn sauce of fire-roasted corn, jalapenos, mayo, spices, and sour cream.
They're assembled with the crunchy corn tortillas on the bottom and covered with the tender steak, equites mixture, avocado slices, and cotija cheese.
Tacos are always a favorite for dinner, and even more so when they are ready to eat in 15 minutes, like these steak tacos with roasted chipotle salsa.
They're so easy to make and one of the best ways to use up juicy leftover steak. These tacos are made with a homemade spicy chipotle salsa, and delicious steak reheated in a beefy sauce.
Then just assemble the taco shells with your favorite taco toppings of radish, Pico de Gallo, onions, avocado, cilantro, and a squeeze of lime juice.
If you love mac and cheese, you will be in heaven with this smokey-flavored brisket mac and cheese variation.
It's one of the best leftover steak recipes on this list and has layers of flavors from the smoked brisket, melted cheese, cooked pasta, and green chiles.
This is one recipe you'll definitely be making again and again. It's packed with cheese and meat for a hearty dinner everyone will love!
Steak and mushroom pot pie is one of the best comfort foods for any time of the year and works well with leftover steaks.
This recipe consists of sautéed mushrooms, cooked steak, and a thickened beef gravy that's baked with a layer of puff pastry.
The delicious golden puff pastry combined with the creamy mushroom and steak sauce is such a delicious meal and ready to eat in under 1 hour.
This amazing recipe is a great way to turn leftover steak into an amazing steak and gorgonzola cheese pizza.
Who can say no to a fresh homemade pizza with delicious slices of leftover ribeye steak, melted cheese, and a delicious pizza sauce?
Unlike most pizzas that are cooked in a pizza oven, this one is grilled to give the dough grill marks and a crispy bottom. If you have never tried tender beef and gorgonzola together, you should. It's a crowd pleaser!
Unlike most steak sandwiches that take minutes to assemble, this prime rib steak sandwich requires a bit more effort and time, but I promise, it is worth it!
If you have leftover prime rib, then great. If not, you can use any leftover tender steak. This hearty sandwich is made with provolone cheese, arugula, caramelized onions, sliced steak, and a creamy horseradish sauce.
Use French baguettes or sourdough baguettes to fill with the sandwich ingredients.
All you need is 7 ingredients for this super easy steak pizza with horseradish cream sauce and cheddar cheese.
The combination of soft ciabatta bread with a homemade horseradish roux, leftover sliced grilled steak, and melted cheddar cheese is heavenly and such an easy way to prepare a pizza without pizza dough.
You can use other types of bread to prepare the cheat pizza, but it works best with ciabatta as it is wider and can hold more sauce and ingredients. Give it a try, I guarantee you'll love the leftover steak and creamy sauce combo.
If you only have a small amount of leftover steak in the fridge, this last night's dinner steak hash recipe is the perfect meal to make with it.
Hash is a mixture of leftovers that is usually eaten for breakfast, lunch, brunch, or even dinner sometimes, and is the best way to reheat leftover steak and potatoes from the night before with some minced garlic, cream, spices, and herbs.
It's quick to make, and everything is thrown together in one skillet.
Italian flavors come together in this fettuccine leftover steak alfredo recipe to create a comforting dish the whole family can enjoy.
Alfredo is a creamy sauce made with cherry tomatoes, garlic, parmesan cheese, spinach, and fresh herbs. The addition of perfectly cooked steak makes this dish even more hearty and filling.
It's a delicious way to use up any leftover steak you might have.
Think of steak and mushroom pie, but in soup form, and that's exactly what this leftover steak soup recipe is.
Even if you have tough steak leftover from last night's dinner, with a few hours of simmering in this soup, it will become melt-in-your-mouth, and the intense mushroom flavor will absorb right into the meat.
Mushroom and beef recipes are always a classic combination, and this hearty broth soup is perfect for an easy weeknight dinner.
All the flavors in this Southwestern steak salad recipe come together to create a delicious and satisfying meal.
The salad is made with crisp lettuce, black beans, bell peppers, grape tomatoes, avocado, queso fresco, cilantro, and a juicy steak. It's then tossed in a homemade spicy vinaigrette made with lime juice, olive oil, garlic, and spices.
This salad is perfect for a quick lunch or dinner and is sure to be a hit with the whole family.
This gorgonzola steak salad is sure to become a family favorite recipe!
Use leftover steak, grab some garden salad ingredients, and make a simple balsamic vinaigrette to drizzle over it. it's a simple light meal that is perfect for those hot summer months.
It's a hearty salad with a healthy steak sliced thin. Place leftover steaks on a bed of lettuce with bell peppers, cherry tomatoes, and crumbled blue cheese, and drizzle over the sweet vinaigrette for a cool salad that is perfect for lunch or dinner.
Leftover steak recipes are great for gameday, and steak frachos is the best meal to prepare for everyone to munch on.
Frachos is similar to nachos but with French fries instead of tortilla chips. This recipe uses leftover skirt steak, but you can use grilled flank steak or ribeye steak to top the fries.
The only other ingredients you'll need are shredded cheddar cheese and some chimichurri sauce to drizzle over the top. You'll probably need to double or triple the recipe, as frachos go pretty quick once it's on the table.
Use leftover steak to make steak lettuce wraps for a healthy lunch recipe that is flavorful and easy to make.
Lettuce roll-ups are a healthier option than tortilla roll-ups, and this Asian-inspired recipe is certainly one for the recipe books.
These Asian lettuce wraps are filled with crunchy veggies, thinly sliced steak, and a sweet and savory sauce that is made with a host of Asian sauce ingredients. It's better than any take-out Chinese meal you can buy and takes less than 15 minutes to prepare.
This steak wrap is the perfect way to use up leftover steak.
The grilled steak is thinly sliced and piled high on a warm wrap with some caramelized onions, arugula, and mustard sauce.
It's the perfect blend of flavors and will have you coming back for more.
This steak sandwich is the perfect way to use up any leftover steak you might have.
It's piled high on toasted ciabatta bread with Swiss cheese, mushrooms, and onions. The sandwich is then smothered in a delicious horseradish chive sauce made with Greek yogurt, lemon juice, horseradish, and chives.
It's a flavor-packed sandwich that's perfect for any time of day.
This is an interesting recipe that you can make with thinly sliced cooked steak or fresh steak.
The recipe features fresh veggies and a sweet glaze made with brown sugar and beef broth. The crisp veggies are rolled up in the steak slices and quickly pan-fried before spooning the delicious sauce over the top.
It's quick and easy and one of the best leftover steak recipes on this list.
With these leftover steak recipes, you can turn any recipe into something meaty and delicious, just like these prime rib quesadillas!
Upgrade your quesadilla with a meaty cheese combo of prime rib and cheese. The beefy flavor of the prime rib pairs perfectly with the cheddar and Monterrey jack cheese.
The quesadillas are then grilled to perfection and served with salsa or sour cream.
These spicy steak nachos have everything you could possibly want for a delicious meal.
The tortilla chips are loaded with leftover steak slices, hot sauce, cheese, salsa, and lots of toppings.
They're spicy, crunchy, and perfect to share with your friends.
If you're looking for fancy leftover steak recipes to impress your guests, try this steak & provolone crescent braid recipe.
It's a beautiful and elegant dish that's perfect for any occasion. The crescent braid is stuffed with thinly sliced flank steak, provolone cheese, onions, and a flavorful garlic & mayo spread.
Serve it with a side of soup or salad for a complete meal.
If you have extra steak in the fridge, whip up this tasty Asian beef and broccoli stir fry. It's a quick and easy meal that's full of flavor.
The beef is cooked with broccoli, ginger, garlic, and a sweet stir fry sauce.
It's perfect for kids and adults alike and is best served over a bed of rice or noodles for a complete meal.
All you need for this amazing open-face steak sandwich is a few tomatoes and some slices of provolone.
What makes this sandwich different from the other sandwich leftover steak recipes on this list is that the bread is toasted with garlic butter and Worcestershire sauce spread that takes the steak sandwich to another level of delicious.
Plus, it's an open face, so it's much easier to eat and doesn't look as heavy with bread on the bottom and top.
Sometimes the most simple ingredients create amazing recipes, and this beefy hashbrown casserole is exactly that.
The recipe combines leftover steak or roast beef with green pepper, cheese, and hash browns. Usually, you would associate a casserole with some form of pasta, but the addition of frozen hash browns covering the beef mixture works really well in this recipe.
The recipe is easy to follow and will surprise a few guests at your table with the flavor combo.
If you want healthy leftover steak recipes, this steak and quinoa bowl is just what you're looking for!
This recipe can be eaten warm or cold and is perfect for lunchbox meals and light lunches. Quinoa is a superfood that's packed with protein and fiber and is a perfect way to use up any leftover steak you might have combined with leftover sweet potato.
Drizzle some tahini and honey dressing over the top for a delicious meal.
These Philly cheesesteak stuffed peppers are the perfect way to use up any leftover steak you might have. They're packed with flavor and are sure to be a hit with the whole family.
The peppers are stuffed with thinly sliced flank steak, onions, mushrooms, and cheese. They're then baked in the oven until the peppers are tender and the cheese is melted.
Serve them with a side of ranch or sour cream to top of this family favorite.
Leftover steak recipes like frittata are one of my favorite ways to start the day! A frittata is basically a baked omelet filled with veggies, cheese, and meat.
All you need is few ingredients to make this leftover steak frittata and a frying pan. Just reheat the steak in a pan with some caramelized onions and garlic and pour in the egg mixture, cover the pan, and let it cook for 10 minutes.
It's easy and perfect for breakfast or lunch.
This stuffed breakfast croissant is packed with protein and flavor and is sure to keep you full all morning long.
It's made with cooked steak, eggs, cheese, and a buttery croissant.
The eggs are mixed in a hot skillet until scrambled with garlic butter and stuffed into the hot croissants with cheese and sliced leftover steak.
You'll only need one of the meaty croissants to keep you going until lunchtime!
This mozzarella cheesesteak stromboli is an easy and delicious recipe that will be a hit with the whole family. It's packed with flavor, from the grilled sirloin steak, onion, and green bell pepper.
The Parmesan-peppercorn salad dressing adds a nice touch of flavor, while the shredded mozzarella cheese keeps things nice and cheesy.
This stromboli is best served warm, so be sure to bake it up fresh.
Try this pad Thai leftover steak recipe for lunch or dinner and enjoy the flavors of Thailand in a quick and easy meal.
This dish is made with rice noodles, vegetables, and a homemade sauce that is both sweet and savory.
Be sure to garnish with lime wedges, chopped peanuts, and cilantro for a truly authentic experience.
Last on the list is this leftover beef korma. Curry is a great way to use up leftover roast beef because the spicy sauces infuse into the meat and give it so much flavor.
This particular recipe is made with ginger, garlic, turmeric, garam masala, and cumin to give it its heat and mixed with ground almonds and coconut milk for sweetness.
Curry recipes are best served over steamed rice with a side of naan bread and garnished with fresh cilantro. You'll love the authentic flavor of India in one bowl!
🍳 Related Recipes
If you like beef recipes check out these mouth watering recipes. Including my collection of top round roast recipes and leftover chicken rotisserie recipes.
For more ideas of what to serve with steak, check my complete collection of easy side dishes to eat with your juicy round steaks.