I do a lot of things myself at home.
I make homemade Larabars.
I make my own foaming hand soap.

MY LATEST VIDEOS
But I never really aspired to make my own laundry detergent. I have found a fantastic natural brand that worked great, was affordable, and was 100% plant derived.
What more could I ask for?
Ingredients I trust with the convenience of saving me time because I don't have to make it myself.
Then a coconut allergy entered my life and all bets were off. No more store-bought laundry detergent because ironically plant derived usually involves coconut.
So after reading the ingredients label of every commercially available laundry detergent known to man, I struck out and was forced to try making my own.
And I struck out there too.
Most recipes for homemade laundry detergent call for Borax which is a controversial product because it is said that it can disrupt hormones and cause irritation. Certainly not something I was willing to risk. But I did notice that most recipes for homemade laundry detergent contained bar soap and something called Arm & Hammer Super Washing Soda. We found it at our local grocery store. You can get it at Amazon.com but it's expensive there – $9.99 a box. Walmart.com has it for $3.24 a box and it is available in store, just check availability using their locator.
I then combine the washing soda with the one bar soap I can find that doesn't contain coconut derived ingredients (Kiss My Face Pure Olive Oil Soap).
And that's it.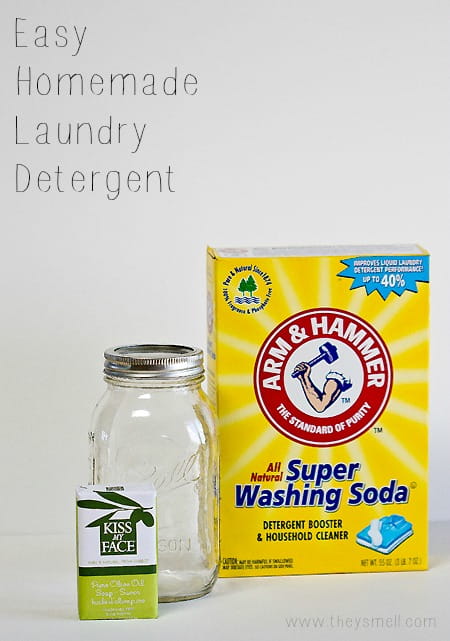 The most difficult part of this is actually shredding the bar soap, but even that isn't too difficult with the right tool. I use a box grater.
I then mix the washing soda and grated soap together in a glass jar and use a tbsp measuring spoon to measure it out.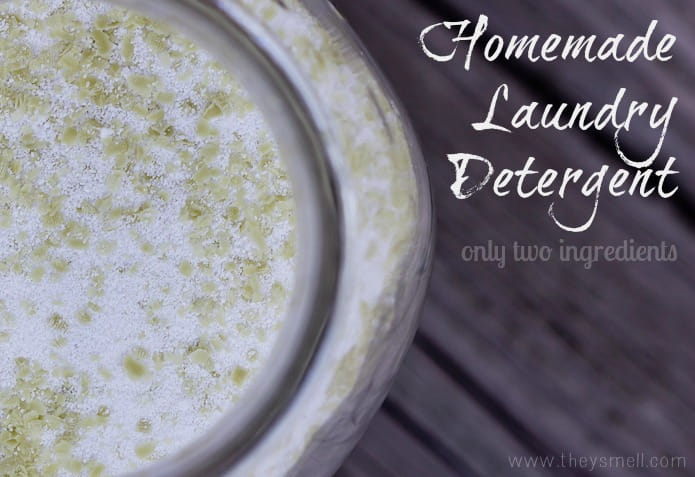 Easy homemade laundry detergent
What you need:
How to make:
Grate entire bar of soap

Pour washing soda & grated soap into container and shake vigorously until mixed.

Store in a cool, dry place.

For a small or medium load I use 1-2 tbsp of detergent. Larger loads, depending upon soil level use 3-4 tbsp. Please consult your washing machine manual for proper usage. I have an HE machine and haven't experienced any problems. Make sure you use the powdered detergent compartment on your machine, not the liquid.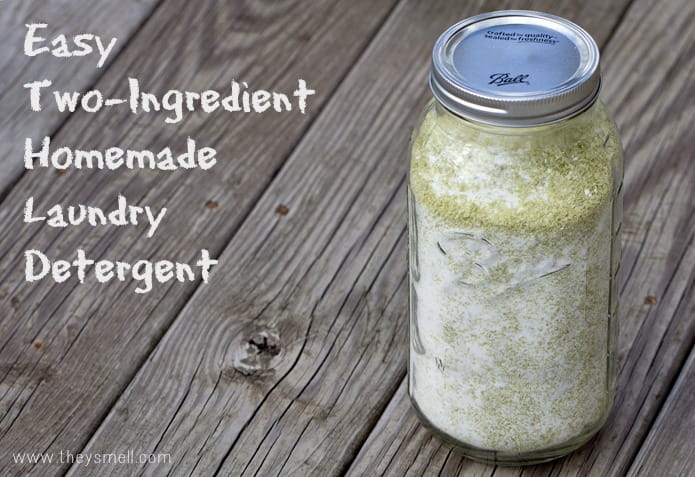 So far, so good with this stuff. It cost me around $7 to make the 1/2 gallon jar and it seems to clean really well. Our laundry doesn't have a smell really, because there is no fragrance but it does smell fresh like it was hanging outside in the fresh air.