Indeed, store-bought floor cleaners don't always guarantee a sparkling clean floor, and some are the complete opposite of a natural floor cleaner. The trend is clear; homemade floor cleaning solutions are making a big comeback. When you can clean any floor, save money, and enjoy a natural product that is both easy to use and easy to make at home.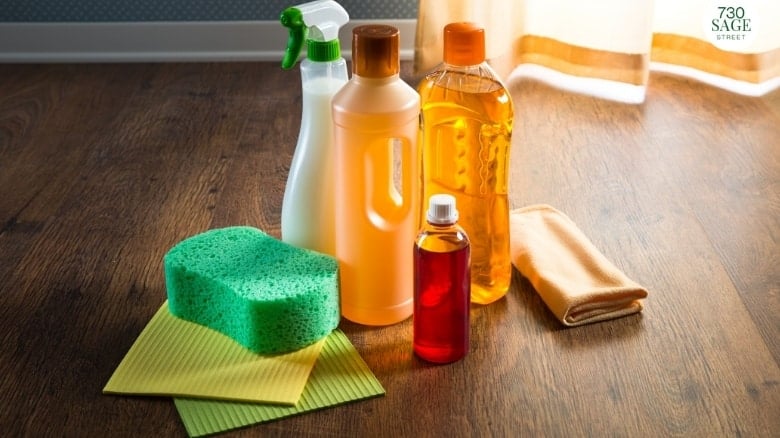 Be sure to check out my house cleaning checklist for daily, weekly, and monthly cleaning checklist. Plus a few spring, summer, autumn, and winter cleaning ideas.
Contents
Advantages of homemade floor cleaners
Inexpensive - Unlike the store-bought homemade floor cleaners, homemade cleaning solutions would save you some extra cash. Virtually, if not all, the ingredients can be gotten from a grocery store.
Safe - All those chemicals used in making store-bought cleaning products are air pollutants that can make you and your family ill. But the homemade cleaner is safer in that you don't need to use too many hazardous ingredients.
Easy to make - Since all you need is a good recipe, the homemade floor cleaner is easy to make because you don't need a big lab or so many test-tubes to get started.
What is the best homemade floor cleaner?
When searching for the best homemade cleaner, always bear in mind that the best homemade cleaner performs all the tasks you need it for. So, it is advisable to opt for an all-purpose cleaner that can handle all the cleaning of your hardwood floor, ceramic tile floor, laminate floor, and other flooring types. Also, consider taking serious precautions when choosing or making a homemade floor cleaner for stone floors to avoid discoloration. Nonetheless, here is a list of some of the best and most used floor cleaner recipes.
Floor Cleaning Recipes and Ingredients
Basic floor cleaner
As the name goes, this is a basic DIY floor cleaner that is simple to make and use. This floor cleaner has only two ingredients, which are water and vinegar. All that is needed is for the gallon of water to be mixed thoroughly with the 4 ounces of vinegar. This cleaner is most suitable for tiles, but it can also clean brick floors, vinyl floors, laminate floors, and linoleum floors. It is advisable to use distilled water instead of normal tap water. Don't forget that you need to rinse the floor or wipe it after using the floor cleaner.
Insect repellent floor cleaning
This floor cleaner is a good one for getting rid of the pests, bugs, and other insects in the house, which becomes rampant in the year's hottest time. This floor cleaner would instantly eliminate all the ants or pests and leave your floor looking and smelling good. This homemade floor cleaner is appropriate for all floors; brick, laminate floors, linoleum, slate, and marble floors. In making this floor cleaner, you will need the following ingredients and the following recipe.
Insect Floor Cleaner Recipe
2 ounces of dish soap (can be replaced with murphy's Oil Soap for wood floors).
4 drops of pine essential oil.
1 gallon of hot water.
2 ounces of castile soap.
4 drops of peppermint essential oil.
2 drops of lemongrass essential oil.
4 drops of lavender essential oil.
4 drops of orange essential oil.
2 drops of cedarwood oil.
2 drops of tea tree essential oil.
After getting all the necessary ingredients, mix them in a bowl, and add hot water to ensure they mix appropriately. Then dip your mop into your already made homemade cleaning solution, and mop the floor of your home.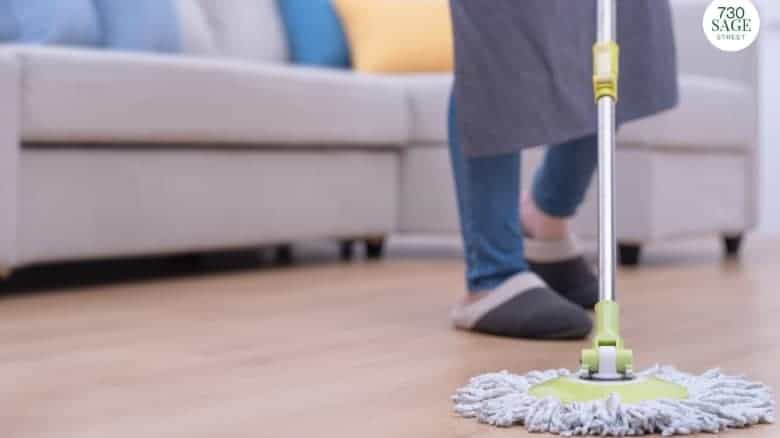 Home refresher floor cleaner
This homemade floor cleaner is efficient because it not only leaves your floor sparkling clean but also ensures that your home is given a lovely fragrance. Most people prefer this floor cleaner because it does two tasks simultaneously, which most store-bought floor cleaners don't do. This cleaner is also great for laminate floors, brick floors, linoleum, and tiles and grout. In making your home refresher floor cleaner, you will need to get the following ingredients from the grocery store.
Refresher Floor Cleaner Recipe
A quarter cup of baking soda.
4 ounces of white vinegar.
5 drops of essential oil.
4 ounces of water.
Get a spray bottle, add the water, and baking soda to the spray bottle while mixing it thoroughly. Then add the vinegar; this will cause a little reaction, but there is nothing to worry about. Next, add the essential oil and shake the bottle to mix the ingredients well.
How to use
The best way to use this cleaning solution is to spray the floor cleaner on the required areas or surfaces and mop the area. But if this cleaner is used on hardwood floors, then it is best to wipe immediately. Don't forget to rinse after cleaning.
Precaution
Despite being a good floor cleaner for most floors, there are still a few floor types that this cleaning solution won't be appropriate on. Some of these floor types include stone floors, hardwood floors, and bamboo floors. Vinegar's acidic nature makes this floor cleaning solution inept for stone floors because it might cause discoloration. In contrast, this floor cleaning solution may destroy the original quality of wood floors.
Natural power cleaner 
This floor cleaner assures you of a clean floor that leaves a good smell behind. It can be used to clean linoleum, brick floor, porcelain tile, ceramic tile floor, laminate floor, and hardwood floor. This homemade floor cleaner can also be used in cleaning surfaces around the home. Here are the ingredients needed to make the natural power cleaner.
Natural Power Floor Cleaner Recipe
4 cups of warm water.
5-10 drops of essential oil.
1 teaspoon of castile soap.
All that is needed is to mix all ingredients in a spray bottle and shake properly. After that, your floor cleaner is ready to use.
How to use
The first thing to do is to try out this floor cleaner in an inconspicuous area. If you like its effect on your floor, you can use it in all areas of your home. To get the best result, use this solution with a microfiber mop. The microfiber mop would allow you to clean all corners of your home.
Precaution
Castile soap, an ingredient used in making this floor cleaner, is not suitable for hardwood floors because it damages the hardwood floor's quality, especially the waxed wood floor.
Disinfecting floor cleaner 
This homemade floor cleaner helps in disinfecting and keeping your floor clean. Here are the ingredients required for making your bactericidal floor cleaner. We all know why this floor cleaner recipe will come in handy!
Disinfecting Floor Recipe
4 ounces of distilled white vinegar.
Liquid dish soap.
5 drops of essential oil.
2 cups of warm water.
2 ounces of rubbing alcohol.
To make this floor cleaner, you have to mix all the ingredients in a spray bottle. Ensure to shake the solution very well to combine all the ingredients.
How to use
Spray the cleaner in the area you want to clean and wipe with a microfiber mop. It is essential to know that you don't have to rinse after cleaning.
Precaution
There are no precautions because this cleaner is suitable for all floor types except natural stone flooring.
All-purpose cleaner
This cleaner is effective on all flooring types, especially on hard floors and surfaces. It also removes hard stains on any flooring types and makes your home look and smells good. You can make this cleaner with the following floor cleaning ingredients.
All-purpose floor cleaner recipe
½ cup white vinegar.
2 cups of warm water.
5-10 drops of essential oil.
¼ cup of rubbing alcohol.
3 drops of liquid dish soap that doesn't contain antibacterial properties or ingredients.
Like the other DIY cleaning recipes, you have to mix all ingredients in a bowl and mix properly. After that, your mopping solution is ready.
Wood floor cleaner
This cleaner is best for wood floors because it gives it a unique glow. The only thing required is that this cleaner must be used with hot water. The ingredients in making this cleaner are listed below.
Wood Floor Cleaner Recipe
¾ olive oil.
1 gallon of hot water.
½ cup of lemon juice.
After getting the ingredients, mix them in a bowl and start mopping using the cleaning solution you just made.
Vinegar floor cleaner
This cleaner is naturally efficient and suitable for all floors. That is why the potency of vinegar cannot be overemphasized. This cleaner can remove dirt and leave your floor shiny. With the combination of these ingredients, you will get the sparkling and clean floor that you desire.
Vinegar Floor Cleaner Recipe
2 tablespoon of distilled white vinegar.
½ cup of warm water.
½ cup of liquid dish soap.
1 ⅔ cups of baking soda.
Add all ingredients together in a bowl and stir till the substances dissolve evenly. Apart from cleaning your floors, this vinegar floor cleaner can also serve other purposes, such as cleaning surfaces, bathtubs, kitchen cabinets, and toilets.
Laminate floor cleaner
This cleaning solution will clean your laminate floors without damaging the finish of the laminate flooring. However, if this cleaner is used on other flooring types, it may damage the flooring's original quality. Here is a list of the ingredients required to make this laminate floor cleaner.
Laminate Floor Cleaner Recipe
2 cups of vinegar.
2 cups of hot water.
5-10 drops of essential oil.
Mix all the ingredients in a bucket, thoroughly. After that, you can dip the mop into the bucket and mop the floor. There is no need to rinse after mopping; instead, leave the substance to dry naturally. This recipe can also be used to clean walls and other surfaces.
Tile floor cleaner
As the name depicts, this is best for tile floors, which means you don't have to get those toxic cleaning products from the store. With this tile cleaner, you can be assured of a glossy and clean home without oily residue. Check out the required items for making this mopping solution.
Tile Floor Cleaner Recipe
1 cup of baking soda.
¾ cup of white vinegar.
1 cup of ammonia.
1 gallon of hot water.
Pour all the ingredients into a bucket and mix properly to dissolve. Ensure to apply the solution directly into the tile while mopping with a cup of vinegar and ten cups of hot water. Let the mixture to dry naturally.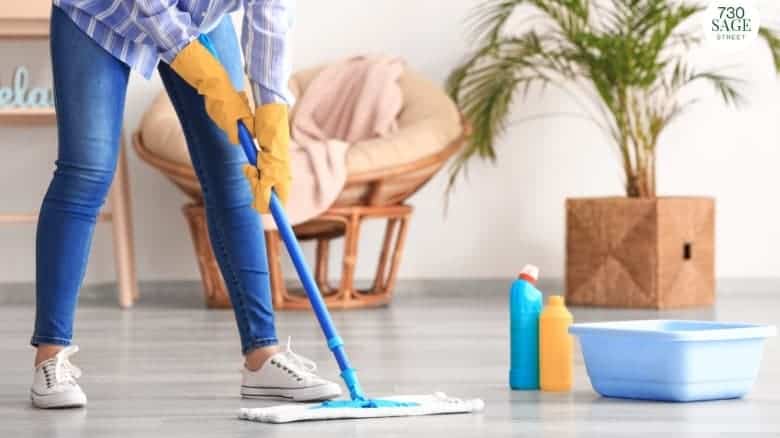 Essential oils for cleaning
There are many essential oils in the market, and making a choice can be quite challenging. However, it is advisable to go for essential oils that the household likes. You might also want to go for the essential oils that can make the home atmosphere fresh and relaxing. So, it is best to go for lavender oils, vanilla, or peppermint oil. But don't forget to always check for the Latin name of whatever oil you buy to ensure that you don't purchase fake essential oils. If in doubt consider making a batch of DIY essential oils for all your home cleaning needs.
Floor cleaner substitute
Suppose you need to clean up your floors when there are no cleaning products available. In that case, you can make do with the traditional water and soap, particularly dish detergent, with a sponge. While these two items would promise you a decent-looking floor, it doesn't guarantee a dirt-free cleaning except when the right amount of pressure is applied.
Can I use vinegar for mopping floors?
Vinegar is perfect for mopping all floors as long as its acidity is checked and dissolved with enough water. The reason why vinegar is an ideal fit for cleaning is that it contains acetic acid, which aids in absorbing dirt and keeping the home clean. So, just vinegar and enough water would do the trick in cleaning your floor surfaces. Here are some other reasons why it is right for mopping.
Natural disinfectant.
Appropriate for most floorings.
Easily remove tough stains.
Considered a safe detergent.
Common DIY floor cleaning ingredients
Lemon juice
Lemon juice is a bleaching agent, and because of its acidic nature, it cleans floors and surfaces efficiently. It is also an antiseptic, and it gives a natural sheen to surfaces because of the oil on the rind. This is why lemon juice plays a very significant role in homemade floor cleaner recipes.
Baking soda
As an alkali, baking soda serves as a cleaning agent for all types of surfaces. This non-toxic substance is an essential ingredient for preparing the best cleaners because it helps dissolve dirt easily.
Warm water
Warm water and hot water ensure that the dirt is gotten rid of completely. They also speed up the reaction of all other constituents used in making the cleaning solution.
Castile soap
This plant-based soap works by absorbing dirt and grime from surfaces, though it is not ideal for wood floorings because it can destroy the wax.
Liquid dish soap
The liquid dish soap helps leave flooring shiny and clean; that is why they are perfect for vinyl, linoleum, and tile flooring. However, the liquid dish soap could mar the wooden floors, and they should not be used on them.
Olive oil
Due to the shiny natural quality of olive oils, they serve as useful items for restoring the natural sheen of floorings. They also help remove stains quickly, which is why they seem indispensable in cleaning floorings of all types.
Which cleaner is appropriate for your flooring?
Easy, just check the list of cleaner recipes and take note of the precautions or the kind of flooring each is suitable for; that is the only way you can tell if a mopping solution would be right for your flooring or not.
Never forget that mopping solutions for tile floors would never be right or appropriate for wood flooring. Having this in mind would save you from stress and damage to your flooring finish. Also, take note of each cleaning solution's function because every cleaning solution has different functions, effects, precautions, and constituents. Stick with what you have in mind; the reason you need a floor cleaner, and follow the provided recipe to make the one that satisfies your needs.
Recommended cleaning supplies and equipment
We all have our favorites, and I'm not here to force you to buy anything, swap brands, or trick you. I hope that I make this easier for you, save you time, and hopefully save you money in the process.
Cleaning tips
Making your homemade cleaning product isn't all there is to do about cleaning your floorings. Making your cleaning products with the homemade floor cleaner recipes provided is only the first step to ensuring that you have a clean home. So, check out these helpful tips that help you in cleaning your floorings.
Use distilled water. Instead of using tap water, use distilled water because it makes your flooring look clean without making dried mineral accumulation appear on your already cleaned flooring.
Always clean up before mopping. Mopping your flooring before getting rid of the dirt would mess up your home even more. So, sweep before mopping.
Allow the flooring to dry naturally. When you are done mopping, leave the flooring to dry when you are sure that the flooring is perfectly clean. You can only dry the flooring yourself when there are streaks, but if there are none, leave the flooring to dry naturally.
Go for the best essential oils. Your choice of oils immensely affects the smell of your home. So, go for the best oil that assures you of a pleasant aroma.
Never underestimate the power of a good rinse. To avoid residue caused by the oils used in preparing your mopping solution, rinse the flooring with water and a microfiber mop.
Use vinegar and rubbing alcohol. When making a disinfectant mopping solution, always use vinegar and alcohol because these two ingredients are powerful disinfectants suitable for a house with children.
Use the right dish soap. The dish soap you use in preparing your mopping solution can ruin the entire process. So, stick to dish soaps like Dawn to ensure that you get rid of dirt and grime.
Use clean a mop. If you use a dirty mop to clean your flooring, you will make it even messier than before you started cleaning. So, ensure to rinse the mop before use to avoid dirt accumulation on your already cleaned flooring.
Clean the whole place up. When cleaning your flooring, never ignore even the nooks and crannies of the home. Ensure that every portion is cleaned thoroughly. It is advisable to use the microfiber pad to clean up areas that are difficult to reach; this way, all home parts will be clean.
All in all we hope this detailed floor cleaning guide helps you keep your home clean, saves you money, and ensures you're using a quality product you can trust. And if you found this helpful please share or leave a comment.