This is a Sponsored post written by me on behalf of Upromise by Sallie Mae for SocialSpark. All opinions are 100% mine.
Do you shop online?
I would venture to guess that most people would answer "yes" to that question. At least in some part.
I shop online ALL THE TIME. It's the first place I look when I need just about anything. It saves me so much time and usually saves me money.
And now, with Upromise by Sallie Mae, it actually gives me cash back!
Imagine doing the online shopping that you do anyway and finding that you have cash acruing in your Upromise account. Many online retailers offer 5% cash back, and if you use the Upromise credit card you can earn 10% or more cash back.
This really adds up!
I have actually used Upromise once or twice in the past and when I logged into my accout I found that I had $97 in there! I can transfer it into a High-Yield Savings Account by Sallie Mae, put it into a 529 college savings plan, applied towards student loans or you can even get a check.
Using Upromise to shop is easier than ever too with their RewardU toolbar. Simply install it into your browser and have instant access to deals and cash back amounts available at your favorite online stores.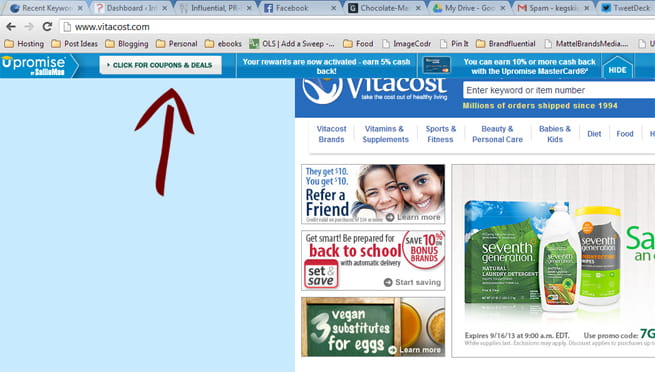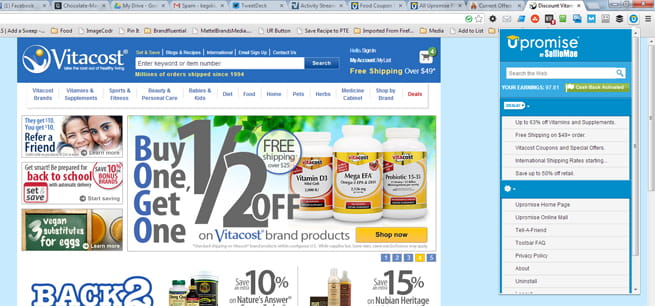 Vitacost is one of my favorite stores to shop online. It is my go-to for healthy snacks, green cleaning products and safe hair and body items. When I shopped at Vitacost the other day with the RewardU toolbar, I discovered that my favorite cookies, the Go Raw Chocolate Super Cookies were buy-one, get-one half off!
They come in packs of 2 and I bought four of them which means I saved $8.78. Not to mention that Vitacost's price is already lower than everywhere else.  In addition to that, with the 5% cash back I will get $1.30 back into my Upromise account!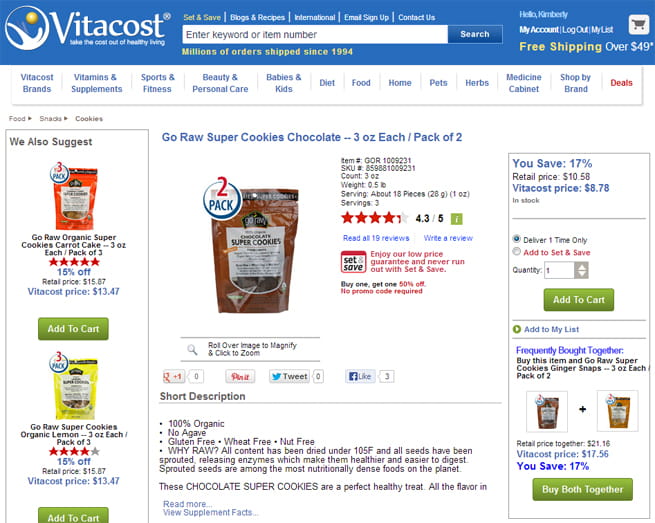 The RewardU toolbar from Upromise makes it easier to shop online and helps me earn cash back.
It's a total win-win!
How often do you shop online?
Join our newsletter!
Subscribe to get updates and great stuff via email including subscriber-only goodies like free printables and giveaways.