When I think about vacuums, I always think about an upright vacuum.  It is all I've ever had and honestly I didn't even realize they made canister vacuums anymore.
But apparently they do!
Dyson's new DC39 Animal has all the great cleaning features of the traditional Dyson Animal upright vacuum but in a canister style.
I never really understood the idea of a canister vacuum.  Instead of pushing something you pull it?  It just never seemed very logical to me.
Well, I had a chance to put my skepticism to the test, and as a fan of Dyson (after reviewing the Dyson Animal upright) already because of their suction power, bagless dirt collection and great performance, I figured I'd give it shot.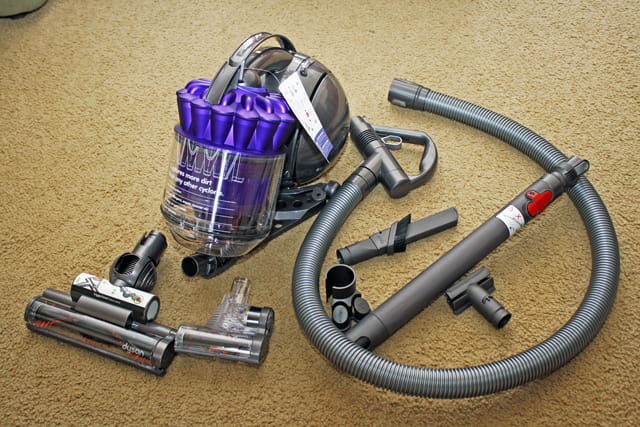 About the Dyson DC39 Animal
DC39 Animal has Dyson's latest Radial Root Cyclone™ technology, and a Mini turbine head to clean pet hair and dirt from tight spaces. It has Ball™ technology to turn on the spot and follow with greater control. DC39 Animal comes with a Triggerhead tool that adjusts at the handle for different floor types – no need to bend down.
Dyson DC39 Main Features:
Radial Root Cyclone™ technology

Dyson's patented cyclone technology captures more dirt than any other. With airflows remodelled to maximize suction power.

Ball™ technology

Turns on the spot. No awkward moves. The ball also houses many of the heaviest components, for a lower center of gravity and greater stability.

HEPA filter

For allergy sufferers. Captures microscopic allergens as small as pollen, bacteria and mold.

Turns on a dime for greater control

The only canister vacuum with a central steering system mechanism. Combined with Dyson Ball™ technology.

No bending down to adjust from carpets to hard floors

Triggerhead tool – the only turbine head controlled at the handle.

Mini turbine head

Cleans pet hair and dirt from tight spaces such as upholstery, stairs and the car.

Hygienic and quick to empty

Dyson vacuums are hygienic and quick to empty, with no need to touch the dirt. Just push the button.

Engineered for reduced noise levels

Acoustic treatment reduces noise with no loss in cyclone performance.

Lightweight adjustable wand

Extends to the length you need for convenient high-reach cleaning. Tools click-fit to the end of the wand for more cleaning options.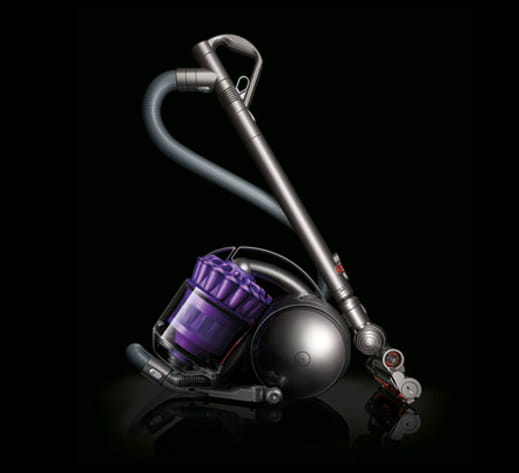 It took me awhile to adjust to using a canister.  First, with an upright I moved backwards as I vacuumed.  That way, nothing moved across the freshly vacuumed carpet.  With the canister you have to move forward unless you plan on carrying the canister the whole time, which is certainly not something most people will do.  I didn't find it logical to walk across and pull the vacuum across already vacuumed areas, but that's how the canister works so I adapted.
This vacuum performs very well as far as suction and cleaning power.  It really picks up EVERYTHING.  Dirt, dog hair, and everything else it might find on my carpets.  Small toys are not immune to its power.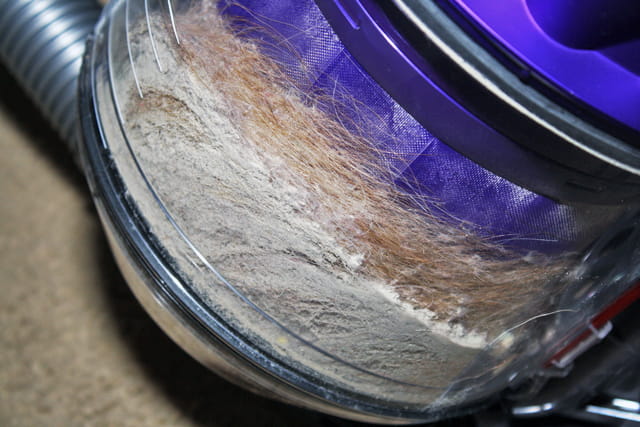 Once I got used to moving forward with the vacuum, I did find that overall the canister is easier to use.  As you are vacuuming, it is very light and easy to maneuver the vacuum head, then you pull the body every once in awhile as you move across the floor.  It has a mini ball on it and is very smooth and easy to use.  The body rolls smoothly and easily and turns in place because of the ball technology.  I also like that, as opposed to an upright, the head can get under a lot of things without having to move them out of the way.
My absolute favorite use of this vacuum is on the stairs.  It is so easy to hold the body of the vacuum on one hand (by the handle) and vacuuming with the full size head or the mini turbine head on the stairs.  It picks up everything and I don't have to take any time to convert the vacuum to use the tools like with an upright.  My stairs have never looked batter.
There is one other feature of this vacuum that makes it stand out even more above an upright – it has an automatic retractable cord.  Simply hold down the button on the base and the cord reels itself in.  One of the tasks I hate about vacuuming is putting the cord away.  With the DC39 it does the tedious work for me.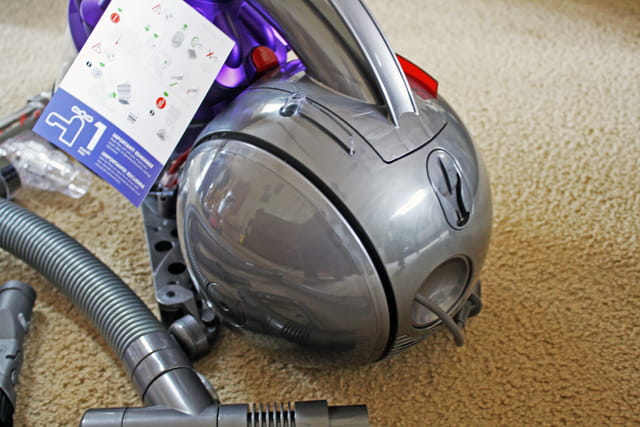 I do have one complaint about the DC39 and that has to do with storing it.  It has a rather bulky footprint because of the hose, and while the head does attach to the base (it's not easy to align but once you do it a few times you get the hang of it) but the hose still sticks out in odd positions.  It makes it difficult to just put in a corner or closet. It is however, less bulky than other canisters I have seen, so if you compare apples to apples, it's probably fairly compact.
Overall, while I admit I do tend to opt for the upright more than the canister, I think that the strengths of this vacuum, ie: suction, easy to maneuver, auto cord reel, etc. make it a great choice for a lot of people.  It certainly requires less upper body strength than an upright and with the auto cord, it's a great option for older folks or if you are trying to get your kids to help you with the vacuuming.  And seriously you can't deny the cleaning power.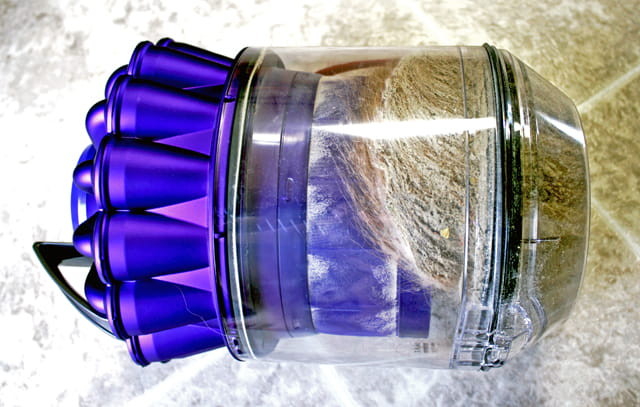 You can purchase the Dyson DC39 Animal at Amazon.com or Dyson.com.
Note:  I received the product shown from Dyson to facilitate my review.  Opinions expressed are my own.