I don't know about you, but it pains me to have to keep up with my kids growth spurts by constantly shopping for bigger sizes. I pick up a super cute dress for my daughter, spend way too much, and she has outgrown it before it even looks like she wore it. I have always felt like we should be able to get more "mileage" out of that purchase.
We have had garage sales to recoup some of the original expense ourselves, but earning a couple of dollars on that expensive dress doesn't replace it with a bigger size. Yes, it offsets some of the cost of shopping for new clothes, but when it comes to how quickly they grow out of things, it barely makes a dent.
I always knew there had to be a better way, and now with Swapdom, there is!
How Swapdom works
I LOVE this idea but I have to admit I was a little bit confused by it at first. I kept thinking, what if the person who requests my items doesn't have anything I want? But I totally missed the point about the algorithm creating a circle of swaps among multiple people so that everyone gets exactly what they want.
When I asked Swapdom to clarify this concept for me, it made perfect sense:
You'll never send out anything without something coming to you in return. Click "Start a Swap" and browse through the site (any category, kids or women) for items you like. Include as many potential items in the swap as you like. In the next step, you choose the pieces you have listed that you're willing to swap for the ones you want. Our algorithm goes to work to create a chain of swaps with multiple people so everyone ends up with the item they want. This means you don't have to do a 1:1 swap; the item you receive won't be from the same person who receives yours.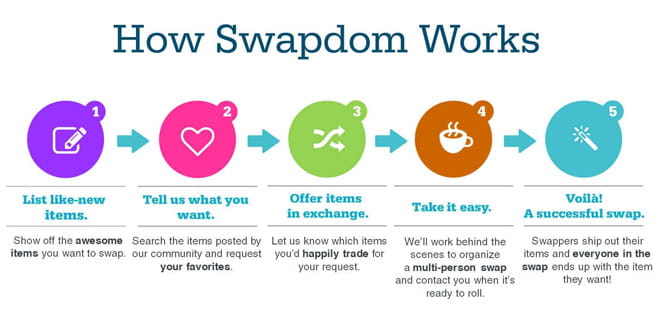 So I went to work listing a few items.
Listing Swapdom items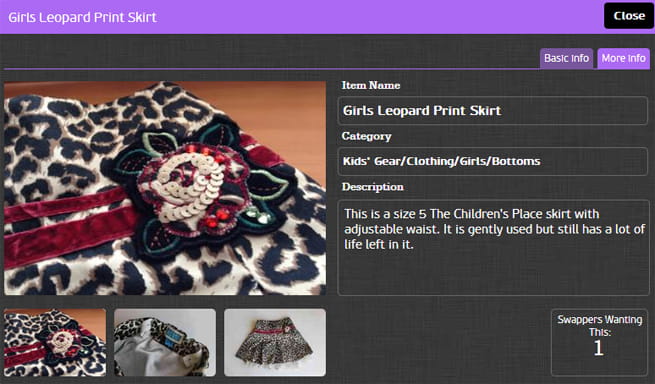 It's really easy to list your items. You can load up to 3 pictures (it really helps to have all 3 for people to fully see the item), write specific details about it, and choose the category.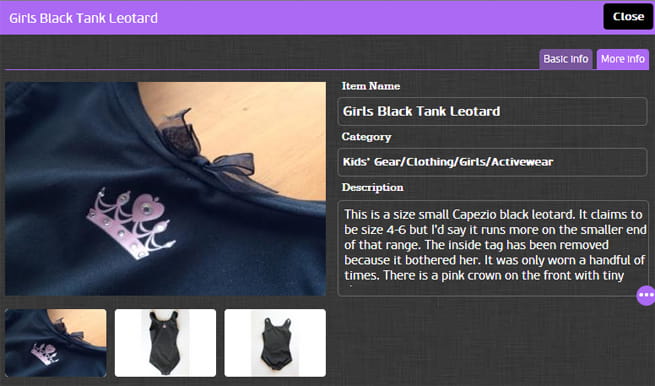 If you can include a close-up of any details, it will really help potential swappers know exactly what they are getting.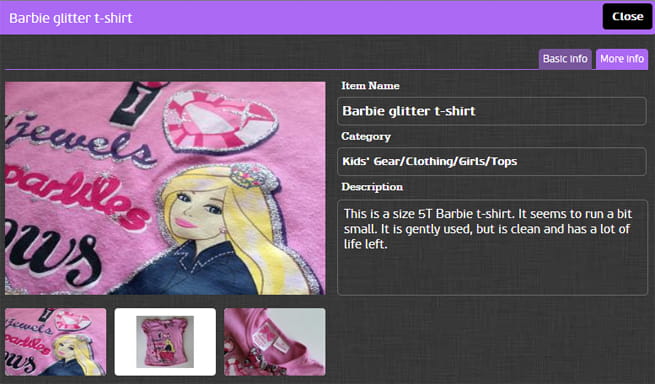 Don't forget to put the size of the item on there!
When you add an item, it will also ask you to confirm your address (only visible to the actual person who receives the item) for shipping purposes. You then select the size and weight of the item so the requester knows how much shipping will be.
The leopard skirt is very popular and has been requested already, see that little flame next to it in the image below? That means someone has requested it in a swap. How exciting! Now I need to go pick out some things I would like and request them so I can see the complete process!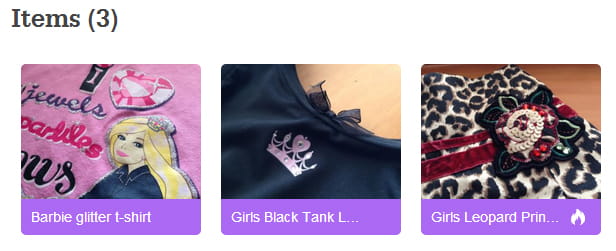 Swapdom categories
Swapdom currently has categories for fashion and accessories for children and adults and kids' gear and toys but they also have plans for a home category and are open to your suggestions on how to take Swapdom to the next level.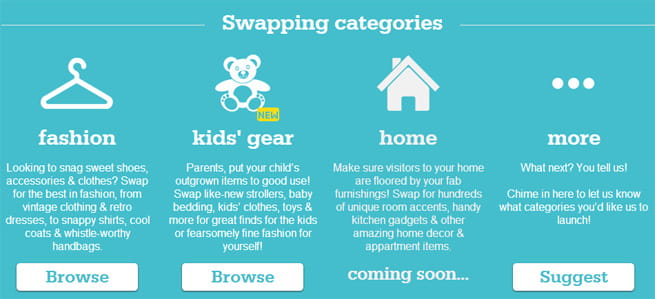 How much does Swapdom cost?
Swapdom is free to use and upload items. You ONLY pay shipping on the items you receive (which you can see the cost of prior to requesting a swap item) and a small service fee. This fee is a percentage of the shipping cost but will never exceed $2.
There is no out-of-pocket for the items you list and send, the shipping is setup and handled by Swapdom so the only thing you have to do is pay for your requested items. When you send items, Swapdom has already collected the shipping costs and all you need to do is package it up and send it off!
Befriend a Trend Contest
Swapdom is giving away $50 Etsy gift cards!
To enter you simply need to share one of your favorite Swapdom items on Twitter, Facebook or Pinterest with:
This spring, I dare to wear ______. #Swapdom #BefriendATrend"
For more information and official rules visit: Swapdom Befriend a Trend Contest.
So, what will you be listing on Swapdom first?
Join our newsletter!
Subscribe to get updates and great stuff via email including subscriber-only goodies like free printables and giveaways.