I can't remember a time in my life when I didn't have a pet.
Cats, dogs, hamsters, you name it, we always had them, and in many cases they were like members of the family. We couldn't imagine life without them.
I remember the dog I had when I was growing up, I truly considered him my best friend. I told him things that I never told anyone else. And he seemed to understand when I needed a shoulder to cry on. A paw to hold. Not to mention a slimy face…
I will never forget the friendship that Blackie offered me.

MY LATEST VIDEOS
The unconditional love.
The disregard for my strange wardrobe.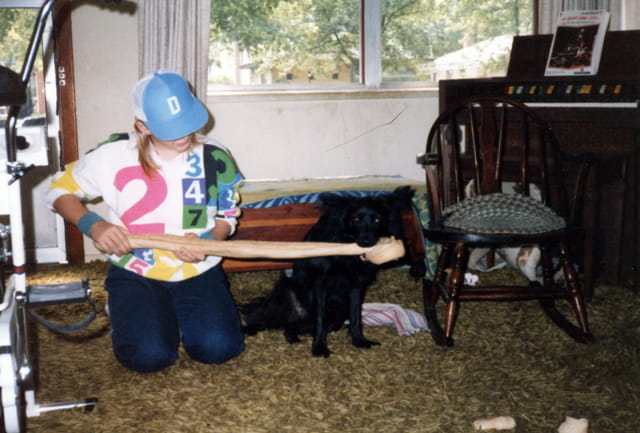 There is something about a dog that completes our family. It did back then, and it most certainly does now.
As an adult, my love of furry friends only continued to grow and I was never without a pet by my side. For many years I had cats due to the constraints of apartment living, but one day, not long after we were married, my husband and I adopted a puppy we named Simon.  That puppy grew up to be the best dog in whole world. He was there with us through so many things, and almost 11 years later he is still here offering unconditional love and affection to our whole family.
In addition to Simon, whom we lovingly refer to as 'old man', we have a rather new addition to our family. His name is Toby and where Simon lacks somewhat in enthusiasm, Toby makes up for it like crazy. It's been a lot of fun, and a lot of work, having a young dog in the house. But he makes us all smile and is helping keep Simon young…well, at least keeps him acting young. Having him has taught my kids some responsibility too, as they are in charge of feeding him and letting him outside.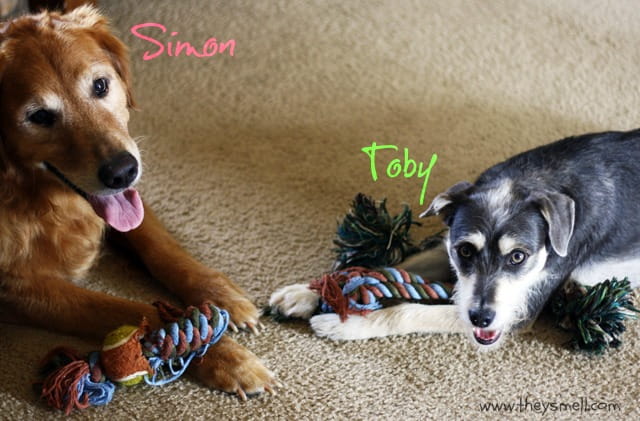 Take a look at the video I took of Toby and Simon the first time they started playing together after Toby came to live with us.
Toby has added a whole new dimension to all of our lives. He has so much energy that we have all found ourselves more active and spending more time outside.  Sometimes the kids spend all day in the backyard playing with the dogs. Our favorite game is "keep away" which is played by giving Toby the tennis ball and watching with laughter as Simon chases him around the yard to try and get it from him.
It's so important for all of us, the dogs included, to get regular exercise. Sharing moments like these in the backyard and going for family walks, makes being healthy feel more like fun. And when they come in the house, everyone is ready for a nap!
I cannot imagine life without a dog. They offer so much yet ask for so little in return. Because they are members of the family, we want what is best for them. We stay active and keep them active, we eat healthy, and we want to make sure that we are providing the best possible nutrition for our furry family members as well. Giving our dogs the best nutrition gives them shiny coats, reduces allergies, provides energy, and ensures they are as healthy as they can be so they are here with us for as long as possible.
IAMS is a leader in pet nutrition, and like us, they believe that proper nutrition is critical to providing the happiest, longest life for your pet.
About IAMS Nutrition Philosophy:
Our nutritional difference is not only based on years of research and dedication to the health of pets. It comes from a different, innovative way of thinking about the dietary requirements and behaviors of dogs and cats and about a breakthrough approach to the value of advanced nutrition. We believe that the right diet can do amazing things for pets, like boost immunity, help burn fat, help maintain muscle and promote healthy digestion, aid in weight loss, reduce tartar build-up, and, in some instances, even nutritionally manage the progression of disease.

We were the first to:
Consider feeding cats and dogs as carnivores.
Develop dry, animal-protein based diets suited to the needs of dogs and cats.
Tailor formulas by life stage, even developing a puppy food that actually helps make puppies smarter and more trainable.
Develop formulas to meet common needs of pets and their owners, like cat food for multi-cat households, and formulas that help meet the needs of senior animals
So how about you?
Are you a dog owner? Cat, maybe?
How do you keep your pet happy and healthy?