If you read the bio on my "about" page, I mention something about liking dogs more than people.
In many ways this is true. Of course I don't dislike people…well, most of them anyway, but dogs are so much easier. Dogs don't ask for much. In return for food and affection, they offer unconditional love free of judgement. Free of the expectation of anything in return.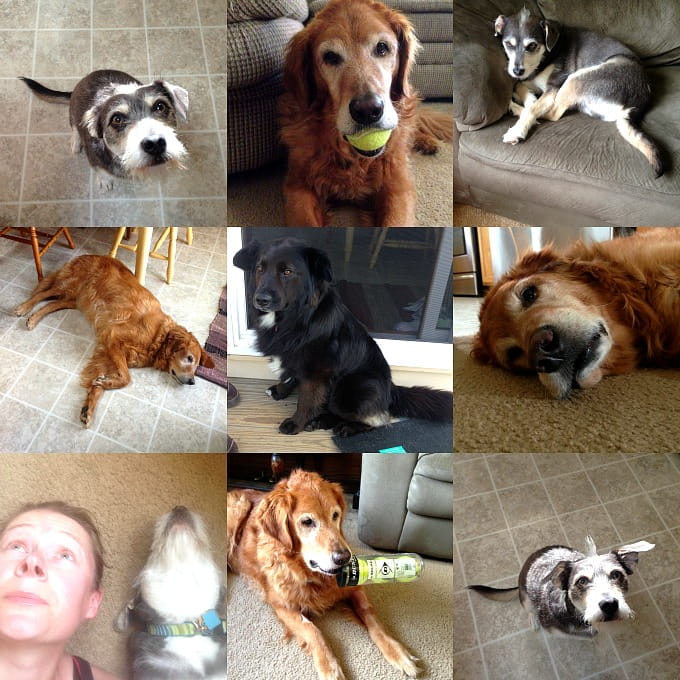 In our house, our dogs are members of the family. Sure, they don't do the dishes or help pay the bills, but the love, joy and emotional support they offer in return are simply priceless.
Which means we treat them like members of the family.
We feed them well.
We take care of their medical needs.
They sleep on the bed.
We do everything in our power to protect them from harm.
Simon, our Golden Retriever, has been with us for 12 1/2 years now. We adopted him at 12 weeks old, and at 8 months old we learned that he had severe hip problems that would leave him lame by the time he was 2 unless his hips were corrected. 5 months and $8,000 later, Simon was given over a 90% chance to have a normal, long, pain-free life. As the years past he has suffered from allergies, epilepsy and other random ailments, each time followed by lots of vet bills and long-term medication. He currently is partially paralyzed in his back legs due to neurological damage, is on daily phenobarbital for his seizures, and arthritis medicine for his worsening arthritis.
Simon has brought us nothing but joy, and despite all of his medical issues, continues to chase his tennis ball and remains active and alert, often being mistaken for a much younger dog.
Simon has taught me to appreciate the little things and that overcoming adversity is all about your state of mind.
Toby, our Schnauzer mix, came to us through a rescue. We weren't looking to adopt at the time, but that furry little face had us hooked from the minute he slobbered all over my kids when he first met them. Toby is pure joy. I can't walk into a room with him in it and not smile EVERY TIME. From the mohawk to the beard, his outward goofy appearance reflects the sweet and silly personality inside. He wants nothing more than to be close to his people.
Toby has taught me that sometimes a cuddle can change the world.
Teddy, the black dog in the center picture was a rescue who was only with us for a short time. He brought us so much joy but his fears and past abuse made him incompatible with a household with a man in it. He is currently on his way to happily ever after living with a trainer who can help him overcome his fears.
Teddy has taught me that sometimes things are temporary and you need to just cherish what you did have, even if it was only for a short time.
It's amazing how something as simple as a game of fetch makes them happy and helps me focus on what is really important in life – love and family.
But running around in the grass and spending time outside brings with it some unique challenges.
There so many things we can't protect our furry family members from, but fleas, mosquitoes and ticks are one thing we can protect them from. Neither one of them are any fun for you or for your dog, and left untreated they can lead to disease or even worse.
So why risk it?
K9 Advantix® II can help protect your beloved pets by killing and repelling fleas, ticks and mosquitoes so your dog can enjoy their time spent outdoors and you can bring them back indoors without a fear of what they may have picked up in their fur.
This video from K9 Advantix® II tells you all about tick repellency and why it is so important for your dog: K9 Advantix® II Tick Repellency.
The bond between you and your dog is a special one, and you'll go to great lengths to keep your furry family member safe and healthy. K9 Advantix® II is a once-a-month topical application for dogs and puppies that REPELS and kills ticks, fleas, and mosquitoes.  Visit http://petparents.com/products  to learn more.
This is a sponsored conversation written by me on behalf of K9 Advantix® II. The opinions and text are all mine.
Join our newsletter!
Subscribe to get updates and great stuff via email including subscriber-only goodies like free printables and giveaways.