This post is sponsored by BabbleBoxx.com on behalf of Erie Insurance.
Up until last month, we were actively looking at moving. In 2007 when we bought our home, we loved it and couldn't imagine living anywhere else. It was perfect for us. Until it wasn't.
All of a sudden we had a laundry list of things we wanted to change and it just seemed easier to move rather than change them.
Keep reading to learn about some things people love (and don't love) about their homes, how to build your own DIY pool towel rack out of PVC and find out about guaranteed replacement homeowner's coverage and why it is important for you and your home.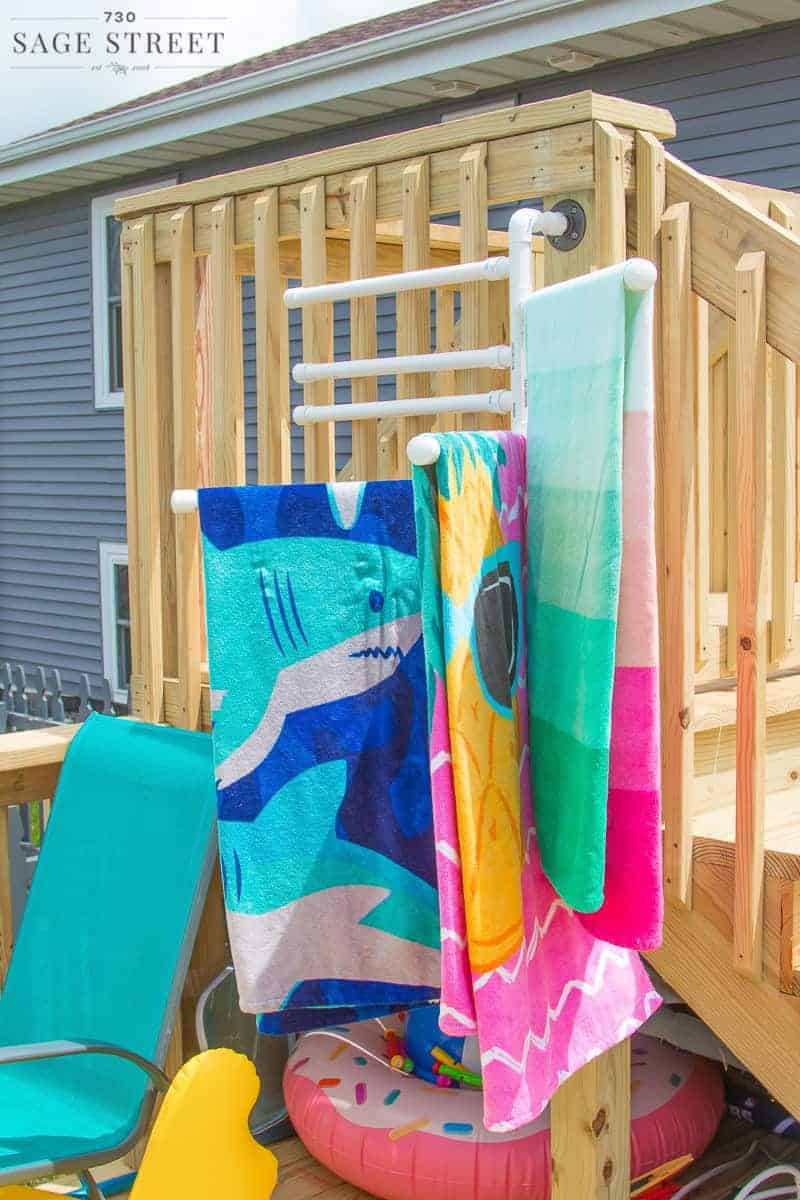 Erie Insurance Homeowner's Survey
Apparently, we are somewhat in the minority when it comes to being dissatisfied with our home. A study done by Erie Insurance found that most people like or love their homes (94.6%). The study also revealed that 53% of homeowners are happy with the features of their homes, while the remaining 47% have some regrets about some of the features of their homes.
Most of the regret involves items or features that their homes don't have. Very few of that 47% regret features that they do have in their homes.
Top 5 Features Homeowners Got But Would Not Choose Again
Below are the percent of people in the Erie Insurance survey who would not choose those features again.
Hardwood flooring: 9.2%
Granite countertops: 7.8%
Stainless steel appliances: 7.6%
Fireplace: 7.4%
Deck: 7.2%
Personally, our deck is one feature of our home we not only would choose again, but we did also choose again. In fact, instead of moving, we decided to make some changes. The first change involved putting in a new pool and replacing and expanding our deck.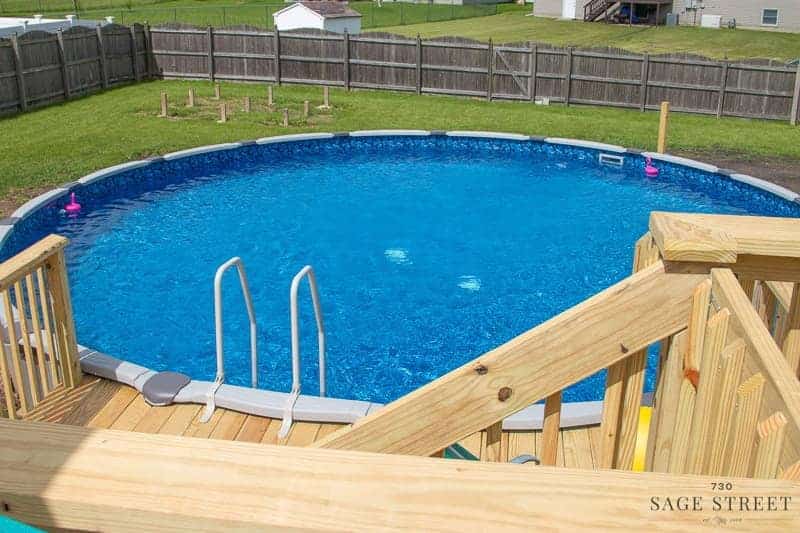 The Job is Never Done
One thing is true about home ownership, though. Just when you think you have everything figured out, you realize there is something more you can do. After we put in the pool and the deck, we realized very quickly that we had no good solution for the towels.
The towels would either end up in a soggy pile on the deck or blowing over the railing and into the dirt. So I knew I needed a solution. Originally I pictured a series of towel bars along the bottom of the deck rail to hang the towels horizontally along the length of the deck. But I quickly realized that was not going to work.
There were plenty of freestanding DIY ideas on Pinterest but it gets so windy around here, that I really needed a more streamlined solution. I also wanted something that didn't take that much space even when filled with towels.
A little bit of brainstorming, and a lot of standing around in the hardware store with a confused look on my face, and voila! I designed a solution.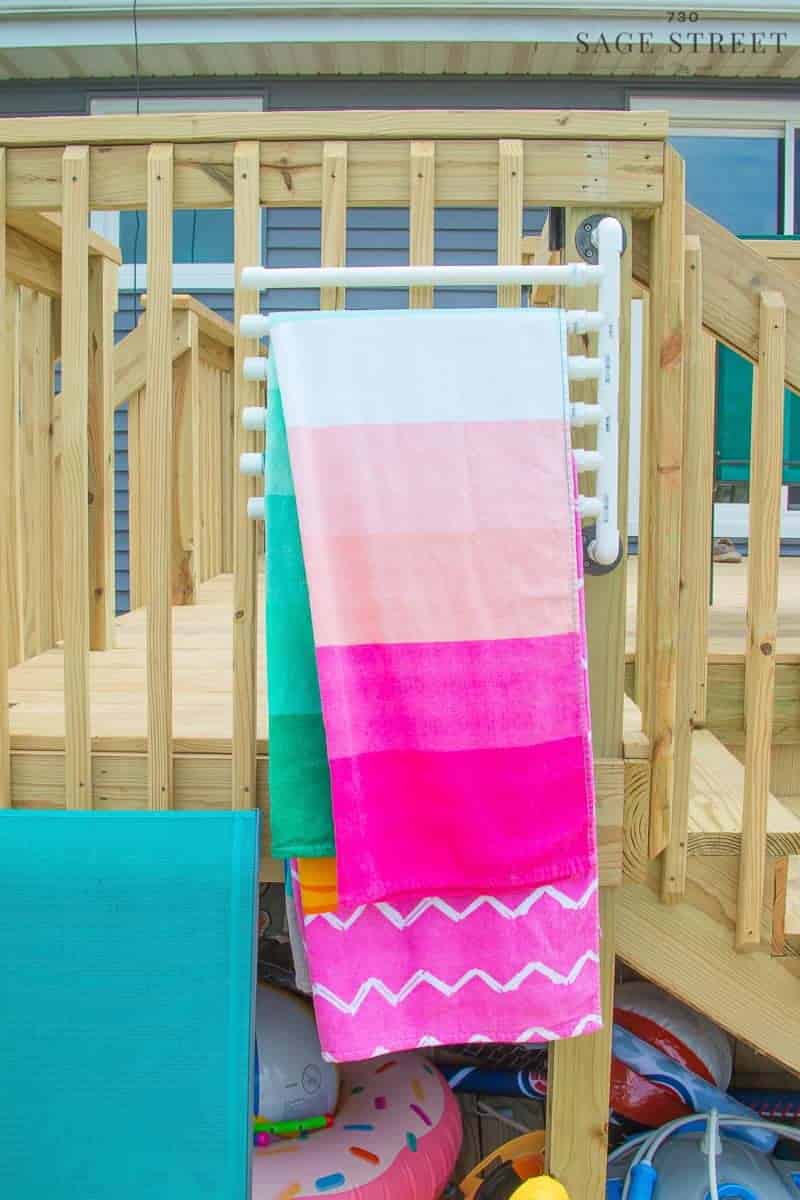 What You Need to Build a DIY Pool Towel Rack
Head on over to your favorite hardware store and pick up the items below. The quantities are based on a rack with 6 movable arms. I spent $30.00 total. We had the cutter and the glue and I could not find PVC flanges so I had to go with metal. They were $5 each.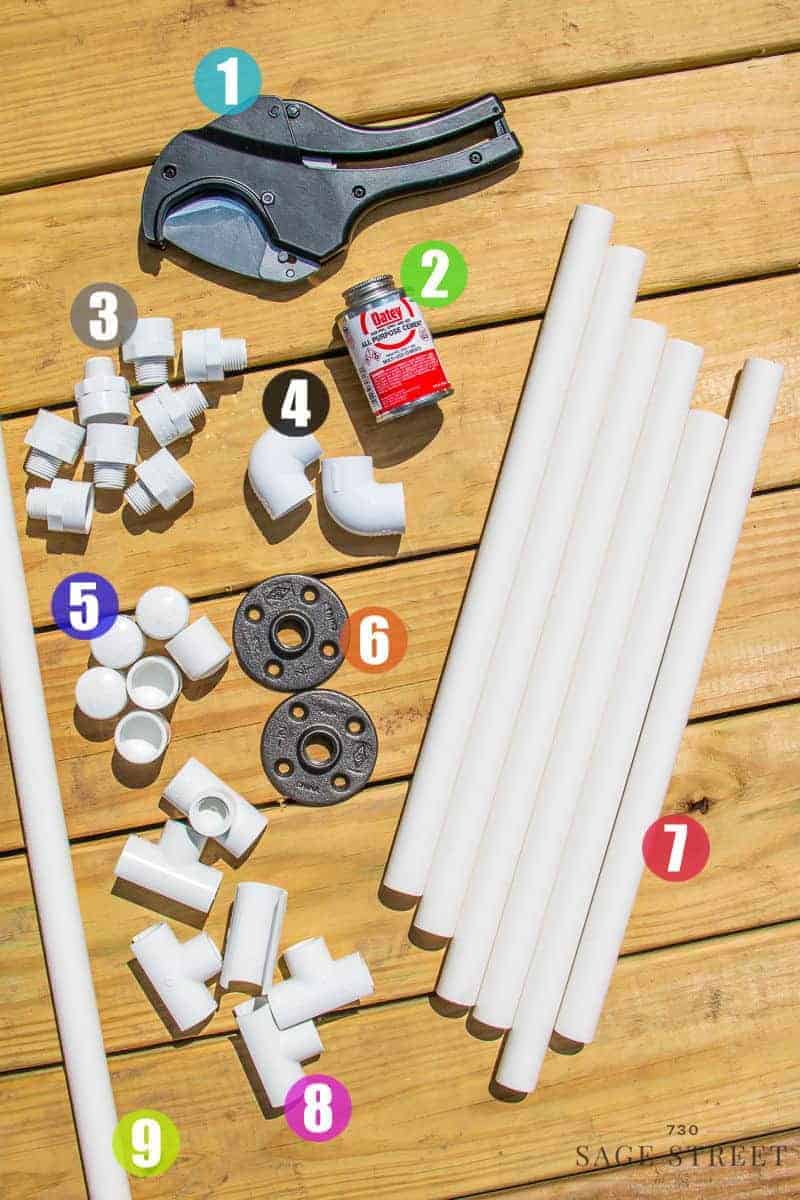 (8 pieces) 3/4-in x 1/2-in x PVC adapter
(2 pieces) 3/4-in 90-Degree PVC elbow
(6 pieces) 3/4-in x PVC cap
(2 pieces) 1/2-in dia black iron floor flange (or PVC if you can find it)
(1 piece) 10′ length of 3/4″ PVC pipe
(6 pieces) 3/4-in x 1/2-in 90-Degree PVC tee
(1 piece) 5′ length of 3/4″ PVC pipe
Optionally you might also want a wax stick to grease the threaded ends of the towels arms when you screw them onto the rack.
How to Build a DIY PVC pool Towel Rack
I was pretty proud of myself for this project. I engineered it and built it myself. My husband helped me hang it on the deck, otherwise, it was all me and was super easy.
You can build this with more than 6 movable arms, you will just need to increase your material quantities and make sure you get enough length of pipe. I had a couple of feet of pipe left over.
Step 1
For the first step, you want to cut the 10′ length of pipe into 6 – 18″ pieces. The pipe cutter makes it really easy.
You will end up with 7 total pieces. The last one will be shorter. Save it, we will use it later in step 4.
Step 2
Next, you want to glue one cap onto one end of each of the 18″ pieces of pipe.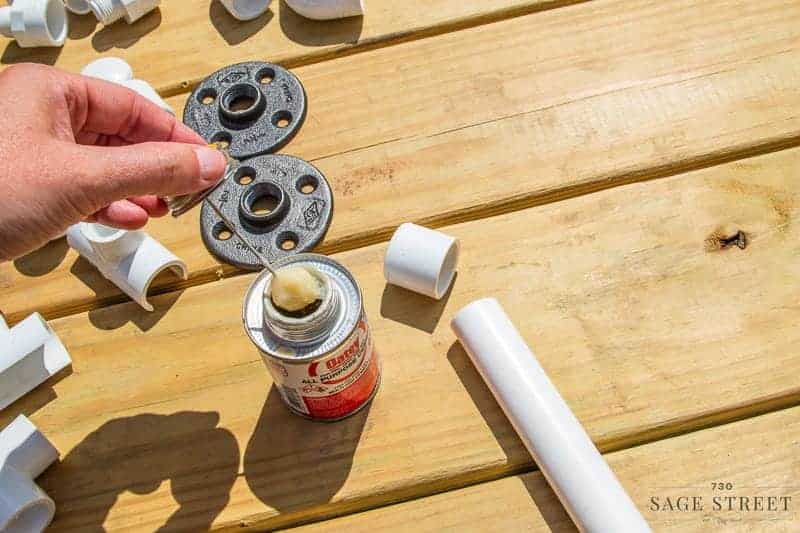 The glue is really easy to work with but it dries FAST.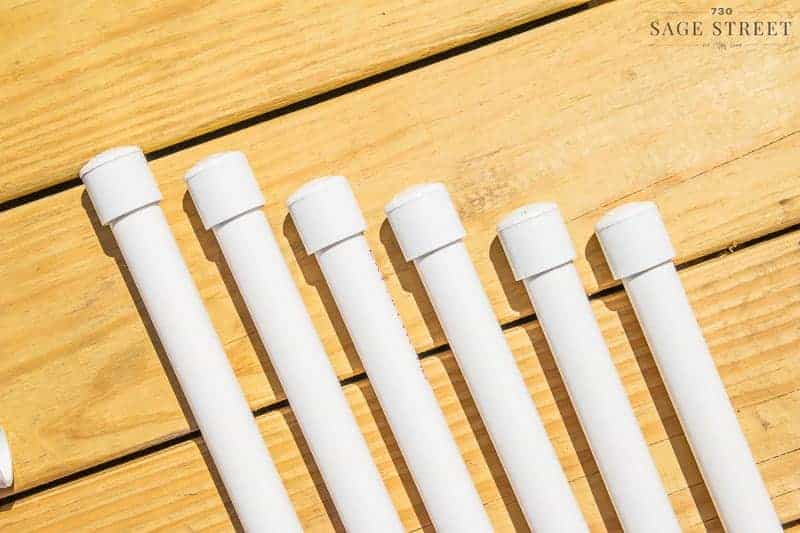 Step 3
Glue a PVC adapter onto the other end of each of the 18″ pieces of pipe. You should have 2 of these left to use on another part of the project.
Remember the glue dries fast so you will want to push the adapter on as fast as possible.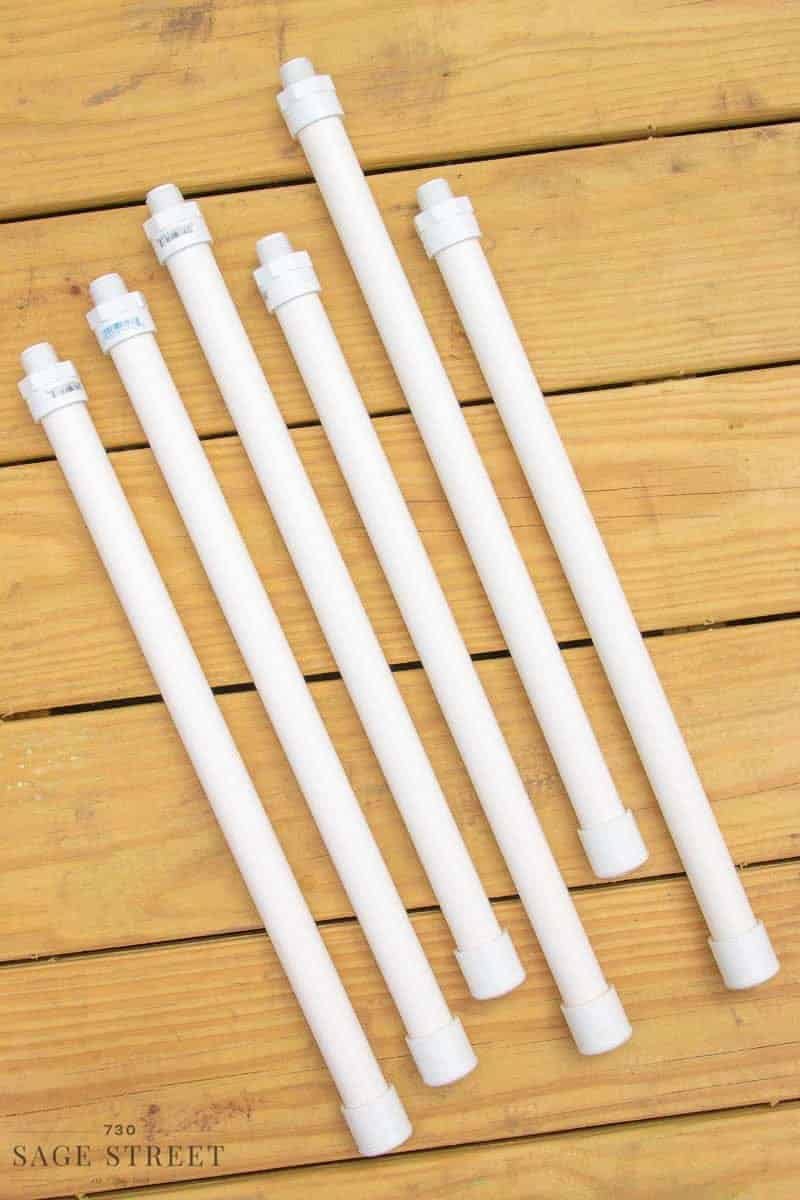 Step 4
Take the leftover piece of pipe from step 1 and cut off 2 – 2″ pieces.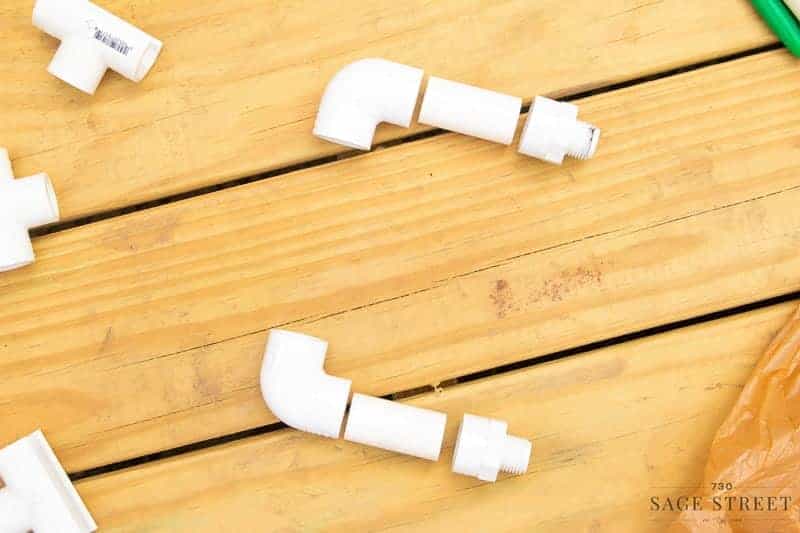 Step 5
Glue the remaining two adapters to one end of each of the 2″ pieces of pipe, then glue an elbow to the other end of each one.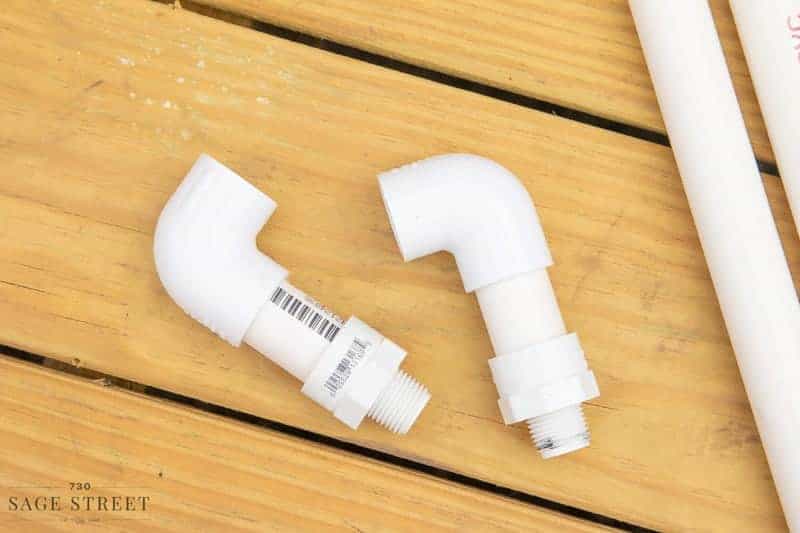 Step 6
This is where it gets a little dicey. You need a bit of assembly then disassembly, then reassembly in order to get the vertical piece of pipe the right length.
Take the 5′ length of PVC pipe and place one of the elbow pieces on the end that we made in step 5.
Then place all of the tees on the pipe – hint, actually slide the tees on first so you don't have to slide them the entire length of the pipe, then put the elbow piece on.
Make sure the elbow piece is on all the way and that all of the tees are tight against each other and the elbow piece. Now you will want to carefully remove the elbow piece and measure the distance between the end of the tee and the end of the pipe.
Unfortunately, I don't have a picture of this, but it's the length of pipe that sits inside the elbow piece. You will need the same amount on the other side.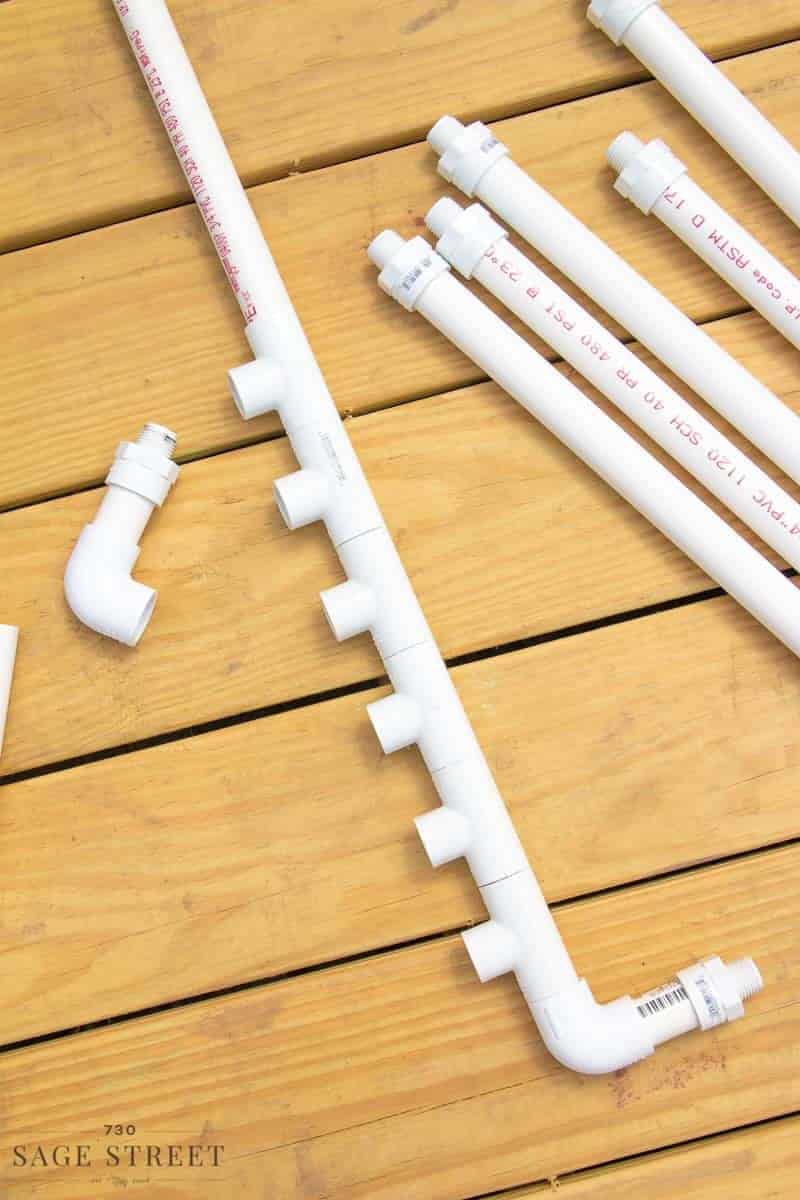 Step 7
After you measure the length of pipe you need on the other end, mark it with a tape measure and a marker.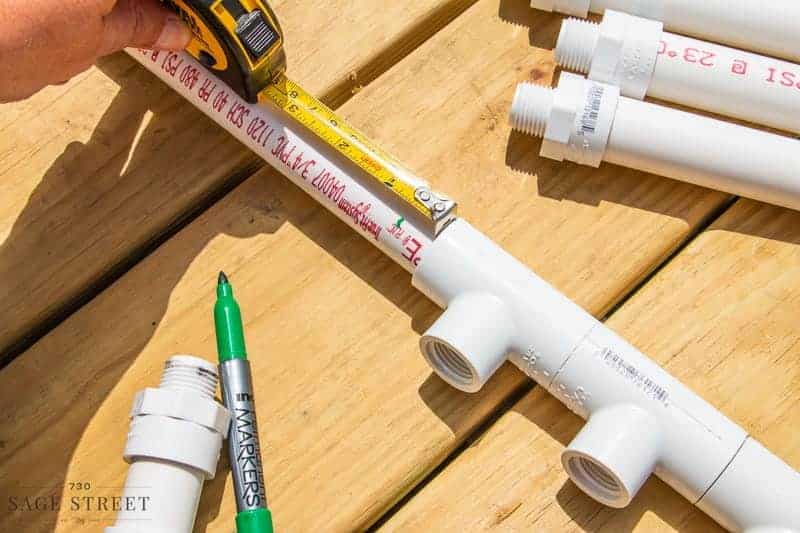 And then cut! You will see that I made 2 lines. I wanted to give myself a slight bit of wiggle room so that the pipe wasn't too short. So I cut in between the two lines instead of right on the first line.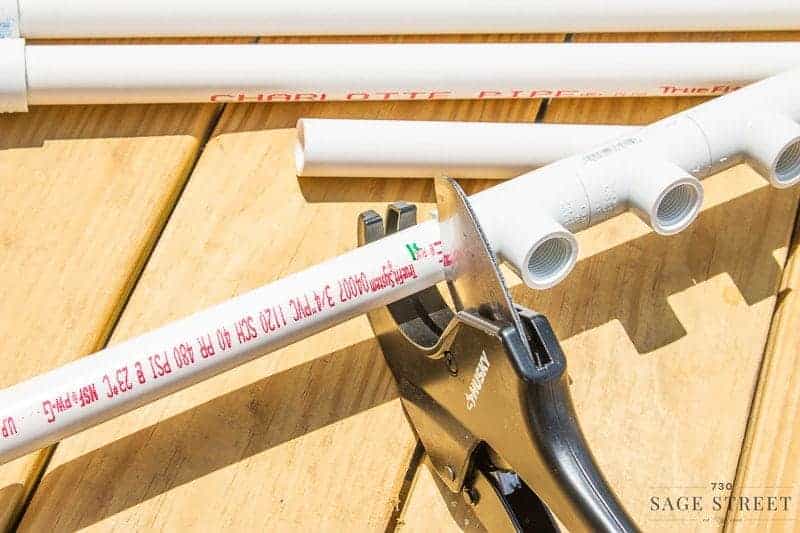 Step 8
Hand assemble everything to make sure it all fits right. You will have extra pipe from that 5′ piece if you made it too short or too long. Mine was just right.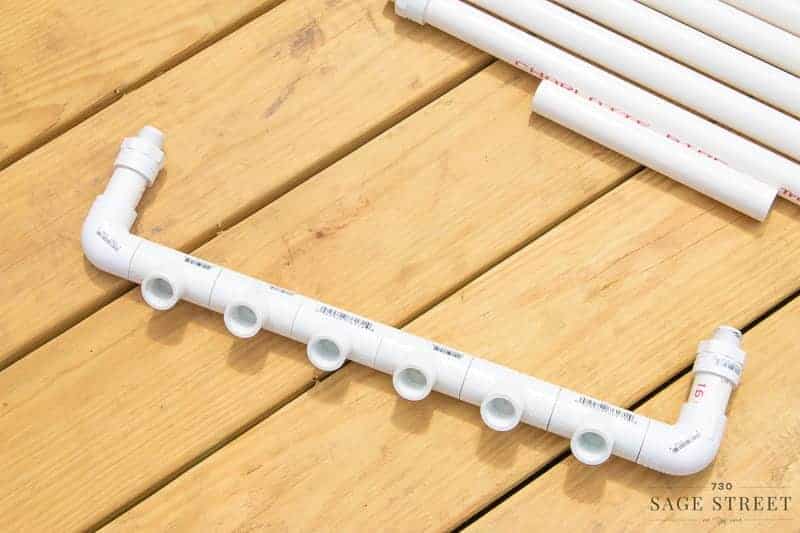 When you are ready to glue the short elbow pieces onto the pipe, make sure you have a flat, level surface to lay it out on to make sure that they are pointing in the same direction.
If you don't make sure they are even, the flanges won't both sit flat against whatever you are mounting it to. I practiced getting them even before I put the glue on.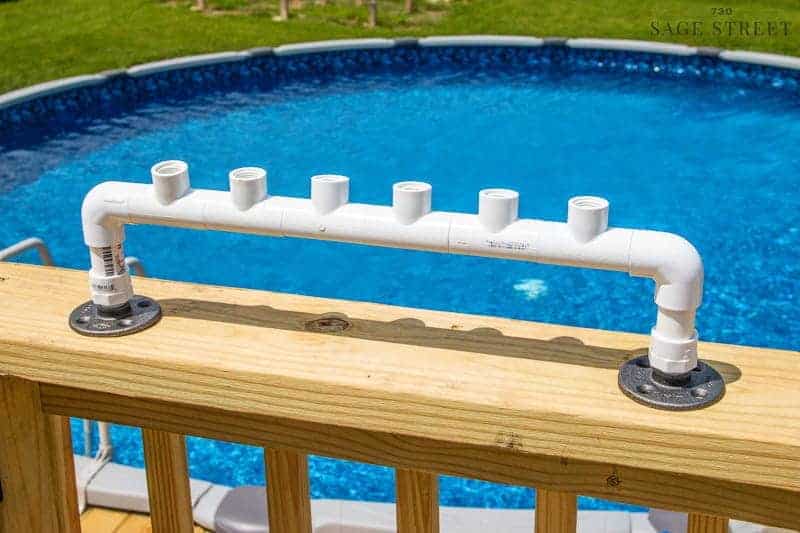 Step 9
Once all of the PVC is glued together, twist the flanges onto the short ends of the bar.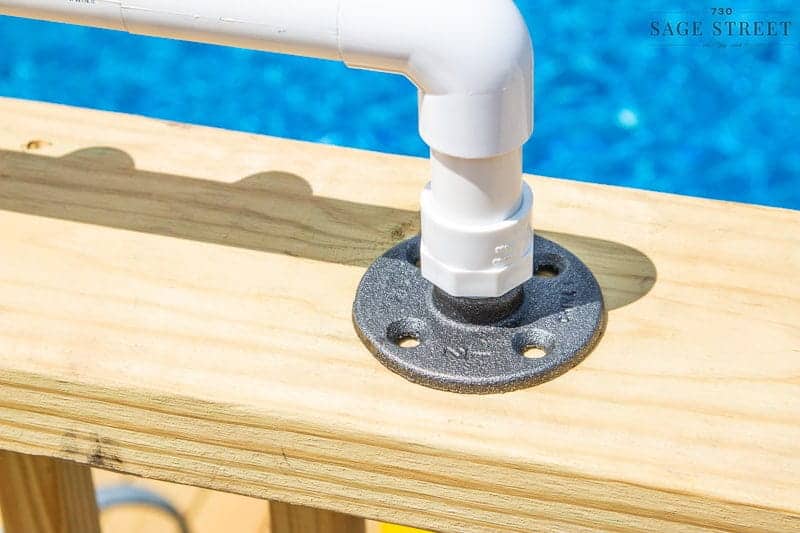 Step 10
Choose your mounting location and set one of the screws.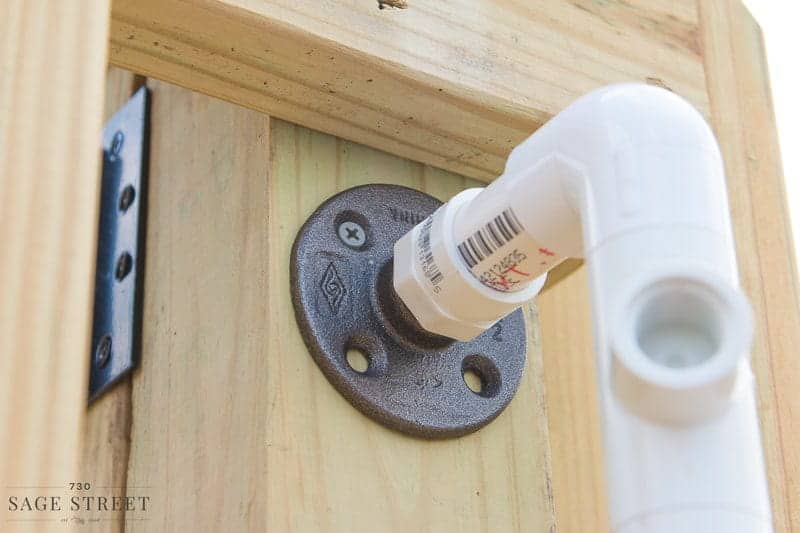 Use a level to make sure the bar is level and even.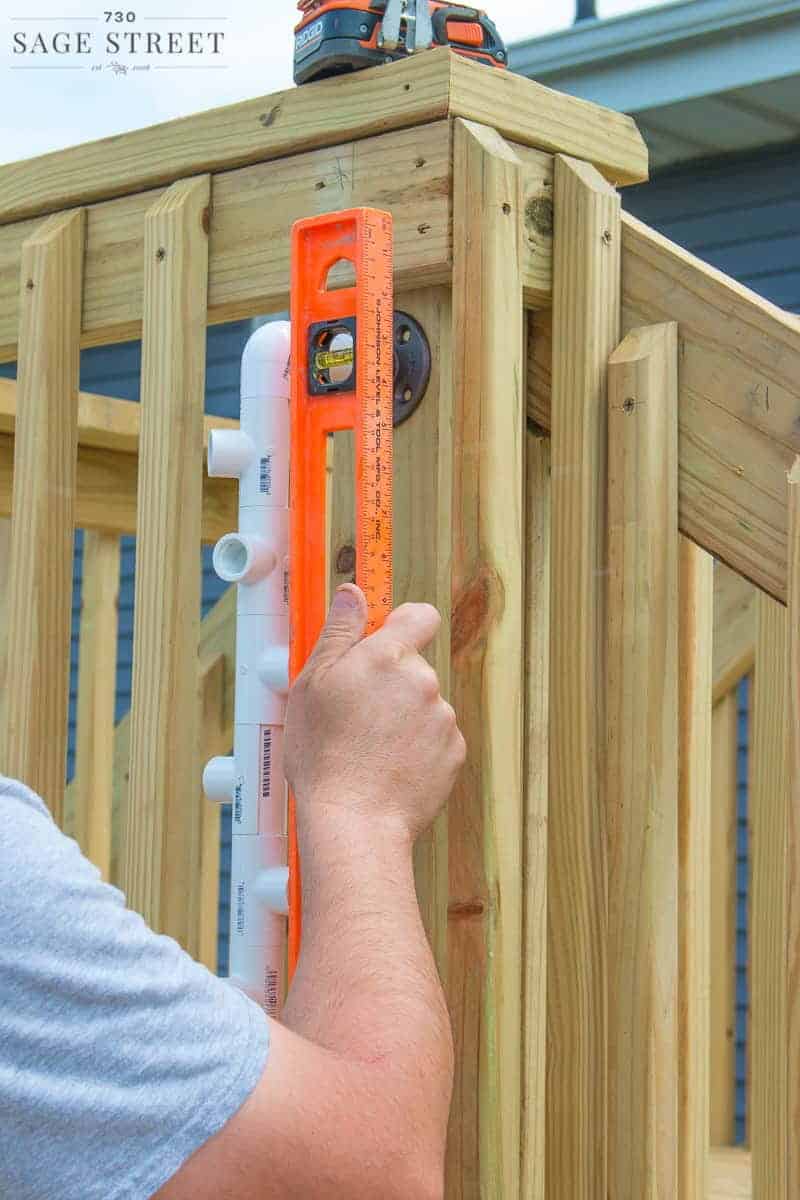 Continue mounting all of the screws.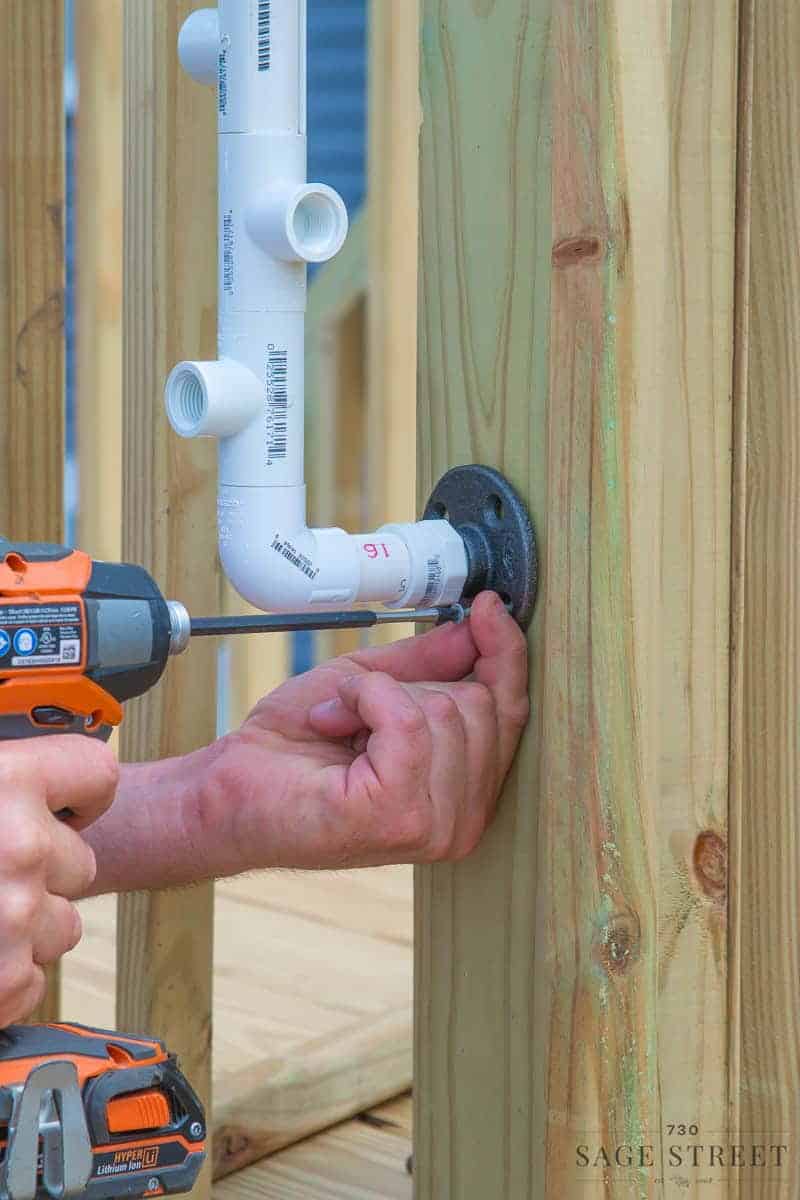 Step 11
Stand back and admire your handy work.
And then twist each arm piece into a tee on the bar. You may need to use a wax stick on the threads to make it easier to turn and tighten the arms.
Step 12
Hang your towels (and admire your craftiness once again!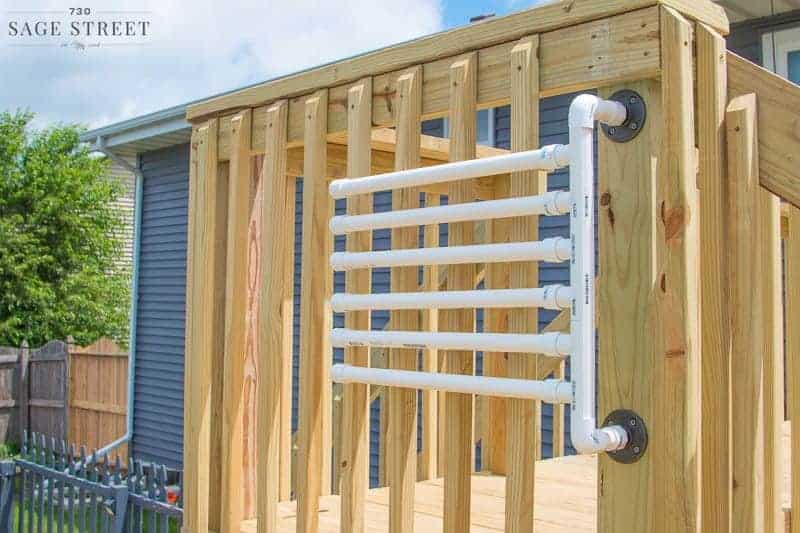 I think I am going to paint ours to resemble and American flag.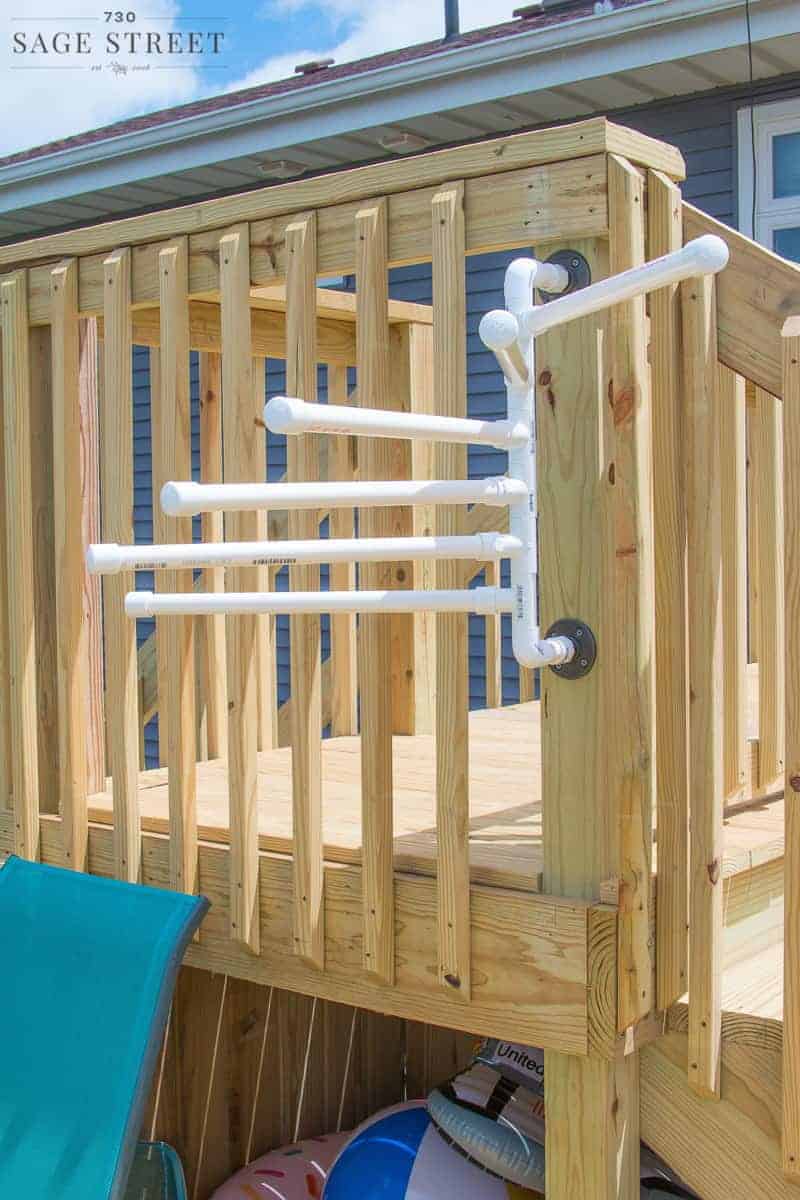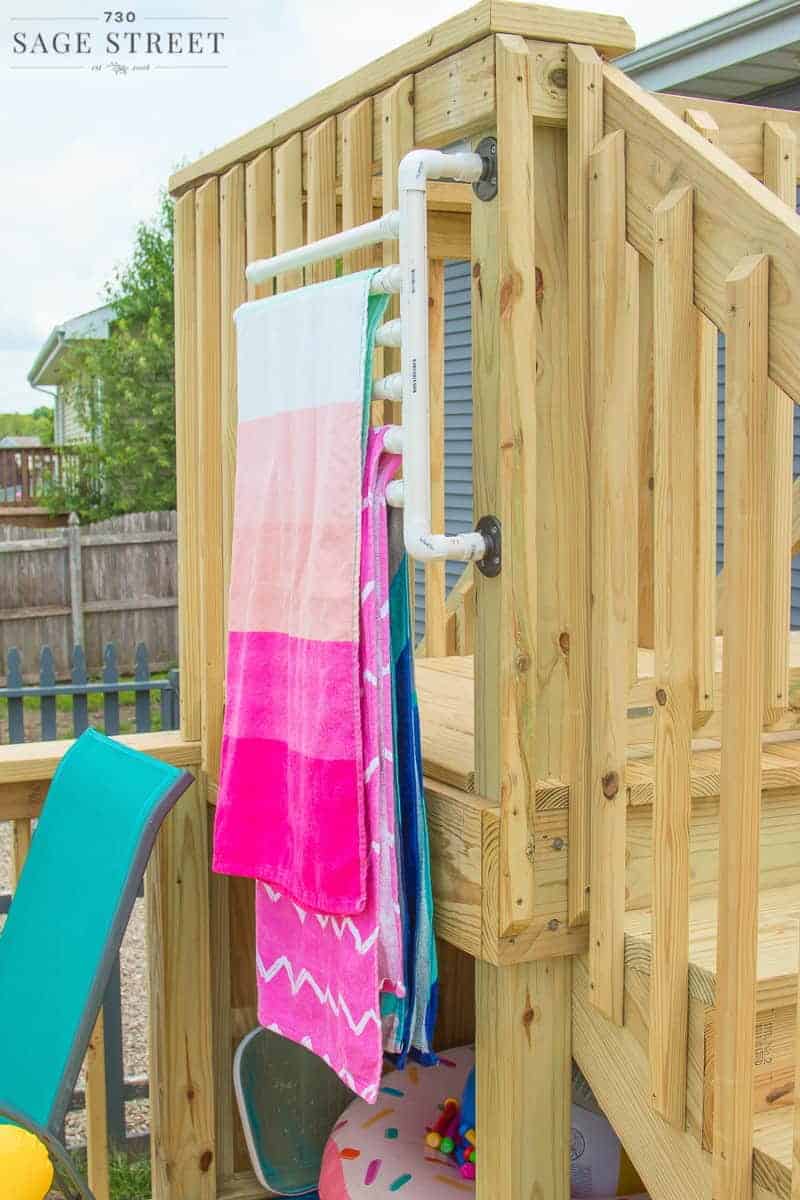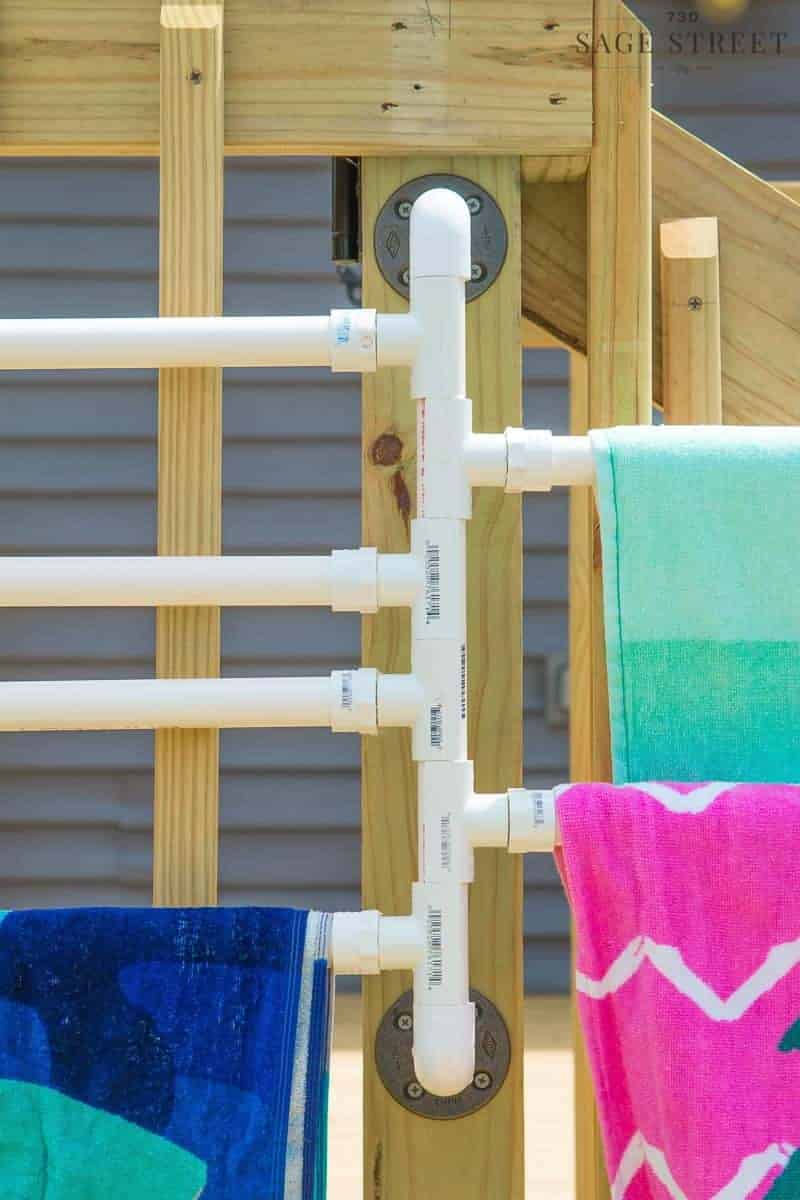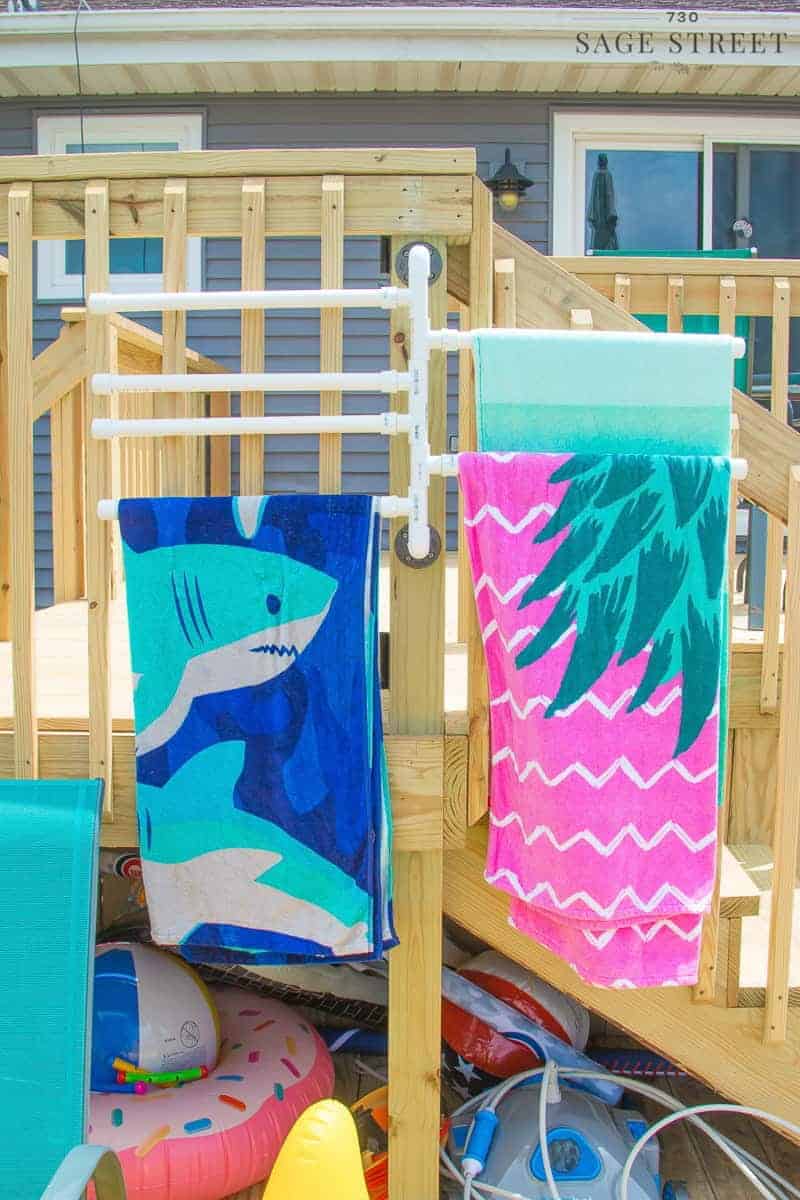 Do You Have Guaranteed Replacement Coverage?
In the study I mentioned above from Erie Insurance, they also learned that many homeowners weren't aware of a very important coverage for their home called guaranteed replacement coverage.
This coverage means you don't have to worry about the replacement cost of your home if something were to happen. Erie Insurance includes this coverage in their policies which pays to rebuild a home in today's dollars. It's not replaced based upon what it cost you, it is replaced based upon what it would cost NOW to rebuild it.
Can you imagine finding out that your homeowner's insurance doesn't cover enough to actually replace your home?
Erie Insurance has local agents that can help you choose just the right policy for your needs.
So before you head out to the store to buy the items for this cool DIY project, head over to Erie Insurance, read more about the results of their survey, and make sure that your homeowner's insurance has got you covered!