Note: this post, DIY Dinosaur Excavation Sensory Bottle, is inspired by the sponsored by the sponsored post we did for Amazon Prime's exclusive show Dino Dana. Check out that post and our Dinosaur Preschool Crafts – DIY Catch the Dinosaur Sensory Game.
There are no shortage of great ideas for crafts and activities when you have a package of dinosaur toys and an imagination.
As we watched screeners of the new Amazon Prime Kid's show, Dino Dana, one idea we came up with was to do a 'dinosaur' dig with sand and a bunch of toy dinosaurs. Well, in a house with dogs, that became a messy proposition. So we decided to put it in a jar!
We do love our jars around here. They are portable and not messy but still offer a sensory experience.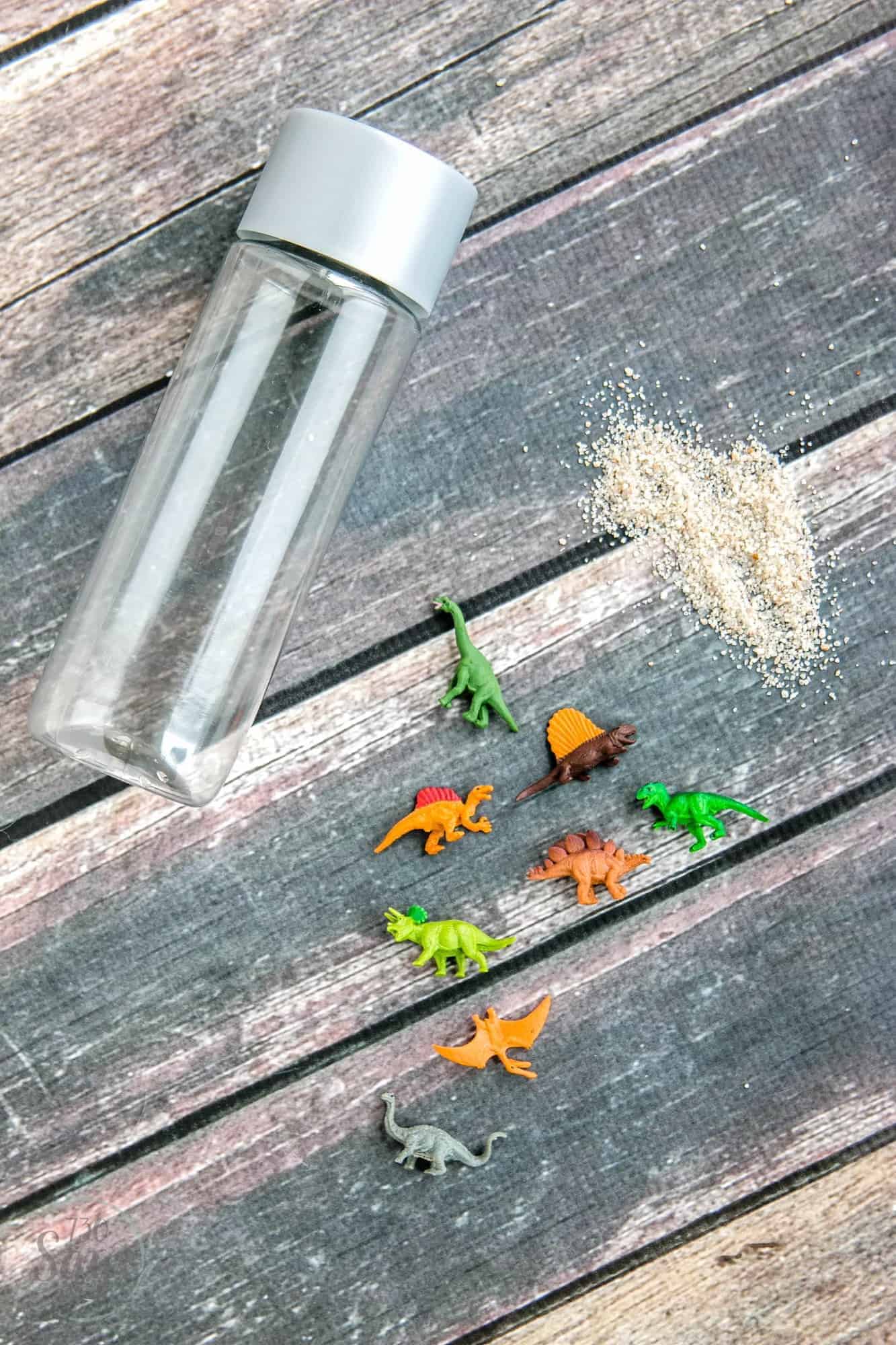 DIY Dinosaur Excavation Sensory Bottle
(scroll down to bottom of post for printable instructions)
What you need: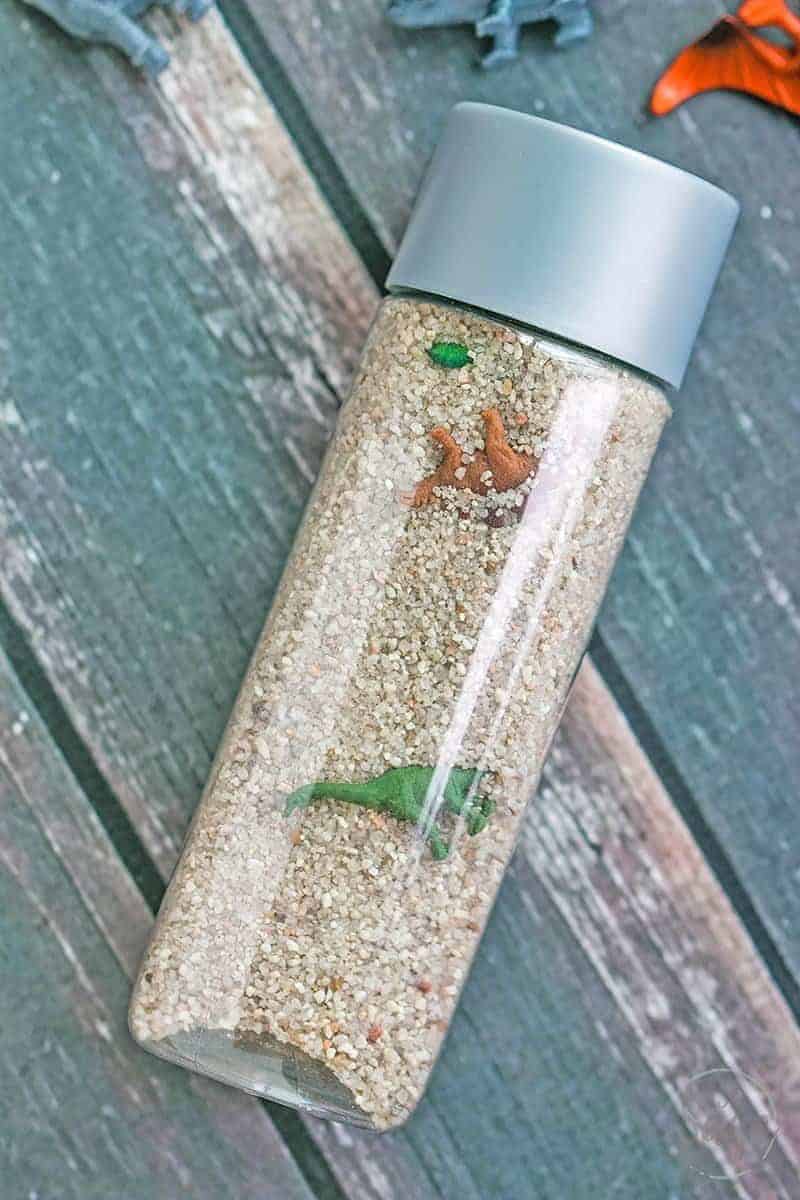 How to make:
Assuming you already drank the water in the water bottle, remove the label and allow the jar to dry. I found the label comes off fairly clean. If not, get instructions here: how to remove labels from bottles.
Fill the jar in small sections with the sand or stone granules, adding a dino or two as you work your way to the top.
You will want to leave about 1/2″ of air between the top of the sand and the neck of the bottle to ensure enough room to be able to "excavate" the dinosaurs. You want to not just see pieces of them, but be able to shake the sand off them like a real archaeological dig!
Test the bottle with the lid on to ensure you left enough room. Once you are sure, glue the lid on and enjoy.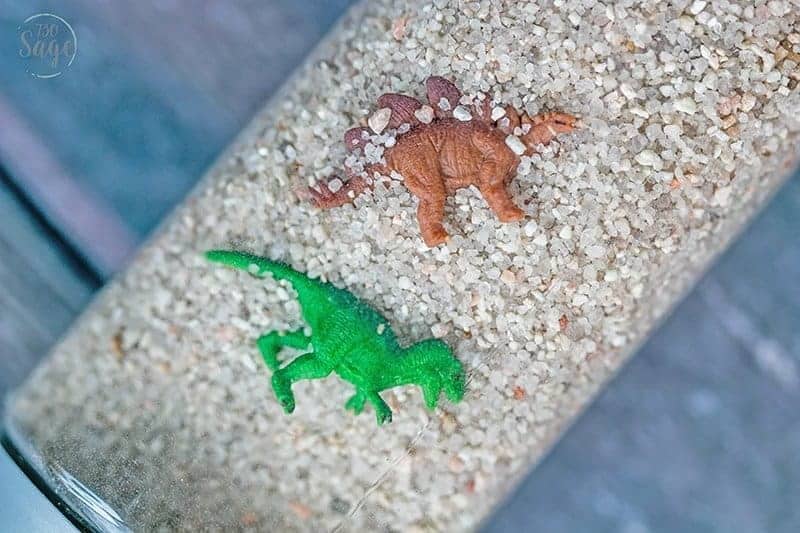 This can be enjoyed simply as a visual exploration, or as a game or learning activity. Make a list of each type of dinosaur in the bottle and ask your child to find a specific one. Work your way through all of the dinosaurs in the jar until they have found them all. If you get the same package I did, it includes the following dinosaurs:
Spinosaurus
Pterosaur
Apatosaurus
Stegosaurus
Brachiosaurus
Dimetrodon
Triceratops
Tyrannosaurus rex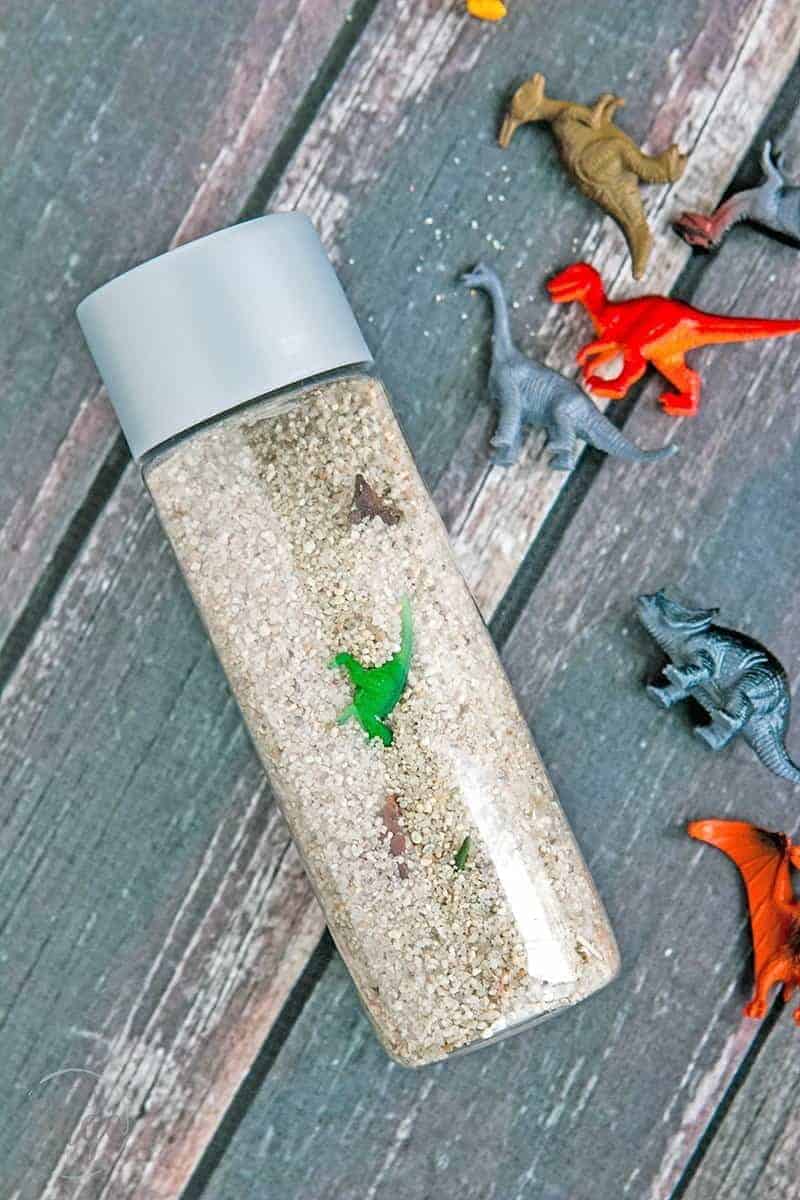 My daughter is having a blast with this!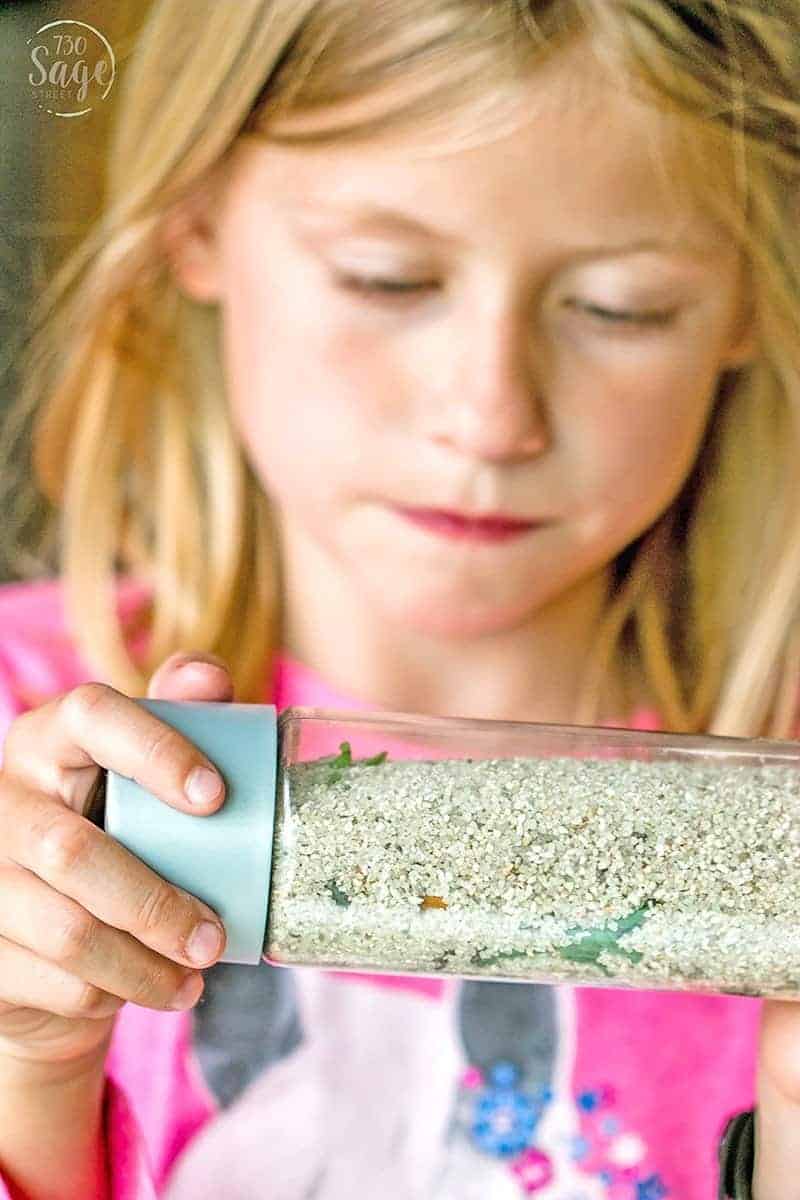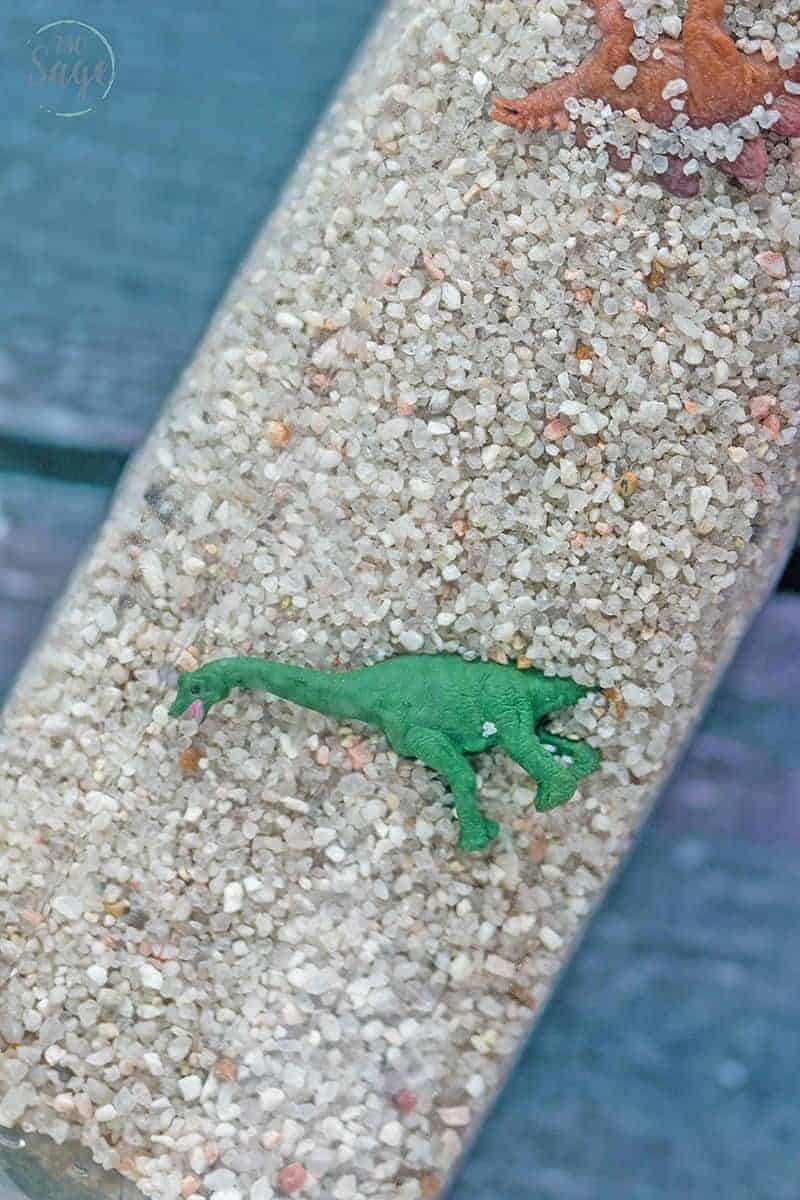 Look like fun? Make sure you Pin this on Pinterest for later!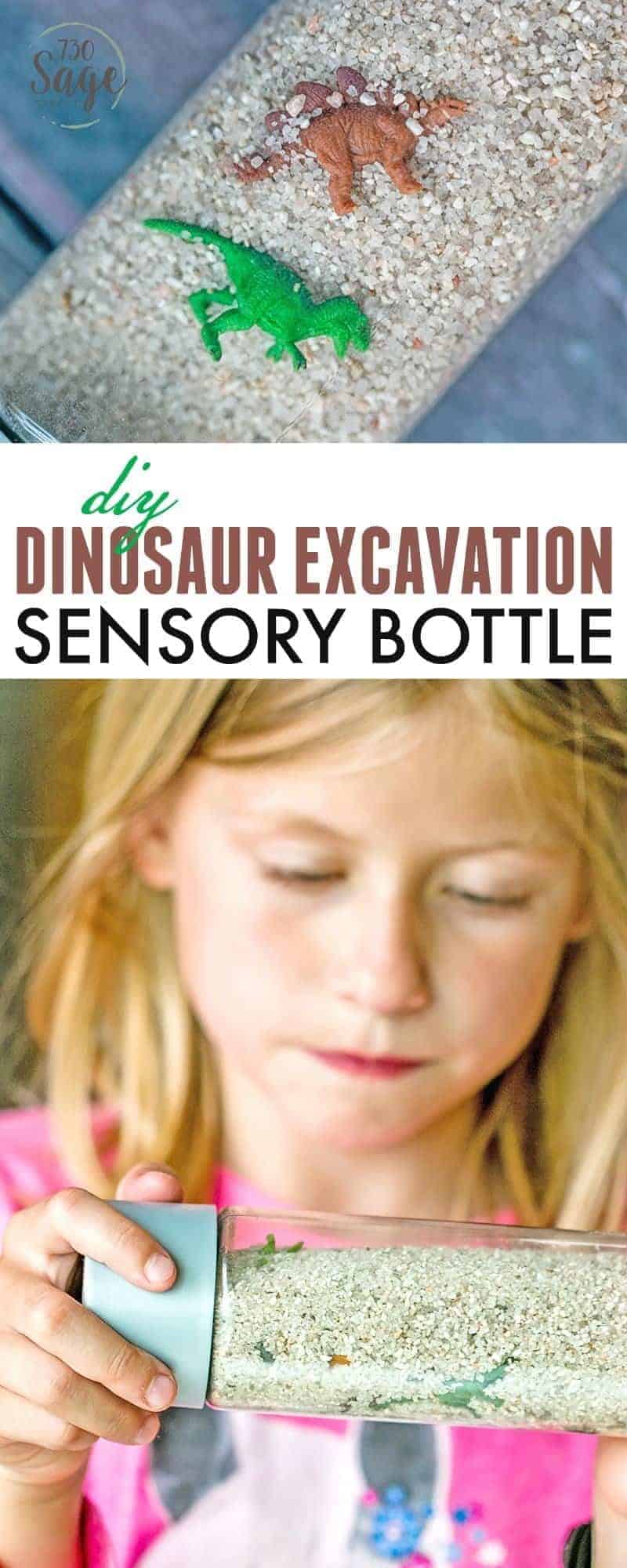 To print the instructions for this project, click the image below to open a PDF.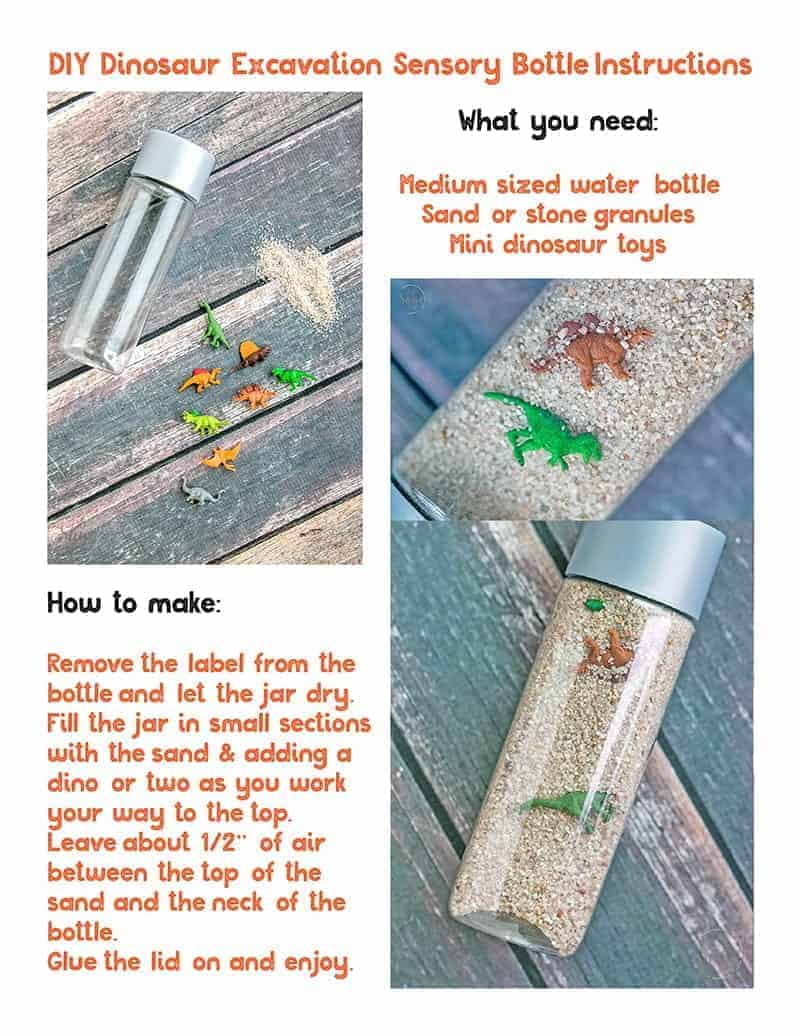 Don't forget to check out our other dinosaur themed activity and learn more about the new Dina Dana show premiering on Amazon Prime!