Disney and Walmart partnered with bloggers such as me for their program. As part of this program, I received compensation for my time. They did not tell me what to purchase or what to say about any product mentioned in these posts. Disney and Walmart believes that consumers and bloggers are free to form their own opinions and share them in their own words. Disney and Walmart policies align with WOMMA Ethics Code, FTC guidelines and social media engagement recommendations.
Unless you have been living in cave somewhere cut off from all media, you have probably heard of the new movie Guardians of the Galaxy that is currently in theaters. Guardians of the Galaxy is new team of Marvel heroes in an action-packed space adventure.
The main character, Peter Quill (Star-Lord), is an adventurer and would-be thief who has to team up with a group of misfits to defend against Ronan, a powerful villain who is trying to take over the universe. The group includes the female Gamora who is an orphan from an alien world, Drax who is a warrior set on revenge, Groot, a walking humanoid tree, and Rocket, a gun-toting bounty hunter raccoon.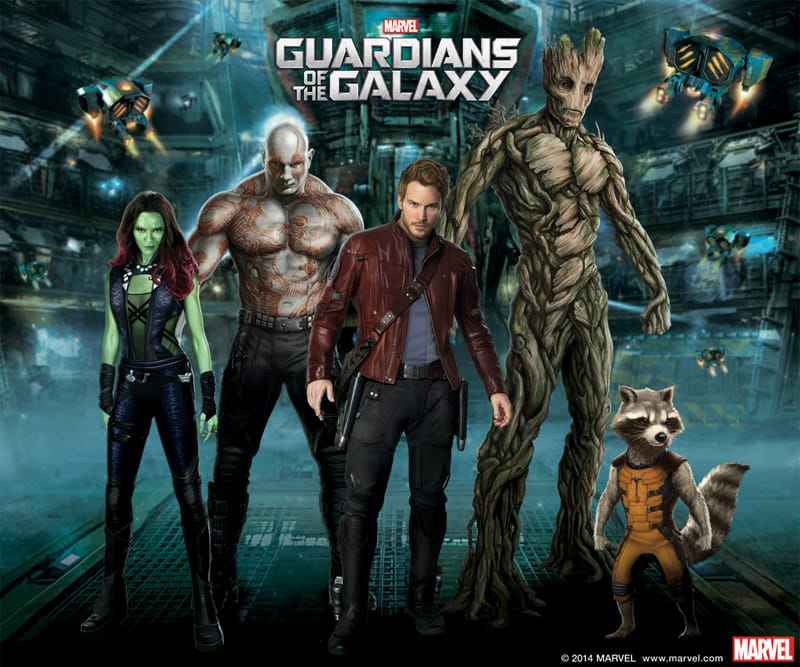 Each of the characters is endearing in their own way! I haven't yet seen the movie but it's on my "must-see" list. The film seems to combine great characters, exciting adventure and a whole lot of humor. I can't wait to experience the adventure!
When it comes to a film like this, everyone has a favorite character. It's a tough call with Guardians of the Galaxy because each character has their own quirks that makes them unique. I love that Gamora is a woman yet so tough and that Groot appears to have been formed right out of a tree. I also love Quill's sense of humor and the passion Drax has to avenge the death of his family. And I love that Rocket is a genius raccoon who kicks butt and takes names!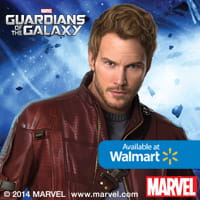 But I really think that Quill is my most favorite character. He is like Han Solo reinvented. Handsome, quick-witted, and ultimately one of the good guys despite his efforts to remain a loner.
Peter Quill is an interstellar adventurer who was abducted from Earth at a young age. After recovering an ancient artifact, Quill must rally an unlikely team of cosmic misfits to prevent a powerful villain from destroying the galaxy.
But no matter who your favorite Guardians of the Galaxy character is, Walmart has cool toys that will let you bring the adventure home!
Guardians of the Galaxy toys include a full range of action figures (large & small) of your favorite characters, masks, vehicles, and even a battle gear set with darts. The toys let kids relive their favorite moments from the movie, and make up new adventures of their own.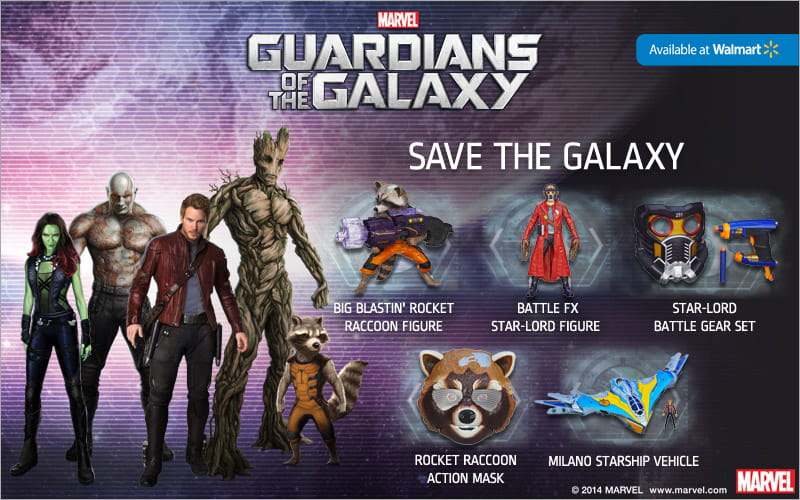 My son has already told me that the Star-Lord Battle Gear set is on his Christmas list! it's September already so that is right around the corner!
Walmart.com is the place to get all of your Guardians of the Galaxy toys!
Will it be the 6″ action figures? Regular sized action figures? Rocket Raccoon Action Mask? Which Guardians of the Galaxy toys will your kids flip over?
ENTER TO WIN A $25 WALMART.COM GIFT CARD
You can get a jump start on your Guardians of the Galaxy toy shopping with a $25 Walmart.com GC! To enter, simply fill out the form below. You can actually enter daily, but it ends soon so hurry!
The Guardians Of The Galaxy At Walmart $25 Gift Card Sweepstakes

Have you seen Guardians of the Galaxy yet? Which character is, or will be, your favorite?

Join our newsletter!
Subscribe to get updates and great stuff via email including subscriber-only goodies like free printables and giveaways.