My husband is a big fan of Dickies Work Clothes. He has bought their jeans and painters pants for years and is really the main brand he buys when shopping for himself. They have held up well and fit great too.
One thing I never realized about Dickies, however, was that they also have apparel for women and children. I was surprised by that and even more surprised that I actually liked it.
This holiday season, Dickies challenged us to pick some outfits for the whole family that will keep us warm and comfortable in anything that we do.
We selected styles, colors and sizes and Dickies sent everything to us to try out. What a fun box to open! All 4 of us were leaning over it pulling stuff out oooohing and aaaaahing like we were at a fireworks show.
Before I tell you my impressions of the Dickies apparel, let me show you a couple of photos we took. So far we haven't been anywhere aside from home decorating our tree and our house, but we have a shopping trip, Christmas Eve dinner and some random outings we will be taking during the next 2 weeks, one of which is a trip into Chicago to walk the Magnificent Mile checking out all the Christmas lights. Out Dickies wear will come in handy for that!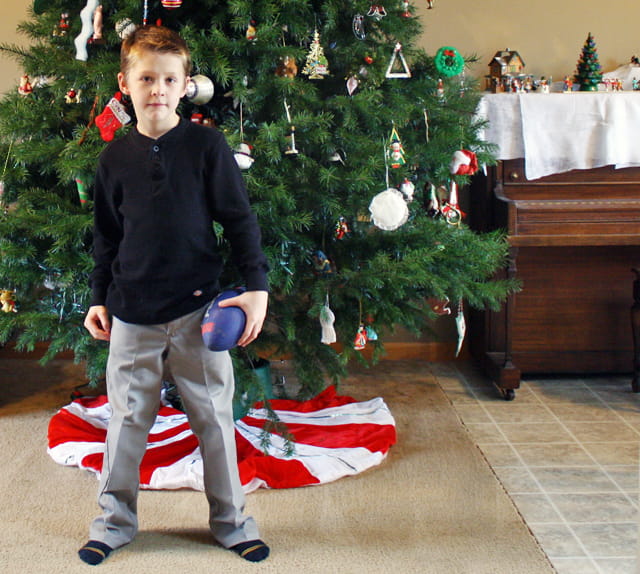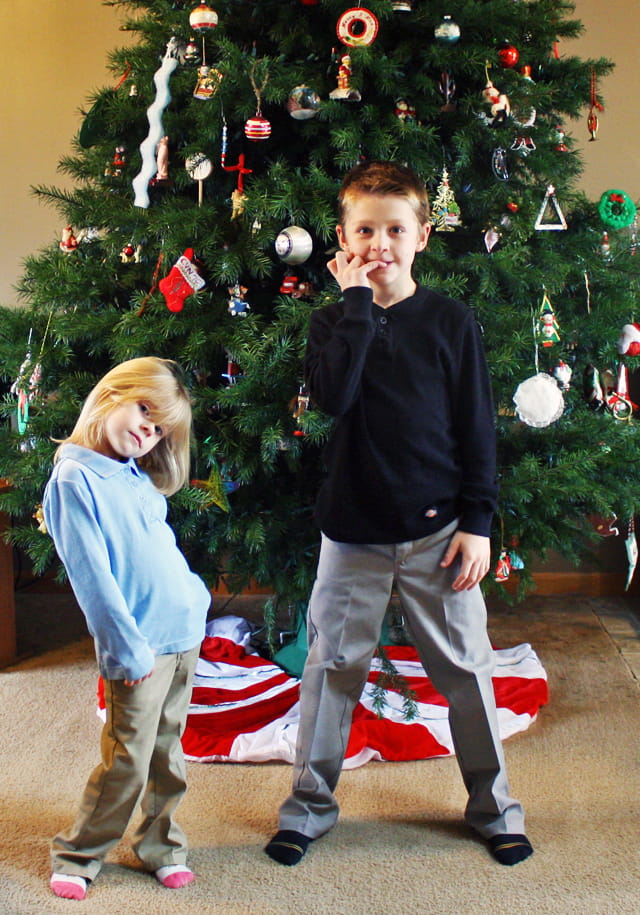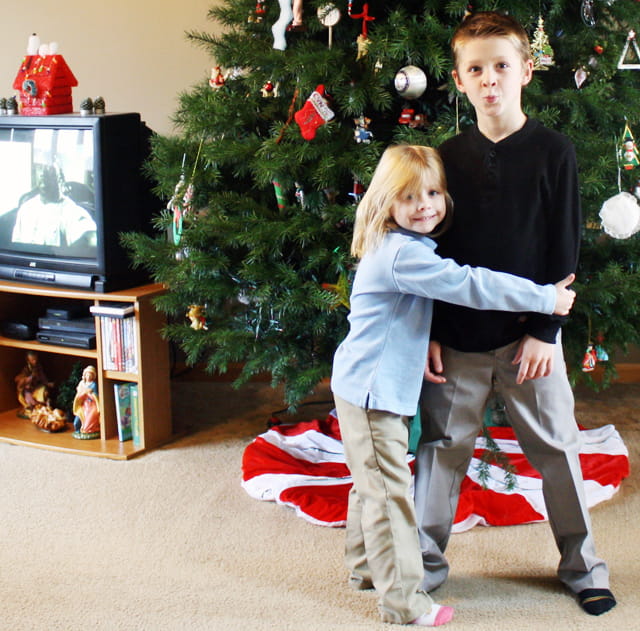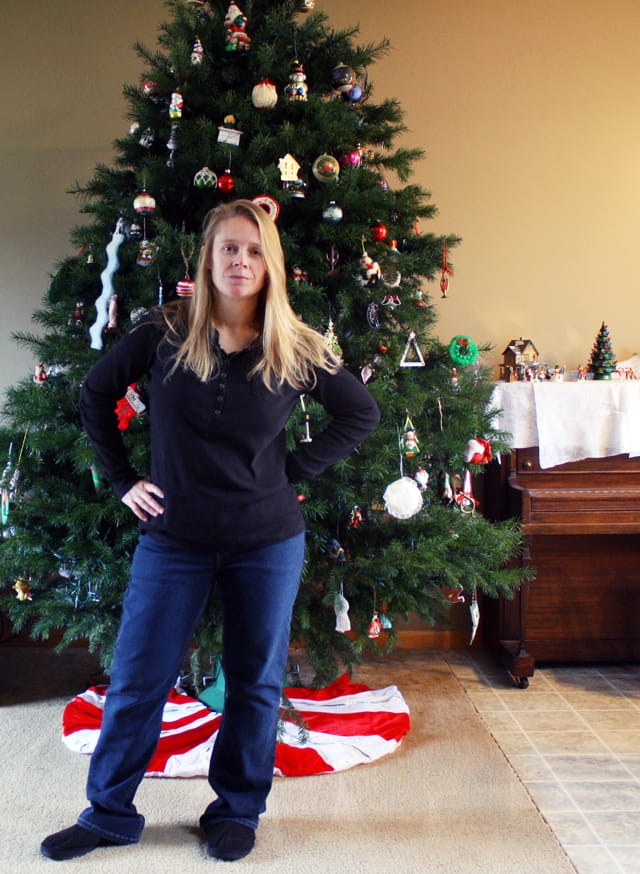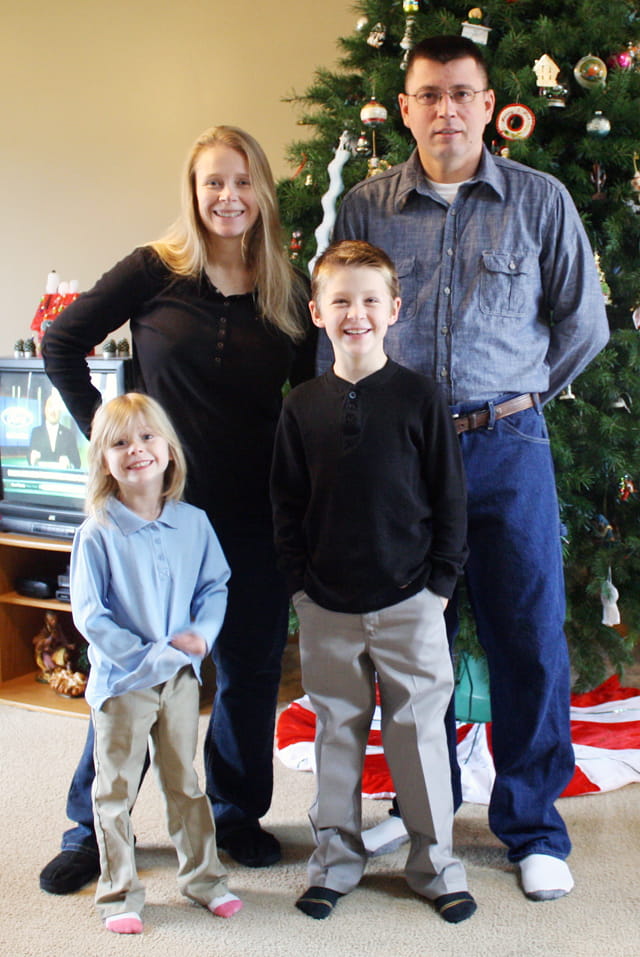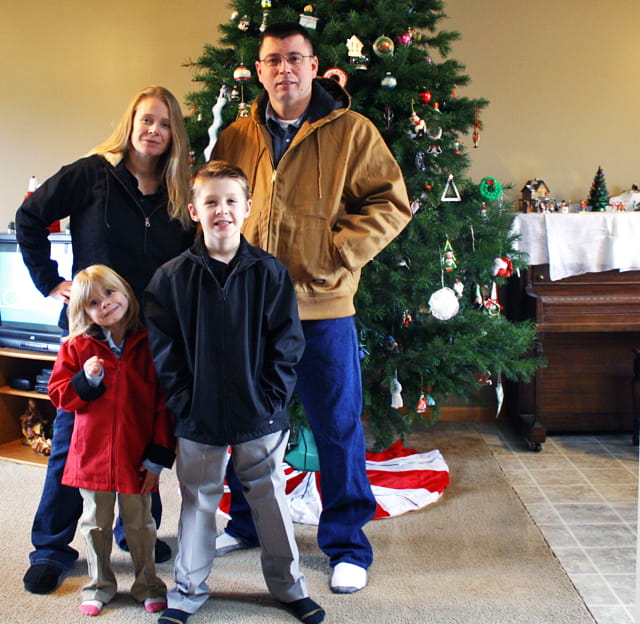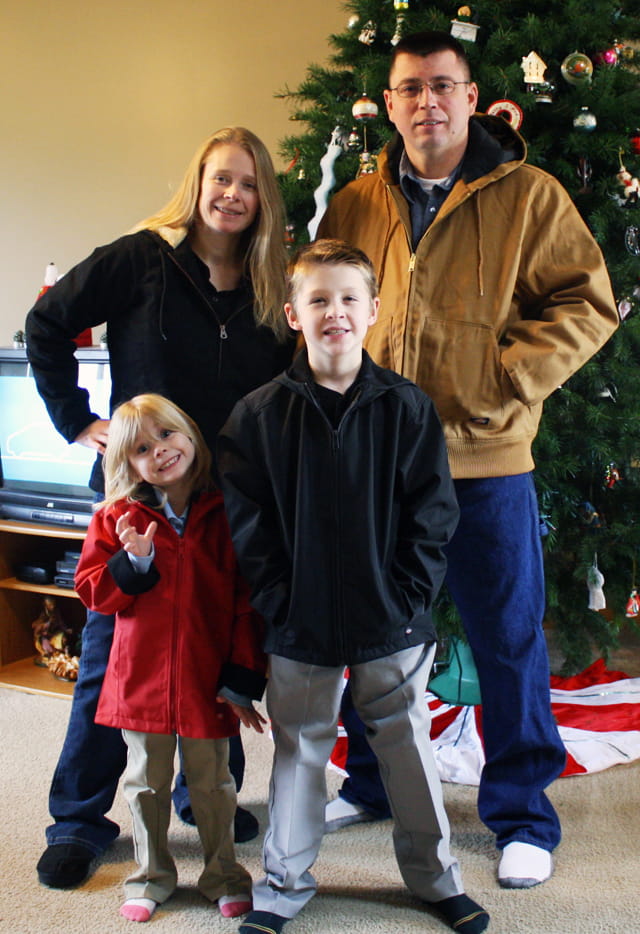 First things first. My daughter is clearly weird. But a cute kind of weird.
Second, trying to get everyone to smile at just the right time is not as easy as it would seem, even with only 4 people.
And third, but definitely not least, I really, really like the Dickies clothing. For me, the jeans fit fantastic as did the shirt. They are thick and durable and the length of the shirt and sleeves was perfect. I usually end up feeling like my shirts are too short. The jacket fits great and is very comfortable. I can honestly say I will be doing more shopping for Dickies apparel for myself.
The kids clothes are of great quality. The pants are nice and heavy and Jake's had reinforced knees, which is ideal for an active boy.  We especially all love the kids jackets. They look fantastic are durable and perfect for layering which is important in Indiana in the winter.
My husband already knew he was a Dickies fan but he especially liked the Chambray Shirt and the fact that it was made in the USA. He also was impressed with the jacket, so much so he is going to have his company logo embroidered on it.
The Dickies apparel will stand up to just about anything yet looks good enough to be worn for daily family outings, errands and activities.
Are you a fan of Dickies? Would you consider checking out their apparel for the whole family?
Note: we were provided the apparel items shown to facilitate this post, opinions expressed are my own.
Links to items pictured:
Me:
Women's Relaxed Boot Cut Jean – size: 10 regular, color: medium stone wash
http://www.dickies.com/womens-clothing/womens-jeans/Womens-Relaxed-Boot-Cut-Jean-FD138.jsp
Women's Rib Henley – size: large, color: black
http://www.dickies.com/womens-clothing/womens-tops/Womens-Rib-Henley-FL057.jsp
 Women's Sanded Duck Hooded Jacket – size: large, color: black
http://www.dickies.com/womens-clothing/womens-outerwear/Womens-Sanded-Duck-Hooded-Jacket-FJ402.jsp?cm_vc=9852723696502353
Husband:
Industrial Carpenter Jane – size: 36×32, color: Rinsed Indigo Blue
http://www.dickies.com/mens-clothing/mens-jeans/Industrial-Carpenter-Jean-LU200.jsp
 Dickies 1922 Chambray Shirt – size: 17.5, color: Indigo Chambray
http://www.dickies.com/mens-clothing/mens-shirts/Dickies-1922-Chambray-Shirt-HL93.jsp
 Rigid Duck Hooded Jacket – size: XL, color: Brown Duck
http://www.dickies.com/mens-clothing/mens-outerwear/Rigid-Duck-Hooded-Jacket-TJ718.jsp?cm_vc=9852723696502353
Son:
Boys' FlexWaist Double Knee Flat Front Pant with Logo – size: 8, color: silver
http://www.dickies.com/boys-clothing/boys-pants-8-20/Boys-FlexWaist153-Double-Knee-Multi-Use-Pocket-Pant-QP200.jsp
 Boys' 3-Button Thermal Henley – size: medium, color: black
http://www.dickies.com/boys-clothing/boys-tops/Boys-3Button-Thermal-Henley-KL4554.jsp
 Boys' Hooded Softshell Jacket – size: medium, color: black
http://www.dickies.com/boys-clothing/boys-outerwear/Boys-Hooded-Softshell-Jacket-KJ809.jsp
Daughter:
Girls' FlexWaist Flat Front Pant – size: 5, color: Khaki
http://www.dickies.com/girls-clothing/girls-pants-sizes-4-6x/Girls-FlexWaist-Flat-Front-Pant-KP3312.jsp
 Girls' Preschool Long Sleeve Interlock Polo Shirt – size: medium, color: Light Blue
http://www.dickies.com/girls-clothing/girls-tops/Girls-Preschool-Long-Sleeve-Interlock-Polo-Shirt-KL3953.jsp
 Girl's Hooded Softshell Jacket – size: small, color: English Red
http://www.dickies.com/girls-clothing/girls-outerwear/Girls-Hooded-Softshell-Jacket-KJ909.jsp