When it comes to vacationing with my family there are a number of different things that are critical for a location to make the short list for destination possibilities..
Roomy, clean accommodations.
Centrally located accommodations.
Activities both the kids and adults will enjoy.
Easy access – not needing to get in the car very often.
A relaxing atmosphere.
Unique activities that showcase the locale.
Great food.
The typical way I would research a vacation destination is to ask friends and family for recommendations and research online for reviews and information. Past visits also play a part as well, but in this case I have never been to Destin. Thanks to our Brandcation event, I had the opportunity to check out first hand what Destin, Florida has to offer before making the commitment to bring my family. And after this weekend, it certainly is on my list of possibilities.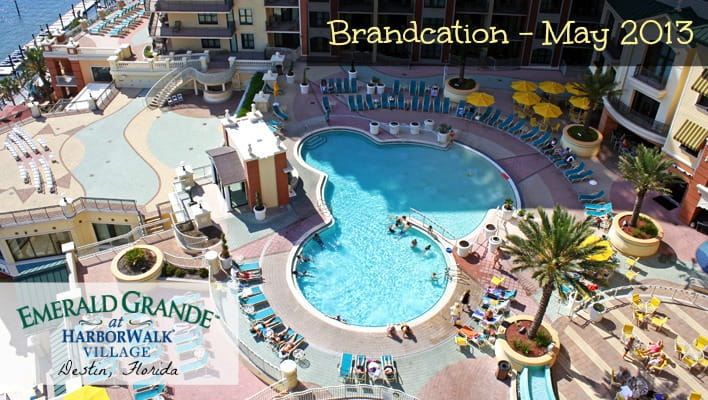 Brandcation DESTINation
Destin, FL has a number of the critical items I mentioned above in large quantity and we had a fun, memorable experience making this Brandcation the best one yet. We always strive for everyone to walk away saying that, and each Brandcation has been better and better.
There are so many people, places and brands to thank for helping to make this Brandcation a success.
Location Sponsors:
Emerald Grande at HarborWalk Village
La Famiglia on the Harbor
Grande Vista Bar & Grill
Harry T's
Website: https://www.harryts.com
Facebook: https://www.facebook.com/pages/Harry-Ts-Lighthouse
Kitty Hawk Kites
Boogies Watersports
Website: https://www.boogieswatersports.com
Buccaneer Pirate Cruise
Starbucks
Destin Snorkel
Big Kahunas
Crab Island Cantina
Swag Sponsors:
Flashing Blinky Lights
LifeLock
Camera Coats
Band-Aid, Neosporin, Johsons Baby 
CoTZ Face Mineral Sunscreen   
Tervis  
Reflect Who I Am (shirts and bags)
Brush Buddies
Belkin
O-Venture (keyrings)
Rock-A-Pockets
All Things Equal/Family and Party Games   
MiniDrops (eye drops)  
Fan Bands   
Jewelry Travel Organizers
Mommy Tonic
Website: https://www.mommytonic.com/
Clean and Clear/Neutrogena
Attending Bloggers:
Another element that made this Brandcation a success were the bloggers who attended. They put their faith in us to provide them with a great experience and getting to spend more time with past attendees and meet new ones is something I will always cherish. They are the reason we can continue to host these events, and the reason we WANT to.
https://www.goodgollymissblondie.com
https://www.destinmom.com
https://www.bucktownbargains.com
https://www.joyfulmusings.com

https://www.dirtyfloordiaries.com
https://shopperstrategy.com
www.LifeWithLevi.com
https://ahelicoptermom.com
https://www.mybatonrougemommy.com/
Stay tuned for highlights from the trip and more information about the things that stood out to make this Brandcation special and make a Destin vacation, a family-friendly Florida destination.