I may have trouble this week making the meals I planned because my trip to the grocery store met with a lot of empty shelves in the produce department. It was like everyone was planning for the zombie apocalypse and zombies don't eat vegetarians.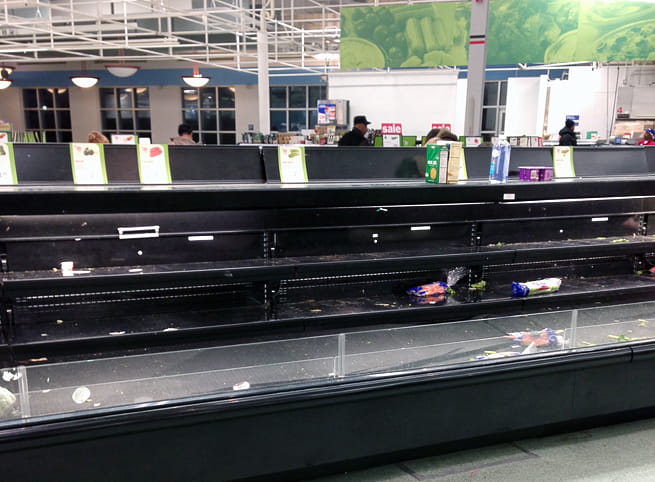 Other theories involve planning for the crazy weather we are having (they closed ALL roads in my county) or new years resolutions.
Personally I prefer the vegetarian zombie theory.
So we shall see how this week turns out and if a follow-up trip to the store nets me the ingredients I need. If the roads ever open back up!
Monday
Honey Ginger Soy Chicken – Mom 100 Cookbook pg 208
Roasted Butternut Squash – Mom 100 Cookbook pg 266
Tuesday
Hamburgers with Paleo Hamburger Buns – 21DSD Cookbook pg166
Sweet Potato Fries – 21DSD Cookbook pg 160
Wednesday
Pot roast with root veggies & mushrooms – 21DSD Cookbook pg 92
Creamy cucumber salad – 21 DS Cookbook pg 152
Thursday
Slow cooker sesame-orange chicken – Against all Grain Cookbook pg 130
Jasmine Rice (this obviously is a grain but you can substitute cauliflower rice for traditional rice – we like the real thing now and again)
Friday
Grain-free peroigi
Polish sausage
Saturday
Pork Tenderloin Paprikash (from newspaper)
Grilled Mushrooms
Sunday
Goodman Family Meatloaf – Earthbound Cookbook pg 85
Mashed cauliflower – Against all Grain pg 122
For a meal plan geared towards the busy family, check out Frosted Fingers Meal Plan for this week.
Join our newsletter!
Subscribe to get updates and great stuff via email including subscriber-only goodies like free printables and giveaways.