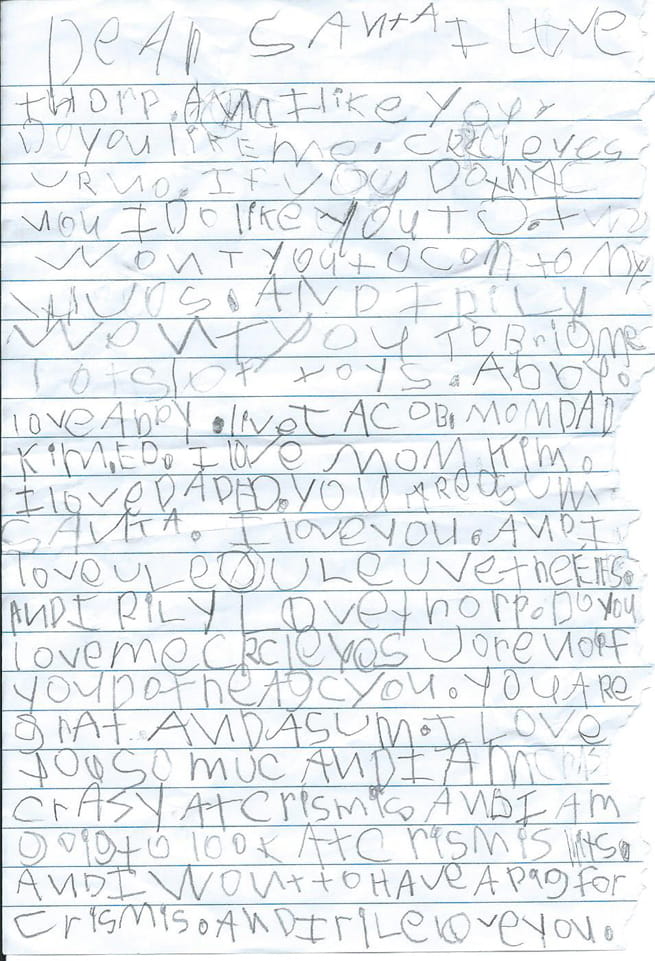 Translation
Dear Santa, I love Thorpe*.
And I like you. Do you like me? Circle yes or no.
If you do like me, I do like you too.
I want you to come to my house.
And I really want you to bring me lots of toys.
Abby.
Love Abby.
Love Jacob.
Mom. Dad. Kim. Ed.
I love Mom Kim.
I love Dad Ed.
You are awesome Santa.
I love you.
And I love, love, love the elves.
And I really love Thorpe*.
Do you love me? Circle yes.
*…can't decifer…*
You are great and awesome.
I love you so much and I am crazy at Christmas and I am going to look at Christmas lights.
And I want to have a pig for Christmas.
And I really love you.
—————————————————————
*Thorpe is the
Elf Magic
Elf that makes an appearance in our home each Christmas season.
Join our newsletter!
Subscribe to get updates and great stuff via email including subscriber-only goodies like free printables and giveaways.