Thank you WordFire Press for sponsoring this post. Be sure to check out and pre-order Danielle, Chronicles of a Superheroine here!
A couple of weeks ago I shared a brand new book that is currently available for pre-order called Danielle, Chronicles Of A Superheroine by Ray Kurzweil.  This book is more than a book, it's an epic adventure of  alternative history with two available accompanying nonfiction companion books. These books provide a historical backdrop, educational opportunities and a call to action to help readers be inspired and empowered by the main character to help bring about a better world.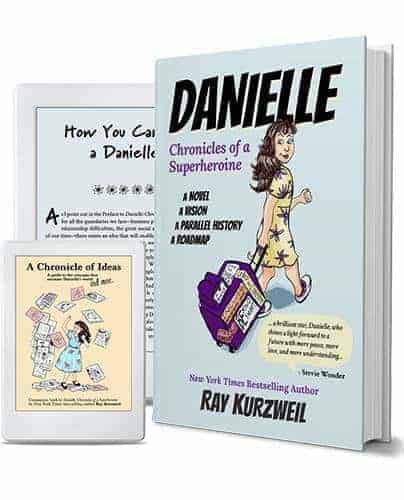 Companion Books
How You Can Be a Danielle
See how you can turn your ideas into real-world action in this companion digital guide.
A Chronicle Of Ideas
Learn about the real-life leaders Danielle meets and the big ideas she explores in this companion e-book.
The main idea of this book is to inspire anyone, anywhere, no matter how old, how young, and regardless of any circumstances to believe in themselves.
Danielle, Chronicles of a Superheroine
Be Smart, Be Kind. Inspire your children to dream big, pursue their passions, and be kind to others along the way.
This book, while fiction, actually reads like a true story. I think that the Chronicle of Ideas companion book with actual facts about the scientific, medical, political, historical and other ideas presented in the book help bring the story to life. It helps you believe that what happens in the novel is plausible. That is can be achieved. That it is just one possible course of history and that all it takes is one little girl with a passion for people to change it.
The book is written through the eyes of Danielle's adopted sister Claire. Claire, who could easily get lost in her younger sister's shadow, is a Danielle in her own right. Sometimes aiding Danielle, and sometimes enacting her own change in the world.
It is easy to refer to the Chronicle of Ideas companion book as you read along in the novel. Each relevant person, idea or concept that is found in the companion book (there are 282 of them) is tagged with a number in the novel, so you can easily refer to them in the companion book.
As a history buff, I really loved this idea. As a parent, it made me downright giddy to know that my daughter was actually learning in a scholarly way in the process of learning to empower herself.
Overall this book is an easy read. My daughter is almost 11 and it was mostly understandable for her. There were some concepts she didn't understand (mostly to do with some technical details regarding politics and technology), and a couple I had to explain (like the word chastity).
Pursue Your Passion. Encourage your kids that you can do anything you set your mind to.

About Danielle
Danielle is exceptional. She is unique. She is different. She marches to the beat of her own drummer, a drummer than never, ever, stops drumming.
Danielle begins to inspire change from a very early age, from her advanced knowledge in her sister's classroom in school at the age of three and attending an immigration reform rally at the age of five to becoming the "Chairgirl" of the Communist Party of China at age fifteen. She seems to never take no for an answer or ever doubt her ability to do what she sets her mind to. Even when others do doubt it. Most of that doubt is based on the limitations of her age.
Although within that, she does experience some disappointment when she doesn't see immediate, impactful change. The ripple effect begins to happen, however, and her efforts do not go unnoticed.
Change is waiting. Remind your children that even if we can't start big, we can still start small.
This is such a fantastic lesson for kids, especially in such a technological world where everything comes to us in an instant in the palm of our hands. Teaching kids that small changes can lead to big impact down the road is a valuable lesson. It's a lesson us adults can learn from too.
But sometimes, efforts don't result in any kind of noticeable change. In the book, Danielle's father says "Whether they succeed or not, they might actually learn something they will remember." The act of trying is in itself a success, because of the things you learn along the way. You never know what you might learn just by doing.
Learn by Doing. Inspire your children to care about world issues and create change.
Another lesson learned from this book is directed at parents. While we probably can't let our kids fly halfway across the globe before they can even tie their own shoes, we can allow them more independence in the little things. I have a high school sophomore in the house, and it's still difficult for me sometimes to let him exert his independence and risk failing. But this book helped me look a little more closely at myself, and try and find ways to allow both of my kids to "do" more often.
How to Turn Inspiration into Empowerment
In my initial article about the book, I shared with you my daughter's list of 5 key issues that she feels are important world health topics. Issues that she is passionate about and would like to help enact real change for to help solve or cure them.
As a reminder, these are her issues:
Cancer
Clean water
Starvation
Diabetes
Gastroparesis
My father died from cancer, so that topic is very close to her heart. I think she was inspired by the novel with regards to the clean water issue. She had no idea that there were people in the world who don't have access to it. Starvation is important to her because she has seen homeless people holding signs indicating that they are hungry and it breaks her heart. A friend of hers in the fifth grade has diabetes, and her friend's mom has gastroparesis. She truly has compassion for people.
She already is interested in awareness projects like these ribbons made with paracord. We purchased the blue one which represents colon cancer, and then we purchased some green paracord for gastroparesis awareness so she can try and make her own.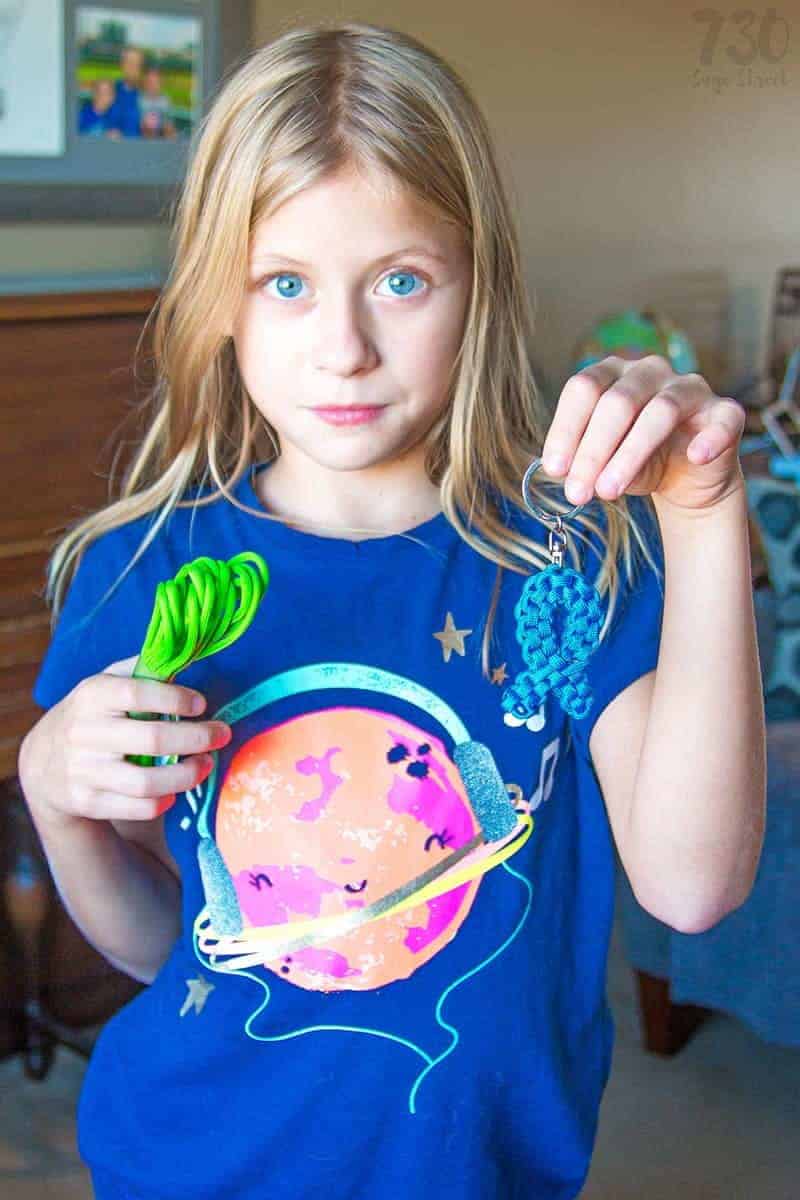 Our next step with these issues is to take the How You Can Be A Danielle companion book and come up with a plan or action items for her. The companion book outlines a call to action for a number of different topics addressed in the book with clear and pragmatic guidance. This will help her take her ideas and goals and turn them into tangible action steps to begin to bring about a better world.
We will do this using Danielle's father's advice as a guide: "Imagine yourself giving a speech in the future. Imagine you are explaining your solution and how it works. What would you be saying? What would you have to say? Work backwards from there."
I love that advice!
So stay tuned for the final step in our journey (which will actually be just the beginning) and in the meantime, Danielle, Chronicles of a Superheroine will be available and ready to ship in 2019, but you can PREORDER it right now here: Preorder Danielle: Chronicles of a Superheroine.
I was selected for this opportunity as a member of CLEVER and the content and opinions expressed here are all my own.