Bisphenol A (BPA) is that nasty stuff found in plastics and canned food liners. It is a synthetic chemical that gets absorbed into the bloodstream and has been shown to affect hormones (endocrine disruptor) and cause breast cancer and other cancers.
According to the EWG (Environmental Working Group) the following are the health risks associated with BPA:
BPA is a synthetic estrogen that can disrupt the endocrine system, even in small amounts. It has been linked to a wide variety of ills, including infertility, breast and reproductive system cancer, obesity, diabetes, early puberty, behavioral changes in children and resistance to chemotherapy treatments.
The EWG also reports that BPA can reach children in the womb and has been detected in cord blood samples!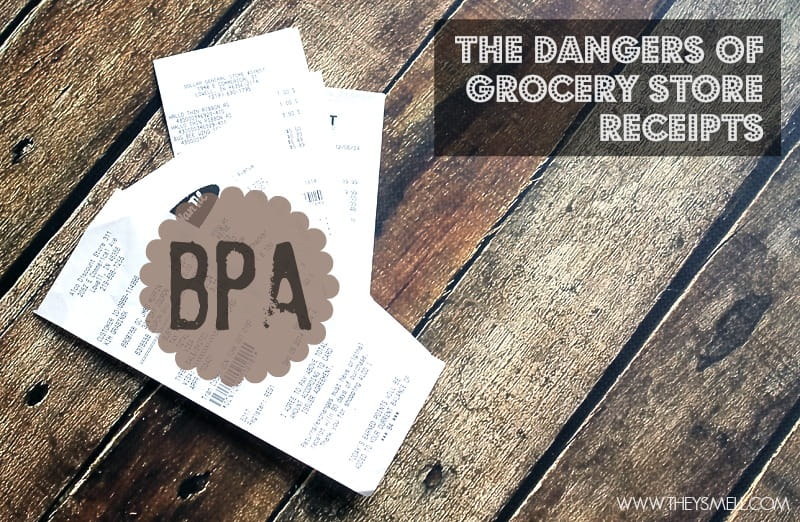 In addition to plastics and can liners, BPA can also be found in toys and compact discs, and apparently in some grocery store receipts. Skin contact can cause the BPA on a register receipt to be transferred to and absorbed by the body.
A recent study actually tested 94 samples of grocery store receipts from 12 different grocery chains in 82 different store locations in 66 cities and 17 states across the US. The testing period was from September 26, 2013 thru February 6, 2014 and produced some shocking results.
Summary of Analytical Results for Bisphenol A -2
The study was conducted by Ensource Corporation and reports that BPA was found in 27 out of the 94 samples which is 28.7% of the samples. You can read the full report here: Summary of Analytical Results for Bisphenol A -2.
Nearly 30% of the receipts tested positive for BPA despite store claims that they use BPA-free receipts.
Stores tested for BPA in receipts
6 Ahold stores – 3 out of 6 tested positive
1 Albertson's store – tested negative
3 Central Markets – tested negative
3 Giant stores – tested negative
8 HEB stores – tested negative
16 Kroger stores – 4 out of 16 tested positive
2 Martin's Stores – 1 out of 2 tested positive
7 Ralph's stores – tested negative
4 Randall's stores – tested negative
16 Safeway stores – 1 out of 16 tested positive
6 Stop & Shop stores – tested negative
21 Winn Dixie stores – 18 out of 21 tested positive
1 unidentified store – tested negative
It is important to note that the receipts that contain BPA are the thermal receipts, the ones that don't look or feel like regular paper. Not all thermal receipts contain BPA, but they might.
Imagine going to the grocery store, carefully scanning labels to avoid dangerous chemicals, only to be handed a BPA-laced receipt as you check out! Not to mention the employees who are handling these receipts constantly as part of their jobs. Without even realizing it, we are being exposed to chemicals that can not only affect our own health but potentially the health of our unborn children.
I'm sure most of us have been exposed to BPA in our lives, and it's really hard to know for sure that you are avoiding it 100% until the US completely bans its use. But there are things you can do to limit your exposure to BPA from grocery store receipts.
Five ways to limit exposure to BPA from grocery store receipts
Decline the receipt: It's very rare that you have to return anything to the grocery store, so declining the receipt shouldn't be a big deal. If you do have to return something, most stores will not have an issue if there is something wrong with it. If they do, then you obviously need to find a different store for your grocery shopping.
Call and ask if they have removed BPA from their receipts: You can usually find a corporate phone number for your store on their website, call and ask if their receipts have BPA in them. This isn't full-proof, however, because some stores claim to have removed it but still have some locations testing positive for BPA in their receipts. But at least you can eliminate the stores that respond that they DO still use BPA in their receipts.
Ask the cashier to put the receipt in the bag: When the cashier goes to hand you your receipt, ask them to put it in one of your bags with NON-FOOD items. When you get home, leave the receipt in the bag until you are sure you don't need it, then throw the receipt away.
Do the coin test on your receipts: You can do your own homework when it comes to which store receipts may contain BPA. There is no way to know for sure without a lab test, but if the receipt is a thermal receipt, there is a chance it may contain BPA. To determine if your receipt is a thermal receipt simply rub a coin on the printed side. If it leaves a mark, it is a thermal receipt and might have BPA in it.
Wash your hands with soap after handling receipts: Wash with soap NOT alcohol based hand sanitizer. The EWG reports that a recent study showed that alcohol based products can increase the skin's BPA absorption.
Did you realize that BPA could be present in your grocery store receipts? Will it change the way you shop?
Join our newsletter!
Subscribe to get updates and great stuff via email including subscriber-only goodies like free printables and giveaways.

This post was created as part of the BPA in Receipts Campaign in which I am a financially compensated blogger. The opinions are my own and based on my own experience.