Looking for a quick beginner's daily workout routine without equipment that you can do at home? Well, you came to the right place. While I love the gym because of the wide variety of equipment they have available to me; sometimes I can't get there. But I know I have to do something to make sure I keep my body moving. So I created a series that provides a daily workout routine without equipment for different fitness levels. Start with five reps of each exercise and work your way up with each subsequent workout routine.

The Daily Ten contains exercises you are probably somewhat familiar with and have done yourself. Some are full-body exercises, some are targeted to specific areas, but overall you will get a total body workout with these ten activities. Do at your pace! If it feels too easy for you, do multiple sets. If it feels too hard for you, then try The Daily 5 workout that I linked to above.
You can print the workout by clicking on the image below. It will open up a printable PDF that you can quickly send to your printer. I also recommend saving the image to Pinterest too, I pinned it to my Fitness and Workouts board. This board contains hundreds of great exercise tips, information, and routines. Or you can repin the image from my Pin here: The Daily 10.
Daily Workout Routine Without Equipment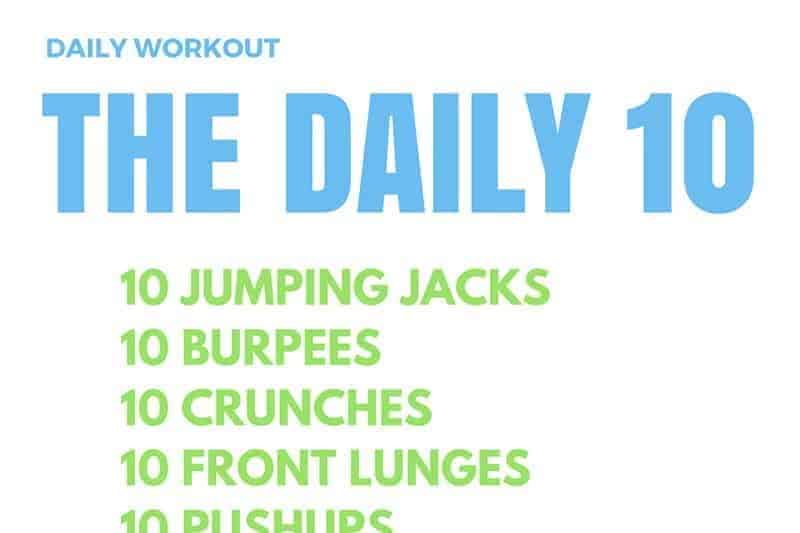 Check out my What's Your Name? Extreme Workout, What's Your Name? Beginners Workout, and our creative Simon Says name workouts, beginner workouts, simon says workout for kids. You probably can find a workout perfect for you for each day of the week, so you never get bored with your fitness routine. Combine beginner and extreme for some great variety and challenge. Oh an if you need some extra motivation, checkout my best motivational audio books on Audible.