Coconut milk is the star ingredient in these 15 delicious curry dishes, so go ahead and unleash its wonderful flavors.
Coconut milk, with its tropical flavor and velvety texture, is a delicious addition to classic curries.
From aromatic Thai curries to substantial Indian versions, this compilation highlights the diversity and ingenuity that coconut milk provides to the world of curry.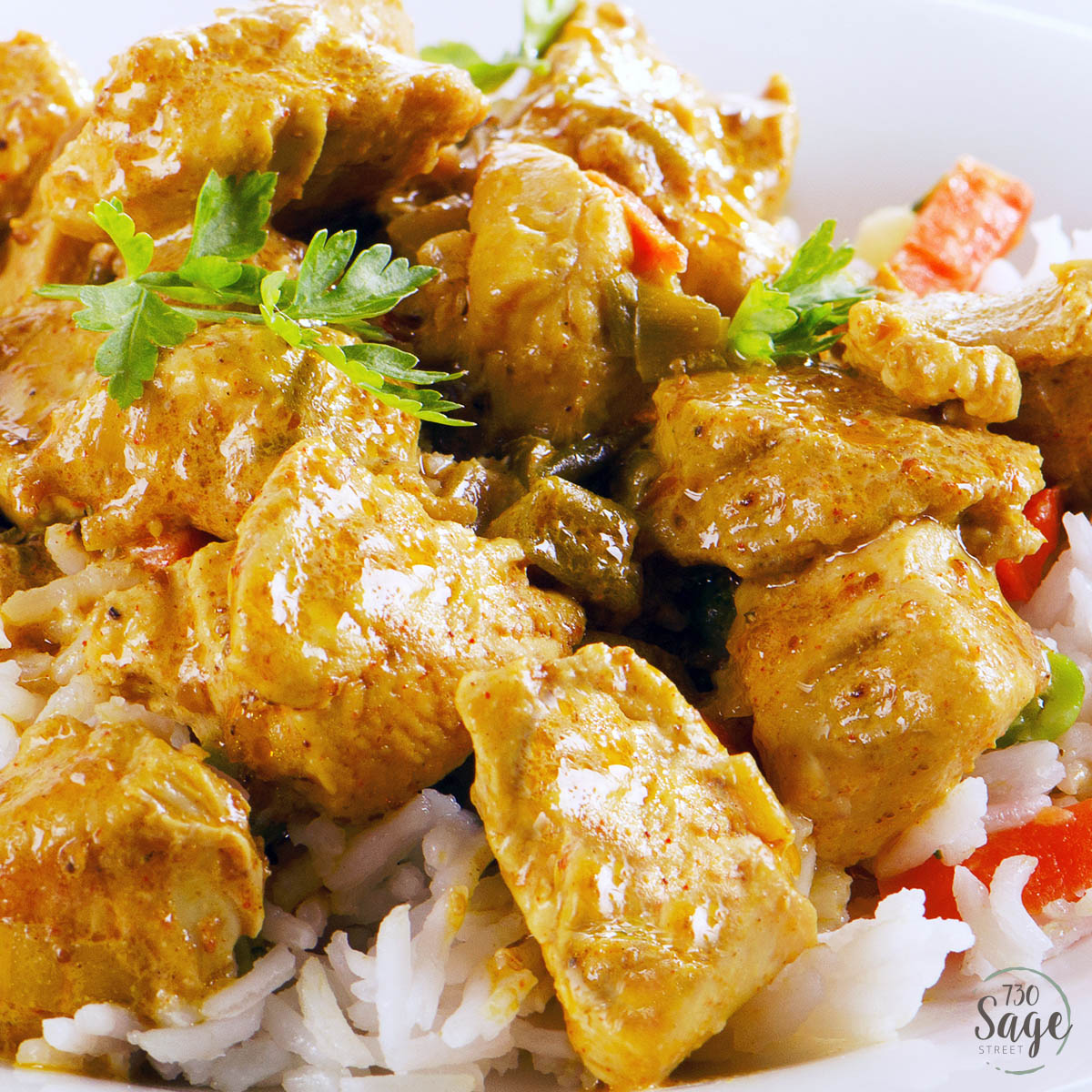 Can I Use Light Coconut Milk Instead Of Full-fat In These Recipes?
If you're looking to lighten up your coconut milk curry recipes, consider using light coconut milk as a substitute. Here are six varieties to consider, each with its own unique benefits and considerations:
Light Coconut Milk: With a lower fat content, light coconut milk offers a lighter and less rich texture while still providing the signature coconut flavor that enhances curries.
Full-Fat Coconut Milk: Known for its rich and creamy consistency, full-fat coconut milk brings a luxurious and indulgent touch to curries, resulting in a velvety and satisfying mouthfeel.
Unsweetened Coconut Milk: Free from added sugars, unsweetened coconut milk allows you to control the sweetness level in your curry recipes, making it a versatile option for both savory and sweet dishes.
Organic Coconut Milk: Choosing organic coconut milk ensures that your curry is made from coconuts grown without synthetic pesticides or fertilizers, providing a more natural and sustainable option.
Homemade Coconut Milk: Making coconut milk from scratch allows you to have full control over the ingredients and thickness, resulting in a fresher and more customizable flavor profile for your curries.
Coconut Milk Powder: Coconut milk powder offers convenience and longer shelf life. It can be reconstituted with water to achieve the desired consistency, making it a practical option for curry recipes.
15 Curry Recipes With Coconut Milk
Explore 15 coconut milk curry recipes for a flavorful adventure. From Thai to Indian cuisine, these dishes offer a delightful blend of richness and exotic spices:
. This delightful Thai Green Chicken Curry combines tender chicken slices, vibrant carrots, and thinly sliced red bell peppers, all bathed in a homemade green curry paste bursting with fresh flavors.
The addition of zucchini adds a delightful touch of crunch, while the creamy coconut milk creates a velvety texture that perfectly balances the heat from the curry paste. A splash of zesty lime juice adds a refreshing tang, elevating the overall experience. Whether enjoyed over fluffy white rice or cauliflower rice, this Thai Green Chicken Curry promises to transport you to a realm of exotic flavors
Let's dive into a culinary delight with the Creamy Coconut & Red Lentil Curry. Prepare to be enchanted by the tantalizing aroma of sautéed onions, garlic, and ginger, blending harmoniously with fragrant curry powder and a touch of cayenne pepper for an extra kick.
As you simmer the red lentils in velvety coconut milk and flavorful vegetable broth, the lentils soak up the creamy goodness, resulting in a lusciously rich and satisfying texture. This hearty curry pairs perfectly with fluffy basmati or jasmine rice, and don't forget to savor each bite with naan or roti.
Let's continue our gastronomic journey with a delightful Indian Chicken Curry that showcases the enchanting flavors of coconut milk. Picture succulent chicken breast pieces, lightly browned to perfection, and set aside. In the same pan, savor the enticing aroma of sautéed onions and garlic, complemented by a blend of garam masala, cumin, and curry powder.
Return the chicken to the pan, where it luxuriates in a velvety sauce made with coconut milk and chopped tomatoes. As the sauce reduces, it lovingly envelops the chicken, creating a mouthwatering harmony of flavors. Season with a touch of salt, garnish with fresh coriander and relish every delectable bite.
Get ready to indulge in the flavorsome Golden Tofu Coconut Curry. Picture tender sweet potatoes, vibrant bell peppers, and earthy shiitake mushrooms bathed in creamy coconut milk infused with aromatic curry powder and turmeric.
With protein-rich tofu added to the mix, this plant-based delight offers a satisfying meal experience. Serve it over black rice, garnish with fresh cilantro and a squeeze of lime, and relish the captivating blend of flavors.
Savor the rich and aromatic Beef Massaman Curry, where tender chunks of braised beef are enveloped in a flavorful spice paste. Slow-cooked with a blend of beef stock and creamy coconut milk, the beef becomes irresistibly tender. Baby new potatoes add a delightful touch to this hearty dish.
Serve it over fluffy rice, garnish with fresh cilantro, red chilies, and a squeeze of lime for a burst of freshness. Let the captivating flavors transport you to the vibrant cuisine of Thailand.
Indulge in a mouthwatering adventure with Thai Coconut Shrimp Curry. Imagine succulent shrimp marinated in a delightful blend of soy sauce, red pepper flakes, turmeric, garlic powder, and white pepper. Sear the shrimp until golden perfection, infusing them with irresistible flavors.
Sauté bell peppers, garlic, ginger, and shallots to create a fragrant base. The addition of red curry paste, aromatic spices, and creamy coconut milk brings this dish to life. With a squeeze of lime and a sprinkle of Thai basil, every bite is a burst of exquisite flavor. Serve alongside steamed rice and savor the vibrant harmony of this Thai culinary masterpiece.
Immerse yourself in the rich and aromatic Thai Pork Mince Curry. Picture tender and flavorful pork mince infused with a delightful blend of curry powder, ginger, and garlic. The addition of courgette and cauliflower adds a satisfying texture to this vibrant dish.
As the flavors meld together, you'll be enveloped in a warm and comforting experience. The effort of making this curry is rewarded with every spoonful of its delightful flavors. Serve it alongside your favorite keto side dish and savor the harmonious balance of flavors.
It's time to treat your taste buds to something really special: an Easy Vegan Sweet Potato Curry. With minimal effort, you'll create a culinary masterpiece. Sauté ginger and garlic in fragrant oil, then add vegan Thai red curry paste for an explosion of flavors.
Tender sweet potatoes and hearty chickpeas simmer in creamy coconut milk, resulting in a comforting and satisfying texture. The addition of baby spinach adds a vibrant touch. Finish with a squeeze of lime juice for a tangy twist.
Embark on a flavorful journey with this Green Curry recipe. Picture tender chicken thighs seared to perfection alongside spicy green peppers, garlic, and ginger. The vibrant green curry paste adds an aromatic twist to the dish. Simmer in a rich combination of coconut milk, chicken stock, brown sugar, and fish sauce, allowing the flavors to meld and the sauce to thicken.
Add crisp snap peas and fragrant Thai basil for a delightful crunch and freshness. Serve this exquisite Green Curry over jasmine rice or noodles, garnished with spicy chili flakes and fresh herbs. Enjoy the explosion of flavors and textures in every bite.
Warm your senses with the comforting embrace of Butternut Squash Curry. As you sauté shallots, red pepper, and garlic, a symphony of enticing aromas fill the air. The combination of red curry paste, curry powder, and a hint of sugar brings a delightful blend of flavors to the dish.
Tender butternut squash simmered in creamy coconut milk and vegetable broth creates a velvety texture that melts in your mouth. The addition of fresh spinach adds a vibrant touch and a burst of freshness. This curry requires minimal effort and is ready in no time.
Spicy Tomato Egg Curry will send your taste buds on an exciting journey, thanks to its fragrant combination of mustard seeds, cumin seeds, ginger, and garlic. As the tomatoes infuse the curry with their tangy essence, the spices - turmeric, cayenne, and garam masala - add a fiery twist.
Each boiled egg soaks up the rich flavors, creating a delightful combination of textures. With minimal effort, you'll have this delectable curry ready in no time. Serve it steaming hot with your favorite bread or rice, and let the warm, bold flavors transport you to a culinary paradise.
Enjoy the vibrant flavors of Thai Spinach & Satay Mushroom Curry with Coconut Milk. Saute onions, garlic, and ginger in coconut oil for a warm and aromatic base. The combination of curry powder, mushrooms, and tangy tomatoes creates a delightful balance of flavors.
Creamy peanut butter adds richness to the dish, while fresh spinach adds a vibrant touch. Simmered in coconut milk, this vegan curry offers a comforting and velvety texture. A fulfilling supper that will take your taste senses to Thailand when served over rice or with naan bread.
Experience the irresistible flavors of Coconut Lamb Curry. Tender cubes of lamb are perfectly browned, creating a savory base. Fragrant onions and garlic enhance the aroma, while a blend of garam masala, yellow curry powder, and cumin seeds adds depth.
Creamy coconut milk and tomato paste create a velvety sauce that coats the tender lamb. Simmered with potatoes and carrots, the curry develops a satisfying texture. Serve this delightful dish with rice or naan bread for a complete meal. Garnish with fresh cilantro for a burst of freshness.
Pineapple Chicken Curry in the Instant Pot is an exciting culinary journey waiting to be had. This delicious dish has tender chicken, colorful veggies, and juicy pineapple all in a yummy coconut sauce. The special curry paste adds amazing flavors, and garlic and ginger make it extra tasty.
The creamy coconut milk makes everything smooth and delicious. Serve it with rice for a scrumptious meal. You'll love the sweet, savory, and slightly spicy flavors. It's an exciting dish that even kids will enjoy! So, let's start cooking and have a wonderful time exploring this yummy curry!
Each bite of this Vegan Chickpea Cauliflower Curry is a warm and fragrant treat, thanks to a combination of spices that includes curry, turmeric, and cumin. The coconut milk base is complemented by the tender cauliflower florets and hearty chickpeas.
You can whip up this delicious curry in no time, and in no time at all, you'll be enjoying its savory aroma and soothing heat. Complement it with some fluffy rice or some crusty toast.