As strawberries are sweet and can be used in many other desserts, we've included 15 cupcake recipes that employ strawberries to provide a unique and tasty take on the traditional cupcake. Grab some fresh strawberries, since these recipes, which range from strawberry shortcake cupcakes to strawberry lemonade cupcakes, are wonderful for any occasion or simply as a sweet pleasure.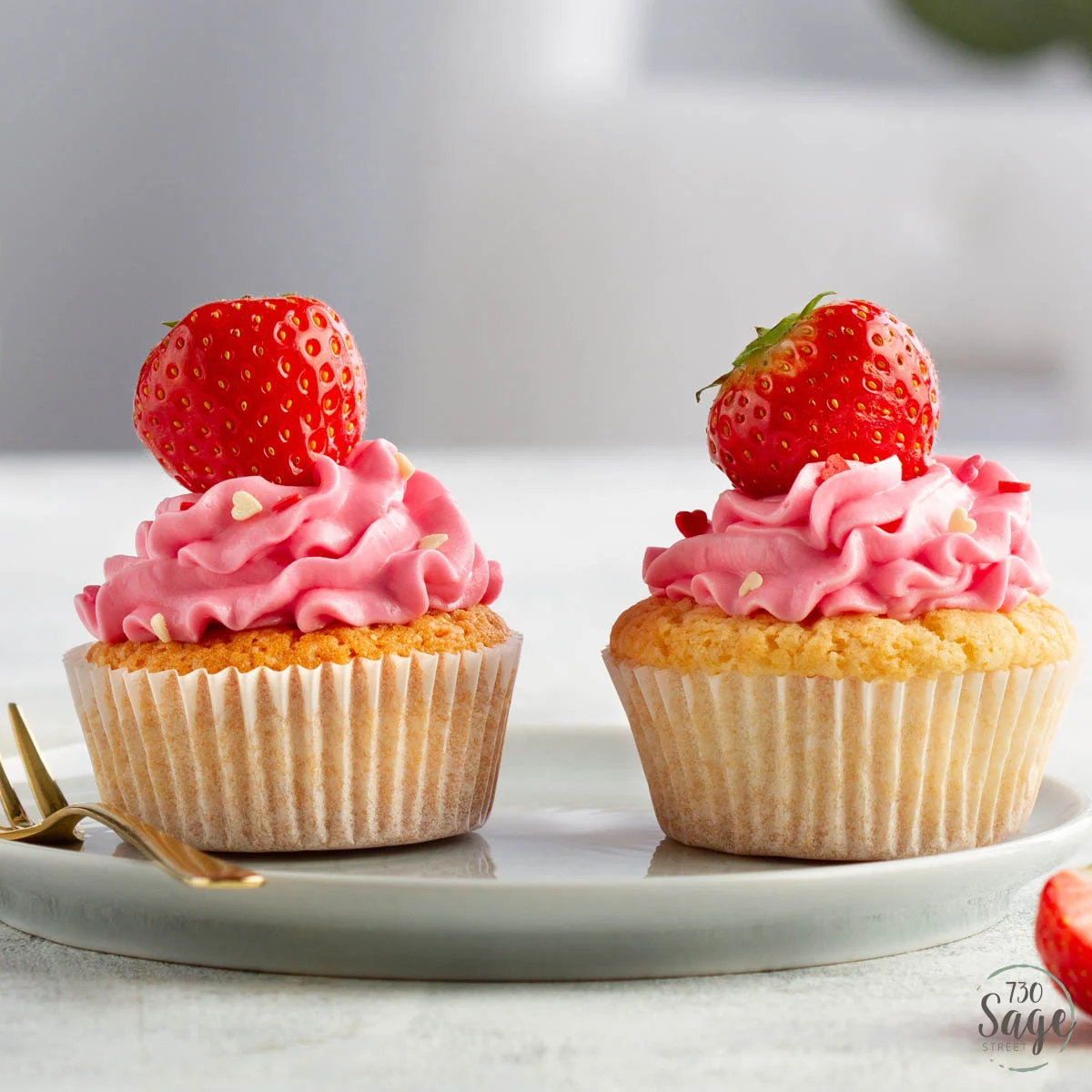 From traditional vanilla to luscious chocolate, these 15 cupcake recipes with strawberries will make you a baking master in no time:
Delight in these dreamy Strawberry Shortcake Cupcakes that combine the nostalgic flavors of your favorite childhood treat! The moist, fluffy cake is generously filled with a juicy strawberry jam mix that adds a burst of fruity goodness.
A luxurious swirl of cream cheese frosting adorns each cupcake, with a luscious dollop of diced strawberries and jam topping them off. Perfect for those sweet summertime gatherings or brightening an ordinary day, these strawberry-filled delights will whisk you away to a sunny, berry-filled paradise!
Treat yourself to these heavenly Chocolate Strawberry Cupcakes, where rich chocolatey goodness meets a delightful burst of fruity flavor! The decadent chocolate cake is beautifully paired with a sweet and tangy strawberry jam filling, creating a harmonious dance of flavors with every bite.
Topped off with a dreamy, freeze-dried strawberry-infused frosting, these cupcakes are a chocolate and a strawberry lover's dream come true. Adorned with fresh berries or chocolate garnishes, these scrumptious treats are perfect for celebrating life's sweet moments or simply making any day feel extra special!
Whisk your senses away to dessert heaven with these tantalizing Strawberry Cheesecake Cupcakes! Featuring a buttery graham cracker crust and a luscious, creamy cheesecake filling nestled within a light and fluffy cupcake, these delights are bound to make you swoon.
Finished with a vibrant, fresh strawberry frosting and a spoonful of juicy strawberry topping, these cupcakes offer layer upon layer of delectable goodness. A sprinkling of graham cracker crumbs adds the perfect final touch, making these cupcakes an irresistible fusion of two classic desserts that'll have you reaching for seconds!
Indulge in the refreshing flavors of summer with these delightful Strawberry Lemonade Cupcakes! These scrumptious treats showcase a zesty lemon cupcake base, infused with freshly squeezed lemon juice, and topped with a luscious strawberry frosting made from reduced strawberry puree.
The combination of sweet strawberries and tangy lemon creates a perfectly balanced, palate-pleasing cupcake that'll have you dreaming of warm, sunny days. Whether you're planning a backyard barbecue, a picnic, or simply craving a taste of summer, these Strawberry Lemonade Cupcakes are sure to hit the spot and satisfy your sweet tooth.
Get ready for a burst of fresh, juicy goodness with these Fresh Strawberry Swirl Cupcakes with Strawberry Buttercream! Made with real, fresh strawberries in both the batter and frosting, these cupcakes are a sweet and fruity delight. The moist, fluffy texture of the cake pairs perfectly with the creamy, velvety frosting, creating a symphony of flavors in every bite.
And don't forget the stunning swirl of strawberry puree on top of each cupcake, adding both beauty and a burst of flavor. These cupcakes are perfect for any occasion, or just a sweet treat to brighten up your day!
Raise a glass and celebrate with these Strawberry Champagne Cupcakes! Made with fresh strawberries and a touch of extra dry pink champagne, these cupcakes are the perfect way to add some elegance and fun to any occasion. The light and fluffy cake is perfectly balanced with the creamy, decadent frosting, made with even more fresh strawberry puree and champagne.
And the delicate pink hue of the frosting adds a beautiful touch to these already stunning cupcakes. So pop the bubbly and enjoy these sweet treats with loved ones, or just treat yourself to something special. Cheers to these delicious Strawberry Champagne Cupcakes!
These Strawberry Banana Cupcakes are the right combination of sweetness and fruitiness, thanks to the use of fresh banana flavoring and strawberry preserves in both the cake and the icing. The light cake is delicious, but what really sets these cupcakes apart is the luscious frosting that has been artfully piped over them and then drizzled with even more strawberry preserves.
Don't forget to garnish with some fresh banana slices for a dash of color and taste. These cupcakes are great for a summer picnic or a quiet night in.
If you're in the mood for a tropical getaway via your taste senses, these Strawberry Coconut Cupcakes are the way to go! These cupcakes will make you feel like you're on a tropical beach with every mouthful thanks to the abundance of fresh strawberries and shredded coconut.
Each cupcake is topped with a wave of pink frosting, which contrasts well with the cake's airy texture. The luscious fresh strawberry halves on top complete the drink's tropical feel. Close your eyes and let the tastes of these Strawberry Coconut Cupcakes transport you to a tropical paradise.
Let the exotic flavors of these Strawberry Rhubarb Cupcakes with Coconut Frosting transport you to a tropical paradise. These cupcakes have the ideal combination of sweet and sour, thanks to the rhubarb and strawberry filling and the coconut icing.
These cupcakes are baked to perfection and would be a wonderful addition to a leisurely breakfast or a sweet end to the day. Enjoy the subtle contrast between the cake's soft, moist texture, the frosting's velvety smoothness, and the delightful crunch of the coconut flakes on top.
Get swept away by the fresh and fruity flavors of these Vanilla Strawberry Cupcakes with Vanilla Strawberry Buttercream Icing. Soft and fluffy vanilla cupcakes are made even more delicious with the addition of sweet strawberry puree.
The creamy and rich vanilla strawberry buttercream icing takes these cupcakes to a whole new level, with just the right balance of sweet and tangy. Topped with a fresh strawberry, these cupcakes are perfect for any occasion, from birthdays to tea parties to simply indulging in a sweet treat.
Infused with the refreshing flavor of basil, these Strawberry Basil Cupcakes are a unique twist on the classic dessert. With diced fresh strawberries and strawberry preserves in the batter, these cupcakes are bursting with fruity goodness. The basil buttercream frosting adds a delightful herbal taste, bringing out the sweetness of the strawberries.
Garnished with fresh strawberries, these cupcakes are both a visual and tasty treat. Keep them refrigerated in an airtight container and allow them to soften at room temperature before serving. Enjoy this flavorful and aromatic dessert for any occasion!
These Strawberries and Cream Cupcakes are a perfect combination of vanilla and strawberry flavors, with a delicious surprise in the center. The moist and fluffy vanilla cupcakes are filled with a fresh cream filling that has chopped strawberries in it, which perfectly complements the strawberry frosting that is made with ground freeze-dried strawberries.
The frosting is light, and fluffy, and has the perfect sweetness. Top them with fresh strawberries and you have the perfect dessert for any occasion. Make sure to let them come to room temperature before serving, to get the perfect texture.
Indulge your senses with these White Chocolate Strawberry Cupcakes, soft and fluffy, these cupcakes are made with a delicious blend of cake flour, unsalted butter, and fresh ingredients like reduced strawberry puree and freeze-dried strawberries.
The white chocolate frosting adds a sweet, creamy touch with a hint of strawberry flavor from the strawberry powder. Don't forget to top them off with a white chocolate-coated fresh strawberry for a show-stopping look.
We love the balance of sweetness and spicy in these Strawberry Cardamom Cupcakes with Strawberry Basil Buttercream. The subtle cardamom flavor in the cake balances the sharpness of the strawberries, while the fresh herbal taste of the basil buttercream tops it all off.
The cupcakes are light and airy, and the combination of cardamom and basil will fill your home with a pleasant fragrance. These cupcakes are great for a get-together with friends, whether it's a potluck or an afternoon tea. Just try them out and you'll get a taste of the special flavor combination that will leave you wanting more.
Pistachio Cupcakes with Strawberry Frosting are a perfect blend of nutty and sweet. The cupcakes have a delicate crumb that is achieved by using cake flour, baking powder, and soda. The ground pistachios add texture, while the sour cream adds tanginess to balance out the sweetness.
The frosting is made with freeze-dried strawberries that have been processed into a powder, giving the frosting a natural fruity flavor that complements the pistachios perfectly. The cupcakes are finished with a sprinkle of extra pistachio crumbs and slices of fresh strawberries on top. These cupcakes are a treat that everyone will love!
Can I Use Frozen Strawberries In These Cupcake Recipes?
Yes, you can use frozen strawberries in these cupcake recipes. Make sure to thaw them completely and drain any excess liquid before using them. Frozen strawberries are a great option when fresh strawberries are out of season, and they can still provide a delicious and healthy addition to your cupcakes.
What Type Of Frosting Pairs Well With Strawberry Cupcakes?
Strawberry cupcakes pair well with various frosting flavors, including cream cheese, vanilla, and strawberry buttercream. For a healthier option, you can also use a whipped coconut cream frosting made with coconut milk and natural sweeteners like honey or maple syrup. The creamy texture and subtle sweetness of the coconut complement the fruity flavor of the strawberry cupcakes.