Looking for new and delicious ways to enjoy crookneck squash? Look no further! In this article, we've compiled 23 mouthwatering crookneck squash recipes to help you make the most out of this versatile summer vegetable.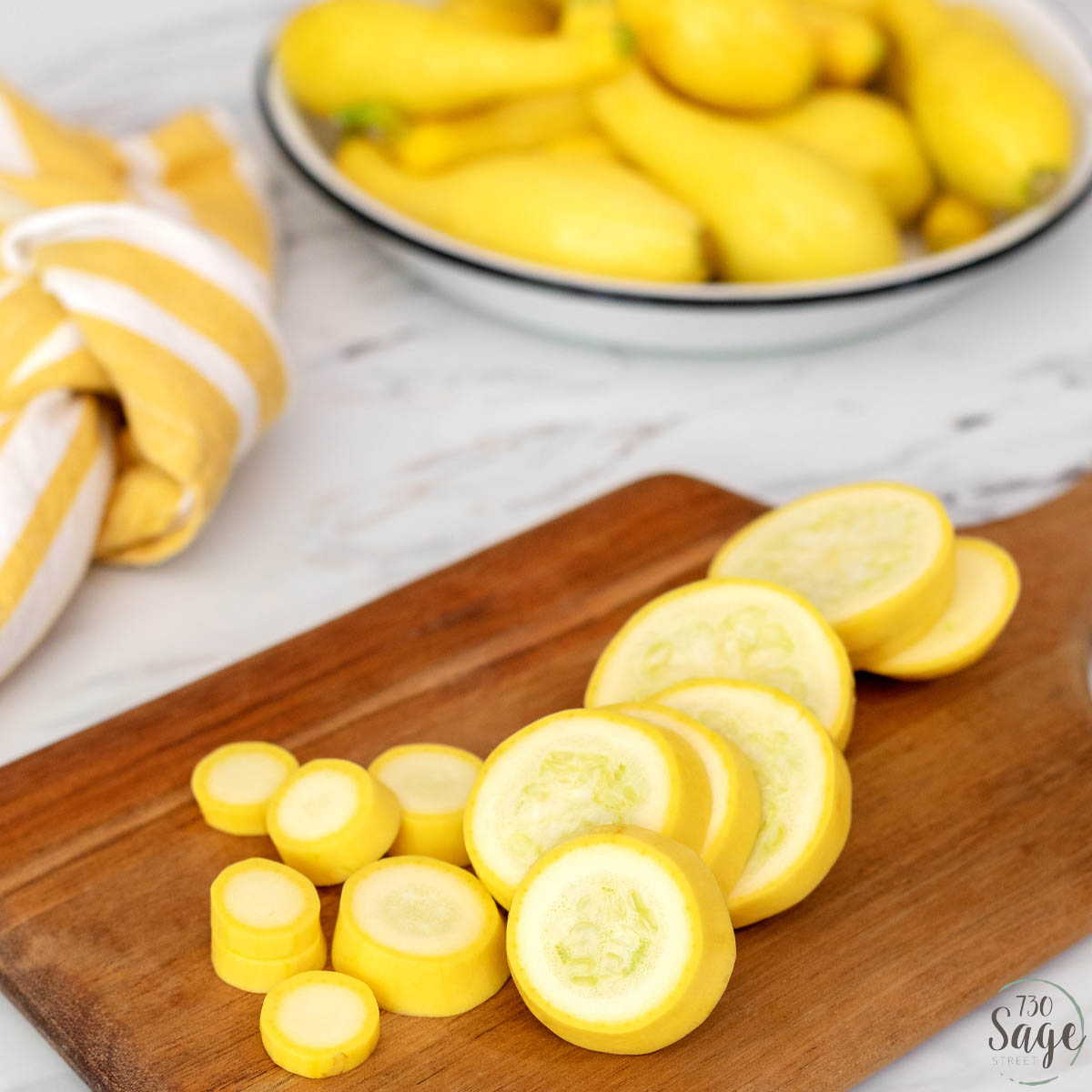 From savory dishes like roasted squash and squash soup to sweet treats like squash cake, there's a recipe here for every taste and occasion. So whether you're a seasoned cook or just looking to try something new, these crookneck squash recipes are sure to inspire you to get creative in the kitchen.
How Do You Eat Crookneck Squash?
Some common ways to eat crookneck squash include:
Grilled: Cut the crookneck squash into thin slices and grill until they are slightly charred on both sides. You can drizzle some olive oil, salt, and pepper for added flavor.
Roasted: Cut the crookneck squash into cubes and toss with olive oil, salt, and pepper. Roast in the oven at 425°F for 20-25 minutes or until tender and slightly browned.
Sautéed: Cut the crookneck squash into half-moon slices and sauté in a pan with olive oil, garlic, and onions. Cook until tender and golden brown.
Baked: Slice the crookneck squash into thin rounds and layer them in a baking dish with sliced tomatoes and onions. Season with salt and pepper and bake in the oven at 375°F for 25-30 minutes.
Fried: Cut the crookneck squash into thin slices and dredge them in flour, egg, and breadcrumbs. Fry in hot oil until crispy and golden brown.
What Is Crookneck Squash Good For?
Crookneck squash can be used in a variety of dishes, including soups, stews, casseroles, salads, and even as a substitute for pasta. It's also great roasted, grilled, or sautéed as a side dish. Some people also use crookneck squash in baked goods, such as bread or muffins, to add moisture and nutrients.
How Do You Prepare Crookneck Squash For Cooking?
To prepare crookneck squash for cooking, wash it thoroughly under cold water and dry it with a paper towel. Then, cut off the stem and the blossom end. Depending on the recipe, you can either peel the squash or leave the skin on. Finally, slice or chop the squash as needed.
23 Crookneck Squash Recipes
This is a list of best 23 Crookneck Squash Recipes:
This Clean Eating Buttered Crookneck Squash Soup is a delightful and healthy option that can be whipped up in just minutes! Made with fresh crookneck squash that is sliced and cooked in a large stock pot with vegetable broth, this soup is then blended to a creamy consistency with the addition of milk and butter (vegan or regular).
This results in a velvety smooth texture that is sure to please the palate. The soup is seasoned with salt to taste, making it a flavorful and satisfying dish that pairs well with warm and crusty garlic bread. Enjoy the first recipe of our list with this simple yet delicious Clean Eating Buttered Crookneck Squash Soup.
This Roasted Crookneck Squash recipe is a simple, yet delicious way to enjoy the unique and delicious flavor of crookneck squash. Sliced thin and seasoned with garlic powder, Himalayan sea salt, and freshly ground Tellicherry Black Pepper, this squash is then roasted in the oven with olive oil until crispy and tender.
This recipe is vegan and gluten-free, making it a healthy and nutritious option that is perfect for any meal. It's a versatile recipe that can be made with any variety of crookneck squash or summer squash, and is sure to be a hit with anyone who enjoys the rich and earthy flavors of roasted vegetables.
These Crookneck Squash Summer Fritters are a delightful and simple recipe that is perfect for a quick and tasty meal. Made with grated crookneck squash, diced onion, and optional Serrano peppers, these fritters are mixed together with whisked eggs, flour, salt, black pepper, and smoked paprika to form a delicious batter. The excess liquid is removed from the grated squash before frying them in oil until crispy and golden brown. The fritters are perfect for a summer BBQ, as a side dish or even as a vegetarian main course.
This Oven Fried Crookneck Squash recipe is an easy and delicious way to enjoy the unique flavor of crookneck squash. Sliced into ¼ inch rounds and coated in a seasoned breading made with fine bread crumbs, Parmesan cheese, garlic salt, and coarse black pepper, these squash rounds are then oven-fried to crispy perfection with a little bit of olive oil.
This recipe is perfect for anyone looking to get their family members or picky eaters to enjoy their vegetables. The crispy and golden squash rounds are perfect for snacking or as a side dish to your favorite main course. Served warm with a side of ranch dressing as a dipping sauce, this dish is sure to please anyone looking for a tasty and healthy option.
This Crookneck Squash Spice Bread recipe is a perfect way to enjoy the unique flavor of crookneck squash in a sweet and spicy way. Made with a batter of eggs, sugar, canola oil, grated crookneck squash, and vanilla, this bread is then seasoned with a blend of spices including cloves, roasted ground ginger, allspice, cardamom, tung hing cinnamon, and nutmeg.
The batter is then baked until golden brown and crispy, resulting in a delicious and aromatic bread that is perfect for breakfast, snacking, or even as a dessert. For added texture and flavor, coarsely chopped black walnuts can be added to the batter. This recipe is easy to make and is a great way to use up your harvest of crookneck squash.
This Easy Stuffed Crookneck Squash recipe is a great way to repurpose leftovers and turn them into something new and delicious. Made with yellow crookneck squash, this recipe involves cutting the squash in half lengthwise and scooping out the insides to make room for a savory and flavorful stuffing made from a variety of ingredients, including cooked rice, diced vegetables, and spices.
The stuffed squash halves are then baked in the oven until tender and crispy, resulting in a satisfying and healthy dish that is perfect for a quick and easy weeknight meal. This recipe is a great way to use up any leftover rice or vegetables in your fridge, and can be customized to your liking by adding your favorite herbs or spices.
This Yellow Crookneck Squash Casserole recipe is a classic Southern dish that is easy to make and perfect for a quick and satisfying meal. Made with sliced yellow squash, diced white onion, buttered cracker rounds, and shredded cheddar cheese, this casserole is then baked to perfection with a mixture of beaten eggs, milk, butter, salt, and pepper.
The result is a creamy and cheesy casserole that is bursting with flavor and is perfect for any occasion. For added texture and flavor, you can also add diced bacon to the initial squash and onion mixture before cooking. This recipe is a great way to use up your garden-fresh squash and is a crowd-pleaser that is sure to become a family favorite.
This Yellow Crookneck Squash Caviar recipe is a great way to enjoy the unique flavor of yellow squash in a savory and creamy spread. Made with diced onions, shredded carrots, cubed yellow squash, tomato sauce, minced garlic, and fresh dill, this paste is sautéed on low-medium heat for about 20-30 minutes until the squash is tender and the flavors are well-combined.
The paste is then seasoned with salt and pepper to taste, and blended to a smooth and creamy consistency using a food processor or immersion blender. This recipe can be used as a spread on toast, as a dip for crackers or vegetables, or as a topping for your favorite dishes. With its creamy texture and delicious taste, this yellow squash Caviar is sure to become a new favorite in your recipe collection.
These Baked Parmesan Yellow Squash Rounds are a quick and easy side dish that requires just two main ingredients: yellow squash and grated Parmesan cheese. The squash is sliced into thin rounds and seasoned with garlic salt and freshly ground black pepper, before being topped with a thin layer of Parmesan cheese.
The rounds are then baked in the oven for 15 to 20 minutes until the cheese is melted and turns a light golden brown. These squash rounds are delicious and make for a perfect side dish or appetizer. They are also a great way to use up your summer squash harvest and are sure to become a new favorite in your recipe collection.
This crookneck Squash Casserole with Green Chile recipe is a savory and satisfying side dish that is perfect for summer. Sliced yellow squash and onions are baked in a rich and creamy sauce made with cheddar cheese, parmesan cheese, sour cream, and chopped green chiles.
The casserole is then topped with a buttery and crispy breadcrumb and parmesan mixture, which adds a delightful crunch. This is a great recipe to make for a potluck or family gathering, as it can easily be doubled or tripled to feed a crowd. Serve it alongside grilled meats or roasted vegetables for a complete and delicious meal.
Add some flavorful and healthy seafood to your dinner table with this delicious and hearty seafood curry with crookneck squash recipe. This recipe features tender shrimp and savory salmon fillets marinated in a garlic-forward coco-for-garlic marinade, paired with fragrant and spicy Thai red curry paste, fresh roma tomatoes, and diced crookneck squash for a boost of vitamins and minerals.
The creamy and rich coconut milk and fish sauce balance out the heat, creating a well-rounded and satisfying soup. Top it off with a sprinkle of cilantro and a squeeze of lime juice for a bright and zesty finish. This recipe is perfect served over a bed of rice or noodles.
This Summer Squash and Corn Chowder is the perfect soup to enjoy during warm summer days. Brimming with fresh sweet corn and yellow squash, this rich and creamy soup is a comfort food that can be easily made in 20 minutes. Adding crumbled bacon and shredded cheddar cheese gives it a delicious twist. You can make this soup with just a few simple ingredients, including celery, green onions, milk, heavy cream, garlic, flour, and thyme.
The fresh corn adds sweetness to the chowder, while the squash provides a light crunch. You'll love the taste and texture of this soup and the best part is it's perfect for a light lunch or dinner.
This southern-style recipe takes grated squash and combines it with cornmeal, green onions, egg, and milk, creating a batter that is fried to a perfect golden brown. These crispy bites are perfect for an appetizer or side dish, and are sure to be a hit with any crowd. Store them in the fridge for up to four days, or freeze for up to three months for an easy snack or side later on.
Crookneck squash and tomatoes come together in this flavorful and easy-to-make dish. Sliced yellow squash and medium-sized tomatoes are layered in a casserole dish and topped with a mixture of green onions, red wine vinegar, olive oil, Dijon mustard, salt, and freshly ground black pepper.
Baked until the squash is tender, this dish is a perfect side to any meal. Enjoy it during the summer months when squash and tomatoes are abundant. This recipe is perfect for potluck dinners and family gatherings, and it's sure to be a crowd-pleaser.
These Yellow Squash Cheddar Cheese Biscuits are the perfect addition to any meal. With shredded yellow squash, sharp cheddar cheese, and dried rosemary, these homemade biscuits are full of flavor and easy to make. Simply mix together the dough, shape the biscuits, and bake them to a golden brown.
They make a great side for breakfast, lunch, or dinner, and are sure to impress your guests. Try making drop biscuits by adjusting the milk to make a thick 'droppable' batter. Either way, these biscuits are a must-try for any squash lover.
Squash and Onions with Brown Sugar is a classic southern side dish that's sweet and savory. Slices of fresh yellow squash and onions are sautéed in butter until tender, then seasoned with salt, black pepper, and a touch of brown sugar. The dish is then covered and simmered until the squash is soft and the juices have thickened into a glaze
This simple recipe is perfect for all summer squash varieties, including crookneck, pattypan, and zucchini. The slightly sweet taste of summer squash is best highlighted with a light seasoning of salt, pepper, and garlic powder, allowing the vegetable's natural flavor to shine.
To achieve perfectly crispy edges and a caramelized top, be sure to slice the squash thin and avoid overcrowding the air fryer basket. With just 15 minutes of prep and cook time, this recipe is a must-try for your next summer meal.
Meemaw's & Nonnie's Yellow Crookneck Squash is a simple, savory recipe that is perfect as a side dish. Melt Earth Balance margarine in a pot with a heavy bottom and add thinly sliced onion followed by thinly sliced yellow squash. Cook for about 10 minutes without opening the lid, until the vegetables are browned on the bottom.
Add cornmeal, sea salt, and freshly ground black pepper, and cook for another 5 minutes. The result is creamy and soft squash with a delightful taste. This side dish goes well with fried okra and a fresh tomato salad. The writer enjoyed it with some mac 'n cheese and green beans from their garden.
This easy roasted buttercup squash mash recipe is a great side dish or even a dessert that will surely be enjoyed by the whole family. The delicious combination of squash, vanilla, sea salt, ricotta cheese, maple syrup, nutmeg, and Dead Sea granola creates a flavorful and creamy dish that will leave you feeling satisfied.
The recipe is simple to make, just roast the squash in the oven until soft, scoop out the flesh and mix it with the other ingredients, and drizzle it with maple syrup and nutmeg. Serve it warm or at room temperature for the perfect accompaniment to any meal.
This zucchini and yellow squash spaghetti is a fresh and healthy twist on the classic Italian dish. The julienned vegetables add a colorful and nutritious element to the pasta, while the lemon and Parmesan cheese provide a zesty and savory flavor. This recipe is quick and easy to make, with just a few simple steps to follow.
To julienne the squash and zucchini, simply cut them into thin strands using a mandolin or box grater. This dish is perfect for a summer evening dinner, and can be customized to include additional vegetables or protein for added nutrition.
This lemony summer squash pasta is a light and easy meal that is perfect for warm weather. Made with fresh summer squash and spinach, it is a healthy and delicious dish that will leave you feeling satisfied. Orecchiette pasta is the perfect shape for holding the flavorful sauce, which is made with garlic, rosemary, lemon juice, feta cheese, and capers.
A few pinches of red pepper flakes add just the right amount of heat. This recipe is flexible, so you can use whatever vegetables are in season, making it a great option for a quick and easy weeknight dinner.
Yellow Squash Cake is a unique and delicious dessert that utilizes the natural sweetness of summer squash. This low-carb and gluten-free cake has chunks of squash blended into a custard-like batter, resulting in a light and fluffy texture. After cooking the squash in boiling water and adding butter, the mixture is combined with low-carb sugar substitute, vanilla, salt, almond flour, whey protein (optional), eggs, and canned coconut cream.
The batter is then baked in a buttered 9" X 13" baking dish until golden brown. This delightful cake can be served slightly warm or chilled, and topped with whipped cream if desired.
This chilled salad is made with thinly sliced zucchini and yellow squash, red onion, fresh dill, and parsley, and tossed with a tangy dressing made of apple cider vinegar, olive oil, water, salt, and pepper. The zucchini releases liquid as it marinates, making the flavors even more delicious. Feel free to adjust the herbs to your liking, and use a mandoline slicer to make the slicing process a breeze. This salad can be stored in the fridge for up to 3 days and is perfect as a light lunch or as a side dish to any summer meal.
Frequently Asked Questions About Crookneck Squash
Can you freeze crookneck squash?
Yes, crookneck squash can be frozen. To freeze it, slice or chop it as desired and blanch it in boiling water for two to three minutes. Then, cool it quickly in ice water, drain it, and pack it into airtight containers or freezer bags. It will keep in the freezer for up to eight months.
Can You Eat Crookneck Squash Raw?
Yes, you can eat crookneck squash raw. It has a slightly sweet and nutty flavor, and a firm texture that makes it great for salads and crudités. To eat it raw, slice it thinly and use it in a salad or as a dipper for hummus or other dips.