Does the thought of creating a homeschool transcript for high school make you break out in a cold sweat? I have some tips and advice for you. Don't worry – it's really not that hard!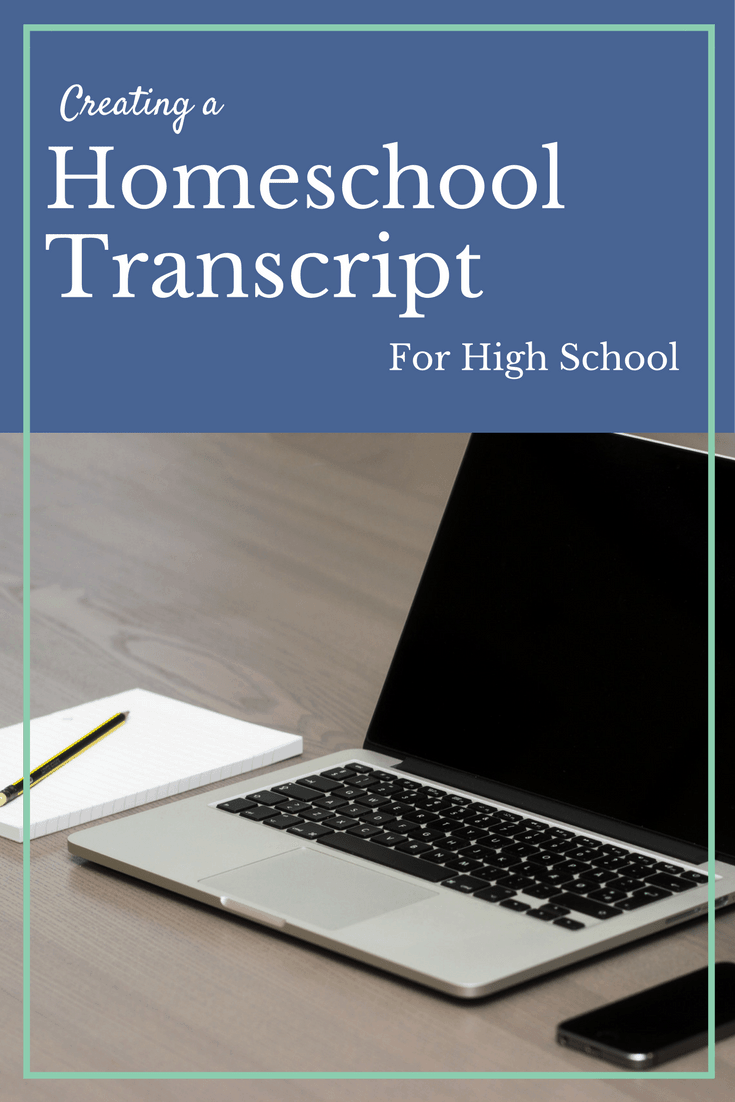 The best piece of advice I can give is to take a minute at the end of each semester (or year if you never got around to it after Christmas!) and write down the grades and classes your homeschooler completed. That's it. Keep it simple, and don't procrastinate on this. It's almost impossible to remember which courses were taken, when they were taken, and what was the final grade if you wait until your student is a senior. If you do a little bit each year, by the time your high schooler begins applying to colleges, you have a fairly complete transcript. Ta-da!
After some trial and error, I have a few tips for creating a transcript.
Tips for Creating a Homeschool Transcript
1. Find an example you like online by doing a Google image search for "high school transcript"; this will give you the basic structure. I chose to orient our transcripts to portrait mode, but think either orientation would be fine.
2.  Use a program like PowerPoint or Keynote to build your transcript. These programs are not only powerful and easy to use, they are far superior in terms of ease of formatting to word processing programs. With Word or Pages, you're always struggling with floating text, in-line text, images, alignment, blah, blah, blah. You think you have everything lined up, and then it's all a wreck. It's so frustrating! I use Keynote to create worksheets or anything that has non-standard formatting. Keynote measures page size in points, so an 8.5″ x 11″ paper would be 612 x 792.
3.  You need to get a lot of information on to that one sheet, so push the margins out to 1/2″ all around. Go with a simple, serious font – Times New Roman is good. Finally, it will need to be small, but not too small. 9pt seems to work well for the majority of the text. I put the main title at 14 pt, and subtitles (grade, year, credits) at 11 pt.
Now, you're ready to create your transcript.
Transcript Information
You will need to provide some basic information about your student and your homeschool on the transcript.
School information
school name
school address
contact information (address, phone number, email)
Student information
student name
student address
contact information (phone and email)
date of birth
names of parent/guardian
years attending the school
Some suggest including social security numbers on the transcript, but I would not, unless a school specifically asks for it. Most colleges use an online application process, and the social security number is provided there.
Academic Work
If you used my four year high school course planner (from my post Creating a Homeschool High School Transcript) you can easily roll that into a transcript. You already have the courses listed by year. Just continue to add each semester's classes and grades. Use standard high school course names, such as English I or Biology I. Admissions officers need to be able to compare your student to others, so help them compare apples to apples. Typically, one semester's work in high school is counted as 1/2 credit, and a full year is 1 credit. PE & Music usually count as 1/2 credit for the whole year.
GPA
Calculate each semester's grade point average based on an A=4.0, B=3.0, etc. I use Calculator.net for this.
Dual Enrollment/Outsourced Courses
I noted classes that were taken in more traditional ways (dual credit at community college or online course) with a footnote. Be sure to explain the footnote somewhere by indicating the course provider. I would only include online courses as outsourced if the course awards the student with a certificate. Otherwise, list the course as part of your homeschool.
Finally, provide a signature, your title, and date. You're done creating a homeschool transcript. Congratulations!
See the other posts in my Homeschooling High School – The Big Picture series: