This easy cranberry orange coleslaw recipe was inspired and sponsored by Litehouse, ideas and opinions are my own.
During spring and summer, there are a lot of potluck type gatherings of family and friends where I want to bring something homemade, but I don't have the time or energy for something complicated. And I want to bring something that everyone loves.
I want to bring a dish that gets requested when I am invited to these events, a dish that I am "known for." A dish that is kind of the reason I am invited (aside from my amazing wit and charming personality). A dish that while delicious only takes me a few minutes to whip up.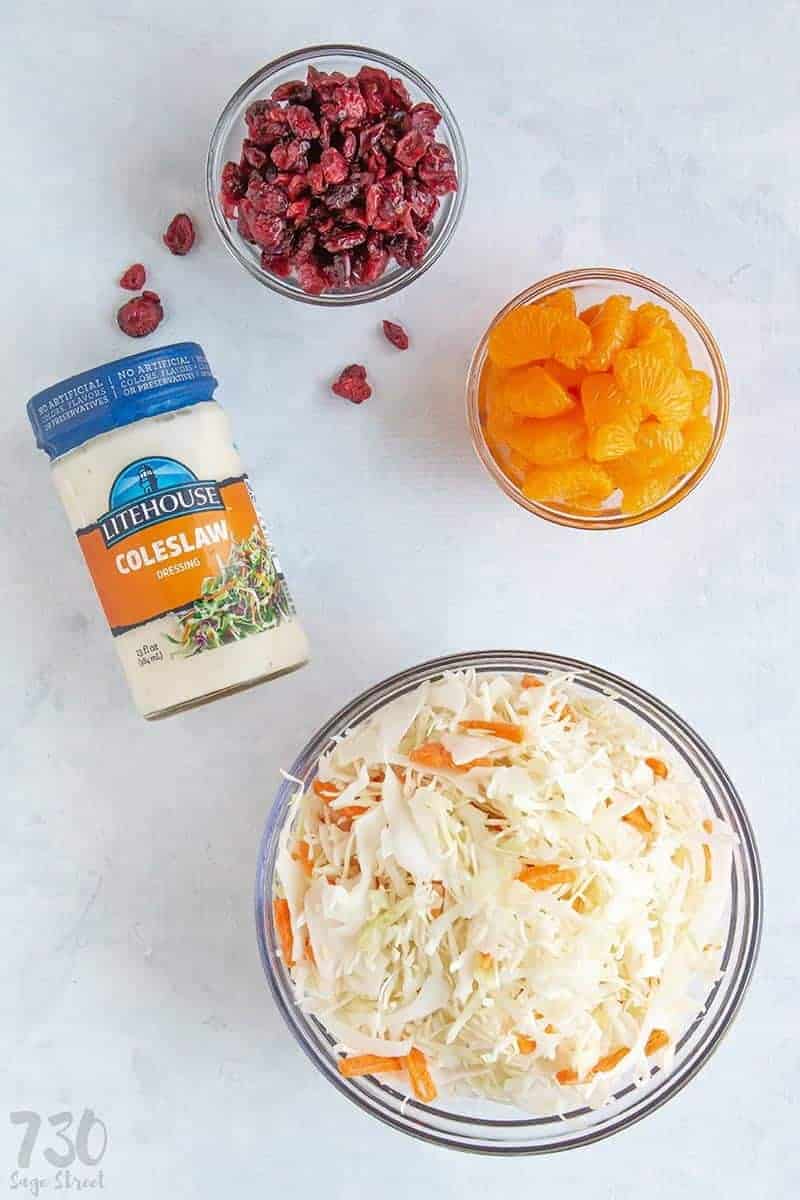 Litehouse is my new secret weapon. Litehouse Coleslaw Dressing makes it easy to mix up delicious coleslaw. It makes an amazing base that you can then customize to make a unique and unforgettable dish. All you need to do it mix one jar of Litehouse Coleslaw Dressing with a bag of slaw mix and voila! Delicious coleslaw in minutes.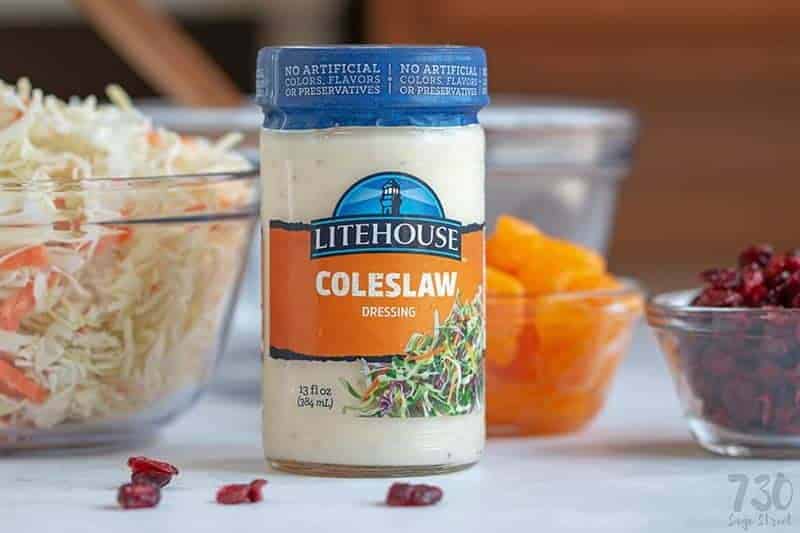 Litehouse Coleslaw Dressing is thick and creamy because it is made with freshly-made mayonnaise. It's sweet and tangy, and can be enjoyed as-is on its own, or enjoyed on top of a burger or a taco. You can even take it up a notch and mix in some dried fruit, nuts, ginger, or other add-ins and/or seasonings.
You can find Litehouse Coleslaw Dressing in the cooler section of the grocery store, which means you can even go right from the store to your party, because you don't need to chill the dressing ahead of time. It's already cold.
Litehouse Coleslaw Dressing also has no artificial flavors, colors or preservatives.
Easy Cranberry Orange Coleslaw Recipe
This recipe uses 4 simple ingredients and blends together in minutes for a delicious summer potluck recipe.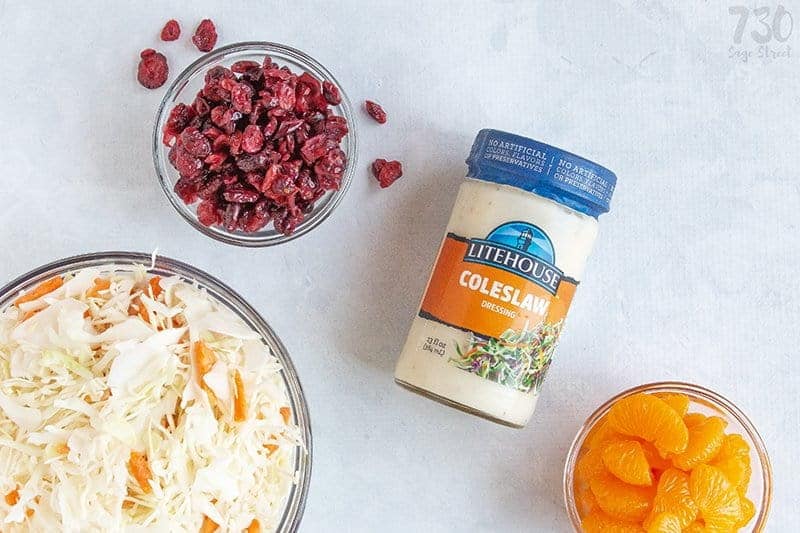 Combine Litehouse Coleslaw Dressing with a bag of slaw mix.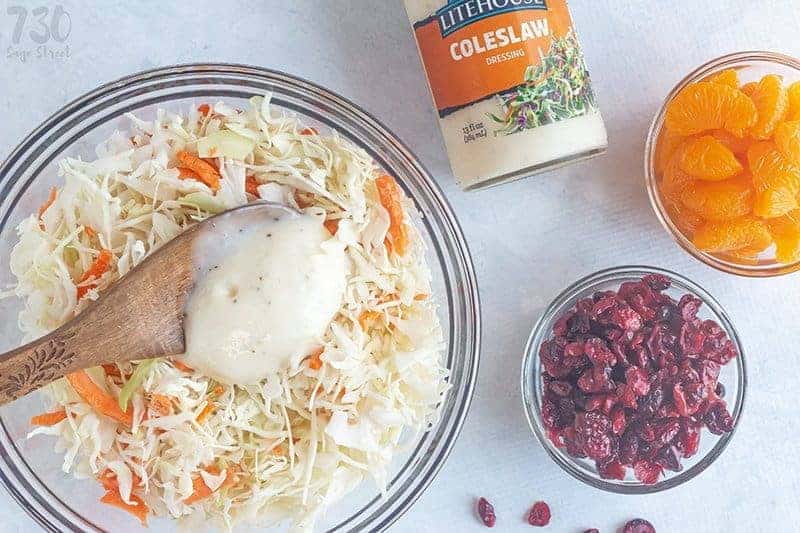 Stir in dried cranberries.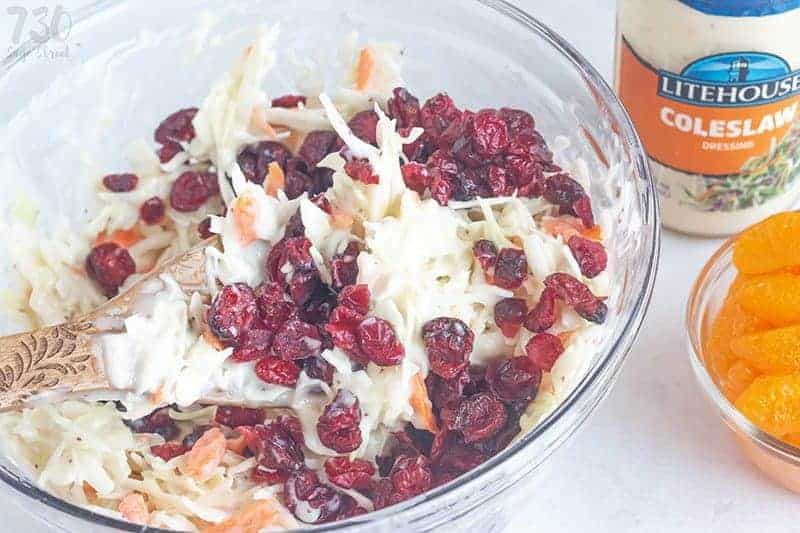 Gently fold in mandarin oranges.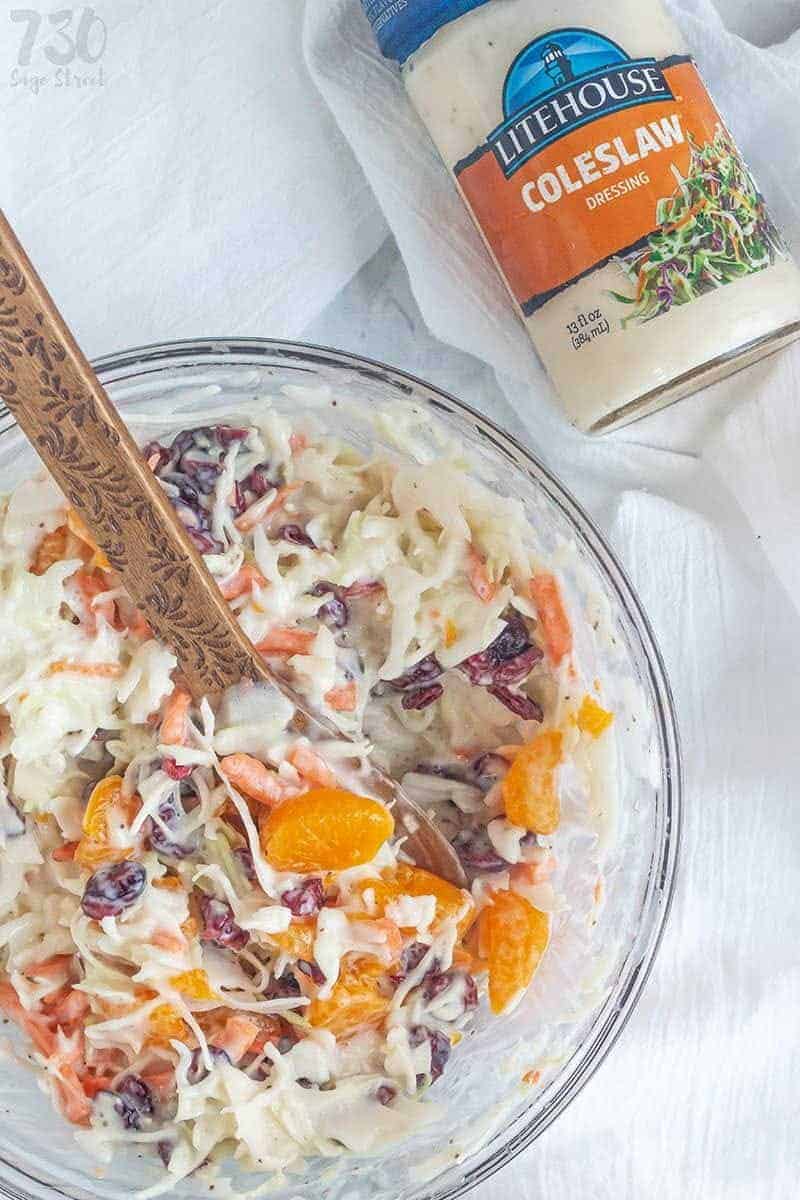 Serve!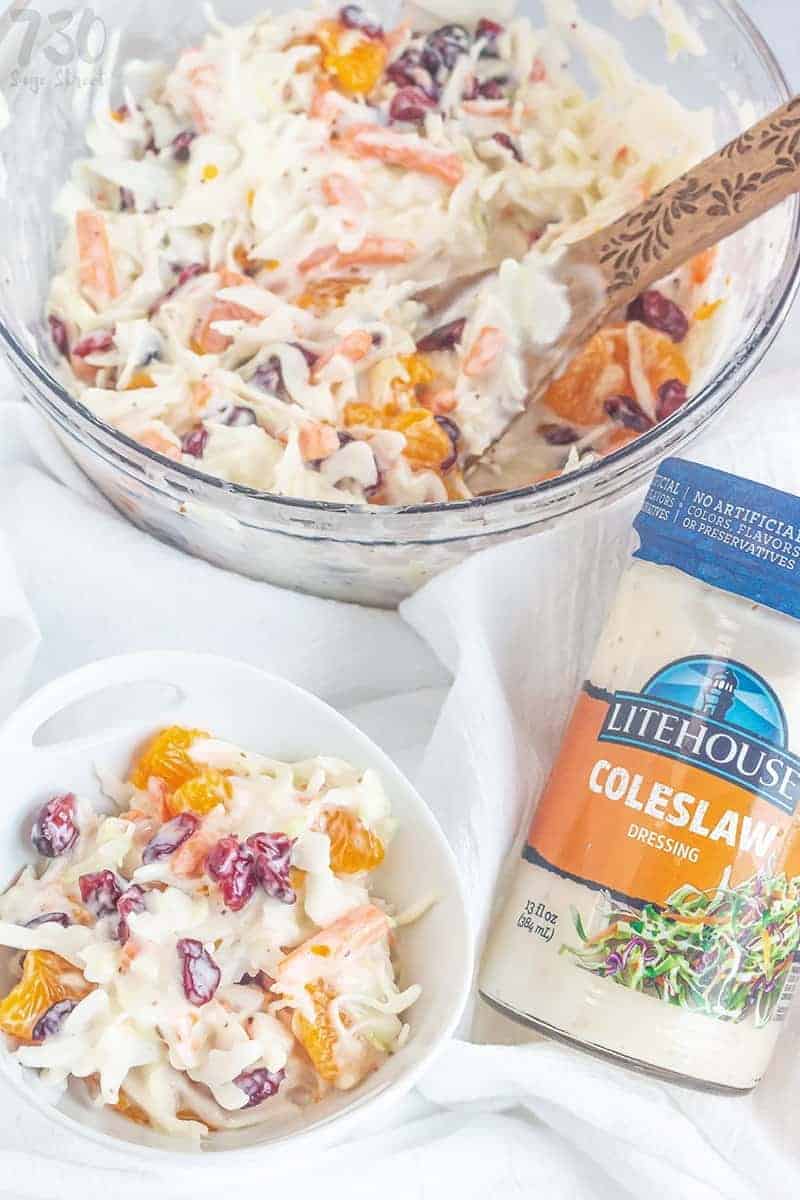 The fruit adds a nice kick of sweetness to the slaw, making it even more delicious.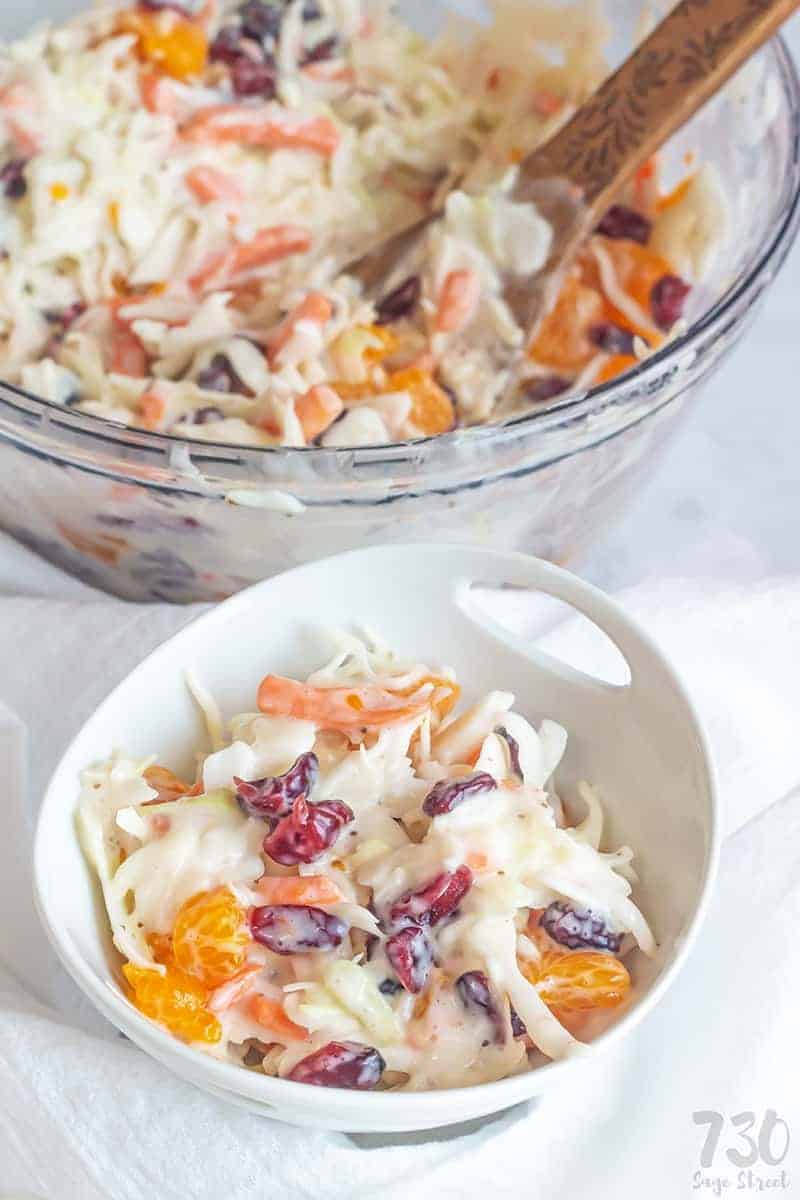 Instructions
Pour slaw mix into a large bowl.

Spoon coleslaw dressing into slaw mix and stir until combined.

Pour dried cranberries into slaw mix and stir.

Add mandarin oranges to slaw mix and gently fold into coleslaw.

Serve or chill until ready to serve.
Nutrition or specific diet information shown is an estimate or best guess and is for information only. 730 Sage Street is not responsible for the factual accuracy of any nutrition information, calculations or claims.
Litehouse Sweepstakes
Litehouse is hosting a sweepstakes from 6/13-7/4, where you can enter daily to win a Yeti® cooler! You can enter on the Litehouse Facebook page or by visiting here!
For more information and to find out where to buy Litehouse Coleslaw Dressing visit: Litehouse.com.
This post is sponsored by Litehouse, but all opinions are 100% mine!