Common Core is a hot-button issue right now among many parents.
It has incited arguments and driven many parents to homeschool their children.
The mission statement of the Common Core Initiative reads:
The Common Core State Standards provide a consistent, clear understanding of what students are expected to learn, so teachers and parents know what they need to do to help them. The standards are designed to be robust and relevant to the real world, reflecting the knowledge and skills that our young people need for success in college and careers. With American students fully prepared for the future, our communities will be best positioned to compete successfully in the global economy.
But opponents of the Common Core system argue that it reduces everyone to a set "common" standard to determine success in a grade level. They argue that this standard ignores the diversity found within each child and does not provide adequate challenge and encouragement for gifted children, nor does it allow the variances required for special needs children who will never fall into such a defined mold.
Common Core appears to expect all children to learn the exact same things, the exact same way – no matter what.
Common Core expects children to be, well, COMMON.
My parents taught me the value in being an individual, being unique. And now we are teaching children that everyone is the same. That no one can be any different than anyone else. I thought we had made huge strides in civil rights, but Common Core appears to have set us back many, many years.
This is a scary time in our educational history and our children will be the ones to suffer. Common Core is making people stupider, but more than that, it makes it harder for children who don't happen to fit into this narrow mold to have access to the education they need and deserve. We all know that even among siblings each child is unique in the way that they learn and develop; how can we expect an entire generation to learn in the exact same way?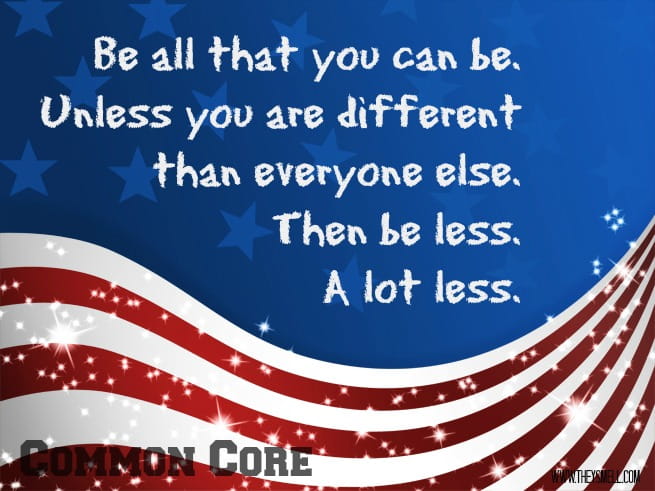 Have you seen the effects of Common Core in your schools?
Join our newsletter!
Subscribe to get updates and great stuff via email including subscriber-only goodies like free printables and giveaways.