Vinegar is a versatile ingredient that adds tanginess and depth of flavor to any dish. In this round-up, we bring you 15 coleslaw recipes that showcase the beauty of vinegar.
From classics like Dill Coleslaw to bold flavors of Honey Sriracha Coleslaw and Jalapeno Coleslaw, these recipes offer a range of options to please any palate. So get ready to add a tangy twist to your coleslaw game!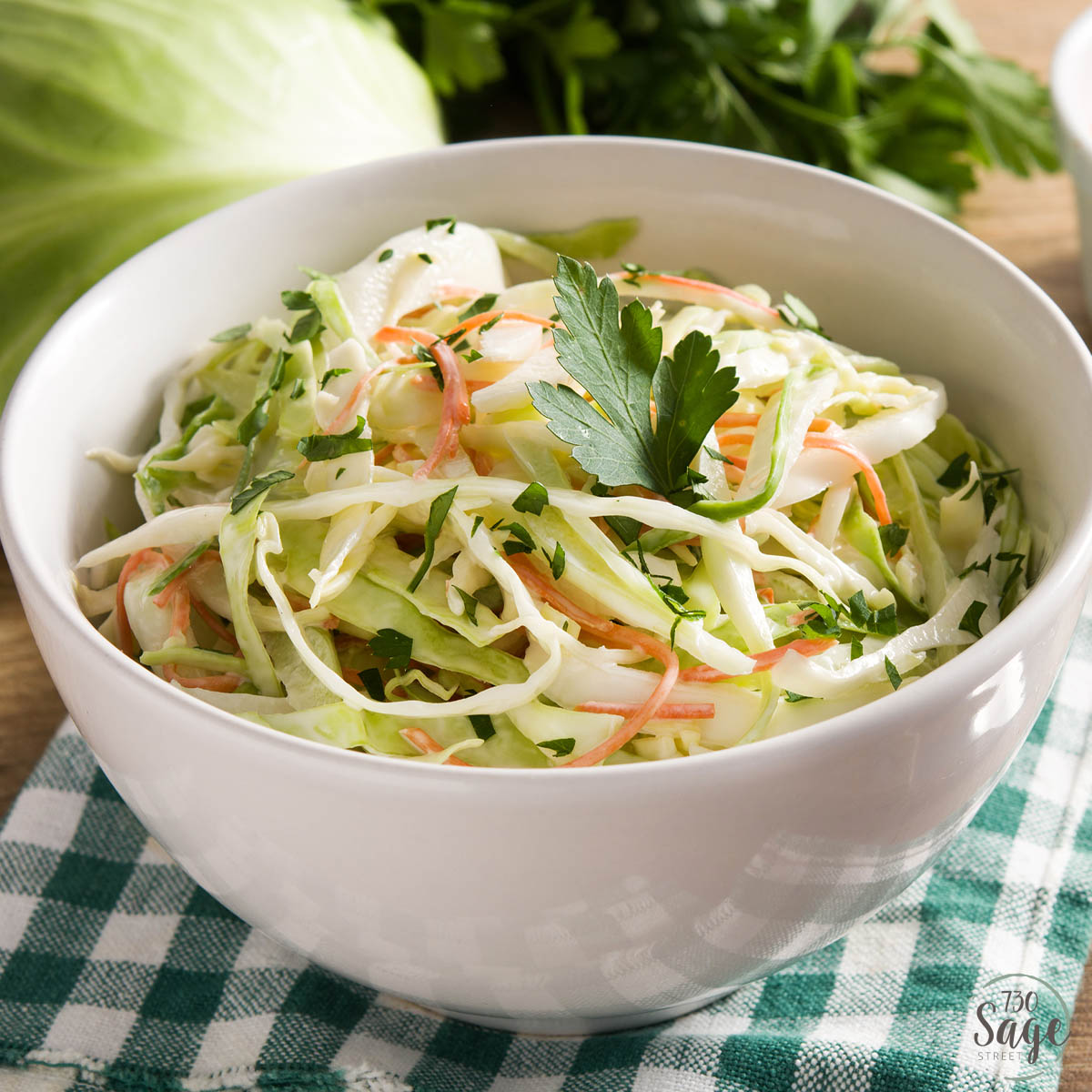 How Do I Shred Cabbage For These Recipes?
Shredding cabbage for coleslaw can be done in a few different ways. Using a sharp knife, cut the cabbage in half and then slice each half into thin ribbons. Alternatively, a food processor with a shredding attachment can make quick work of shredding cabbage.
For those who prefer a more uniform shred, a mandoline slicer can be used to get consistently thin slices. No matter which method you choose, shredding cabbage is a simple and healthy way to add crunch and texture to your coleslaw recipes.
How Can I Adjust The Sweetness Or Tanginess Of My Vinegar-based Coleslaw?
One of the benefits of vinegar-based coleslaw recipes is that they can be easily adjusted to suit your taste preferences. If you find that your coleslaw is too sweet, try adding a bit more vinegar or lemon juice to cut the sweetness.
Alternatively, if your coleslaw is too tangy, adding a little bit of honey or sugar can help balance out the flavors. Experiment with small adjustments until you find the perfect balance for your taste buds.
15 Coleslaw Recipes With Vinegar
These 15 healthful, vinegar-based coleslaw recipes—from basic to spicy and sweet—will become your new favorite side dishes:
This no-mayo coleslaw recipe is a healthier version of the classic dish. The finely shredded green cabbage, grated carrot, and finely sliced yellow or red onion are mixed together to create the perfect base for this tangy coleslaw.
The apple cider vinegar dressing, which includes honey, Dijon mustard, olive oil, celery seed, salt, and pepper, adds a sweet and savory flavor to this dish. Adjust the honey to your desired level of sweetness. This vinegar coleslaw is a great side dish to pair with any BBQ, sandwich, or burger.
This Asian purple cabbage slaw is a deliciously tangy and refreshing dish that will definitely hit the spot. The shredded purple cabbage and carrot create a colorful and crunchy base that's perfect for any summer meal. The dressing, made with rice wine vinegar, honey, sesame oil, soy sauce, and grated ginger, adds a delightful sweetness and Asian-inspired flavor that's out of this world.
I love how easy it is to make this dish, and how quickly it comes together. This slaw is perfect for when you're craving something light, fresh, and full of flavor. Don't forget to sprinkle some toasted sesame seeds and fresh parsley for added nuttiness and pop of color!
This chipotle lime coleslaw dish is a delicious departure from the traditional, bland kind. The packaged coleslaw mix forms a wonderful crunchy basis, while the dressing's combination of mayonnaise, lime juice, apple cider vinegar, chipotle pepper in adobo sauce, and adobo sauce packs a powerful flavor punch.
The sweetness and spice may be adjusted by adding sugar, salt, and pepper. This coleslaw is a hit at any barbecue or picnic because of the addition of fresh cilantro and chopped green onions.
This coleslaw recipe with apple cider vinegar is sure to be a game-changer. Shredded green and red cabbage, together with shredded carrots and thinly sliced green onion, makes a colorful and healthful basis for this meal that is excellent for satisfying a yearning for something fresh, crunchy, and sour.
The sweet and tangy dressing of apple cider vinegar, olive oil, grainy or Dijon mustard, and runny honey is a show-stopper. This vinegar coleslaw may be eaten immediately or kept in the refrigerator for up to 3 days; to ensure everything is fully coated with the dressing, use tongs or your hands to toss everything together.
Vegan coleslaw is here, and it's packed with taste and good for your vegetables. Almond butter and tahini provide a creamy basis for the dressing in this sesame ginger coleslaw recipe, while tamari, rice vinegar, lime juice, hot sauce, maple syrup, garlic, and ginger bring out the robust and aromatic sauce that is out of this world.
Color and crunch come from thinly sliced red and green cabbage, carrots, green onions, and cilantro. This coleslaw is great as a side dish to any vegan or Asian-inspired cuisine, or on its own as a refreshing and healthful snack; it can be prepared in advance and chilled in the refrigerator for an hour before serving.
If you're looking for a delicious and versatile side dish, go no further than this balsamic coleslaw recipe. Shredded green and red cabbage, carrots cut into matchsticks, and red onion slices make up the backbone of this salad, which is both visually appealing and nutritionally substantial.
The meal is elevated by the dressing, which is created with avocado oil, balsamic vinegar, garlic salt, chopped onion, parsley, and lemon juice. The coleslaw is given a burst of flavor and color by the fresh parsley sprinkled on top. Please allow at least 30 minutes for the flavors to blend in the refrigerator before serving. You can count on this recipe is a staple at your next get-together.
Add a tropical twist to your coleslaw with this sweet and tangy pineapple coleslaw. The dressing, made with olive oil, apple cider vinegar, chili powder, maple syrup, vegan mayo, lime juice, and dijon mustard, adds a flavorful punch to the shredded purple cabbage, sliced radishes, matchstick carrots, diced red onion, chopped cilantro.
But the star of the show is the fresh pineapple, which gives a refreshing and juicy burst of flavor to every bite. Perfect as a side dish or accompaniment to any grilled dish, this coleslaw is sure to be a crowd-pleaser.
This Red Wine Vinegar Coleslaw is a classic side dish that's easy to make and full of flavor. The tangy taste of red wine vinegar blends perfectly with the sweetness of the sugar and the richness of the olive oil, creating a delicious dressing that perfectly complements the shredded cabbage and carrots.
The garlic salt and freshly ground pepper add an extra burst of flavor, making this dish a perfect addition to any meal. Serve it as a side dish or as a topping on your favorite sandwich.
Bring a zesty, tangy twist to traditional coleslaw with Cilantro Lime Coleslaw! The creamy and refreshing mayonnaise and plain yogurt dressing, spiked with lime juice and zest, takes this slaw to the next level.
The hot sauce adds a spicy kick to the slaw, which is perfectly balanced with the sweet and crunchy green and red cabbage and shredded carrots. A generous sprinkle of fresh cilantro leaves enhances the flavors and adds a beautiful pop of color. Serve this slaw as a side dish for your favorite summer grilling recipes, and watch your guests savor every bite.
This rice vinegar coleslaw is a perfect blend of tangy and savory flavors. The dressing is made with creamy peanut butter, vegetable oil, toasted sesame oil, and seasoned rice vinegar, which makes it uniquely delicious. Don't forget to toast the peanuts for an extra pop of flavor!
Once the dressing is ready, simply toss it with shredded cabbage, grated carrots, and roasted peanuts. You can also add optional garnishes, such as chopped cilantro or green onions. Serve as a side dish or add grilled chicken to make it a meal.
Take a trip to Greece with this zesty Greek Cabbage Salad, also known as Lahanosalata. Finely shredded cabbage, grated carrot, and sliced bell pepper and red onion come together in a medley of flavors, with dried oregano seasoning the dish.
Drizzle with a mixture of olive oil and red wine vinegar and mix well, massaging the cabbage with your hands to soften it and help the flavors blend together. Let it sit in the fridge for an hour to let the flavors meld together before serving.
Take your coleslaw to the next level with this delicious Pomegranate Coleslaw recipe. With its combination of sweet and savory flavors, this coleslaw is perfect for any occasion. Start by shredding cabbage and thinly slicing celery, then blend together a tasty dressing made with mayo, rice vinegar, fresh ginger, mango, and spices.
Drizzle the dressing over the cabbage and celery, toss to combine, and finish with a sprinkle of pomegranate seeds. Serve chilled and enjoy the burst of flavors with every bite! For an Asian twist, try substituting Napa cabbage with thinly sliced bok choy.
This Dill Coleslaw recipe is a classic and refreshing side dish that will leave you feeling light and satisfied. The combination of white and red cabbage with carrot strips makes it a colorful addition to any meal. The creamy mayonnaise dressing is perfectly balanced with the tangy cider vinegar and the freshness of chopped dill.
It's a perfect accompaniment to a summer barbecue, a family dinner or just as a snack on a hot day. Enjoy this simple yet delicious coleslaw, straight from the fridge, with its crunchy texture and mouthwatering flavor.
If you want to spice up your coleslaw with some heat and sweetness, try this Honey Sriracha Coleslaw recipe. The crisp and savory foundation is made up of shredded green and red cabbage, carrots, green onions, and sliced almonds; the dressing is made up of mayonnaise, apple cider vinegar, sriracha, honey, ginger, and salt.
This bright and crunchy coleslaw is perfect with grilled meats or seafood or piled high on a sandwich. Trust us, this dish is going to be your new summer favorite!
With this jalapeño coleslaw, crisp cabbage and shredded carrots are combined with crumbled bacon for a flavor explosion that will leave you wanting more. The pickled jalapenos and their briny pickling juice are what give this coleslaw its distinctive flavor.
This sauce has just the right amount of heat and sweetness thanks to the combination of mayonnaise, white wine vinegar, sugar, salt, and pepper. What's even better? This coleslaw keeps for up to 5 days in the fridge, making it convenient for meal prepping or taking to a summer barbecue.