Think you have a coconut allergy? Keep reading to find out what you can do about it!
A couple of weeks ago I started to get itchy.
And before you starting thinking up some witty one-liner, I shower daily, often more than once.
And I use soap.
And shampoo.
And there-in lies the problem.
Contents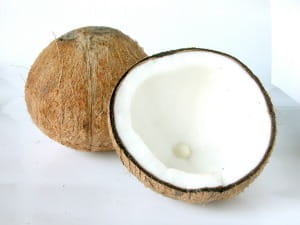 Apparently most "natural" bath & beauty and even cleaning and laundry products are filled with coconut derived ingredients. And I apparently am allergic to them - at least when they touch my skin thanks to a coconut allergy.
And so every day I would get rashes on my arms and legs that were incredibly itchy. An antihistamine would take the itch away for a couple of hours then the rash would return. Often in a new location but always on my arms & legs and nowhere else. Mostly concentrated around my wrists and ankles, but it certainly didn't discriminate against other parts of my arms & legs.
It's been a miserable few weeks. Thankfully my mom suggested the coconut possibility pretty early on and I systematically began to remove it from my routine, which was easier said than done.
I don't have a great picture of the rash but it was small itchy bumps. They did not appear like hives do, they were smaller but still raised. They would appear in clumps and focus around my wrists and ankles but did appear in patches on my forearms, calves and knees.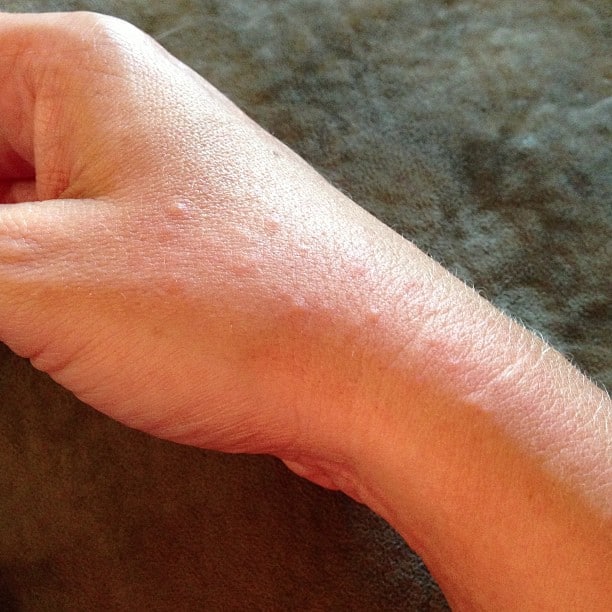 Our switch to natural home and beauty products
Last year we began making a change in our household to eliminate chemicals from our household products. From laundry detergent to spray cleaners to shampoo and everything in between. We did a major overhaul and threw out everything that had something in it that we couldn't identify as safe.
For our laundry, we used either Seventh Generation products or ECOS by Earth Friendly Products. I preferred the ECOS because it had fewer ingredients and I could get a huge bottle at Costco for like $14. It also made our laundry smell better than the Seventh Generation.
For most of the rest of my household cleaning, I had taken to using Dr. Bronner's Magic Soap. This amazing liquid soap is made from all-natural organic certified ingredients. I would mix it with water in a spray bottle and use it for our household cleaner. I made foaming hand soap with it. I even used it to shampoo my hair.

For my bath and body products, as I mentioned I was using Dr. Bronner's as a shampoo but I also liked to use Everyday Coconut brand shampoo and conditioner for convenience. For soap, I would use either the Everyday Coconut body wash or a bar soap like Kiss My Face Olive Oil Bar Soap. Deodorant was a bit trickier to find one that worked well, but I stumbled across a little company called DeoDad Natural Deodorant. It worked great but the main ingredient was coconut much like most everything else I was using. Even my lip balm had coconut ingredients!
But coconut as an ingredient is not limited to natural products.
No ma'am.
Even the chemical filled products have ingredients that may have been derived from coconuts.
How common is a coconut allergy
True coconut allergies are pretty rare. Despite ending with the letters NUT, a coconut is classified as a fruit, not a tree nut. So those with nut allergies, usually aren't allergic to coconut.
And an allergy to eating coconut is quite different from a contact allergy. A contact allergy to coconut is more common and usually causes an itchy rash on the skin called contact dermatitis.
Contact dermatitis
The Mayo Clinic describes contact dermatitis as such:
Contact dermatitis is a kind of skin inflammation that occurs when substances touching your skin cause irritation or an allergic reaction. The resulting red, itchy rash isn't contagious or life-threatening, but it can be very uncomfortable.
Clearing up contact dermatitis can be as simple as removing the offending substance from use. Which sounds simple, but when it comes to coconut, it's not that easy because it has become so widely used in products of all kinds. And once you do finally remove the substance from use, it can take weeks to see an improvement in the rash and subsequent itch.
WEEKS.
And it did.
Take weeks.
But I am finally seeing an improvement from this coconut allergy.
I can't tell you how nice it is to not be itchy.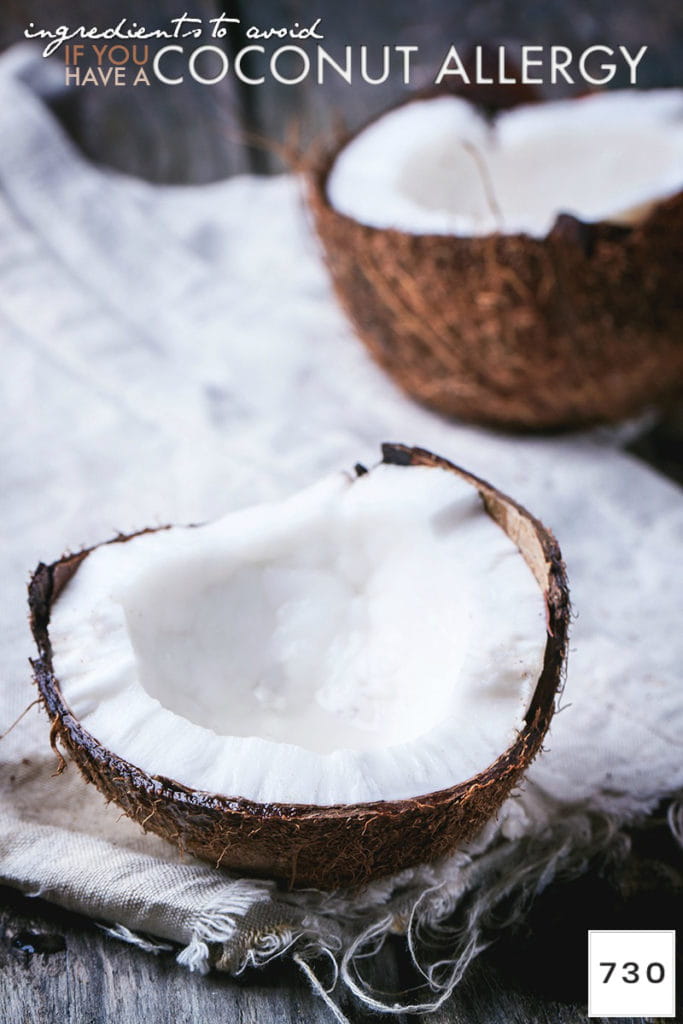 Ingredients to avoid
It's hard to know for sure if an ingredient is, in fact, derived from coconut. Some will stand out for sure because it will say "coconut oil" or "coconut milk" or start with "coco" or "coca" but most are hidden under other names.
Below is a list of potential ingredients to look out for and avoid if you believe that you have a contact allergy to coconut. You may want to avoid palm based products as well as they are related.
1,2 Octanediol
2 Phenoxyethanol
Ammonium Lauryl Sulphate
Capryl Glycol
Caprylic Acid
Caprylic Glycol
Caprylic/Capric
Caprylic/Capric Triglycerides
Caprylyl Glycol
Ceteareth-20
Cetearyl Alcohol
Cetearyl Glucoside
Ceteth-20 Phosphate
Cetyl Alcohol
Cetyl Esters
Cocamide MEA
Cocamidopropyl Betaine
Cococaprylate/Caprate
Coco Glucoside
Cocomide DEA
Coconut cream
Coconut diethanolamide (CDFA)
Coconut milk
Cocos nucifera (another name for coconut oil)
Coconut Oil
Decyl Glucoside
Disodium Cocamphodiprop
Disodium cocoamphodiacetate
Emusifying Wax
Glyceryl Caprylate
Glyceryl cocoate
Hexyl Laurate
Laureth-3
Isopropyl Myristate
Lauric Acid
Lauryl Glucoside
Lauryl Alcohol
Lauramide DEA
Myristic Acid
Olefin Sulfonate
Organic Sodium Cocoate
PEG - 7 Glyceryl Cocoate
PEG -100
PEG – 100 Stearate
Phenoxyethanol
Polysorbate 20
Sodium Cocoate
Sodium Coco-Sulfate
Sodium Cocoyl Isethionate
Sodium Cocoyl Glutamate
Sucrose Stearate
Sodium Lauroamphoacetate
Sodium Laureth Sulfate
Sodium Lauroyl Sarcosinat
Sodium Lauryl Sulfate
Sodium Myreth Sulfate
Sodium Stearate
Sorbitan Stearate
Stearyl Alcohol
Stearalkonium chloride
Sucrose Cocoate
TEA-Laureth Sulfate
Vegetable Cetearyl Glucose
Vegetable Glycerine
You really have to turn into a detective to find products that are free from allergens if you suspect a contact coconut allergy. I have taken to making my own cleaners and detergent and using bar soap and a mineral deodorant.
I was concerned that I would now be known as the stinky lady (a la what's that smell?) but so far everything is cleaning pretty well.
All humor aside, it was that frustrating because I really didn't know that it was working until one day I woke up and the rash was gone.
Overall I have been pleasantly surprised by how well simple household ingredients can clean. It's amazing that most of the products on the shelves these days have so many ingredients when just a few can do just as good of a job - and not cause people to have an uncomfortable itchy rash.
What I use
This blog is a great resource for products and information as well.
Do you have or suspect that you have a coconut allergy?
Coconut allergy printable
This free printable is great to take with you when you go shopping. It has that long list of ingredients to avoid and a spot where you can write down the products you find that don't contain coconut based ingredients.
Click the image below and it will open a PDF file that you can print from your computer.