One cannot overemphasize the importance of chores in a kid's life because it teaches kids skills that can last a lifetime. Through chores, parents can teach kids about time-management, good work ethic, and the importance of responsibility. This has made many parents dedicate a great time to creating an unrealistic chore chart for the family.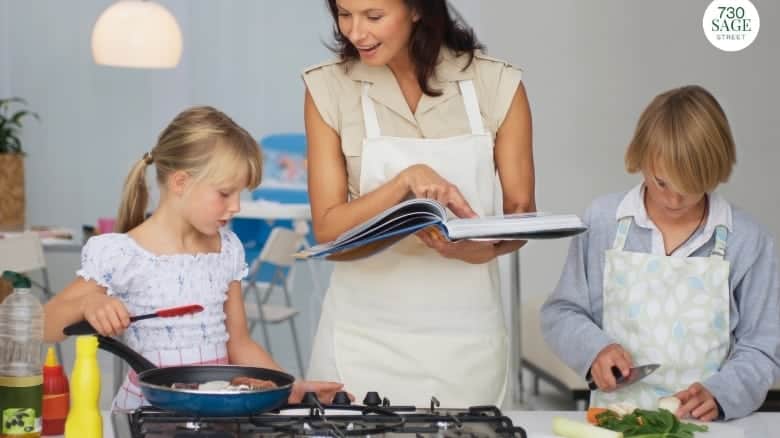 If you want ideas, my house cleaning checklist is full of daily, weekly and monthly cleaning tasks for kids ready for more responsibility.
Contents
The truth that most parents are oblivious to is that they don't need chore charts or chore applications from the app store to get their kids to take part in tasks at home. Instead, they need to develop practical chore ideas and teach their children the benefits of chores by sharing personal experience of how tasks have help kids build life skills and improve the family relationship. The adults should shoulder the responsibility to help teach kids how household tasks can be done. This is way better than a chore chart because, in the end, parents are the only ones that know what interests their children, and they can make sure that the kids' chores reflect their interests.
Toddlers
Naturally, children between ages 1-3 are more participative in chores than older kids because they love to participate in virtually every house task. And since chores help these kids in every part of their lives, parents must encourage them. It is incredible how simple tasks like bottle feeding themselves and organizing food items can go a long way in helping them when they get older. So, here are some age-appropriate chores that toddlers can do.
Pick up toys and put toys away.
Help in preparing the food.
Help in making the bed.
Clear the table by removing only plastic cups and plates.
Take clothes into the laundry room.
Take care of the pet.
Help Put away dishes.
Help dust the tables in the house.
Help throw the dirt into trash bins.
Help pick up weeds in the yard.
Place clothes on the hook.
The only encouragement that a toddler in this age bracket needs is a comforting word from the parent. But most times, a parent uses cookies or other physical items to encourage the children between ages 2 and 3. In this category, the kid's chore is done voluntarily due to the kid's excitement and willing attitude.
Preschoolers
Kids between ages 4 to ages 5 are still as enthusiastic as a toddler is about helping out in chores. So, to keep the little preschoolers up and at them, here are some tasks that they can do in the house to contribute their quota to the family.
Unload the dishwasher.
Make the bed all by themselves.
Set the table for the family dinner.
Put all toys into the box.
Sort out the laundry.
Water the flowers.
Help in yard work by pulling weeds.
Get the family mail.
Help in folding laundry.
Arranging the books in the library.
Help in keeping groceries.
Assist in cleaning the furniture in the home.
Help vacuum the living room.
Gather the trash cans.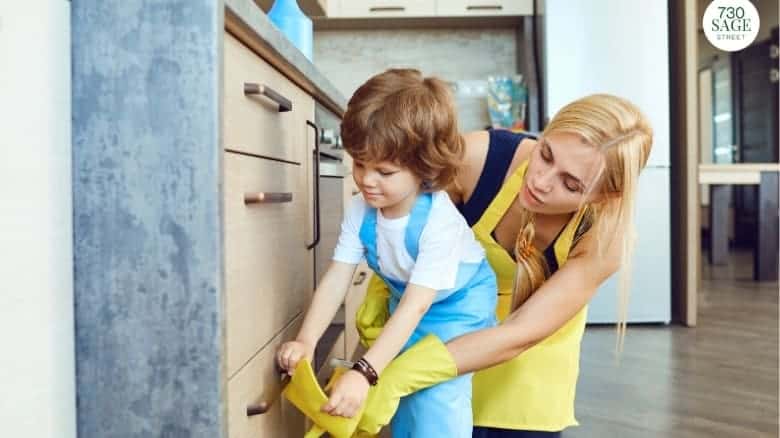 School age children
A kid in this age group is usually swamped by all the school work and has little interest in-home tasks. But even with this, parents should never neglect the power of chores in building and developing a child. Instead, they should take charge of the job of ensuring that tasks become routine in the home. According to the author of Teach Your Children Well, Madeline Levine, neglecting tasks would only make kids believe that school grades are more important than the skills that age-appropriate chores teach them. To give the kids the necessary skills that children between ages 6 and 8 years of age need to have, check out these chores.
Wash bathroom sink.
Cook meals for the family, though under supervision.
Prepare a grocery list for the family.
Water the plants.
Do the family laundry.
Clean the inside of the family car.
Dust the table.
Rake leaves.
Iron clothing with the supervision of an adult.
Feed the pets independently.
Dispose of the trash when the trash bins are full.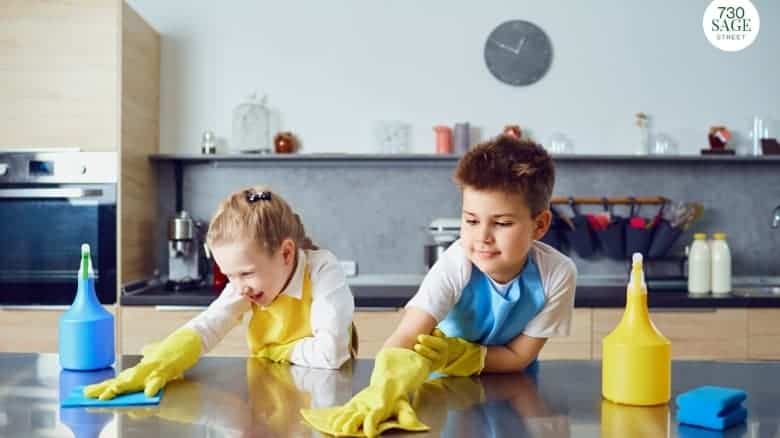 What are good chores for a 12 year old?
Unlike an 8-year-old kid, a 12-year old has a more complex and challenging chores. This is because a child who is 12 years old would most likely be in middle school and has garnered enough knowledge and experience. And any chore for a 12-year-old would be suitable for children between ages 9 and 11. These children would have probably gotten used to chores as a part of living, and they would not need a chart to perform their duties because the chores have become a part of their routine. However, inspiring words and a monetary incentive are necessary because children between ages 9 to 12 have begun to know the value of money. Here are some chores age-appropriate for 12-year-olds.
Load the dishwasher and do the dishes.
Clean the windows.
Yard work like mowing the lawn.
Prepare the list for groceries.
Washing the family car.
Doing the family laundry.
Mopping the house.
Prepare the necessary list needed in the home.
Folding the laundry.
Putting personal belongings in their appropriate places.
Cook meals for him/her or the whole family.
Clean his/her bedroom.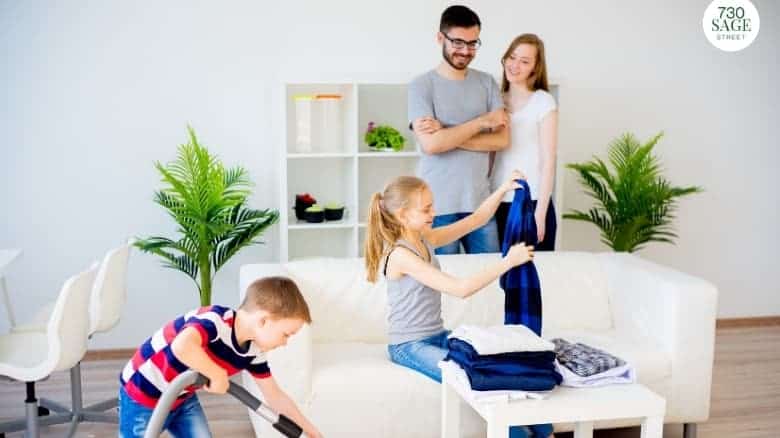 Teenagers
Teenagers have a busier schedule than middle-schoolers because they are, obviously, just entering the teens' club. Teens are less interested in any household task because their school work appears to be too overwhelming for them. But every teen needs to be taught more discipline and confidence to take up greater responsibility as they grow. And that is why they need a chore to remind them that the world expects so much from them. Plus, they need chores to remind them that helping each other in a family shows how great everyone is willing to sacrifice for the household's progress. Check out these age-appropriate chores that any teen would enjoy doing.
Walking the pets.
Babysitting younger siblings.
Sanitizing all surfaces.
Blowing the leaves off.
Wash and dry the laundry.
Prepare meals for the family.
Clean the windows.
Wash the toilets and bathrooms.
Vacuum the car.
Trim the flowers.
Mow the lawn.
Create a list of the needed household items.
Cleaning snow off the car.
Help do the home works of younger siblings.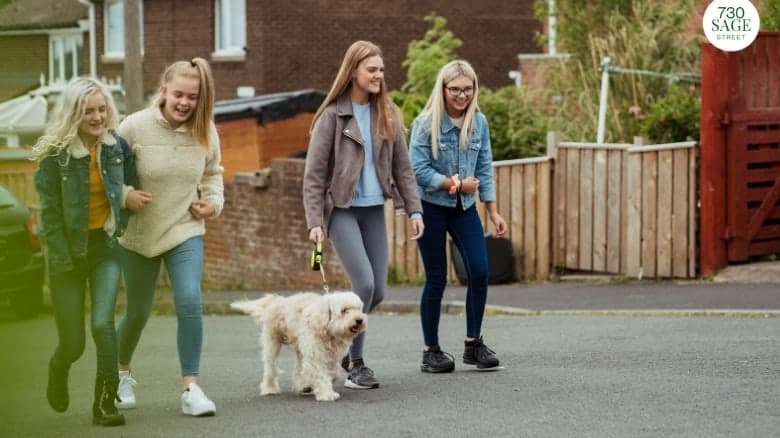 Why should a 5 year old have chores?
Like most early childhood educators would say, the development of a child's literacy starts from infanthood, and that is why a 5-year-old needs his fair share of chores. Children of five years old need to learn about planning and teamwork and how it makes family life way more beautiful than one could ever imagine. Here are seven reasons why 5-year-olds need to start doing chores.
It teaches them responsibility.
They are always ready to contribute, and this zeal has to be replenished.
It makes the family bond better.
It makes children learn to help and respect people.
An age-appropriate chore for kids is a way to develop time-management skills.
It makes them get develop self-control at a very young age.
It prepares them for the more significant duty of handling future jobs.
Easy chores for children of all ages
Regardless of the chores categorized into different age brackets, some mothers still prefer easy tasks that they can assign to their children irrespective of age. So, here are ten easy chores for children of all ages.
Sweeping or vacuuming.
Setting and clearing the table.
Brush pet.
Weeding.
Water the flowers.
Sort out groceries.
Feed the pet.
Wipe or clean surfaces.
Take the garbage out.
Make the bed.
How to get children to do chores?
Most guardians have the problem of getting their children to do chores. These guardians sometimes have good ideas, but they can't get their children to work. If this is the problem, then the best strategies to use are:
Terminate the obstruction
All that is needed here is to search or find out why the child doesn't want to do his chores and 'terminate the obstruction.' If a child were expected to feed the pet but boycotted because he played with his toys, the right thing to do would be to seize the toys until he has completed his chores.
Set a deadline
There should be a specific timeframe for every chore. The children should follow a particular timeframe of when chores are to be done or when they are expected to be completed.
Motivate the child
It is best to use food items or money as incentives. But overall, it is pertinent for the family to motivate the toddlers by doing chores with love and lots of songs and smiles.
Teach them to love chores
All kids need to see chores as a fun activity. It would be wrong for anyone to make their children see chores as a punishment because it isn't. Instead, children should see it as an act of staying clean.
Conclusion
When a parent has gotten an idea of what chores at what age a child should do, they should ensure that they make it a fun routine that the children would love. The truth is that no chore list would make children love chores. A parent would need to focus more on the chore strategy they use. However, this doesn't mean that most guardians have not employed a chore chart and found it useful, but to get long-lasting results, use the best strategy. Also, don't forget to spice up the kid chores with love and fun.
Celebrate with positive reinforcement and quality family time. Check out these yummy recipes you can prepare and enjoy together, or watch a movie with the whole family. Whatever you decide, enjoy every minute.
Printable chores for kids of all ages
I recommend copying the Google Sheet, making a copy for yourself, and creating a chore list for your kids that makes sense for your family.