The other day I had 4 sad organic bananas sitting on my counter that had browned faster than I could eat them.
I had 2 choices.
Save them for later by freezing them or make bread.
Well, of course, I made bread.
I made the most amazing, super, wonderful, best tasting banana bread ever*
(*based upon the opinion if its maker and her son).
But look, you can't deny this Chocolate Banana Bread looks awesome: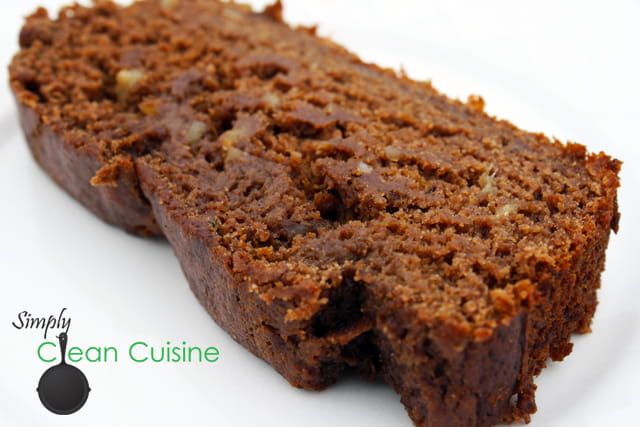 Clean Banana Bread Recipe
Recipe type: Dessert, Bread
Prep time:
Cook time:
Total time:
Serves: 10
This is a super tasty banana bread with a strong banana flavor and the added bonus of cocoa powder!
Ingredients
1½ cups whole wheat flour
1¼ tsp baking powder
½ tsp baking soda
1 tbsp cinnamon
2 tbsp cocoa powder
Pinch of sea salt
3-4 mashed ripe bananas (mash with fork)
1 egg
¼ cup unsweetened applesauce
½ cup raw honey
¼ safflower oil (you can use sunflower oil, grape seed oil, or other nut based oil - olive oil will work but it may require extra cooking time)
⅓ cup chopped walnuts
Instructions
Preheat oven to 350 degrees.
Combine flour, baking powder, baking soda, cinnamon, cocoa powder and salt in a medium bowl.
Beat bananas with a mixer until smooth then add egg until combined.
Slowly stir applesauce, honey and oil into banana mixture.
Blend dry ingredients into banana mixture.
Stir in nuts.
Spray a 9x5 inch loaf pan with olive oil or cooking spray, pour batter in and bake for 45 minutes or until top has split and edges looked cooked. Test with a toothpick, depending upon your oil choice, it may take longer.
Notes
Nutrition information calculated by http://nutritiondata.self.com/
Nutrition Information
Serving size: 1 piece Calories: 186 Fat: 3g Saturated fat: .5 g Carbohydrates: 38 g Sugar: 20g Fiber: 4 g Protein: 4.5 g Cholesterol: 21 mg