If there's one thing the Chinese are known for, it's their incredible cuisine. And if there's one cut of meat that's versatile enough to be used in countless dishes, it's the pork chop.
These 15 Chinese pork chop dishes range from sweet and sour to spicy and flavorful and are sure to satisfy even the pickiest eater.
So grab your chopsticks and get ready for a culinary adventure through the flavors of China.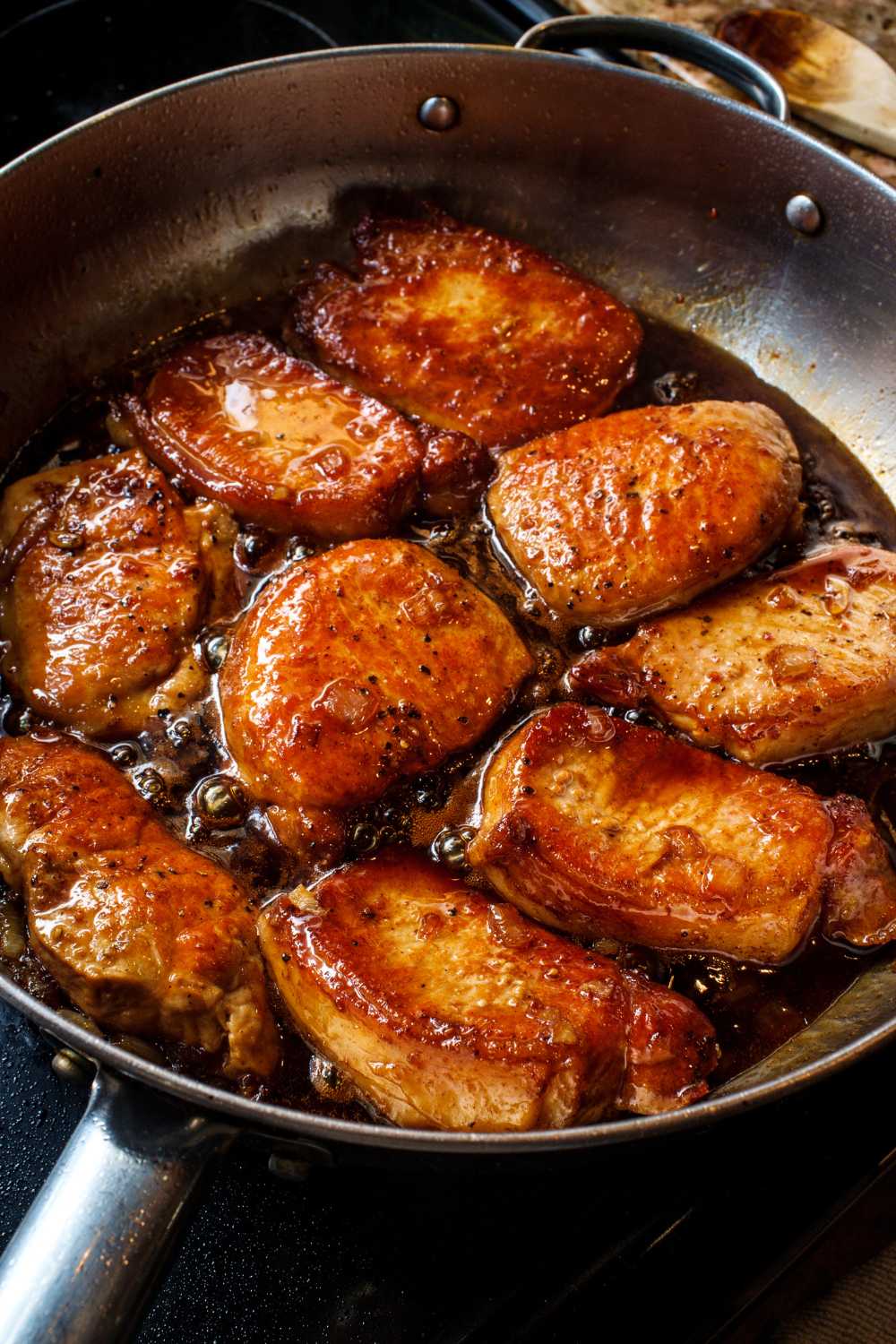 Can I Substitute Other Meats For Pork Chops In These Chinese Recipes?
Yes, you can substitute other meats for pork chops in Chinese recipes. Here are some options:
Chicken - Use boneless, skinless chicken thighs or breasts for a leaner option. Marinate the chicken before cooking to infuse it with flavor.
Beef - Use thinly sliced beef, such as flank or sirloin, and stir-fry it quickly over high heat. Add a little cornstarch to the marinade to help the beef brown and thicken the sauce.
Shrimp - Use peeled and deveined shrimp for a lighter, seafood twist on Chinese pork chop recipes. Stir-fry quickly and add to the recipe at the end to prevent overcooking.
Tofu - Use firm tofu for a vegetarian or vegan option. Press the tofu to remove excess moisture, then coat it in cornstarch and stir-fry until crispy. Add to the recipe at the end to prevent it from getting too soft.
Lamb - Use thinly sliced lamb for a bold, gamey flavor. Marinate the lamb in soy sauce and Chinese spices before stir-frying.
15 Chinese Recipes With Pork Chops
Get ready to chop it like it's hot with these 15 tantalizing Chinese pork chop recipes. From sweet and sour to spicy and savory, there's a flavor for every palate:
These Tender Sweet 'n' Sour Pork Chops are a delectable treat that is sure to satisfy your taste buds! Seasoned with pepper and cooked until perfectly browned, these boneless pork loin chops are then smothered in a deliciously tangy sauce made with cider vinegar, brown sugar, soy sauce, and Worcestershire sauce.
A cornstarch slurry is added to the mixture, creating a velvety texture that perfectly complements the juicy and tender pork. Serve these chops hot and enjoy the perfect balance of sweet and sour flavors in every bite!
If you're looking for a flavorful and healthy meal, look no further than these Chinese Five-Spice Skillet Pork Chops! These juicy and thick-cut boneless pork chops are seasoned with ginger, Chinese five-spice powder, and salt, and cooked to perfection in a large skillet with caramelized onions and minced garlic. The result is a deliciously savory and aromatic dish that is sure to impress your taste buds.
This paleo, Whole30-approved, and gluten-free recipe is easy to make and perfect for a quick and satisfying dinner. Serve with a splash of rice vinegar or water to make a little pan sauce and top with sliced green onions or chopped cilantro for a burst of freshness.
These sweet and savory Ginger Honey Pork Chops are the perfect balance of flavors! Thick-cut pork loin chops are seasoned with freshly grated ginger root, kosher salt, and black pepper, and then grilled or pan-seared to perfection. While cooking, brush on a homemade glaze made with honey, Dijon mustard, and the same fresh grated ginger.
The glaze creates a deliciously sticky and flavorful coating on the pork chops that is sure to impress your guests. Let the pork chops rest for a few minutes before serving to ensure maximum juiciness and flavor.
With this dish for Kung Pao Pork with Almonds, you're in for a culinary storm of flavor! Thinly sliced pork tenderloin is sauteed in peanut oil with minced garlic, salt, and pepper until almost fully cooked, then set aside. The wok is then filled with a deliciously savory sauce made with rice wine, Hoisin sauce, brown sugar, freshly grated ginger root, Chinese 5 spice powder, sesame oil, light, and dark soy sauce, and crushed chili paste.
The pork is added back to the wok along with diced red pepper and simmered for a couple of minutes until fully cooked. A cornstarch slurry is added to thicken the sauce, and the dish is served on a bed of rice or Chinese noodles and topped with toasted slivered almonds or cashews.
Peking Pork Chops are a savory delight that everyone will love. The pork chops are marinated in a flavorful mixture of rice wine vinegar, ketchup, oyster sauce, chili sauce, hoisin sauce, Worcestershire sauce, sugar, and water for 30 minutes. Then, they are fried in vegetable oil for 3 minutes per side until golden brown.
The delicious sauce is made from a blend of the same ingredients used in the marinade and is poured over the pork chops. Once the sauce is slightly boiled, the pork is added back to the skillet and cooked until the sauce has thickened.
Braised Adobo Pork Chops are a delicious and savory dish that's perfect for dinner any night of the week. Marinated in soy sauce, apple cider vinegar, garlic, and pepper, the pork chops are then simmered with bay leaves and jalapeno until they are tender and juicy.
Served over a bed of rice, this dish is sure to be a crowd-pleaser. For those who like it saucy, simply increase the amount of liquid marinade to achieve the desired consistency. This flavorful dish is easy to prepare and sure to satisfy any appetite.
These Char Siu Pork Chops are the perfect balance of sweet and savory. Marinated in a flavorful mixture of Chinese 5 spice, honey, hoisin sauce, and more, these pork chops are tender and juicy with a hint of smoky char.
Cooked on a smoker or grill, these chops are brushed with a sweet honey glaze as they cook, infusing them with even more delicious flavor. Serve them up with some rice and steamed vegetables for a complete meal that will transport you straight to Asia.
Shanghai Style Braised Chili Pork is made with succulent pieces of pork that are slowly cooked in a blend of soy sauce, vinegar, and dried chilies until they are fall-apart tender. The pork is then sautéed to perfection with green onions and sesame seeds, giving it a crispy and nutty flavor.
This dish is perfect for a cozy night in or to impress your guests with a Chinese-inspired feast. Serve over steamed white rice or veggies and enjoy the flavors of Shanghai in your own home!
These salt and pepper pork chop pieces are the perfect way to liven up a weekday meal. The gluten-free breading and robust tastes of jalapenos, Schezwan peppercorns, and garlic give this dish a very Asian feel. These nibbles are pan-fried till golden brown and then sprinkled with sea salt and pepper for an added flavor boost.
Offer them to guests as an appetizer or make them the main dish by serving them with rice and vegetables. Are you ready to get a taste of China in your own home?
This Slow Cooker Peking Pork Chops recipe is the perfect choice for a cozy, fuss-free dinner that's big on flavor. Tender pork collar or soft bone ribs are cooked low and slow with tangy plum sauce, tomato ketchup, black vinegar, and Worcestershire sauce.
Top with roasted white sesame seeds and chopped spring onions for a colorful garnish that elevates this dish to new heights. Sear the meat beforehand for an extra layer of flavor. Serve hot with rice or noodles for a satisfying meal. This dish serves 3-4 people and costs only $3.45 per serving, making it a budget-friendly option that doesn't skimp on taste.
Prepare to savor the delectable flavor of these pork chops cooked in a pan and topped with sweet teriyaki sauce. Before you get cooking, make sure your boneless center-cut pork chops are at room temperature and patted dry. Then, season them with salt and pepper and sear them to perfection in a large cast-iron skillet with olive oil.
The magic comes when you add minced garlic, honey, teriyaki sauce, and freshly squeezed lemon juice, letting the sauce thicken and baste the chops until they are slightly charred. These chops are sure to impress and satisfy your taste buds with their sweet and savory flavors.
Get ready for a spicy kick with this traditional Chinese dish, Mapo Tofu. Made with firm tofu and lean ground pork, this stew is filled with bold flavors of fermented chili bean paste, soy sauce, and Sichuan pepper. Adjust the spice level to your liking, and enjoy this fast and easy recipe in just a few simple steps.
Make sure to get yourself some good fermented chili bean paste for the perfect balance of heat and flavor. Serve this delicious stew with rice for a satisfying and comforting meal.
Baked Pork Chops with Beans is a simple and hearty dish that's perfect for any weeknight dinner. The thick-cut pork chops are seasoned with salt and pepper, then seared until golden brown for a crispy exterior. The pork chops are then baked with a flavorful combination of baked beans, diced onions, Worcestershire sauce, and diced bacon.
The addition of brown sugar and sliced butter give this dish a touch of sweetness and richness. After just an hour in the oven, the result is a tender and juicy pork chop with a flavorful and comforting side of baked beans.
You may now prepare the famous meal, Baked Pork Chop Rice Hong Kong Style, in the convenience of your own kitchen. The pork in this dish is pan-fried instead of deep-fried, and it is served above a bed of aromatic fried rice flavored with frozen vegetables and scrambled eggs, making it a healthier alternative to the traditional take on the dish.
Soy sauce, sugar, and Shaoxing Cooking Wine are used as a marinade, and the pork is covered with a sweet and sour tomato onion sauce before being topped with a mountain of cheddar and mozzarella. Put everything in the oven, and you'll have a tasty meal that can be eaten for a night or as leftovers for lunch the next day.
These honey garlic pork chops bring the taste of a Chinese restaurant to your kitchen. With thin and crispy bone-in pork chops, the marinade is a mix of Shaoxing wine, garlic powder, and sesame oil.
Coated in cornstarch and flour, these pork chops are fried in oil until golden brown. The sweet and tangy sauce is made with honey, soy sauce, lemon juice, and a pinch of black and white pepper. Sautéed garlic adds an extra savory flavor. Serve with garnishes like sliced green onions and fried garlic chips. This gluten-free adaptable dish is ready in just 25 minutes.