Chicken and broccoli are a classic combination in Chinese cuisine and for a good reason! The tender, juicy chicken and crisp, vibrant broccoli create a perfect balance of flavors and textures.
We've gathered 15 of the best Chinese recipes featuring this delicious duo. From stir-fries to soups, these recipes are sure to satisfy your cravings for healthy and flavorful meals.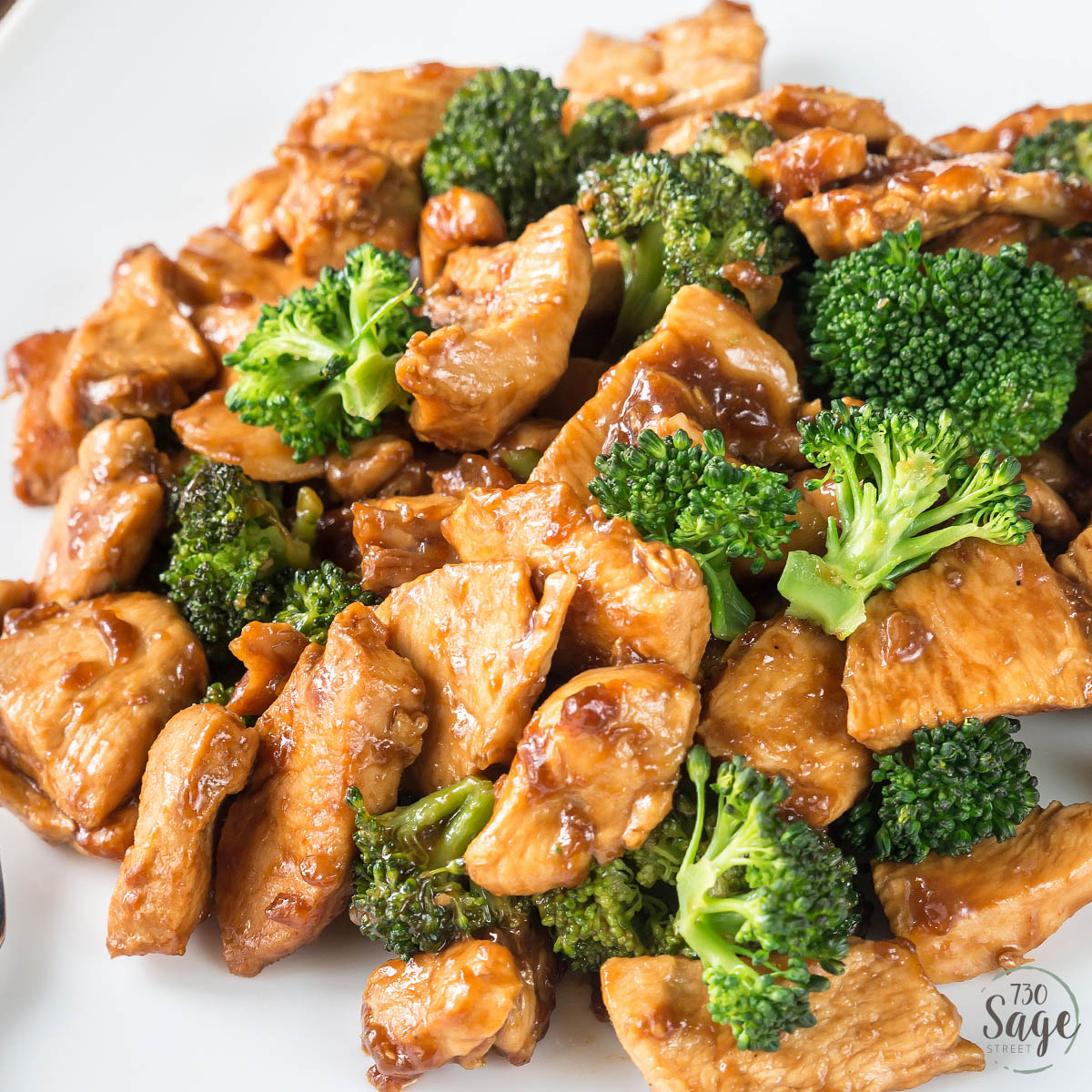 Can I Use Canned Chicken In Chinese Dishes With Broccoli?
While canned chicken may be a convenient option, it is not recommended for Chinese dishes with broccoli. Canned chicken can be high in sodium and may not have the same flavor and texture as fresh chicken. Opting for fresh chicken will ensure a healthier and tastier dish.
Can I Use Tofu Instead Of Chicken In Chinese Broccoli Dishes?
Yes, tofu can be used as a substitute for chicken in Chinese broccoli dishes, making it a healthier and vegetarian-friendly option. Tofu is a great source of plant-based protein and can absorb the flavors of the sauce in the dish. Be sure to use firm tofu and press it to remove excess water before cooking to ensure a firmer texture.
15 Chinese Recipes With Chicken And Broccoli
These 15 Chinese chicken and broccoli recipes, from traditional stir-fries to flavorful soups, can fulfill your appetites while sticking to your diet:
Get your chopsticks ready for a delectable Chinese feast with this Chicken and Broccoli Stir Fry recipe! Tender chicken breast pieces are seasoned with Chinese five spices and cooked to perfection, while crispy broccoli florets are sautéed until tender.
The dish is elevated with a mouth-watering sauce made of soy sauce, honey, rice vinegar, and other delectable ingredients. Thickened with cornstarch, the sauce coats every piece of chicken and broccoli with a burst of flavor that will leave you craving more. Top with green onions and sesame seeds for added crunch and serve this dish with steamed rice for a complete meal.
If you're looking for a lighter, less complicated take on the traditional Chinese dish known as Kung Pao Chicken, then you've come to the right place. This recipe features tender broccoli florets, colorful bell peppers, and succulent chunks of chicken breast, all of which are cooked in a flavorful sauce made with coconut aminos, honey, and chili paste.
This recipe is a nutritious and delectable supper that can be prepared in fewer than thirty minutes, and it is topped with crushed peanuts for an extra crunch. It is served over brown rice. Dollop some Sriracha sauce on top for an added touch of heat, but don't forget to add it!
This Honey Garlic Chicken Stir Fry recipe is a simple and flavorful meal that you can whip up in no time! In this recipe, tender chunks of chicken are cooked until golden brown and then tossed with crisp broccoli and sweet, crunchy carrots.
The sauce, made with honey, soy sauce, and garlic, brings a perfect balance of sweet and savory flavors to the dish. The sauce, which has been thickened with cornstarch slurry, completely covers each piece of chicken and vegetable, making for a delectable coating that will delight your taste. Serve it over a bed of fluffy rice, and you've got a restaurant-worthy dish that your family and friends will love!
In this recipe for Spicy Orange Chicken and Broccoli, grilled chicken breast pieces are mixed with broccoli florets in a spicy orange sauce prepared from orange juice, soy sauce, brown sugar, and sriracha, creating a tasty and spicy take on a classic Chinese meal.
There's a nice zesty pop from the orange zest, and the ginger and garlic give off a wonderful scent. This recipe, served over a bed of rice, is filling and nutritious. Green onions, toasted sesame seeds, and crushed red pepper make a beautiful topping that adds crunch and heat.
In this recipe for Cashew Chicken, soft chicken breast pieces are roasted till golden brown, then combined with crisp broccoli florets, sliced onions, and crunchy water chestnuts for a nutty and flavorful feast. The soy sauce, brown sugar, garlic, ginger, and sesame oil sauce are the dish's hero, bringing together sweet and salty notes in a harmonious whole.
The cornstarch slurry in the sauce creates a thick, rich coating that clings to the chicken and vegetables and makes you want more. For a filling supper, pour this over steamed rice and sprinkle with cashews. Green onions and sesame seeds, all of which are completely optional, will give this meal a welcome burst of color and flavor.
Prepare to satisfy your craving for authentic Chinese cuisine with this General Tso's Chicken recipe, featuring tender slices of chicken thigh marinated in a savory blend of baking soda, garlic powder, soy sauce, and spices.
The chicken is coated in a cornstarch batter, stir-fried until it is golden brown, and then tossed with a sweet and savory sauce prepared from hoisin, honey, and lime juice. To end, we've added some heat and flavor with some crushed red pepper and chopped green onions. Put it over hot rice for a supper that will fulfill your hunger and your soul.
Tender chicken breast pieces are sautéed to perfection in a fragrant blend of garlic and olive oil, then seasoned with salt and pepper in this recipe for Lemon Garlic Chicken, the first stop on a voyage of healthful and delicious flavors.
The recipe benefits from the addition of lemon juice, dried thyme, and (if desired) crushed red pepper for brightness and spiciness. Broccoli, which is rich in nutrients, is added to the recipe so that it may provide a pleasing crunch and a splash of green color. Serve it over rice or riced cauliflower for a healthy and filling lunch that's appropriate for any event.
In this Sesame Chicken Recipe, soft pieces of chicken are coated in a crispy batter and then slathered in a wonderful sauce prepared from honey, ketchup, soy sauce, and other mouthwatering ingredients.
To make a stunning and attractive presentation, serve this delicious meal over a bed of fluffy white rice and top it with sesame seeds and green onions. If you're craving a combination of sweet, sour, and salty flavors, go no further than this dish.
Enjoy the tastes of Mongolia with this delicious meal of Mongolian Beef and Broccoli, which has thin slices of beef tenderloin marinated in a mixture of soy sauce, Shaoxing wine, cornstarch, and water.
In the end, a savory sauce made from low-sodium soy sauce, brown sugar, hoisin sauce, oyster sauce, white pepper, and chopped garlic and ginger is added to the meal. The sauce goes great with the crisp broccoli and onion. It's a complete dinner by itself, but you can round it up by serving it over steamed veggies or rice.
Bite-sized chunks of chicken breast are coated in cornstarch and stir-fried to produce a light brown crust, transporting you to Hunan with its fragrant stir-fry. Vegetables such as broccoli, red bell pepper, carrots, snow peas, and baby corn are stir-fried till bright and crisp-tender.
To finish it off, a savory and somewhat sweet sauce composed of oyster sauce, honey, Asian garlic chili sauce, soy sauce, and chicken broth is drizzled over the top. If you serve it over rice, this dish makes a quick and filling meal.
Chicken thighs are the centerpiece of this meal, which is made extra tasty by being coated with a mixture of potato starch, granulated garlic, black pepper, ginger, and salt.
Once the chicken has been cooked to perfection, it is mixed with fresh broccoli, bell pepper, and shredded carrot and simmered in a delectable sauce prepared from chicken broth, coconut aminos, honey, vinegar, fish sauce, and lime juice. Fresh Thai or sweet basil is torn or chopped and tossed in at the end, along with dry roasted peanuts for textural and flavorful contrast. The dish has just the right amount of sweetness and saltiness to make it a complete and satisfying dinner.
The soft strips of top-sirloin steak in this stir-fry are covered in a wonderful hoisin and soy sauce with the warm and aromatic five-spice powder, creating a dish that is both flavorful and quick and easy to prepare any night of the week.
Red bell pepper, mushrooms, and broccoli give this meal a splash of color and a healthful punch. Serve it over rice or noodles and you won't be able to get enough of this delicious stir-fry.
Beef and Broccoli is a traditional dish for a reason: soft, thinly sliced beef is stir-fried with broccoli, ginger, garlic, and onion after being marinated in soy sauce, Shaoxing wine, and sesame oil.
Coating the meal with savory oyster sauce, soy sauce, and a touch of sugar helps to achieve a harmonious blend of tastes. Broccoli florets that have been blanched are added last for a little crunch. The end product is a delectable meal that goes wonderfully with hot, fluffy rice. To guarantee perfectly cooked veggies, don't forget to employ the blanching method.
The soft slices of sirloin steak in Rach's Beef + Broccoli with Black Bean Sauce are stir-fried with leeks, ginger, garlic, and broccoli after being marinated in a wonderful combination of soy sauce, Worcestershire sauce, and Sichuan pepper.
The beef and veggies are doused in a delicious sauce made from black bean sauce, rice wine or sherry, chili paste, cornstarch, and stock. Put over some fluffy white long-grain rice and you've got yourself a full and filling supper.
If you're in a pinch and need a fast and simple lunch, go no further than this 5-minute chicken stir fry noodles recipe. Packed with healthful vegetables, it's also full of flavor that will make your taste buds do a happy dance.
The chicken is cooked in garlic and carrots and then tossed with spaghetti and broccoli. Thereafter, a flavorful sauce comprised of soy sauce, hoisin sauce, sesame oil, and other spices is poured over the top. For more flavor and texture, sprinkle over some toasted sesame seeds and chopped scallions. If you're in a rush but still want a filling supper, this is the one to make.