Bok choy, also known as Chinese cabbage, is a leafy green vegetable commonly used in Chinese cuisine. With its mild, slightly sweet flavor and crisp texture, it's a versatile ingredient that can be used in a variety of dishes.
In this round-up article, we've gathered 15 Chinese recipes that feature bok choy as a star ingredient. Whether you're a seasoned home cook or a beginner, these recipes are easy to follow and packed with flavor.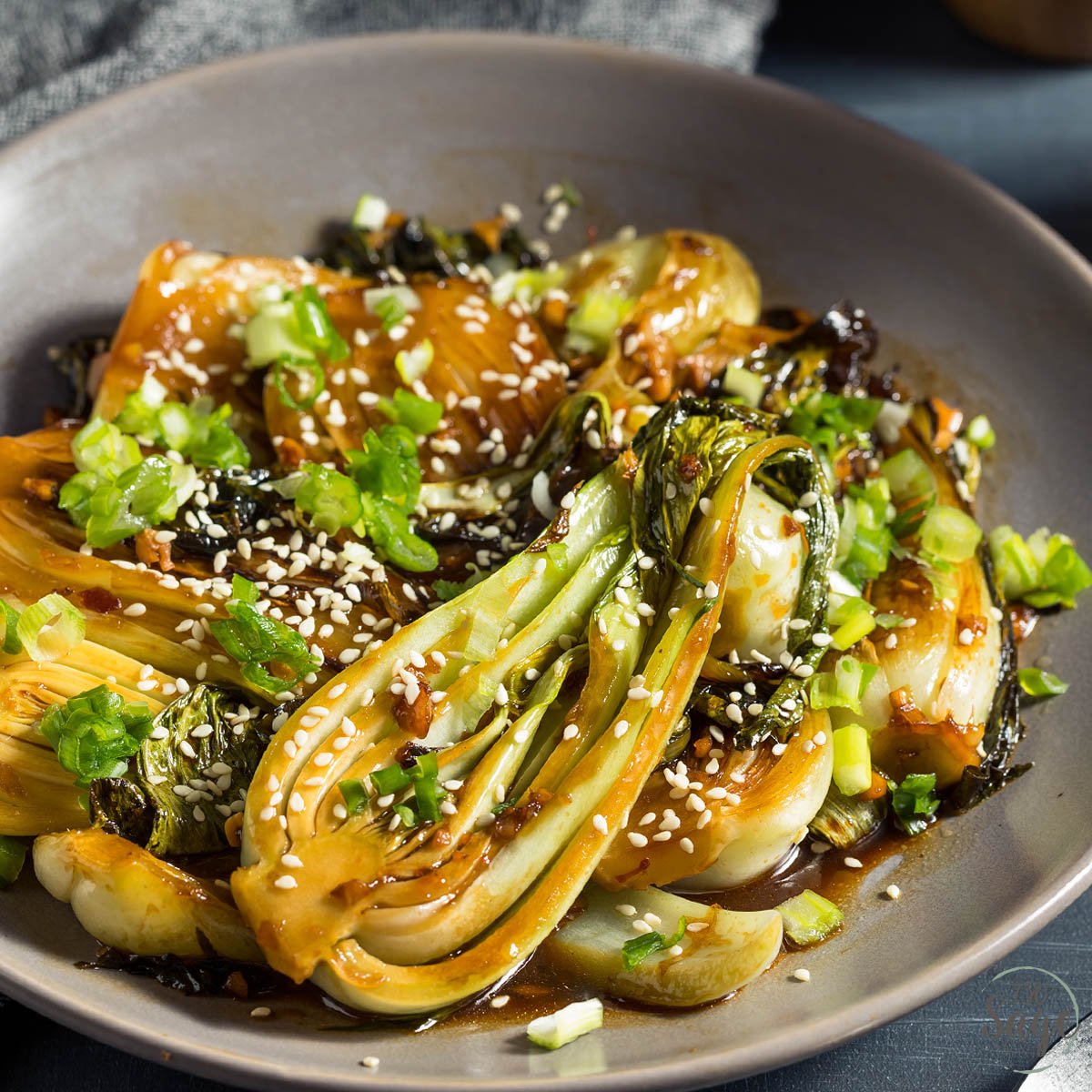 Where Can I Find Bok Choy In The Grocery Store?
Bok choy is a common vegetable in Chinese cuisine and can be found in most grocery stores. Look for it in the produce section near other leafy greens such as spinach and kale. Bok choy is packed with vitamins and minerals, making it a healthy addition to any meal.
Are There Any Tips For Cleaning And Preparing Bok Choy?
To clean the bok choy:
Fill a large bowl with water and soak the vegetable for a few minutes.
Swish the bok choy around in the water to remove any dirt or debris that may be trapped between the leaves.
Rinse under running water and pat dry with a paper towel or clean cloth.
To prepare bok choy, chop off the bottom of the stem and separate the leaves. Bok choy can be used in a variety of dishes and adds a healthy crunch to stir-fries, soups, and salads.
15 Chinese Recipes With Bok Choy
All the way from hearty soups to stir-fry meals and beyond, these 15 Chinese recipes using bok choy will take your senses on a delicious adventure while providing you with a healthy dose of nourishment:
Stir-fried pepper beef with bok choy, often called Mongolian beef, is a flavorful meal that can be prepared quickly and easily. It consists of thinly sliced sirloin steak that has been marinated in white wine, salt, and pepper, and is then stir-fried with garlic, onions, and bok choy.
The dish is elevated with a savory sauce prepared with beef stock and dark soy sauce, making it ideal for a midweek meal. The somewhat bitter flavor and crisp texture of the bok choy leaves make this a satisfying main dish when served with steaming rice.
This recipe for Bok Choy Chicken stir-fry is a culinary adventure for your tastebuds; the chicken is marinated in a mixture of soy sauce, cornstarch, oyster sauce, and other ingredients to bring out the greatest tastes.
Freshness and crunch are brought to the meal by the inclusion of sliced bok choy and ginger. In addition to being delicious on its own, the meal is elevated to legendary status by the sauce of sesame oil, white pepper, and wine. This dish is great for a fast evening meal and goes nicely with steaming white rice.
Get into the delights of this nutritious and delectable ground pork stir fry, whereby the pork is cooked to perfection with green onions, cabbage, baby bok choy, and shredded carrot, creating a wonderful combination of textures and flavors.
Honey, soy sauce, sesame oil, and red pepper flakes all contribute to the dish's depth of flavor and spicy kick. Serve over steamed rice or cauliflower rice for a healthy and filling meal any night of the week. Green onions and sesame seeds provide a tasty and crunchy topping.
Baby bok choy is blanched in salted water and then swiftly stir-fried with garlic until it is just starting to brown in this dish Baby Bok Choy with Soy Sauce and Garlic, which is both easy and elegant.
The umami qualities of the soy sauce and Chinese mushroom sauce are then incorporated into the meal by adding them to the pan. After the meal is ready, it is plated and finished with a sprinkle of sesame seeds for a visually pleasing and flavorful garnish. Even if you've never cooked before, you can follow this recipe and finish up with something delicious and spectacular enough to offer to visitors.
The baby bok choy in this Sesame Soy Bok Choy recipe is cooked to perfection in a wonderful sauce that blends soy sauce, rice vinegar, Asian sweet chili sauce, and toasted sesame oil, and is the ideal side dish for any occasion.
The red pepper flakes provide a nice contrast to the mildness of the red garlic and ginger. And the greatest part? You can whip up this easy side dish in no time at all and serve it with your favorite main meal. Try this Sesame Soy Bok Choy recipe the next time you want a nutritious and tasty vegetable side dish.
In this recipe for Ginger Garlic Noodle Soup with Bok Choy, soft bok choy, rice noodles, and crimini mushrooms float over a fragrant broth made from simmering garlic, ginger, and soy sauce in chicken stock.
Sesame seeds, green onions, and red pepper flakes provide crunch and fire. On cold days or any day, if you need a bowl of warmth and comfort, this soup is the way to go. And it's a terrific way to get bok choy's many health advantages.
Next up is a recipe for Spicy Garlic Butter Shrimp & Baby Bok Choy, a delicious seafood meal with a symphony of flavors. You should thaw the shrimp, peel off the shells, and then lay them aside. Baby bok choy, green onions, and garlic should all be cleaned and sliced.
Combine the sambal oelek, soy sauce, and cornstarch in a bowl. In a nonstick frying pan, melt the butter and sauté the garlic and onion whites until aromatic. Cook the bok choy until it begins to wilt in the pan. Take the shrimp out of the pan and let them cook for a few minutes on each side. Transfer the sauce to the pan and coat the shrimp. The bok choy should be returned to the pan and tossed with the coating ingredients. Serve with a sprinkle of sesame seeds and green onions for added flavor.
The earthy mushrooms and fresh, crisp bok choy in this stir-fry are a fantastic match, and the aromatic garlic and ginger round off the meal well. Shaoxing rice wine (or dry sherry) is added at the end, along with soy sauce, sesame oil, and the rest of the ingredients, to make a delicious sauce that clings to every mouthful.
This is a great recipe for individuals who wish to have a healthy vegetarian meal. You'll be delighted by how quickly and simply this recipe comes together, and by how delicious it is both with rice and on its own.
Tofu is diced, marinated, then baked till crispy and golden brown in this bok choy stir-fry that is bursting with powerful flavors and textures. Meanwhile, the young bok choy gets a quick sauté to bring out its tenderness. Finally, low-sodium soy sauce, rice vinegar, Shaoxing wine, honey, and water are combined to create a delicious sauce, which is then mixed with crispy tofu, ginger, garlic, scallions, and Thai chilies.
The bok choy is reintroduced at the end, and the sauce is stirred in to ensure a thorough coating. Toss in some roasted cashews and sesame seeds and you've got a nutritious dish that will also fulfill your want for crunch, and it's sure to please.
Get ready to go to Asia with this flavorful Chicken Fried Rice with Bok Choy. In order to guarantee that each grain of rice is covered with spices and tastes great, the rice is called for in the recipe to be served chilled.
Tender chicken thighs, earthy shiitake mushrooms, and crunchy baby bok choy come together to provide a satisfying meal. The toasted sesame seeds provide a nutty flavor, while the egg whites make for a lovely texture. It's a wonderful choice for a weeknight supper or as part of your meal plan for the week.
Let this Bok Choy Stir Fry be your gateway to a world of new tastes! A delicious combination of shiitake mushrooms, broccoli, onions, edamame, and carrots. The acidic sweetness of the sauce—a blend of tamari, rice vinegar, lime juice, ginger, and garlic—is offset by the richness of the sesame oil.
Sprinkle with sesame seeds and serve with lime wedges and spicy condiments like sambal or sriracha. Brown rice spaghetti adds a nutritious edge to this dish.
Delicious and easy, this Shanghainese meal of braised bok choy is best prepared by first soaking the bok choy in water to eliminate any dirt or impurities. After being split lengthwise, the veggies are cooked in a combination of water, dark soy sauce, brown sugar, and oil until they reach the desired tenderness.
The last touch of salt brings out the other tastes, making this a tasty and nutritious addition to any meal. Give this traditional Chinese meal a try, and you won't be disappointed by its delicious taste.
These garlic ginger shrimp stir fry with bok choy is the perfect dinner option when you're short on time. This recipe is a healthier alternative to takeout that tastes even better! With a sauce made of chicken stock, oyster sauce, dry sherry, sesame oil, and cornstarch, the stir fry is packed with flavor.
The fresh shrimp, crunchy snow peas, and tender baby bok choy make this dish a delicious and nutritious meal. For an extra kick, add some optional Thai peppers. Serve over rice or cauliflower rice for a complete meal that is sure to please.
This sesame-ginger daikon noodle soup with bok choy, snow peas, and shiitake mushrooms is a nourishing and flavorful soup that is perfect for any time of the year. With its mix of delicate flavors, which range from the slight sweetness of the mirin to the tanginess of the lime juice, this soup is sure to be a hit with a large group of people.
The meal is given a meaty and gratifying quality thanks to the addition of baby bok choy and shiitake mushrooms, which also provide a pleasing crunch from the daikon noodles. This soup is ideal for individuals who want a nutritious and flavorful supper that can be prepared in a short amount of time and with little effort.
This soba noodle recipe is the last but certainly not the least; it's a tasty, healthful, and gratifying dinner that can be prepared in a flash. Soba noodles, which have a distinct nutty taste, are tossed with bok choy and cremini mushrooms for a healthy and filling meal.
The sauce's sweet and sour taste comes from the combination of soy sauce, sesame oil, and rice vinegar. This dish of noodles is packed with flavor and texture thanks to the sautéed garlic, ginger, red pepper flakes, and scallions. For those times when you just don't have the energy to go out and get fast food but yet want to eat something healthy and delicious, try this recipe.