No matter how much or how little experience you have in the kitchen, you will be able to prepare these 15 recipes utilizing Chinese BBQ pork and add real flavor to your cuisine.
These recipes, ranging from stir-fries to noodle bowls, are a testament to the variety and flavor of Chinese barbecue pork.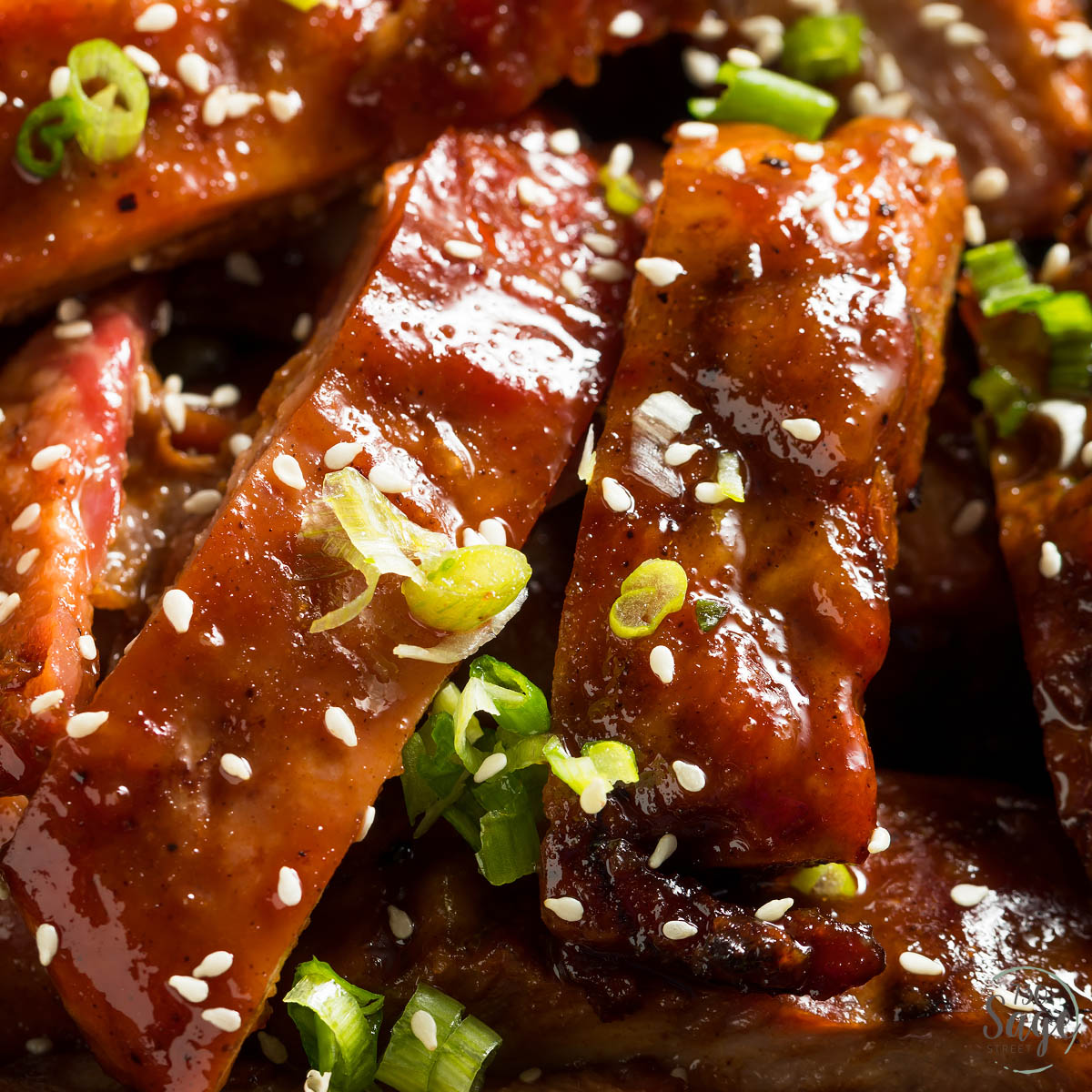 What Is The Difference Between Chinese BBQ Pork And American BBQ Pork?
Chinese barbecue pork, also known as char siu, is marinated in a flavorful mixture of soy sauce, hoisin sauce, honey, and other seasonings before being roasted or grilled to perfection. The result is succulent and slightly sweet meat that is often used in stir-fries and other dishes.
On the other hand, American BBQ pork is usually smoked or slow-cooked with a dry rub or a sauce that is heavily tomato-based and often includes vinegar, sugar, and spices. The end result is tangy and smoky meat that is often served as a main dish or as a sandwich.
Where Can I Buy Chinese BBQ Pork?
Chinese BBQ pork can be found at most Chinese markets and grocery stores, as well as some specialty meat shops. Look for pre-marinated pork in the refrigerated section, or ask the butcher for a fresh cut of pork shoulder or loin that can be marinated at home.
While the pre-marinated pork may contain higher amounts of sugar and sodium, opting for a leaner cut of pork and marinating it with healthier ingredients such as ginger, garlic, and vinegar can make for a more nutritious and flavorful dish.
15 Recipes With Chinese Bbq Pork
These 15 tasty and healthful Chinese BBQ pork recipes, from stir-fries to soups, will fulfill your needs for robust, savory tastes.
Introducing the irresistible Chinese BBQ Pork Char Siew Noodles, a dish that will transport you straight to the bustling streets of Hong Kong! With a delightful medley of fresh egg noodles, choy sum, and tender Char Siew pork, every bite is a culinary adventure.
The magic lies in our homemade garlic oil, adding a touch of golden goodness, and the mouthwatering sauce that brings it all together. Don't forget to sprinkle spring onions on top for that extra crunch! If you're feeling extra fancy, serve it with a comforting bowl of wonton soup for the ultimate Asian dining experience.
Welcome to the world of Classic Pork Fried Rice, a heartwarming dish that will make you feel like you're in your favorite Chinese restaurant! This savory creation is loaded with delicious Chinese BBQ pork, fluffy Jasmine rice, and vibrant veggies like carrots, peas, and onions.
Prepared in a sizzling wok, the dish is flavored with soy sauce, Chinese cooking wine, and a hint of sesame oil, making it a symphony of flavors that dance on your plate. When you serve up this comforting masterpiece, watch as your dinner table fills with smiles and contented sighs.
Continuing our delicious journey through the world of Chinese BBQ pork, we now arrive at the beloved Steamed BBQ Pork Buns, also known as Char Siu Bao! These fluffy, heavenly buns, filled with succulent diced roast pork and an irresistibly savory sauce, make a perfect companion to our Classic Pork Fried Rice.
Imagine the joy of biting into these soft clouds of delight, as the aromatic filling slowly melts in your mouth. Prepare to be enchanted as you master the art of pleating and steaming these buns, creating a harmonious blend of textures that will leave you craving for more.
Neely's BBQ Pulled Pork Egg Rolls are a delicious diversion as we keep looking into the many uses of Chinese barbecue pork. These tasty delights are the ideal combination of traditional American barbecue and Asian flavors.
Pair these crunchy egg rolls with our Steamed BBQ Pork Buns for a delightful contrast in textures. Stuffed with tender pulled pork and tangy coleslaw, these rolls are fried to crispy perfection and served with a sweet and spicy peach dipping sauce. Be prepared to amaze your taste buds and watch as these fusion delights become the star of your Chinese BBQ pork-themed feast!
Our Chinese BBQ pork adventure wouldn't be complete without a plate of mouthwatering BBQ Pork Chow Mein! This delectable dish perfectly complements our previously explored recipes, such as the BBQ Pulled Pork Egg Rolls and Steamed BBQ Pork Buns.
Soy sauce, lo mein sauce, and Chinese Shaoxing wine combined with delicate, thick Chinese egg noodles, luscious diced BBQ pork, and a variety of fresh Chinese veggies.
Wonton Char Siu Noodle Soup is a classic Chinese meal consisting of thin egg noodles in a savory broth with delicate slices of char siu pork and wontons. The chicken stock, ginger, soy sauce, and Shaoxing wine in the soup give it a robust umami taste.
The wontons are a delicious addition to the soup, and the noodles are cooked to perfection. Choy sum, fried shallots, and green onions provide a great finishing touch for a wonderful and filling lunch. Ideal for a chilly night, or whenever you feel like a warm and satisfying supper.
Chinese BBQ Pork with Broccoli is a wonderful meal created with tender slices of BBQ pork, fresh broccoli florets, and water chestnuts, which are stir-fried with aromatic garlic and mushrooms.
The sauce's savory and somewhat sweet flavor comes from a combination of dark and light soy sauce, dry sherry, fish sauce, and Maggi spice. This dish is great for any occasion and goes well over fluffy jasmine rice. Grab a pair of chopsticks and get into this hearty meal.
This Sticky BBQ Pork Rice Bowl will take your taste senses on a delightful adventure of sweet and savory flavors. A sweet hoisin sauce coats perfectly cooked pork belly slices, making for a deliciously sticky and sticky-sweet meal. The pork is served over a bed of steamed rice that has been covered with a colorful and fragrant combination of shredded cabbage, green apples, garlic, and ginger.
The meal is finished with a sauce made from Chinese Shaoxing wine and chicken stock, which will take your taste buds on a trip to the thronging streets of China. Season with a little more spice and flavor by topping it with some red chile and chopped spring onions. This meal is excellent for sharing with loved ones and will leave you feeling full and wanting more.
Lettuce wraps filled with Chinese BBQ pork are an adventure in taste. dark brown sugar, honey, hoisin sauce, oyster sauce, soy sauce, sesame oil, Chinese five spice powder, and pork make for a delicious marinade. Pork is marinated, then roasted in the oven until it is soft and caramelized, and basted liberally with the marinade.
Stack thin slices of pork with julienned carrots, radishes, and cucumbers for a colorful and crunchy appetizer. Sprinkle with some chili flakes and sesame seeds for extra heat. Light and refreshing, these lettuce wraps are great for a lunch on the go or a social snack. Pick yourself a pair of chopsticks and prepare to savor a cuisine that will fulfill your every need.
Soy sauce, oyster sauce, hoisin sauce, and Chinese five-spice powder combine with delicate pork belly to create a delectable topping for a bowl of Char Siu Ramen. The pork belly is then roasted until it reaches the desired degree of doneness.
When the pork belly has been diced, it is served above a bed of al dente Nissin RAOH Umami Tonkotsu Ramen noodles. Noodles are thrown in a flavorful broth that's been prepared using the flavor pouches provided. This broth has a robust scent and a pleasing umami flavor. Add a ramen egg, some scallions, and some pickled ginger beni shoga for a savory and crunchy finish.
These Char Siu Sou pastry puffs, a staple of Chinese dim sum, are loaded with savory Chinese BBQ pork and baked with a flaky, handmade crust. Each batch of pork filling has its own distinct flavor and scent thanks to the special blend of sauces and spices used in its preparation.
You may serve these pastry puffs warm or at room temperature for an appetizer or a snack. You may make authentic Chinese cuisine that will blow your visitors away by following the recipe to the letter and having a little patience.
Delicious harmony of tastes and textures may be found in this recipe for Roast Pork with Asian Vegetables. Mushrooms, bell peppers, bamboo shoots, water chestnuts, and snow peas are stir-fried with tender Chinese roast pork in a delicious sauce. Oyster sauce and sesame oil are added as a final touch, and the meal is scented with ginger and garlic.
Bok choy's crisp freshness is a welcome addition to this tasty meal. Hot, steaming rice is the perfect accompaniment to this recipe. Add extra soy sauce or oyster sauce to taste, and the sauce may be thinned down or thickened up as desired.
When you combine chicken stock, balsamic vinegar, coconut aminos, and Medjool dates, you get a sweet and tangy sauce that goes well with the charred green beans and ground pork in this recipe for Szechuan pork and green bean stir fry.
This stir fry gets its enticing scent and powerful flavor from the inclusion of minced garlic, sliced ginger, and ground Szechuan peppercorns. If you like things on the spicy side, try adding some dried red chiles. Add some cooked rice and dig into this delicious meal.
In this Mushroom and Char Siu Pork Stir Fry, the tenderloin is marinated in a mixture of char siu sauce, Chinese five spice powder, and soy sauce, giving it a robust, sweet, and spicy taste.
Stir-fry it with some button mushrooms and gailan, and then add some color and texture with some thinly sliced green onions and black sesame seeds. The meal would be perfect if served over a bed of warm, cozy rice noodles. All of your taste buds will be happy after eating this stir fry.
Clay pot rice, a popular meal in Hong Kong, is a delicious blend of aromatic rice, cured pig belly, and sweet sausage pieces cooked in a clay pot. Light soy sauce, oyster sauce, and seasoned soy sauce, coupled with some sugar and sesame oil, provide the ideal flavor profile for this meal.
After the rice has done cooking in the clay pot, it gets a crunchy finishing touch from a layer of green onions. In order to achieve a harmonious taste profile, serve with well-cooked Bok Choy on the side. This meal is a Hong Kong staple, and for good reason: it's delicious.