Welcome to our roundup of 15 mouth-watering chili recipes with pork! Pork is a versatile and delicious protein that adds a unique flavor to classic chili recipes.
From sweet and smoky pineapple pork chili to hearty triple pork black bean chili, there is a recipe for every taste preference. Each recipe is packed with bold and aromatic spices, tender pork, and nutritious beans.
So grab a bowl and get ready to enjoy these comforting and satisfying chili recipes.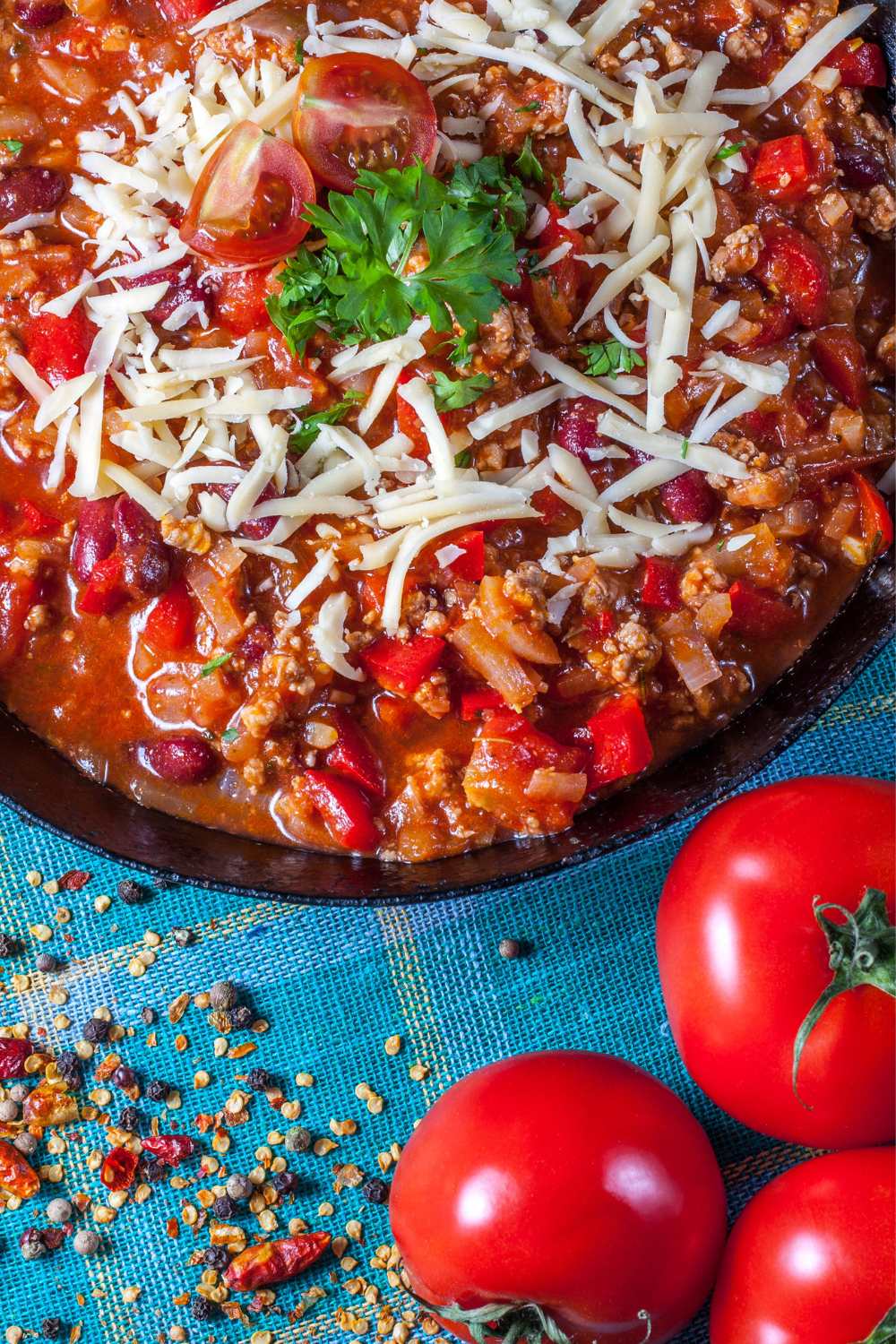 What Is The Best Cut Of Pork To Use For Chili?
When it comes to making chili with pork, selecting the right cut is crucial for the perfect flavor and texture. Here are six varieties to consider:
Pork Shoulder: The most commonly used cut for chili, pork shoulder is tough, flavorful, and affordable.
Pork Butt: Also known as Boston Butt, this cut is slightly fattier than pork shoulder, resulting in a richer and more tender chili.
Pork Loin: Lean and tender, pork loin is a great choice for those who prefer a lighter and less fatty chili.
Country-style Ribs: Cut from the pork shoulder, these meaty and flavorful ribs add a smoky depth to chili.
Sausage: Whether you opt for spicy or mild, ground or sliced, sausage adds a lot of flavor and texture to the chili.
Bacon: Although not a traditional chili ingredient, adding bacon can lend a smoky and savory flavor to your dish. Just be sure to use it sparingly as it can easily overpower other flavors.
15 Chili Recipes With Pork
Here are 15 delicious pork chili recipes to mix up your weeknight meal rotation, with flavors ranging from savory and smokey to sweet and spicy:
This zesty and hearty Hatch Pork Green Chili recipe packs a flavor punch that will transport you to the Southwest. Made with juicy pork shoulder, diced onions, and a host of spices like garlic powder, green chili powder, and cumin, this dish is savory and filling.
The beer and chicken stock infuse the chili with a depth of flavor that will keep you coming back for more. With an optional kick of hot sauce, this chili is perfect for a chilly evening or for entertaining a crowd. Try topping it with sour cream and cheese or serving it with some warm tortillas for a delicious and satisfying meal.
Get ready for a rich and spicy flavor experience with this New Mexican Red Pork Chili Carne Adovada recipe! The pork is cooked to perfect tenderness in a blend of aromatic spices and chicken stock, resulting in a melt-in-your-mouth texture.
The garlic and onion add depth to the dish, while the New Mexican red chili powder and cumin give it a fiery kick. Serve this hearty and filling chili with pinto beans and tortillas for a complete meal. Don't forget to adjust the salt to your liking and garnish it with your favorite toppings!
The pork and white beans in this chili are a hearty combination. Each mouthful is an explosion of flavor because of the mix of tender pork and creamy white beans that have been seasoned with aromatic spices and fresh cilantro. The beans are soaked overnight and then slowly cooked with bacon and onion until they reach the desired consistency.
This recipe is flexible, so feel free to adjust the amount of spice to suit your own style. Adding sour cream, cheddar, jalapeo, and chopped cilantro to your chili is a great way to give it a polished look. This hearty chili is perfect for staying home on a cool night.
If you're in need of something warm and comforting, try your hand at this pork and sweet potato chili. The pork is very tender, and the sweet potatoes and spices complement the savory meat nicely.
The slow cooker does all the work, resulting in a delicious meal with less effort. Avocado, cheese, and cilantro are just a few examples of tasty garnishes you may sprinkle on top. This chili is perfect for a cool autumn day or any time you're in the mood for something warm and comforting.
A bowl of this Black Bean and Pork Chili is just what you need to warm yourself up on a chilly day. This chili gets its deep, smokey flavor from thick slices of smoked bacon and pork shoulder that have been slow-cooked to perfection in a Dutch oven or stockpot.
Spiciness and bite come from Mexican chorizo, while tanginess and smokey flavor come from fire-roasted tomatoes and chipotle salsa. This recipe is well balanced by the use of various spices, chicken broth, and bourbon. Top with sour cream, avocado, cheese, and cilantro, or whatever else you prefer. This dish is sure to be a hit with your guests.
On a cold night, curl up with a bowl of our Chipotle Sweet Potato Pork Chili. Diced pork shoulder is fried in a Dutch oven with onions and garlic and seasoned with kosher salt, black pepper, and mustard. Smoky and spicy chipotle peppers in adobo sauce complement the fire-roasted chopped tomatoes, canned black beans, and kidney beans.
The richness and texture brought by the sweet potatoes and poblano peppers make this already hearty chili that much better. Add some freshness to your lunch by topping it with sour cream, chopped cilantro, and avocado slices.
This Pulled Pork Chili with Cornbread Croutons recipe will make you savor every bite with its irresistible combination of savory and sweet flavors. The pork is cooked to perfection, creating a melt-in-your-mouth texture that blends seamlessly with the smoky, earthy, and slightly sweet flavors of the spices.
The cornbread croutons add a deliciously crunchy texture and complement the dish with their subtle sweetness. The chili is loaded with protein-packed beans and bursts with bold flavors from the adobo sauce and diced tomatoes. This hearty and comforting meal is perfect for chilly nights or anytime you want to enjoy a delicious and filling meal.
This one-of-a-kind Pumpkin Beer & Pork Chili has just the right amount of sugar, heat, and salt. The perfume of pumpkin beer and hard apple cider flooding the kitchen is enough to make your mouth wet. The sweet potato adds a soothing, sugary feel to the otherwise robust meal.
Beans give it a satisfyingly creamy texture, while ground pork gives it a satisfyingly meaty taste. Greek yogurt, mashed avocado, and a squeeze of fresh lime juice make for a decadent topping combination.
If you're looking to give your standard chili dish a little kick, go no further than this Pork Chili dish with Roasted Hatch Chiles. This recipe is loaded with flavor thanks to the pork shoulder cubes, sweet onions, and spicy jalapeo peppers.
This hearty chili gets its spicy flavor from a combination of ancho, guajillo, and New Mexican chili powder. Fire-roasted tomatoes and roasted Hatch chiles are used to give this meal a smokey flavor while also making it sour and flavorful. It has the right amount of spice and flavor, so serve it hot with your favorite toppings.
You're gonna love this Easy Pork Chili for a fast and filling weeknight dinner. You've got yourself a real winner with that tender and juicy ground pork, partner. It's seasoned with a blend of spices and mixed in with some beans, tomatoes, and corn for a dish that's downright satisfying.
You can let your chili cook away in a slow cooker, giving you plenty of time to kick back and relax. Or, if you're looking for a more intense and flavorful experience, let it simmer on the stovetop. The choice is yours! Top it off with your fave fixings, like smooth avocado and tangy cheddar, to take this cozy bowl to the next level of yum.
If you're looking for something to eat on a cold night, look no further than this smokey pulled pork chili. The tomato paste, chili powder, cumin, and smoked paprika sauce pairs well with the delicately pulled pork and adds depth and complexity to the chili's taste.
This warm and colorful meal is enhanced by the addition of tangy Greek yogurt or sour cream, spicy jalapeo slices, aromatic fresh cilantro, and fresh, creamy avocado cubes. This chili will quickly become a household staple, making it ideal for a night in front of the TV.
Slow Cooker BBQ Pork Chili is a rich and tasty recipe that is guaranteed to fulfill your appetite for BBQ and chili. Pork shoulder, a relatively lean cut, is seasoned with BBQ rub before being slow-cooked with onions and beer. After cooking, the pork is cubed and combined with tomato sauce, paste, broth, spices, chili beans, and red bell pepper to form a hearty stew.
The dish is finished off with a wonderful and creamy addition of shredded white cheddar cheese. The time and work put into this recipe are well worth it when you're enjoying the dish's warm, comforting tastes on a frigid winter night. It goes well with cornbread or crusty toast.
Prepare this Crock Pot Citrus Pork Chili with Mango and delight in the exotic tastes of the tropics. Chili powder, cumin, chopped tomatoes, tomato sauce, and green chilies are combined with pork shoulder before being slow-cooked; orange and lemon zest, as well as pure maple syrup, are then added to round out the dish.
After being shredded, the pork is given a tropical spin by being combined with sliced mango, fresh cilantro, and full-fat canned coconut milk. Give it 15 more minutes to cook and the flavors will have blended into a comforting masterpiece.
Pineapple Pork Chili has just the right amount of sweetness to go along with the smokiness of the meat. Brown lean ground pork over medium heat, and add a delicious blend of pineapple salsa, canned black beans, tomato sauce, and diced fire-roasted tomatoes with a touch of chili powder for some heat. A garnish of fresh diced pineapple adds a juicy and refreshing touch to this one-of-a-kind dish.
Not a fan of pork? No worries, you can easily substitute it with ground chicken or turkey. You can even substitute the pineapple salsa for a mango habanero salsa if you like it spicy. Bring it to a boil, then reduce to simmer for just 10 minutes before serving.
Warm up with a bowl of Triple Pork Black Bean Chili! This hearty and flavorful chili features a combination of bacon, pork shoulder or pork butt, and chorizo, which all add unique smoky flavors. Fire-roasted tomatoes and chipotles in adobo sauce give this chili an extra kick of spiciness.
You can make it with either dried or canned black beans, and a splash of bourbon or whiskey adds depth to the dish. Garnish with Mexican crema, avocado, cilantro, and shredded cheese to create a beautiful and delicious bowl of chili that you'll want to make again and again!