Because beans can be used in a wide variety of dishes and are rich with nutrients, we thought it would be fun to gather 15 chili recipes where beans take center stage.
There's a chili recipe here for everyone, from those who want a spicy taste to others who prefer a softer flavor, ranging from the traditional beef and bean chili to vegan lentil chili.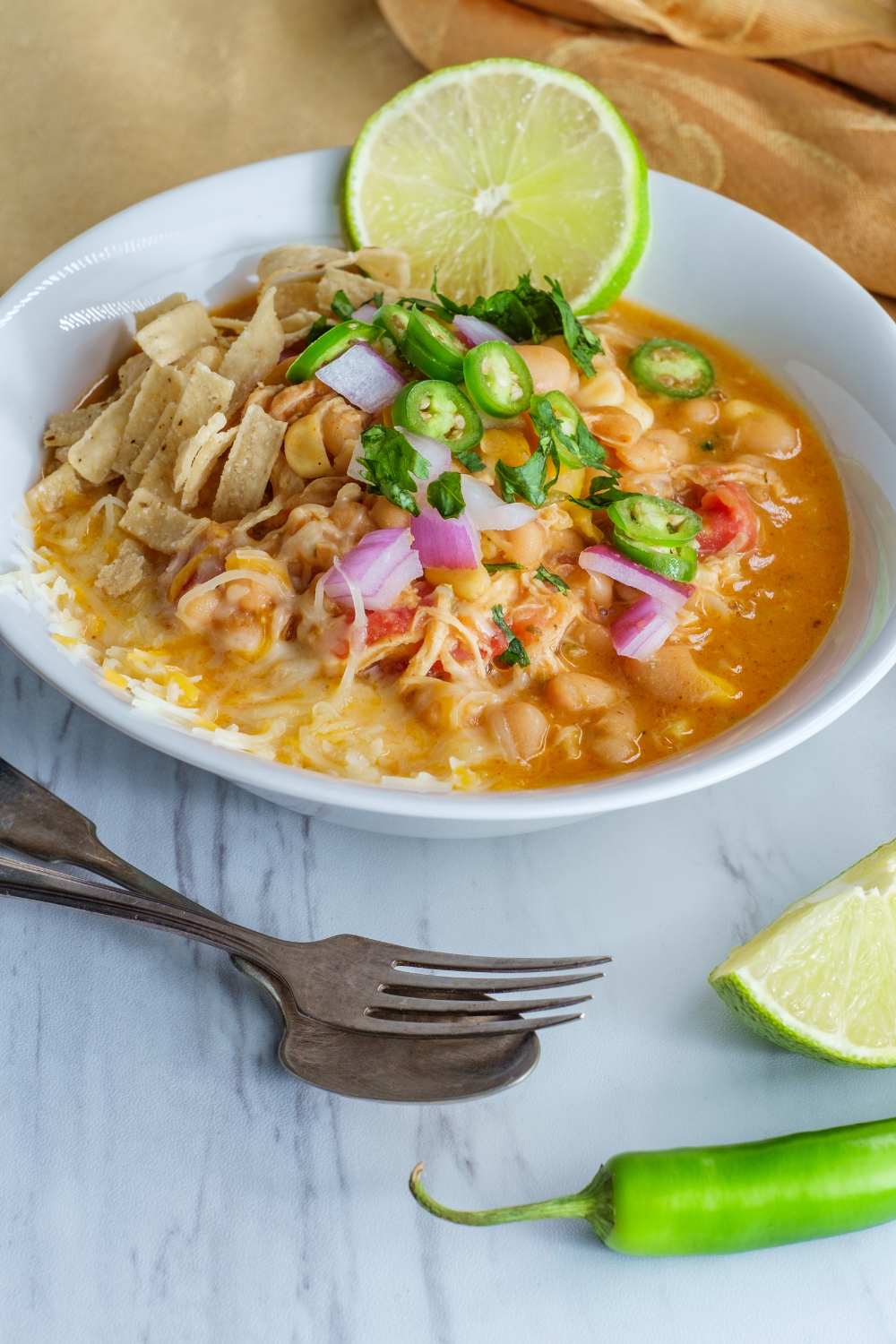 Can I Use Canned Beans Instead Of Dried Beans In These Chili Recipes?
Yes, you can definitely use canned beans instead of dried beans in these chili recipes. Canned beans are a convenient and healthy alternative to dried beans because they are already cooked and ready to use.
They are also a great source of fiber, protein, and essential nutrients that are beneficial for your health. Just make sure to rinse and drain the beans before adding them to the chili recipe to reduce the sodium content.
Can I Make These Chili Recipes In A Slow Cooker?
Absolutely! Slow cookers are a great way to make these chili recipes because they allow the flavors to develop and intensify over time. Plus, it's a convenient and healthy way to cook because you can set it and forget it.
Just make sure to follow the recipe instructions carefully and adjust the cooking time accordingly to ensure that the chili is cooked through and has the right texture. Additionally, you may need to adjust the seasoning and liquid content based on your slow cooker's capacity.
15 Chili Recipes With Beans
These 15 bean-based chili recipes, from smokey bacon to buffalo chicken, will satisfy your taste this winter:
As we begin our exploration of classic chili, this meat and bean version does not fail to deliver. Succulent aromas of chili powder, cumin, and smoky paprika mingle with lean ground beef in this dish. Black beans, pinto beans, and red beans prepped for chili all contribute to the many textures in this delicious meal.
This chili has just the right amount of heat from crushed jalapeo peppers and sweetness from honey and brown sugar. Garnish with chopped fresh cilantro and freshly grated parmesan cheese for a delicious finishing touch.
This vegetarian chili recipe is a perfect hearty meal that everyone can enjoy, regardless of dietary restrictions. The combination of fire-roasted tomatoes, black beans, pinto beans, and frozen corn creates a robust and flavorful base. The blend of spices, including chili powder, oregano, cumin, basil, and paprika, adds depth and complexity to the dish.
Garnish your bowl of chili with your favorite toppings, like Cheddar cheese, fat-free sour cream, avocado, cilantro, or chives, and make it your own. The fresh lime juice and cilantro give this dish a refreshing and zesty twist. With each spoonful, you'll savor the robust flavors and textures of this vegetarian chili.
This white chicken chili is a bowl of warmth and comfort. The creamy broth, made with Great Northern or Cannelini beans, chicken broth, and sour cream or Greek yogurt, adds richness and tanginess to the dish. The blend of spices, including cumin, ancho chili powder, oregano, smoked paprika, and cayenne pepper, gives the chili a smoky and slightly spicy kick.
Top your bowl with shredded Monterey Jack cheese, chopped cilantro, sliced avocado, chopped green onion, thinly sliced jalapeno, and/or corn chips to add texture and depth to each bite. This dish is perfect for a chilly evening or as a comforting meal any day of the week.
This delectable Braised Pork with Tomatillos and Green Chilies will transport your flavor senses to Mexico. Then, the pork is roasted to perfection, providing a crispy, flavorful coating that will remain even after cooking. The pork is complemented by the rich and spicy sauce made from a combination of sour tomatillo salsa and sliced green chilies.
After an hour of slow cooking in chicken stock, the pork is fork-tender and infused with flavor. This recipe has the ideal balance of meaty and fresh thanks to the addition of a large bunch of fresh cilantro at the very end. Serve over rice or tortillas for a dish that will make you feel like you're back in Mexico.
This Sweet Potato and Black Bean Chili is a hearty vegetarian dish that's perfect for chilly nights. The sweet potatoes add a subtle sweetness that's complemented by the savory flavors of onion, celery, and garlic.
The blend of chili powder, cumin, oregano, and cayenne pepper gives the dish a warm and spicy kick, while the black beans and vegetable broth provide a comforting base. Simmered to perfection, this chili is a delicious and healthy option that's sure to satisfy. Top with fresh cilantro for a burst of freshness and color.
Warm up your belly with a hearty bowl of White Bean Turkey Chili. Packed with lean ground turkey and protein-rich cannellini or Great Northern beans, this comforting dish is bursting with zesty flavors from smoked paprika, cumin, and chili powder.
Fire-roasted diced tomatoes add a delightful depth of smokiness, while freshly squeezed lime juice and chopped cilantro add a pop of freshness. This scrumptious chili is perfect for a cozy family dinner, and the leftovers taste even better the next day. Serve with a side of avocado and lime wedges for a creamy, tangy finish.
Let's heat things up with a spicy Quinoa Black Bean Chili that's bursting with bold flavors. Roasting the tomatoes and peppers adds depth to this chili, while the quinoa and black beans provide a protein-packed punch.
This vegetarian chili recipe is also gluten-free and can easily be made vegan by omitting sour cream. Top with fresh cilantro and creamy avocado for a satisfying bowl that's perfect for chilly nights. Don't forget to pair it with your favorite cornbread or tortilla chips for added crunch.
A substantial and healthful supper, this Turkey Chili is the result of a careful balance of spices and a wide selection of beans. Stovetop turkey chili requires ground turkey, tomato sauce, crushed tomatoes, kidney beans, pinto beans, black beans, garlic, onion, chili powder, cumin, oregano, parsley, and red pepper flakes cooked in a big saucepan.
To improve the taste, pour in some red wine and let it simmer for a few hours. Instead, you may use a slow cooker and cook the turkey for 4 to 6 hours on low heat after having previously browned it. To enhance the flavor, top with cheese, sour cream, cilantro, bell pepper, or tomato.
Ranchers Texas Chili, commonly known as Chili with Carne, will give you a taste of authentic Texan cuisine. Spicy ancho and chipotle chili powder, smoky paprika, and other flavorful spices are blended with soft pieces of stew beef in this substantial recipe.
A touch of sweetness comes from the cocoa powder and brown sugar, while a tangy zing comes from the Worcestershire sauce. You can't go wrong with this chili for a quiet evening or a satisfying meal with loved ones, and it works as well with or without beans.
Prepare to feel the warmth of this Vegan Lentil Chili Recipe, which has protein-rich lentils, fiber-rich black beans, and a plethora of flavorful spices including chili powder, oregano, cumin, and cinnamon.
Tomato paste and crushed tomatoes provide it with a thick, substantial texture, while unsweetened cocoa powder offers a deep, rich taste. Sprinkle some chopped fresh cilantro over top and serve. This vegan chili is great for a night in with the family or to feed a crowd on game day.
If you're in the mood for a hearty, flavorful dish this fall, look no further than this Pumpkin Chili with Beef and Black Beans. This dish's taste is boosted by the addition of pumpkin puree, canned tomatoes, and black beans to the ground beef, onions, and garlic that serve as the dish's foundation.
This chili is packed with body-warming spices like cumin and chili powder. For extra comfort, sprinkle on some shredded cheddar and mozzarella, some chopped green onions, and some sour cream.
Chipotle Beef and Bean Chili are packed with flavor thanks to its mix of smoky chipotle chiles, spicy Poblano peppers, and substantial ground chuck. This meal has a powerful kick thanks to the use of chipotle chilies and adobo sauce.
This recipe is likely to suit a large group because of its many optional additions, such as cheese, tortilla chips, and fresh avocado. This chili is perfect for warming up with on a chilly winter day or sharing with friends and family at a game day party.
With delicate, shredded rotisserie chicken, hominy, and corn, this Green Chicken Chili recipe is sure to satisfy your want for something warm and cozy on a cold day. This chili gets its rich and spicy flavor from a blend of spices including cumin, chili powder, and garlic powder; sour cream and fresh cilantro round off the dish well.
A splash of fresh lime juice brings out the full zesty taste of this dish. Enjoy this savory dish by topping it with the things you like most, such as crumbled tortilla chips, avocado, and shredded cheese.
This Smoky Bacon Chili is a meat dream, lover's with its delectable combination of minced beef, Italian sausage, and crispy bacon, and is sure to satisfy your appetites for a substantial and smoky supper. The mild heat of the jalapeo slices complements the powerful, rich tones of the chili powder, cumin, and smoked paprika.
Pure maple syrup adds just the right amount of sweetness to round out the savory elements. Top with shredded cheese, sour cream, green onions, and jalapeño slices, then curl up in a bowl on a cold night and enjoy the comfort it brings.
Let's spice things up with this Buffalo Chicken Chili made in a slow cooker. This slow-cooked dish has ground chicken, white navy beans, and fire-roasted tomatoes seasoned with buffalo wing sauce, ranch dressing mix, and other herbs and spices.
Balsamic vinegar's distinctive taste pairs well with the rich richness of cream cheese. Add some blue cheese crumbles to the dish for a tasty twist. Let the slow cooker do the work and come home to a warm and spicy bowl of goodness.