Looking for an easy and satisfying dinner idea? Chicken thigh casseroles are a great way to get a complete meal on the table with minimal effort. From creamy and cheesy to spicy and flavorful, there's a chicken thigh casserole for every taste.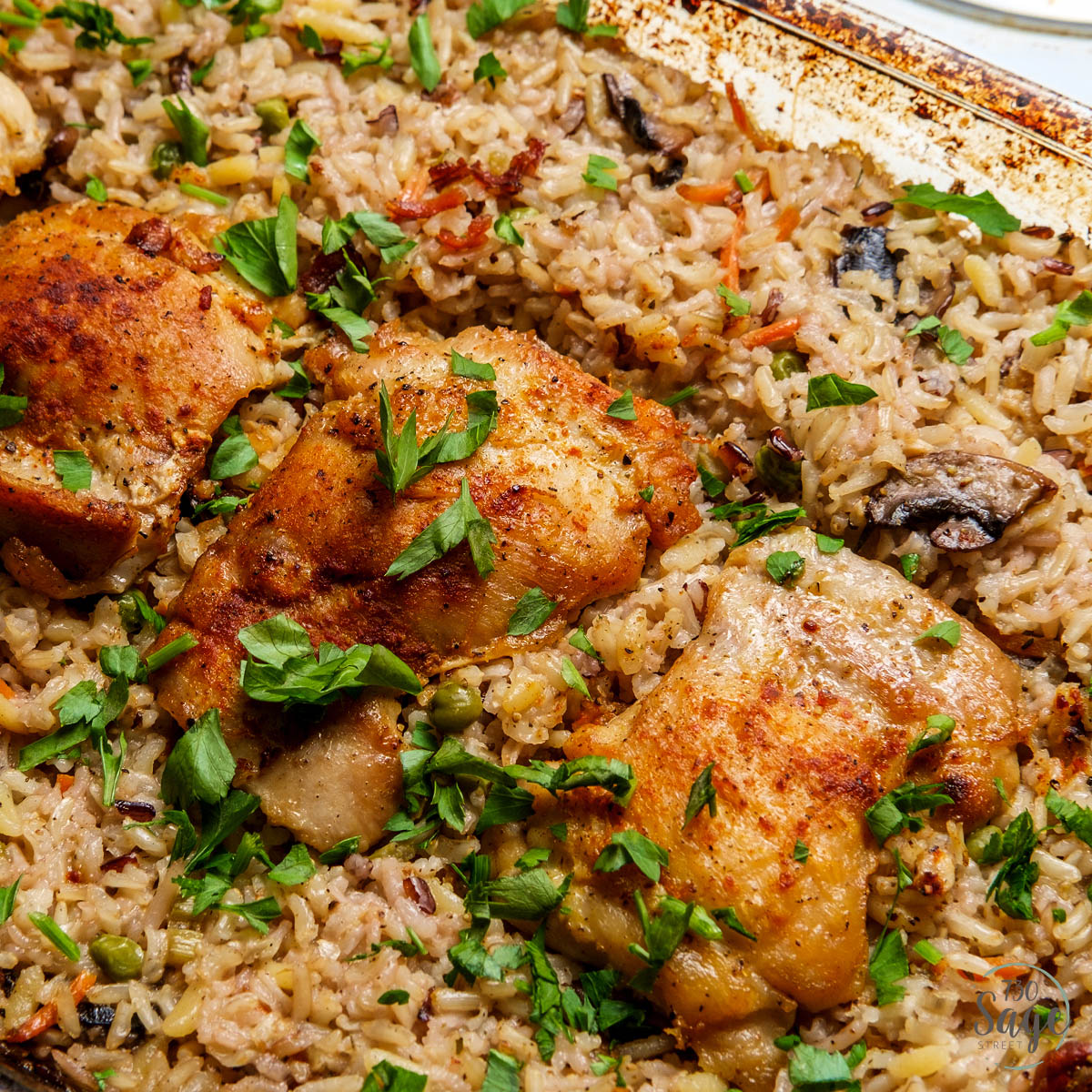 In this article, we've rounded up 20 delicious chicken thigh casserole recipes that are sure to become family favorites.
Whether you're looking for a classic casserole with noodles and vegetables or something more unique, like a Mexican-inspired dish or a recipe featuring Mediterranean flavors, we've got you covered.
So why not try one of these tasty chicken thigh casseroles tonight?
Chicken Thigh Casserole Recipes
Here is a list of 20 delicious Chicken Thigh Casserole Recipes:
This easy Chicken Thigh Casserole with Rice recipe is perfect for a weeknight dinner or family gathering. It's made with skinless, boneless chicken thighs, bacon, onion, garlic, and spices, baked with long-grain rice and homemade chicken broth. The bacon and onion provide a savory base that complements the juicy chicken and fluffy rice.
This recipe can easily be customized by adding your favorite vegetables or cheese. After cooking, top with freshly chopped greens like parsley and serve hot for a comforting meal. This casserole is sure to be a crowd-pleaser and a new family favorite.
This One-Pot Paprika Chicken Thighs Casserole is a flavorful and healthy dish that's perfect for entertaining. Tender, boneless chicken thighs are coated in smoked paprika, seared, and combined with red and white potatoes, baby carrots, and a white wine and chicken broth sauce. It's a versatile dish that can be served over farro, rice, or quinoa, and white grape juice can be used instead of white wine. This recipe is a great way to enjoy a delicious and nutritious meal with minimal cleanup.
This Ginger Garlic Chicken Thigh Casserole recipe is a perfect indulgent and flavorful dish for a special occasion or a cozy night in. Marinated in a mixture of rosemary, garlic, and ginger for 24 hours, the chicken is then seared and baked in a creamy and fragrant sauce with a blend of spices. This dish is finished off with a garnish of chopped cilantro leaves and served with your favorite starch and veggie.
This Chicken Thigh Casserole with Stuffing and Vegetables is a hearty and savory dish that's perfect for a comforting family dinner. Bone-in, skin-on chicken thighs are coated with herbes de provence and mustard powder and baked on top of a bed of chicken-flavored stuffing mix, frozen vegetables, corn niblets, salt, and pepper. The dish is baked in the oven until the chicken is fully cooked and the stuffing is crispy and golden brown. For a more crispy skin, the dish can also be broiled for a few minutes. This casserole is a complete and delicious meal in one dish.
This Chicken Thighs in White Wine Sauce recipe features bone-in, skin-on chicken thighs that are dredged in flour, seared until browned, and then cooked in a flavorful white wine sauce with onions, carrots, garlic, tomato paste, chicken stock, and herbs. The casserole is then baked in the oven until the chicken is fully cooked and tender. Serve it on top of creamy mashed potatoes or polenta and spoon some of the veggies and sauce over the top.
Spicy Honey Garlic Chicken Thighs Bake are a perfect combination of sweet and spicy, with the marinate made of honey, garlic, Sriracha sauce and soy sauce. Marinate boneless and skinless chicken thighs in the mixture, and then bake them in the oven for 20 minutes at 425 F degrees until crispy. If desired, broil for an extra 2-3 minutes for additional crispiness.
Serve the chicken over cooked Basmati rice, along with steamed broccolini on the side. The drippings from the chicken make a delicious sauce to spoon over the chicken and rice, and add some chopped parsley for garnish.
This Creamy Chicken Thigh Mushroom Casserole by Love Keil is a super easy and delicious recipe that you won't want to miss. With tender and juicy chicken thighs, sliced mushrooms, and a creamy garlic sauce that is full of flavor, this casserole is perfect for a hearty and satisfying dinner. You can serve it with a side of buckwheat and quinoa, along with an Italian salad for an extra touch of freshness.
This recipe can be made in just 40 minutes, making it a perfect option for a busy weeknight dinner. Don't forget to garnish with fresh thyme to add a pop of color and flavor.
This chicken stew casserole is a shortcut to a comforting meal that's ready in just an hour. Boneless chicken thighs are the star of the dish, with the addition of bacon, red wine, and beef broth elevating the flavor. The stew also includes classic vegetables such as carrots, celery, and onion, along with baby potatoes, mushrooms, and green beans.
A combination of herbs and Worcestershire sauce gives the stew depth of flavor, and a sprinkle of parsley adds a finishing touch.
Looking for a delicious twist on the classic buffalo chicken dish? This Blue Cheese Buffalo Chicken Thigh Casserole is the perfect solution. With boneless and skinless chicken thighs, shredded hash brown potatoes, cheddar jack cheese, and a delicious blue cheese buffalo wing sauce, this casserole is sure to please. It's quick and easy to prepare, making it a great choice for a weeknight dinner.
Top it off with some panko bread crumbs and green onions for an added crunch and freshness. Serves 6 and can be garnished with blue cheese crumbles for an extra kick.
This Baked Tuscan Chicken Casserole is a delicious and easy-to-make dish perfect for any day of the week. With a base of sliced chicken breast, this casserole is topped with a creamy mixture of spinach, cream cheese, and heavy cream, seasoned with garlic, onion powder, chili powder, black pepper, and Italian seasoning.
The addition of sun-dried tomatoes and mozzarella cheese adds a burst of flavor and the perfect amount of texture. Bake the casserole for 35 minutes, and you'll have a delectable dinner that pairs perfectly with sides like cauliflower rice or zucchini noodles.
This soy sauce chicken casserole is a classic Chinese dish that is easy to make and bursting with flavor. Tender chicken thighs and legs are marinated in a savory mixture of soy sauce, rice vinegar, ginger, and garlic, then simmered in a delicious sauce with carrots and potatoes. A touch of cornstarch thickens the sauce to coat the chicken pieces perfectly, making it the perfect accompaniment to a bed of plain rice.
This flavorful and easy-to-make chicken paprikash is a must-try for any poultry lover! Bone-in chicken thigh are seared and then simmered in a paprika-infused tomato sauce until perfectly tender and juicy. Onion, bell pepper, jalapeno, and garlic add depth and complexity to the dish, while sour cream gives it a velvety, tangy finish. This recipe also allows for customization, as you can adjust the spice levels with hot paprika or cayenne pepper.
Serve over rice, egg noodles, or with crusty bread to soak up all the delicious sauce.
This Cornbread and Chicken Thigh Casserole is the perfect comfort food that can be enjoyed by the entire family. The dish is easy to make and starts by searing boneless, skinless chicken thighs and then adding vegetables such as mushrooms, carrots, onions, and jalapenos, along with Cajun seasoning, salt, and pepper.
The chicken and vegetable mixture is then topped with a layer of cornbread batter, which is made with cornbread mix, Cheddar-Monterey Jack cheese blend, and green onions. The casserole is then baked until the cornbread topping is golden brown and the filling is bubbling.
This chicken casserole recipe features tender chicken pieces and a hearty blend of frozen vegetables. The chicken is tossed in flour and browned, then simmered with onions, garlic, and bacon in a flavorful broth of chicken stock and white wine. Wattie's frozen Casserole Mix is added to the dish and simmered in the oven until the chicken is falling off the bone. This delicious and comforting dish can be garnished with parsley and cream.
This Monterey Chicken Casserole is the ultimate Tex-Mex comfort food, made with a blend of cheese, salsa, creamed corn, and crispy tortilla chips. This dish is quick and easy, taking only 30 minutes to prepare, making it a perfect family weeknight meal. The chicken is sauteed with onions and green peppers, seasoned with salt and pepper and then layered with creamy corn, olives, and cheese, and baked to perfection.
This delicious and budget-friendly casserole is sure to be a crowd-pleaser, packed with flavor and texture that will leave everyone satisfied.
French Chicken Casserole is a wholesome, comforting meal made with golden brown chicken, tender potatoes, white wine, fresh rosemary, and thyme. Seasoned chicken thighs are seared and then cooked with cremini mushrooms, shallots, celery, garlic, flour, wine, chicken stock, and potatoes in a Dutch oven. The casserole is baked until the chicken is fully cooked and the potatoes are tender. The dish is finished with a touch of heavy cream and seasoned to taste before being served.
This Baked Tender Chicken Thighs casserole is a sure-fire hit that you don't want to miss! These chicken thighs are tender, juicy, and loaded with flavor, thanks to a simple seasoning and a juicy marinade. To make the chicken, all you need to do is mix the marinade ingredients together, coat the chicken, and let it sit for at least 30 minutes to overnight. Then, bake the chicken in the oven and broil for a couple of minutes to get the skin nice and crispy.
This French-inspired recipe features chicken braised in apple cider with thyme and apples. The dish is made with chicken thighs and legs that are browned until golden, and then braised with bacon lardons, shallots, celery, garlic, brandy, flour, chicken stock, and hard dry apple cider. The casserole is then finished with heavy cream and apple wedges that are sautéed until golden brown.
This Chicken and Potatoes with Garlic Parmesan Cream Sauce recipe is a perfect one-dish meal that's hearty and delicious. The chicken thighs is seasoned with Italian seasoning and pan-seared to golden brown perfection. It's then combined with baby Dutch potatoes and spinach, all smothered in a creamy garlic parmesan sauce. The dish is then baked in the oven until everything is cooked to tender perfection.
20. Baked Chicken Gnocchi with Garlic Asiago Cream Sauce
Finally we have this Baked chicken gnocchi with garlic Asiago cream sauce wich is a hearty and satisfying casserole that's perfect for a cozy dinner at home. Tender, juicy chicken thighs are seasoned with Italian spices and seared to a golden brown before being baked in a creamy, garlicky sauce with soft and pillowy gnocchi and wilted spinach.
The star of the dish is the rich and flavorful garlic Asiago cream sauce, made with chicken broth, half and half, and freshly grated Asiago cheese. This dish is easy to make and perfect for feeding a hungry crowd, and can be served with a side salad or crusty bread for dipping in the sauce.