Chicken with pesto is a tried-and-true dish that never disappoints. These 15 dishes take the combination to a new level, offering an array of ingenious and mouthwatering ways to savor the tastes.
There are a wide variety of recipes available to suit every taste, from pasta to sandwiches. These delicious chicken and pesto dishes are sure to liven up your dinner.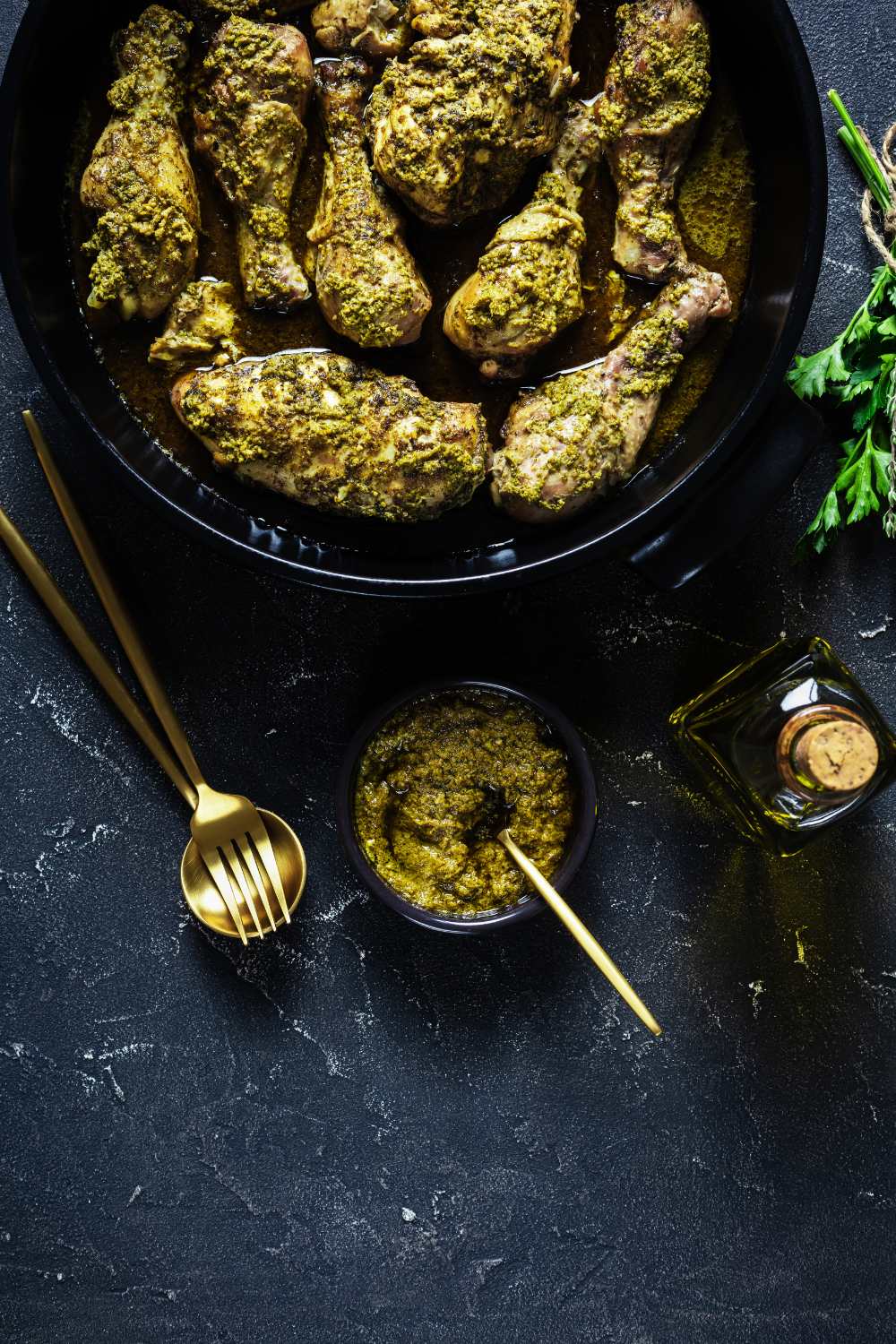 Get ready for a flavor-packed culinary adventure with these 15 chicken and pesto pairings, straight from the kitchen of a true foodie:
If you're a fan of classic Italian cuisine, this recipe is for you! This chicken pesto pasta is a delicious and satisfying dish that is easy to make and packed with flavor. The tender chicken, al dente pasta, and bright pesto sauce come together to create a dish that is both comforting and delicious.
Whether you're looking for a quick and easy weeknight dinner or a comforting meal to enjoy with loved ones, this recipe is sure to become a staple in your kitchen.
These Grilled Pesto Chicken and Tomato Kebabs are the epitomai of summertime dining! Packed with the fresh flavors of basil, garlic, and parmesan, each bite is a burst of flavor. Marinate the chicken in the pesto for a few hours to let the flavors soak in, then skewer it with juicy cherry tomatoes and grill to perfection.
Serve up these kebabs at your next backyard BBQ and bask in the compliments from your guests. They are easy to make, bursting with flavor, and sure to be a hit with everyone at the table. Enjoy the warm, juicy, and perfectly cooked chicken, perfectly paired with sweet and juicy cherry tomatoes.
These 5-Ingredient Pesto Chicken Stuffed Peppers are a quick and delicious weeknight dinner option that's packed with flavor and nutrition! Charred bell peppers are filled with a delicious combination of shredded chicken, herb pesto, cooked quinoa, and melty cheese.
The result is a warm and comforting dish that's easy to make and sure to please the whole family. In just 50 minutes, you'll have a healthy and hearty meal that's bursting with flavor. The juicy, tender chicken, the savory pesto, the fluffy quinoa, and the melted cheese all come together to create a dish that's truly irresistible. So, ditch the takeout and enjoy a home-cooked meal that's packed with flavor and nutrition!
Take a culinary journey to Italy with this Creamy Basil Pesto Chicken dish! Tender chicken slices are coated in basil pesto, then pan-fried to perfection. The orzo pasta is cooked to al dente perfection and tossed in a creamy basil pesto sauce with sun-dried tomatoes.
This dish is a symphony of flavors and textures, with the tender chicken, the creamy sauce, the chewy sun-dried tomatoes, and the al dente orzo pasta. The dish comes together in just 30 minutes, making it the perfect weeknight dinner option. Serve with a side of crusty bread to soak up every last drop of the sauce, and enjoy a meal that's both satisfying and delicious.
Take your taste buds on a flavor-packed adventure with this delicious Chicken Pesto Panini! Juicy chicken cutlets are seasoned with salt and pepper, then cooked to golden-brown perfection.
The chicken is then nestled between slices of sourdough bread, layered with fresh mozzarella, ripe tomato slices, and a generous slather of basil pesto. The panini is then grilled to crispy perfection, creating a warm and melted sandwich that's simply irresistible. This panini is perfect for a quick and easy lunch or dinner and is sure to become a new family favorite.
Enjoy a classic Italian dish in the comfort of your own home with this Instant Pot Pesto Chicken Risotto! This dish is made with tender chicken, creamy arborio rice, and a generous helping of basil pesto, all cooked to perfection in the Instant Pot. The sautéed onions and garlic add depth of flavor, while the chicken broth provides richness and creaminess.
In just 20 minutes, you'll have a comforting and delicious meal that's perfect for busy weeknights. Serve this risotto with a simple green salad or a crusty piece of bread, and enjoy a meal that's both comforting and satisfying. So, why wait? Get ready to savor every bite of this instant pot pesto chicken risotto!
Take a break from the ordinary and treat yourself to a slice of this delicious Chicken Pesto Pizza! The soft and crispy crust is topped with a generous layer of basil pesto, fresh mozzarella, creamy ricotta, juicy cherry tomatoes, and succulent rotisserie chicken. The combination of flavors and textures is simply irresistible.
This pizza is easy to make and is perfect for a quick and delicious weeknight dinner. Fire up the oven, pull the dough out of the fridge, and get ready for joy. Comforting and tasty, this dish is perfect with some garlic knots or a simple green salad.
Introducing the Baked Pesto Chicken Parmesan, a delicious twist on a classic Italian dish. This recipe starts with succulent boneless skinless chicken thighs, seasoned to perfection with salt and pepper, then coated in a generous amount of flavorful pesto.
The chicken is then topped with a classic marinara sauce and melted fresh mozzarella cheese, creating an irresistible combination of flavors and textures. The dish is baked to golden brown perfection, making it the perfect choice for a weeknight dinner or a special occasion. Serve this delicious dish with a side of pasta or a fresh salad for a complete meal.
Indulge in the rich and creamy flavors of this Garlic Pesto Chicken recipe! This meal is the perfect balance of savory garlic, tangy sun-dried tomatoes, and spicy red pepper flakes, all combined in a velvety basil pesto sauce. The addition of juicy bell peppers gives the dish a pop of color and crunch.
Serve this delicious dish on top of your favorite pasta, rice, or even zucchini noodles for a comforting and satisfying meal. With just a few simple ingredients, you can create this delicious meal in under 30 minutes. So, gather your ingredients and get ready to enjoy this divine dish!
Get ready to elevate your salad game with this mouth-watering Pesto Chicken Caesar Salad! This salad is a perfect combination of crisp romaine lettuce, juicy cherry tomatoes, creamy burrata cheese, and succulent pesto chicken.
The homemade croutons add a crunchy texture, while the lemon-tahini dressing gives the salad a tangy twist. The added red pepper flakes and fresh herbs take this salad to the next level. Serve this delicious dish as a quick and healthy lunch or as a starter for a special dinner. So, let's fire up the grill and dig into this delicious salad!
Take a trip to Mexico with these delicious Pesto Chicken Quesadillas! These quesadillas are the perfect combination of melted cheese, juicy chicken, and fresh basil pesto. The added spinach gives the quesadillas a pop of color and nutrition, making this dish both delicious and healthy.
The crispy flour tortillas provide the perfect vessel for all the flavors to come together. Enjoy this simple and easy-to-make dish as a quick lunch or as a fun and tasty dinner option.
This delectable Artichoke Chicken Pesto Pizza will transport you to Italy in no time at all! This pizza is a flavor-packed masterpiece, with a crispy prebaked crust, juicy chicken, and tangy marinated artichoke hearts.
The basil pesto adds a delicious and fresh flavor to the pizza, while the melted mozzarella cheese ties all the flavors together. The optional toppings of grated parmesan cheese and fresh basil add an extra touch of flavor, making this pizza an unforgettable experience.
Take a journey to Italy with this Easy 20-minute Pesto Chicken and Broccoli Pasta! This pasta dish is a perfect combination of tender chicken, juicy broccoli, and al dente pasta all coated in a rich and creamy pesto sauce.
The garlic and onion add a depth of flavor, while the grated parmesan cheese gives the dish a nutty and salty finish. This dish is quick, easy, and perfect for a busy weeknight dinner or a lazy weekend lunch. So, gather your ingredients and get ready to enjoy this delicious and comforting pasta dish!
Looking for a hearty and indulgent sandwich to satisfy your hunger? Look no further than this MEGA Chicken Pesto Grilled Cheese Sandwich! Packed with tender shredded chicken and flavorful basil pesto, this sandwich is a flavor explosion.
Layers of thinly sliced fresh mozzarella and sun-dried tomatoes add a delightful texture and burst of tangy sweetness. Grilled to perfection, this sandwich is crispy on the outside and gooey on the inside. This recipe is perfect for a lazy weekend lunch or a quick weeknight dinner.
Warm up on a chilly day with this comforting and flavorful Chicken Gnocchi Pesto Soup! This recipe features a creamy roasted garlic Alfredo sauce, tender rotisserie chicken, and Italian seasoning, creating a rich and satisfying base for the soup.
The addition of pillowy potato gnocchi adds a comforting texture, while fresh spinach adds a vibrant pop of color and nutrition. Each serving is topped off with a dollop of prepared pesto, adding a fresh and herby note to the soup.
Can Store-bought Pesto Be Used In These Chicken Recipes?
Yes, store-bought pesto can definitely be used in these chicken recipes. If you're in a pinch and don't have time to make your own pesto, store-bought options can provide a quick and delicious solution. Here are 6 popular varieties to consider:
Classic Basil Pesto - A staple in most grocery stores, this basil-based pesto offers a traditional and flavorful option.
Sun-Dried Tomato Pesto - With a tangy and slightly sweet taste, this pesto adds depth to any chicken dish.
Spinach Pesto - A healthier twist on classic basil pesto, this option is packed with iron and vitamins.
Arugula Pesto - This peppery pesto provides a bold and spicy flavor to chicken dishes.
Walnut Pesto - A nutty and creamy pesto that adds richness and depth to any chicken dish.
Roasted Red Pepper Pesto - With a slightly sweet and smoky flavor, this pesto adds a touch of heat to any chicken recipe.