Citrusy and fragrant, lemongrass is a pantry staple in Southeast Asian kitchens for its ability to provide a one-of-a-kind taste and scent to a wide variety of recipes.
These 15 chicken recipes, all with lemongrass as the main attraction, range from sour soups to savory stir-fries and fragrant curries, and are sure to please at any time of day.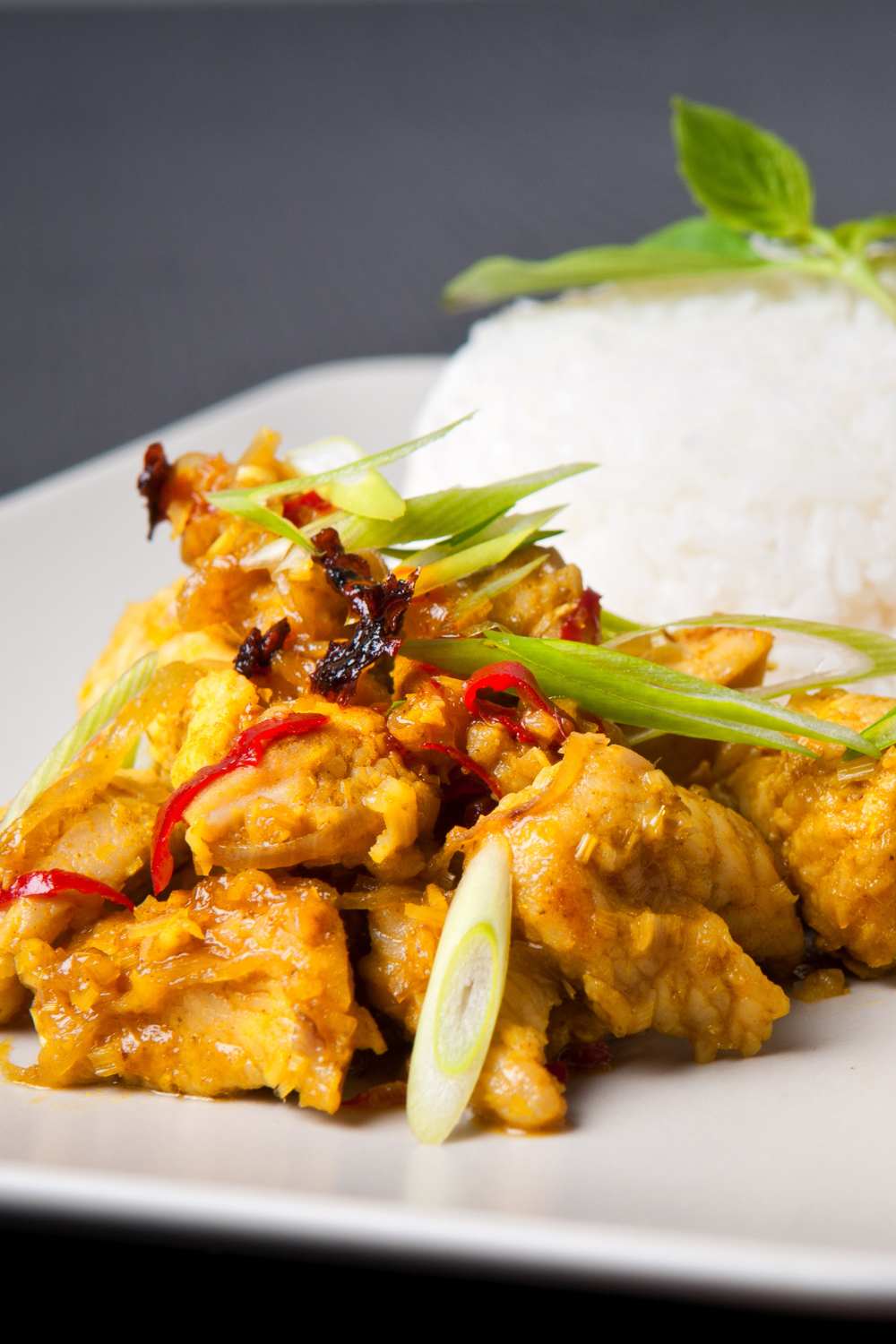 Can I Use Dried Lemongrass Instead Of Fresh In These Recipes?
Yes, you can use dried lemongrass instead of fresh in these recipes. However, note that the flavor of dried lemongrass is not as intense as fresh lemongrass, so you may need to use more to achieve the desired taste. It's also a good idea to soak the dried lemongrass in hot water for a few minutes to rehydrate it before using it in your recipe.
Where Can I Buy Lemongrass, And Is It Expensive?
You can buy fresh lemongrass at most Asian grocery stores and supermarkets. Lemongrass is relatively inexpensive and widely available, making it a great addition to your healthy cooking repertoire.
If fresh lemongrass is not available in your area, you can also purchase it online or use dried lemongrass as a substitute. Look for organic options whenever possible to ensure you're using the healthiest and most flavorful product.
15 Chicken Recipes With Lemongrass
From Thai Coconut Chicken Soup to Vietnamese Chicken Curry, these 15 Chicken Dishes with Lemongrass will delight your taste:
Get ready to embark on a flavorful journey with Grilled Lemongrass Chicken Satay. Tender chicken cubes are marinated in a delicious blend of garlic, lemongrass, and coconut sugar, and grilled to perfection on bamboo skewers or thin lemongrass stocks.
The resulting char adds an enticing smokiness that complements the sweet and savory flavors. Don't forget to brush the chicken with extra marinade as it cooks, and serve it hot with a sprinkle of fresh cilantro and a side of 5-Ingredient Peanut Sauce. Perfect for a casual backyard BBQ or a cozy night in with loved ones.
Whisk yourself away to the tropics with Lemongrass and Coconut Chicken Stir-fry. Flavor-wise, you'll be whisked away to a tropical paradise thanks to the explosive combination of fragrant lemongrass and fiery red chiles. Delicate chicken pieces are tossed in a delectable coconut-based sauce and served with nutrient-dense vegetables and toothsome noodles.
The sweetness and delightful crunch come from the toasted coconut flakes. This recipe is perfect for a tasty evening meal or a fast and simple lunch. Add some vibrant color and flavor by finishing with some freshly chopped coriander.
With its fragrant lemongrass paste, fiery red pepper flakes, and aromatic curry powder, Lemongrass Curry Chicken will send your taste on a wild adventure. Pieces of chicken breast are cooked till tender in a sauce made from coconut milk, chicken broth, and a variety of vegetables.
This recipe is wonderful for a night in or a family supper; serve it over jasmine rice or with some warm, fluffy naan, and don't forget to garnish it with fresh cilantro and a squeeze of lime juice to enhance the flavors even more.
Comfort yourself with a bowl of this bright and delicious Lemongrass Chicken Orzo Soup, which is infused with the flavors of aromatic lemongrass and zesty lemon. Complete your lunch with this soup that has tender orzo noodles, juicy shredded chicken, and sliced carrots.
This soup is simple to prepare and needs few ingredients, making it ideal for a relaxing evening or a satisfying midday meal. For added color and flavor, sprinkle some fresh parsley over top. Enjoy every bite of this comforting soup and feel the warmth radiating from the inside.
Transport yourself to Southeast Asia with this Grilled Lemongrass Chicken recipe. The fragrant and zesty lemongrass paste infuses every bite with bold and flavorful notes, enhanced by the subtle hints of soy sauce, five-spice powder, and chili garlic sauce. Grilled to perfection, the juicy chicken thighs are an irresistible delight with crispy grill marks that add a smoky element to the dish.
For a complete culinary journey, serve the chicken over rice noodles or rice, and garnish with refreshing cucumber, fragrant mint, and Thai basil. Drizzle some nuoc cham dressing for a tangy finish that complements the chicken's flavors.
Succulent and savory, Lemongrass Chicken Skewers are the perfect party starter or a delightful family dinner option. With the blend of tangy soy sauce, sweet brown sugar, and aromatic lemongrass, each bite is packed with heavenly flavors. Tender chicken cubes are marinated in a delicious sauce and threaded onto skewers, then grilled, baked, or air-fried to perfection.
Served with a nutty and creamy peanut dipping sauce, these skewers are guaranteed to leave you and your guests wanting more. These skewers can be enjoyed on their own or over a bed of steaming rice for a more wholesome meal.
This Lemongrass Chicken with Rice and Zucchini recipe is a culinary trip to Southeast Asia, all within the comfort of your own home. The chicken is seasoned with paprika, garlic, onion powder, salt, and pepper and cooked to perfection. The real star of the show is the lemongrass sauce, which is made with garlic, jalapeño, ginger, and coconut cream.
Topped with fresh cilantro or basil, it's a symphony of flavors that will leave your taste buds dancing. Serve it over rice and pair it with some zucchini, broccoli, or a green salad. Enjoy a taste of the tropics in every bite!
These Paleo Lemongrass Chicken Wraps are like a ticket to the crowded streets of Vietnam. Wraps of cool butter lettuce are filled with succulent chicken that has been marinated in a fragrant lemongrass marinade and grilled to perfection.
Add a zing of flavor by topping it with sesame seeds and lime wedges. These wraps are great for a quick and easy weeknight meal or a nutritious lunch on the go.
Crispy, flavorful, and healthy chicken wings can be achieved in just a few steps with this air fryer recipe. Marinated in a mixture of garlic, onion, five-spice powder, and lemongrass, these wings are cooked to perfection in the air fryer until crispy and delicious.
While the wings cook, a mouthwatering sauce is made from sautéed shallots, garlic, and lemongrass, with the addition of fish sauce and honey for a perfect balance of savory and sweet. Tossed in the fragrant sauce, these wings are perfect as an appetizer or a main course.
This Thai lemongrass chicken and avocado salad with spicy peanut dressing is a flavor explosion in every bite! The chicken is marinated in a mixture of spices, lemongrass, garlic, chili, and fish sauce, resulting in a juicy and tender dish. After grilling the chicken, it is sliced and added to a bed of crunchy cabbage, carrot, cucumber, bell pepper (optional), and creamy avocado.
The spicy peanut dressing, made with red curry paste, peanut butter, coconut milk, fish sauce, lime juice, and chili sauce, adds a rich and tangy flavor to the salad. Topped with chopped peanuts and fresh cilantro, this salad is perfect for a healthy and satisfying lunch or dinner.
The fragrant combination of shallots, lemongrass, garlic, and Thai chili in this recipe for Lemongrass Chicken Fried Rice creates a tasty basis for the ground chicken, which is fried till golden browned and completely cooked, making it a dish that will quickly become a family favorite.
The sauce combination of fish sauce, sugar, and black pepper provides the ideal balance of sweet and salty. You can make a full meal out of this by scrambling some eggs and adding them to the pan. Serve this as the main course for a tasty and filling supper; the dish is finished with a vibrant, herbaceous note thanks to the inclusion of chopped cilantro.
Prepare yourself for a tasty adventure with these Lemongrass Chicken Banh Mi Paratha Tacos. Marinated in a mixture of aromatic spices, lemongrass, and fish sauce, the chicken is grilled to perfection and served in warm parathas (or tortillas) with a delicious blend of pickled daikon radish, carrots, cucumber, and jalapeno chilies.
Add a dollop of creamy mayonnaise and a drizzle of spicy sriracha sauce to elevate the flavor. These tacos are perfect for lunch, dinner, or a quick snack. Indulge in this Vietnamese-inspired treat and embark on a culinary adventure!
Vietnamese Chicken Curry, or Cà Ri Gà, is a delicious meal that will take you back to the streets of Hanoi with every bite. The creamy and fragrant curry is produced with a paste of lemongrass, ginger, onion, and Madras-style curry powder. Juicy chicken pieces are cooked in a thick coconut milk sauce together with sweet potato chunks, filling each mouthful with seductive tastes.
The meal is rounded off with a dollop of coconut cream and a sprinkling of fresh cilantro, bringing a burst of freshness to every mouthful. This Vietnamese Chicken Curry is a delicious and easy way to spice up a quiet weeknight at home with your loved ones.
With its fragrant and zesty taste, this Cambodian Lemongrass Ginger Chicken Stir Fry will take you back to the bustling streets of Phnom Penh. Tender chicken breast cubes are marinated in a scrumptious sauce made from a medley of spices including lemongrass, ginger, lemon zest, lime juice, cilantro, red chile, and garlic.
The meal is then stir-fried until it's just right, leaving you with bits of crispy and juicy chicken. A dash of crushed cashew nuts and a squeeze of fresh lime juice end the meal with a wonderful crunch and acidity, respectively. It's a simple dish that can be made every night of the week.
The thick and creamy broth of this Thai Coconut Chicken Soup with Rice and Lemongrass is imbued with the aromatic scent of lemongrass, ginger, and Thai red curry paste, producing a savory basis for the soup that will warm your spirit and fulfill your stomach.
It's a full dinner in itself because of the inclusion of sliced red peppers, white mushrooms, and shredded rotisserie chicken. This soup, which is garnished with fresh Thai basil and cilantro and served with white rice, is ideal for a low-key evening or a midweek meal on the go.