Cream of chicken soup is an adaptable ingredient that may be used in a wide range of tasty chicken recipes, from hearty casseroles to smooth soups.
These 15 chicken dishes with cream of chicken soup will fulfill your desire for something warm, creamy, and oh-so-delicious whether you're searching for a fast and simple supper or a comforting meal for a chilly winter night.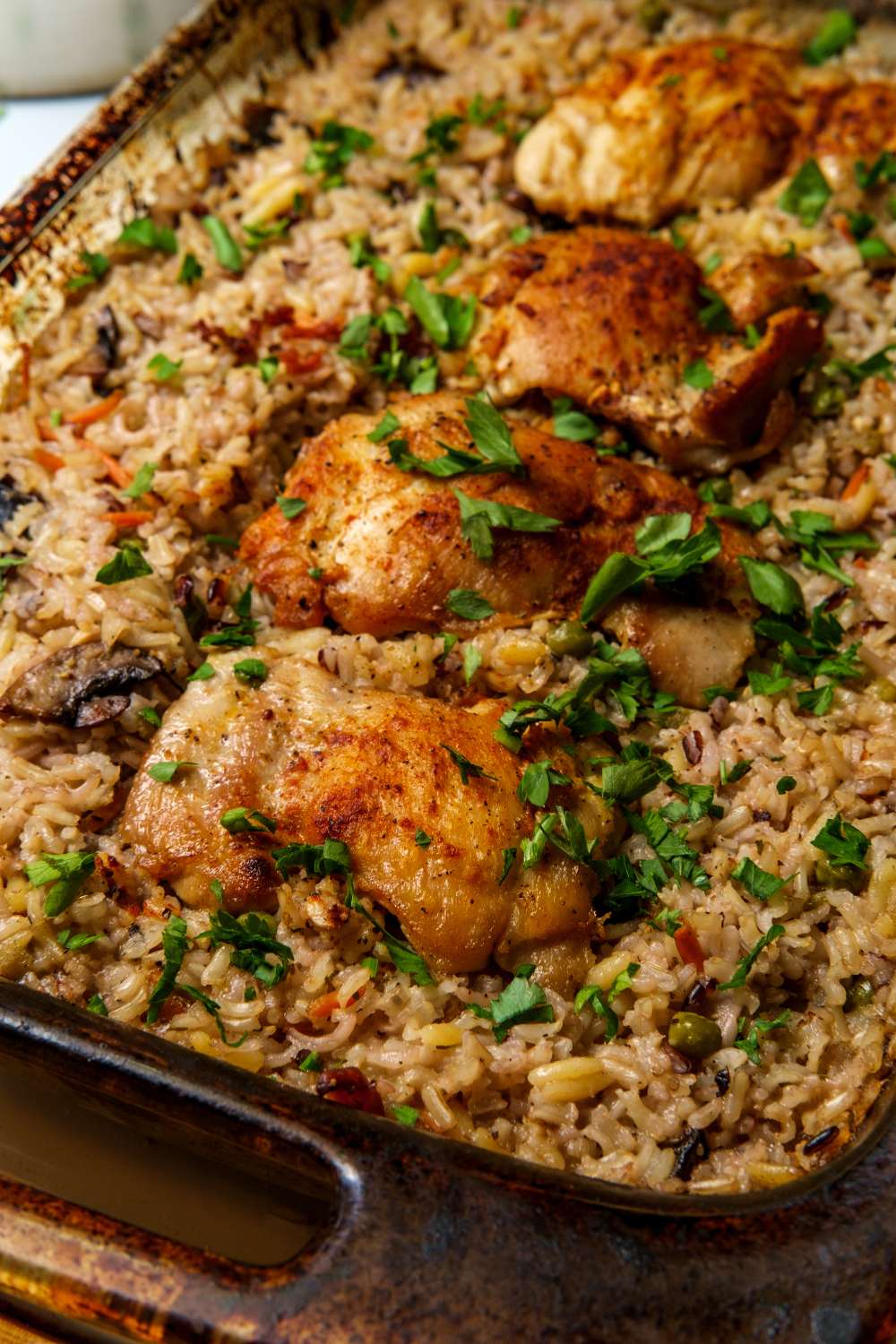 What Can I Substitute For Cream Of Chicken Soup?
If you're looking for a substitute for cream of chicken soup, there are a few options that can work well in these recipes. Here are five alternatives to try:
Bechamel Sauce: Made with milk, butter, and flour, this white sauce is a great substitute for the cream of chicken soup. It's easy to make and can be flavored with herbs or spices.
Coconut Milk: For a dairy-free option, try using coconut milk in place of the cream of chicken soup. It adds a subtle coconut flavor and creamy texture to dishes.
Greek Yogurt: Thick and tangy Greek yogurt can add creaminess to chicken dishes without the added fat of the cream of chicken soup. Just whisk in some chicken broth to thin it out.
Mushroom Soup: Cream of mushroom soup is a classic substitute for cream of chicken soup. It adds a rich, savory flavor to dishes.
Roux: A simple mixture of flour and butter, roux can be used to thicken sauces and soups. It's a good option if you want to control the thickness and flavor of your sauce.
15 Chicken Recipes With Cream Of Chicken Soup
Here are 15 delicious ways to use cream of chicken soup in your cooking, and prepare to be comforted:
This recipe for Chicken Rice Casserole is the ideal comfort meal, and it will take your taste senses on an adventure that is flavorful and satisfying. Diced chicken is combined with sour cream, milk, and a savory soup mixture that includes cream of onion, cream of mushroom, and cream of chicken soups.
The dish's uncooked minute rice component gives it a satisfying crunch. This casserole is a wonderful dish that can be enjoyed any day of the week after being baked to a beautiful brown. For added color and taste, toss in some chopped parsley.
Prepare to enjoy this warm and reassuring Chicken Tetrazzini recipe that is certain to fulfill any desires you may have. To make this silky sauce, we sauté thinly sliced mushrooms in butter, then add chicken stock, cream of mushroom soup, and cream of chicken soup.
For more taste and texture, sour cream and shredded roasted chicken are used. Al dente spaghetti is tossed with the meat sauce, and then the whole thing is covered with bread crumbs, mozzarella cheese, and Italian seasoning before being baked to a golden brown.
With cooked and shredded chicken, cream of chicken soup, green chilies, sour cream, salt, and pepper creating a delectable filling, these Sour Cream Chicken Enchiladas are a flavor explosion in every mouthful. The chicken filling is folded up in soft taco shells and then topped with more filling and shredded Colby jack cheese.
This dish is the epitome of comfort food when baked until the cheese is melted and the enchiladas are hot and wonderful, and it's finished with a dash of fresh, vivid flavor from chopped cilantro.
You can't get more comforting than this slow cooker chicken and dumplings with canned biscuits. Slowly simmered in a savory mixture of cream of chicken soup, cream of celery soup, dried parsley, thyme, poultry seasoning, salt, and pepper, boneless, skinless chicken breasts are cooked with onions, peas, and carrots.
The biscuits are poured on top of the sauce after four hours of simmering and then baked for another hour until they are soft and fluffy. With biscuits that lend just the right amount of crunch to every taste and chicken that almost falls apart in your hands, this is the ideal meal to warm your spirit on a chilly winter day.
This recipe for chicken stroganoff in a slow cooker is simple and tasty. Slow-cooked for several hours in butter and white wine, the savory foundation is made from bite-sized chicken pieces and chopped onions seasoned with a packet of Italian salad dressing mix.
The chicken is enhanced with a lovely white sauce prepared from cream cheese, garlic, flour, chicken stock, and milk and poured into the crock pot. Served with hot egg noodles, fresh parsley, and a dollop of sour cream for contrast, this savory stroganoff is ideal for a romantic dinner for two or a night with the family.
The Smothered Chicken and Rice recipe is a hearty and filling dish that will leave you feeling satisfied long after you've finished eating. Chicken thighs are fried in olive oil and seasoned with mustard powder, paprika, onion powder, salt, and pepper. A rich and creamy sauce is made with sauteed onion and garlic, sliced mushrooms, and a combination of cream of mushroom soup, condensed cream of chicken soup, and milk.
Baked until golden and bubbling, the dish's brown rice base offers a substantial foundation for the chicken and sauce. Add a burst of flavor and aroma by sprinkling on some dried parsley. This dish may be served as a weeknight supper or frozen for later use.
This Green Chili Chicken Casserole is a delicious and easy casserole to make. A delightfully creamy and somewhat spicy combination is made by combining shredded chicken with chopped green chiles, cream of chicken soup, sour cream, milk, garlic powder, and cumin.
Cheddar cheese is then sprinkled on top of the dish before it is cooked. You may add fresh cilantro as a garnish once it has cooled for a while. This recipe is great for any occasion since it can be served with rice, beans, or tortillas.
Comfort and ease come together in this Simple Creamy Chicken Bake Recipe using Cream of Chicken. Baked with sun-dried tomatoes and garlic for extra depth of flavor, the chicken breasts are coated with a combination of Italian spice, paprika, and pepper.
The chicken is topped with a thick and creamy sauce made from a combination of condensed cream of chicken soup and parmesan cheese. The addition of fresh spinach gives the sauce a nutritious and colorful boost. This quick and simple dish, enhanced by a sprinkle of fresh parsley and fiery red pepper flakes, is ideal for both weekday dinners and special occasions.
A rich and creamy casserole that will warm you up from the inside out, this Chicken Noodle Casserole has egg noodles, chicken, cream of chicken soup, milk, cheese, peas and carrots, garlic powder, onion powder, salt, and pepper.
This casserole requires just three steps: prepare the egg noodles, mix together all the ingredients, and bake in a preheated oven until cooked through, making it ideal for a midweek supper. Sprinkle some chopped parsley on top for some brightness and serve this hot; it will be a favorite with the whole family.
Warm, comforting, and easy to make, this Gnocchi Chicken & Dumplings dish is a perfect dinner option. Sauteed onions, celery, and carrots add a rich flavor to this creamy soup, which is made with Pacific Foods® Organic Free-Range Chicken Broth and Campbell's® Cream of Chicken Soup.
The Swanson® Premium White Chunk Chicken Breast is a perfect addition, and the soft and pillowy gnocchi makes this dish even more filling. Garnish with fresh parsley and black pepper, and savor the amazing flavors of this delightful meal.
Made with Pillsbury pie dough, shredded roasted chicken, and a package of frozen mixed vegetables, this chicken pot pie recipe is excellent for a night in. Sauté onions in melted butter until tender, then add Cream of Chicken Soup from Campbell's, water, and seasonings.
Throw in some frozen vegetables and chicken, let everything boil, and then spoon it all into a pie crust. Put on the top pie crust and bake until bubbling and golden. Comfort yourself with a hot slice of this homemade pot pie.
Yum Yum Chicken is a delicious, flavorful meal with a creamy texture. Unbaked cornbread stuffing is placed on top of a layer of chopped cooked chicken that has been drowned in a combination of sour cream, cream of chicken soup, and cream of celery soup.
Golden brown and bubbling, the dish is topped with a liberal sprinkling of melted butter and chicken stock. The end product is a hearty supper that's excellent for a night in. Share this tasty dish with your loved ones and savor every bite!
A healthful and soothing dish, Chicken Divan blends chicken with broccoli and a creamy sauce. A creamy sauce of low-fat milk, chicken broth, sour cream, and Dijon mustard covers tender rotisserie chicken and crisp broccoli florets.
The dish is finished off with a panko breadcrumb coating and a nice bake. This dinner, whether served as the main attraction or a side, will warm the hearts of your loved ones.
Delicious and simple, this Quick Lemon Chicken Potato Casserole is ideal for a midweek dinner. Boneless, skinless chicken breasts are layered with thinly sliced Yukon gold potatoes, garlic, and onions, and then doused in a creamy concoction made from condensed cream of mushroom or chicken soup and milk.
Thinly sliced lemons are then added as a garnish, giving the meal a fresh and tangy taste. This dish, after an hour in the oven, is warm and satisfying for the whole family. Garnish with fresh parsley or thyme for added taste and serve with your favorite green veggie.
If you want a quick and simple recipe for a warm and satisfying dinner, go no further than this Chicken Stuffing Bake. Tender boneless chicken breasts are cut into bite-sized pieces and covered with a savory condensed soup, fluffy stuffing mix, and flavorful chicken broth.
The end result is a satisfying dish, ideal for a cold night or a potluck. The warm, comforting scent of this Chicken Stuffing Bake will have you hooked before you've ever taken a taste.