Whether you're grilling, roasting, or sautéing your chicken, adding some fresh basil to the recipe is a great way to give it a new twist on taste.
Here are 15 of our favorite basil-centric chicken dishes, all of which can be prepared in under an hour.
These recipes, ranging from traditional Italian fare like chicken Parmesan to Asian-inspired stir-fries, can both satisfy your hunger and wow your dinner guests.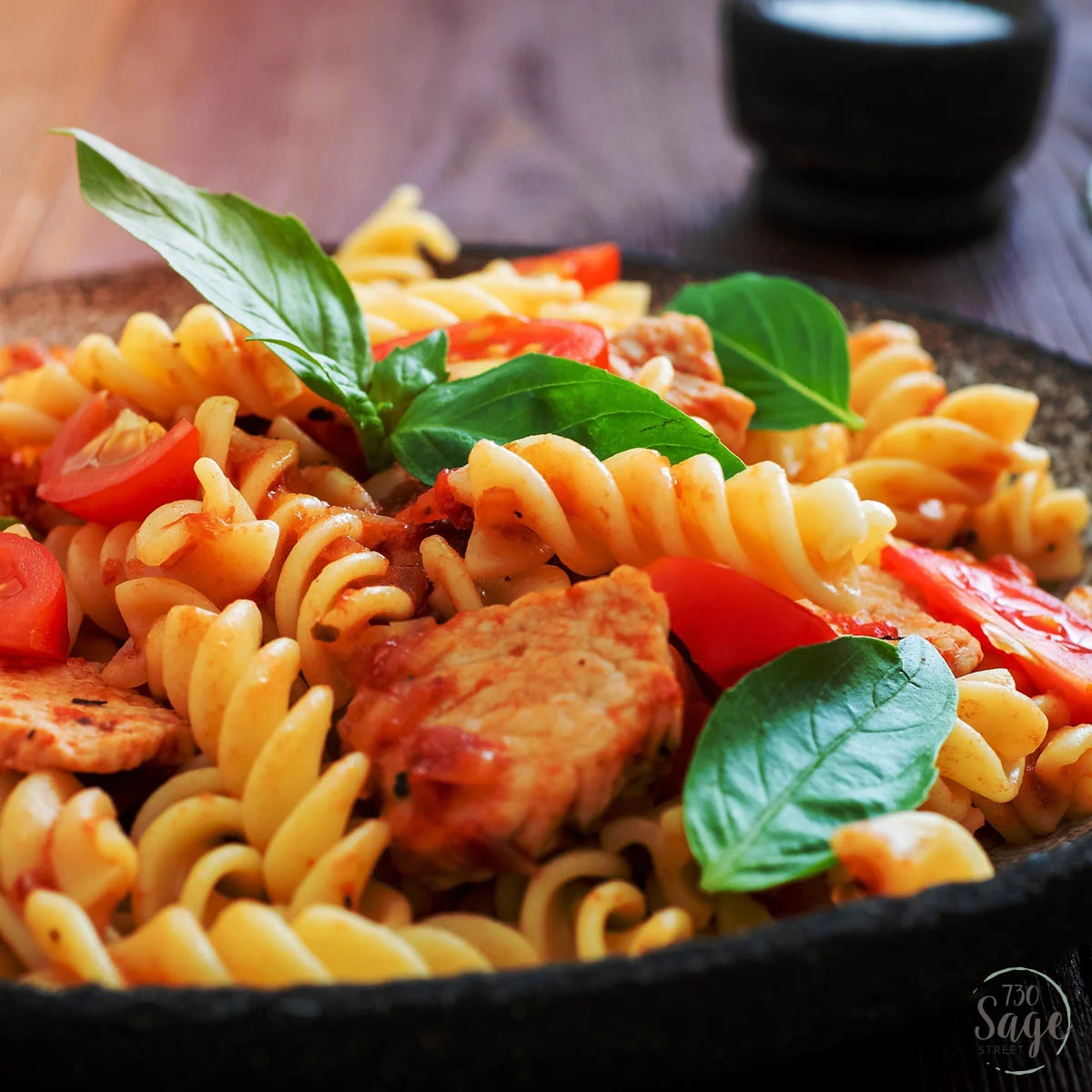 Can I Use Dried Basil Instead Of Fresh In These Recipes?
While fresh basil offers a more vibrant flavor, you can substitute dried basil if you're in a pinch. Dried basil has a more concentrated flavor, so use less than you would of fresh basil. Typically, a tablespoon of fresh basil can be replaced with one teaspoon of dried basil.
How Do I Prevent Basil From Turning Black When Cooking?
When cooking with basil, it's essential to add it at the end of the cooking process. This will help prevent it from turning black due to the heat. Another trick is to chiffonade the basil leaves before cooking.
This technique involves rolling the basil leaves into a tight cigar shape and slicing them into thin strips. The smaller pieces of basil will cook more evenly and are less likely to turn black. Additionally, be sure to store basil properly by wrapping it in a damp paper towel and storing it in the refrigerator for up to a week.
15 Chicken Recipes With Basil
Spice up your dinner routine with these 15 delicious chicken dishes with basil that are guaranteed to please a crowd:
Transport your taste buds to a Mediterranean paradise with these Triple Herb Chicken & Zucchini Skewers. The combination of fresh herbs like basil, parsley, scallions, and oregano in the marinade gives the chicken a burst of flavor.
The tender chicken breast, paired with the charred zucchini and red onion, makes for a delicious and healthy meal. The ribbons of zucchini not only add a pop of color but also a unique texture to the dish. A perfect option for a warm evening, these skewers are quick and easy to make.
Treat yourself to a restaurant-quality meal with this Creamy Parmesan Basil Chicken recipe. You'll love the tender and juicy chicken breasts, seared to perfection with a sprinkle of salt and pepper. The creamy and indulgent sauce, made with heavy cream, Parmesan cheese, and fresh basil, adds a burst of flavor to the dish.
The roasted red peppers and white wine add a tangy and savory twist, while the crushed red pepper flakes provide a bit of a kick. The dish comes together easily in just one skillet, making it a perfect option for a quick and easy weeknight meal.
Take a culinary trip to Thailand in just 15 minutes with this delicious Thai Basil Chicken recipe. Tender chicken is stir-fried until almost cooked, then tossed with a medley of vegetables like onions, peppers, and green beans.
The savory and sweet sauce made with oyster sauce, soy sauce, and brown sugar, adds a burst of flavor to the dish. The aromatic Thai basil leaves, with their unique flavor, lend a fresh and earthy taste to the dish. This recipe is perfect for a quick and easy weeknight dinner and can be served with steamed rice or noodles.
Add a zesty twist to your regular chicken recipe with this Lemon Herb Chicken. The chicken breasts are marinated with a flavorful combination of olive oil, lemon juice, honey, garlic, and a blend of herbs like basil, parsley, and oregano. The marinade infuses the chicken with a burst of tangy and savory flavors, making it juicy and delicious.
You can cook the chicken either on the stovetop or grill, both resulting in a nicely browned exterior and juicy interior. This versatile dish can be served in pasta, salad, wraps, sandwiches, pitas, and more. With minimal effort and maximum flavor, this Lemon Herb Chicken is sure to impress.
Caprese Chicken Breasts are a delicious way to enjoy a dinner with an Italian flavor. Chicken breasts are seasoned with Italian seasoning and kosher salt, then stuffed with mozzarella, Roma tomatoes, and basil pesto before being baked until the cheese melts and the chicken is cooked through.
When cooked, the filling melts and flows, releasing its rich cheese and making a satisfying meal. Grated Parmesan cheese amps up the cheesy flavor, while thinly sliced fresh basil provides brightness and aroma. Balsamic vinegar or a glaze may be poured over the chicken before serving to give it a unique flavor. Serve this dish with a salad or roasted vegetables for a warm and satisfying meal.
Get ready for a flavor explosion with these Sun-Dried Tomato & Basil Chicken Meatballs in Pesto! You'll love the combination of juicy ground chicken, zesty sun-dried tomatoes, and fragrant fresh basil all rolled up into tasty meatballs.
After baking the meatballs to golden perfection, top them off with a chunky pesto made with spinach, almonds, and pine nuts. Sautéed cherry tomatoes and onions complete the dish, adding a burst of sweetness to every bite. This delicious and healthful recipe is excellent for any night of the week. Serve it over spaghetti, zoodles, or on its own.
Basil Chicken Lettuce Wraps are a delicious and healthy option for a quick and easy meal. With ground chicken, zucchini, and peanuts cooked in a flavorful mix of hoisin sauce, soy sauce, sesame oil, and sriracha, these wraps are packed with bold flavors and textures.
Fresh basil, scallions, and bean sprouts add a pop of freshness and crunch. The mixture is served in lettuce cups for a low-carb option that is both tasty and satisfying. For an extra crispy crunch, add some fried vermicelli rice noodles on top.
Thai Basil Fried Rice is a fragrant and flavorful dish that will fill your mouth with authentic Thai aromas. Tender and juicy chicken breast pieces are stir-fried with fragrant garlic, chopped chili, and shallots.
The dish is then infused with the aroma of fresh Thai basil leaves, the sweetness of the oyster sauce and sugar, and the savory taste of soy sauce and fish sauce. Serve it hot with a crispy fried egg on top, and garnish with cucumber slices, shallots, and lime wedges for a delicious and satisfying meal that's perfect for lunch or dinner.
You're in for a treat with this Easy Bruschetta Chicken recipe! First, dice up some fresh Roma tomatoes, mince some garlic, and mix them together with olive oil, balsamic vinegar, basil, salt, and pepper. Then, coat your chicken breasts with olive oil, Italian seasoning, garlic powder, salt, and pepper, and grill them until they're cooked through.
Once they're done, add a slice of mozzarella cheese to each piece and let it melt. Finally, top the chicken with the tomato basil mixture and a drizzle of balsamic glaze. The flavors in this dish will explode in your mouth and leave you craving more!
You can't go wrong with this mouthwatering recipe for Grilled Chicken Margherita. The chicken is grilled till tender and topped with a piece of melted mozzarella cheese before being seasoned with garlic powder and Italian spice.
Sprinkling in some fresh cherry tomato and basil salad amps up the taste, and the pesto provides a welcome bite. You'll be blown away by the harmony of tastes and textures. Make it for a special family meal or bring it to your next party. It's a dish that seems fancy but is really rather easy to prepare.
If you're in the mood for something fast and uncomplicated, try these chicken-pesto flatbread sandwiches. Shredded rotisserie chicken is slathered in a homemade basil-parsley pesto to create a delicious filling that goes well with baby arugula and fresh buffalo mozzarella.
Making pizza is as easy as rolling out dough, brushing it with olive oil, and baking it. Once the chicken and pesto mixture is ready, place it on the dough and top with mozzarella pieces. Put the sandwich back in the oven and wait for the cheese to melt to make a warm and melty snack. You may serve these sandwiches for lunch or supper to a large group.
This Creamy Basil Chicken Skillet is the perfect easy weeknight meal! Juicy chicken cutlets are seared to perfection, then smothered in a rich and creamy basil sauce. With tender broccoli florets as a side, this one-pan meal is both healthy and delicious.
The sauce is made with heavy cream, garlic, sun-dried tomatoes, and plenty of freshly grated parmesan cheese. A generous helping of chopped fresh basil adds a pop of freshness and flavor. You'll love the way the flavors of the sauce and chicken come together, making each bite irresistible.
Warm your heart and soothe your soul with this comforting tomato basil chicken stew. Made with shredded cooked chicken, vegetables, and cannellini beans, this dish is bursting with flavor and nutrition.
The stew is simmered in a rich tomato sauce with fragrant basil, garlic, and a hint of red pepper flakes. The result is a hearty and satisfying meal that is perfect for a chilly night. Serve with a sprinkle of freshly grated Parmesan cheese for an extra touch of savory goodness. You can also make this dish in a slow cooker for a hassle-free meal.
Try this Caprese Chicken Meatloaf if you're in need of a quick and simple meatloaf dish that the entire family will love. This meatloaf is packed with flavor thanks to the combination of ground chicken, luscious diced tomatoes, fresh basil, and diced mozzarella.
All you have to do is combine the ingredients, pat them into a rectangular shape, and bake them until the meat is fully cooked. A simple salad or roasted veggies on the side would round off this dish nicely. This meatloaf, inspired by the flavors of the popular Caprese salad, will quickly become a family favorite.
Prepare to indulge in a luscious and delectable pasta dish with the Creamy Chicken and Mushroom Pasta recipe! Tender chicken slices are seasoned with black pepper, paprika, and salt, then pan-seared until golden brown.
The mushrooms are sautéed with garlic and sun-dried tomatoes, then mixed with heavy cream, chicken broth, and cream cheese for a velvety sauce. Add in Parmesan cheese and spinach, and mix it all together with cooked pasta to create a luscious and satisfying meal. The finishing touch? Freshly chopped basil and grated Parmesan cheese on top.