You've got to try gnocchi, the Italian dumpling that's made with potatoes, flour, and eggs. It's so versatile and pairs perfectly with chicken in a ton of mouth-watering dishes.
All 15 of these gnocchi recipes with chicken are delicious, from those with rich sauces to those with spicy marinades.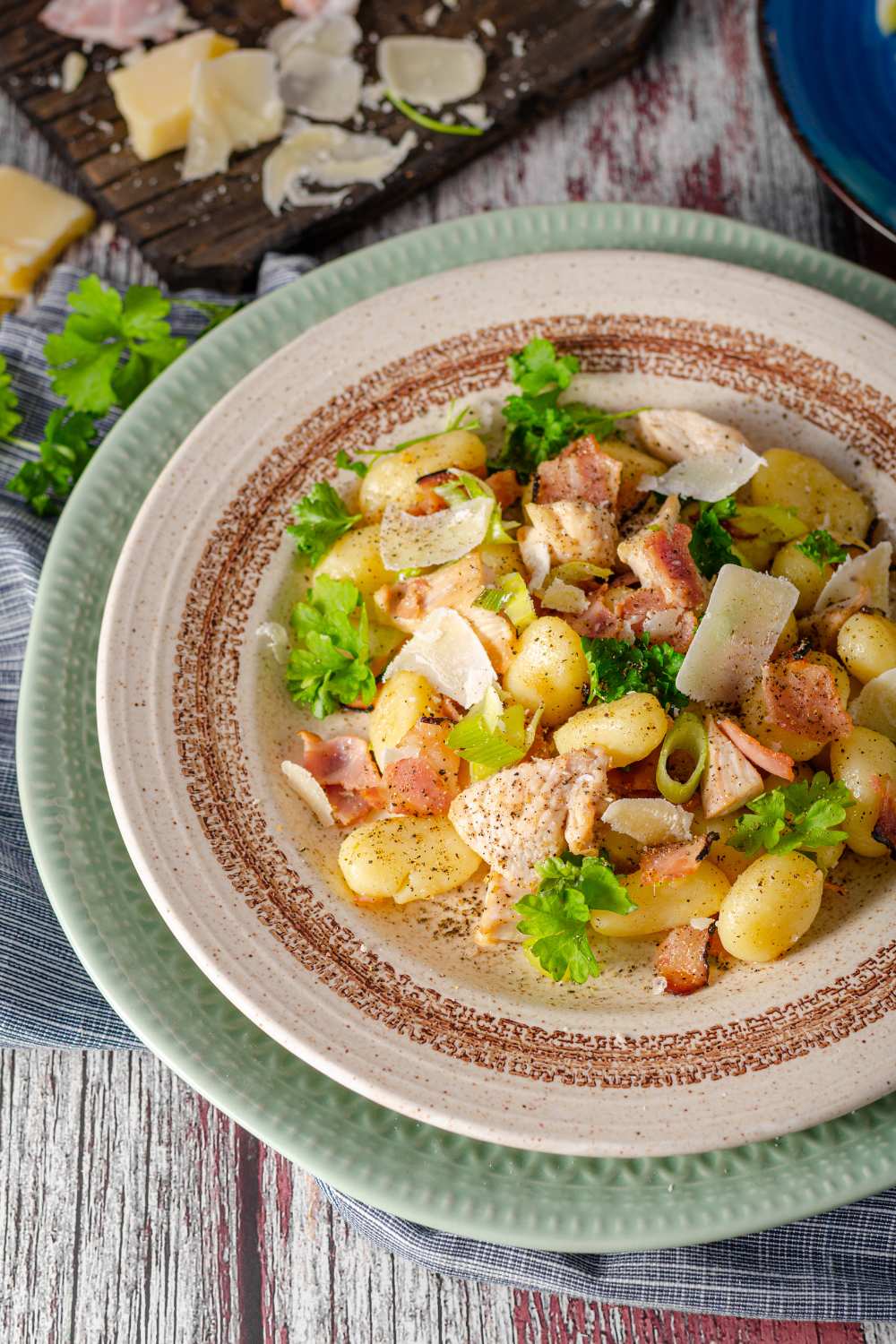 Can I Use Store-bought Gnocchi For These Recipes?
Yes, you can use store-bought gnocchi for these recipes. Here are 6 recommended brands, each with its own unique benefits and considerations:
DeLallo: Made with just potato and durum wheat flour, DeLallo's gnocchi has a light, fluffy texture and delicate potato flavor. Its high-quality ingredients and artisanal production method make it pricier than some other store-bought options, but well worth the splurge for a special occasion.
Gia Russa: This brand's gnocchi is made with potato and enriched wheat flour, giving it a chewy texture and mild flavor. Its affordable price point makes it a great choice for weeknight meals when you don't want to spend too much.
Trader Joe's: It has a dense, slightly gummy texture. While it's not the most authentic-tasting gnocchi, it's a good budget-friendly option that still delivers on flavor.
Giovanni Rana: Made with potato and wheat flour, these little guys have a tender, pillowy texture and a subtle potato flavor. It's a bit pricier than some other store-bought brands, but its high-quality ingredients and artisanal production method make it worth the investment.
Barilla: Barilla's gnocchi is made with potato and wheat flour, and has a slightly firmer texture than some other brands. Its affordable price point and wide availability make it a popular choice, but some may find the texture a bit doughy.
Colavita: Gnocchi from Colavita has a rich, chewy texture and mild potato taste since it is made with both potato and wheat flour. Its reasonable price point and wide availability make it a good option for those on a budget, but some may prefer lighter, fluffier gnocchi.
15 Gnocchi Recipes With Chicken
If you're looking for a way to spice up your usual chicken meals, try one of these 15 gnocchi recipes with chicken instead:
Get ready to indulge in a burst of citrusy flavors with this Lemon Chicken Gnocchi recipe! Seasoned chicken cutlets are seared to perfection and then smothered in a luscious lemon cream sauce with tender potato gnocchi.
The creamy sauce gets a lovely kick from the tangy lemon juice and is generously infused with garlic and parmesan cheese for added depth of flavor. Fresh baby spinach adds a pop of greenery and a healthy crunch to the dish. Perfectly balanced and comforting, this dish is sure to make you feel like you're dining in a fancy Italian restaurant.
Olive Garden's Chicken Gnocchi Soup will make you feel all warm and fuzzy inside. The tender chicken is submerged in a broth that is both earthy and sweet with the addition of carrots and celery.
The gnocchi is fluffy and light, and the spinach adds a nice crunch. Like a warm embrace on a cold day, this soup is wonderful to share with loved ones or enjoyed alone. Get cozy with a bowl and let the aromas and tastes take you away.
If you're in the mood for something warm and rich, try this recipe for creamy chicken gnocchi. Using a combination of butter, garlic, and sundried tomatoes, chicken thighs are cooked till tender and then seasoned with Italian spice and sweet paprika.
Fresh spinach provides color and nutrients, while potato gnocchi rounds out the dish with a satisfyingly meaty texture. Put the finishing touches on a dish that will have you licking your plate clean by adding a liberal amount of heavy cream and freshly grated Parmesan cheese.
Prepare to have your taste buds excited over this luscious Chicken Alfredo Gnocchi Bake. Gnocchi prepared from potatoes is paired with chicken and a rich cream sauce made from cream cheese, heavy cream, and chicken stock.
The gnocchi, chicken, and sauce are combined before being baked with mozzarella and parmesan cheese. The end product is a hearty and satisfying supper that can be enjoyed at any time of year. To enhance the taste, sprinkle some salt and pepper over it.
Welcome to the comforting and irresistible world of Crack Chicken Gnocchi! This dish is a creamy and dreamy combination of tender chicken, crispy bacon, and fluffy potato gnocchi, all swimming in a velvety sauce made with low-sodium chicken stock, laughing cow cheese, and aromatic herbs and spices.
The finishing touch of melted cheddar cheese and golden bacon crumbles makes each bite an explosion of flavor and texture. Don't forget to sprinkle some fresh parsley or chives on top for a pop of color and freshness. This dish is perfect for a cozy night in or a dinner party with friends.
Get cozy with this recipe for Creamy Spinach Chicken Gnocchi. Chicken thighs are cooked till tender and golden brown, and then served with gnocchi made from potatoes and baby spinach for added nutrition.
The rich taste of this meal is complemented by the velvety sauce, which is scented with garlic and Italian spice. It will only take you 25 minutes to prepare this delicious lunch that only requires one pan. Indulge in its thick, creamy texture as part of a hearty lunch or supper on a cold day.
Prepare to get all your hunger pangs satiated with a delicious and hearty meal. Soft and airy gnocchi, along with the acidity of sun-dried tomatoes and the smoothness of half-and-half, are the stars of One Skillet Sun Dried Tomato Chicken & Gnocchi.
Adding some shredded chicken and baby spinach will take this recipe to the next level, making it a great choice for a weeknight meal. Every mouthful is a flavor explosion because of the freshly grated Asiago cheese that is sprinkled on top. This dish is perfect for those times when you don't have much time to cook, thanks to its ease and deliciousness.
This chicken gnocchi recipe is just what you need if you're in the mood for a rich and satisfying meal with a pleasantly tart and fresh twist. Chicken and gnocchi are doused in a creamy lemon and caper sauce that also has capers, baby spinach, and a sprinkle of Parmesan.
The end result is a meal that can be enjoyed in any season since it is both warming and cooling. Make this meal in just 30 minutes to bring authentic Italian taste into your own kitchen.
Inspired by Ryan Scott's Top Chef redo, this chicken and gnocchi meal is sure to please. The soft and fluffy gnocchi, made with grated Parmesan and nutmeg, pairs perfectly with the juicy chicken breasts, coated in a crispy layer of flour.
The garlic, lemon juice, and capers in the sauce give it a tangy and savory taste, which is perfectly balanced by the richness of the butter. Finish it off with a sprinkle of Parmesan and parsley for an extra touch of deliciousness. This recipe is a must-try for anyone looking for a comforting and satisfying meal.
This Pesto Gnocchi with Chicken recipe is bursting with fresh flavors and textures that will leave you wanting more. The homemade pesto sauce made with basil, pine nuts, Parmesan cheese, and fresh lemon juice creates a tangy and nutty sauce that perfectly complements the tender and juicy chicken breast.
The gnocchi, cooked to perfection in a creamy sauce with juicy cherry tomatoes and onions, adds a soft and fluffy texture to this delightful dish. It is also a great source of protein and nutrients, making it a healthy meal for you and your loved ones.
This Italian Chicken Gnocchi Recipe is a delicious and easy-to-make meal that's perfect for any night of the week. The soft potato gnocchi is combined with savory apple chicken sausage, fresh spinach, and creamy parmesan sauce for a comforting and satisfying dish.
The sauce is made with heavy whipping cream, butter, garlic, and flour, which are slowly whisked together to create a smooth and velvety texture. With the addition of spinach, the dish becomes a healthy and flavorful option that's sure to please everyone. Enjoy this restaurant-quality meal in the comfort of your own home!
Delightful Gnocchi with Chicken, Green Beans, and Feta recipe! The tender and juicy chicken is seasoned with garlic and oregano and then cooked to perfection in a creamy sauce.
The soft and fluffy gnocchi pairs perfectly with the crisp green beans and sweet peas, providing a burst of freshness with every bite. The crumbled Canadian Feta adds a tangy kick and the fresh mint brings an herbaceous note to the dish. This recipe is easy to make and packed with flavors that will impress your taste buds.
This Chicken Parmesan Gnocchi Skillet is the ultimate comfort food! Juicy and tender chicken pieces and soft, pillowy gnocchi are coated in a rich and flavorful marinara sauce, then topped with melty Parmesan and mozzarella cheese.
The gnocchi is pan-fried to golden perfection before being simmered in a savory chicken broth, giving it an irresistible crispy texture. This skillet dinner is easy to make and perfect for busy weeknights when you want a comforting and delicious meal. Plus, it's a great way to use up any leftover chicken or gnocchi you might have on hand!
This dish of creamy Tuscan chicken and gnocchi is sure to fulfill your hunger. Chicken breasts are seasoned with garlic, onion, and smoky paprika before being slow-cooked in a sauce of heavy cream and chicken broth with sun-dried tomatoes, shallots, and garlic.
The dish's centerpiece is the airy potato gnocchi, which picks up all the wonderful aromas from the pan. The recipe gets a salty flavor with grated Parmesan cheese and a splash of green from chopped baby spinach.
On a chilly winter day, warm up with a bowl of this Creamy Garlic Chicken Gnocchi Soup. This comforting soup is brimming with savory flavors and satisfying textures. In a rich and creamy garlic-infused broth seasoned with thyme, basil, oregano, and parsley, soft potato gnocchi, savory shredded chicken, and greens float.
You can't go wrong with this soup, especially when you top it with freshly grated Parmesan cheese. In addition, it can be prepared quickly and is great for meal prepping or simple evening supper. Despite its velvety texture, this soup is filled with healthy, all-natural ingredients.