Not all knives are created equal. I know because I have spent my past being afraid of them. This fear can pose potentially dangerous consequences when cooking.
Most knives don't feel right in my hand. When I prepare foods I am always afraid I am going to cut myself because the knife just isn't a natural fit. It's hard enough to learn how to hold the knife and the food for safety, when the knife is awkward, my confidence suffers which leaves me more open for injury.
For the first time ever, I am finding that I am no longer afraid to prepare food with knives thanks to the Chicago Cutlery DesignPro Knives.
If you recall, I had previously mentioned that I am a Chicago Cutlery Ambassador and was sent an assortment of knives to test out. You can read my past articles here: I'm a Chicago Cutlery Mom Ambassador! and Restaurant Style Salsa Recipe & Chicago Cutlery #giveaway.
I have since had more time to use the knives and I am really growing attached to them.
Before I show you my video demo, I wanted to give you a little more information about the knives themselves. You can read more information on the Chicago Cutlery website, and below is a graphic from the site that explains the benefits of the knives and how to to hold them properly.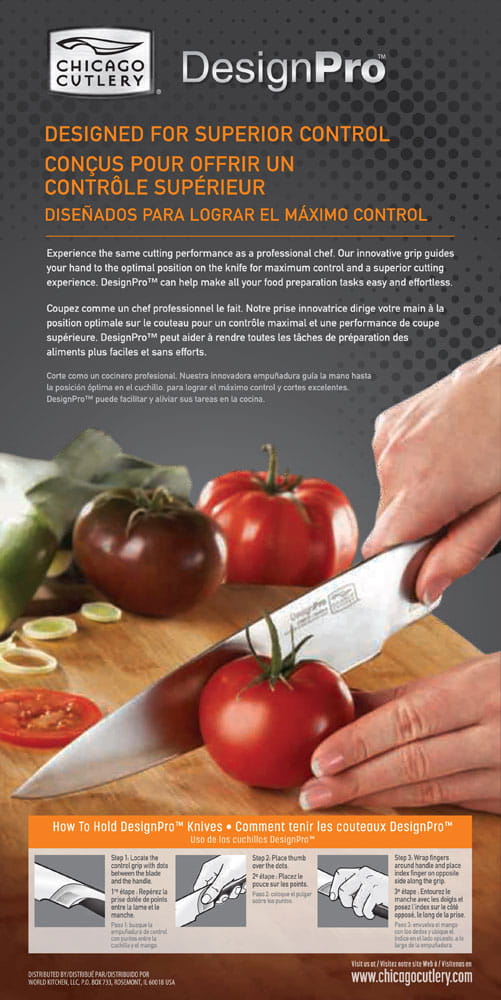 You will hear in the video below that I am still a novice when it comes to cutting foods in the kitchen, but the DesignPro knives really are helping build my confidence.
Take a look.
"I wrote this review while participating in a Brand Ambassador Campaign by Mom Central Consulting on behalf of Chicago Cutlery and received products to facilitate my post and a promotional item to thank me for taking the time to participate."
Join our newsletter!
Subscribe to get updates and great stuff via email including subscriber-only goodies like free printables and giveaways.