Zucchini is considered a bumper crop this year. It is abundant, which is clearly evidenced by the 7 we have sitting in our fridge, and the  at least 5 we already ate. But there is only so much you can do with zucchini before you get tired of it.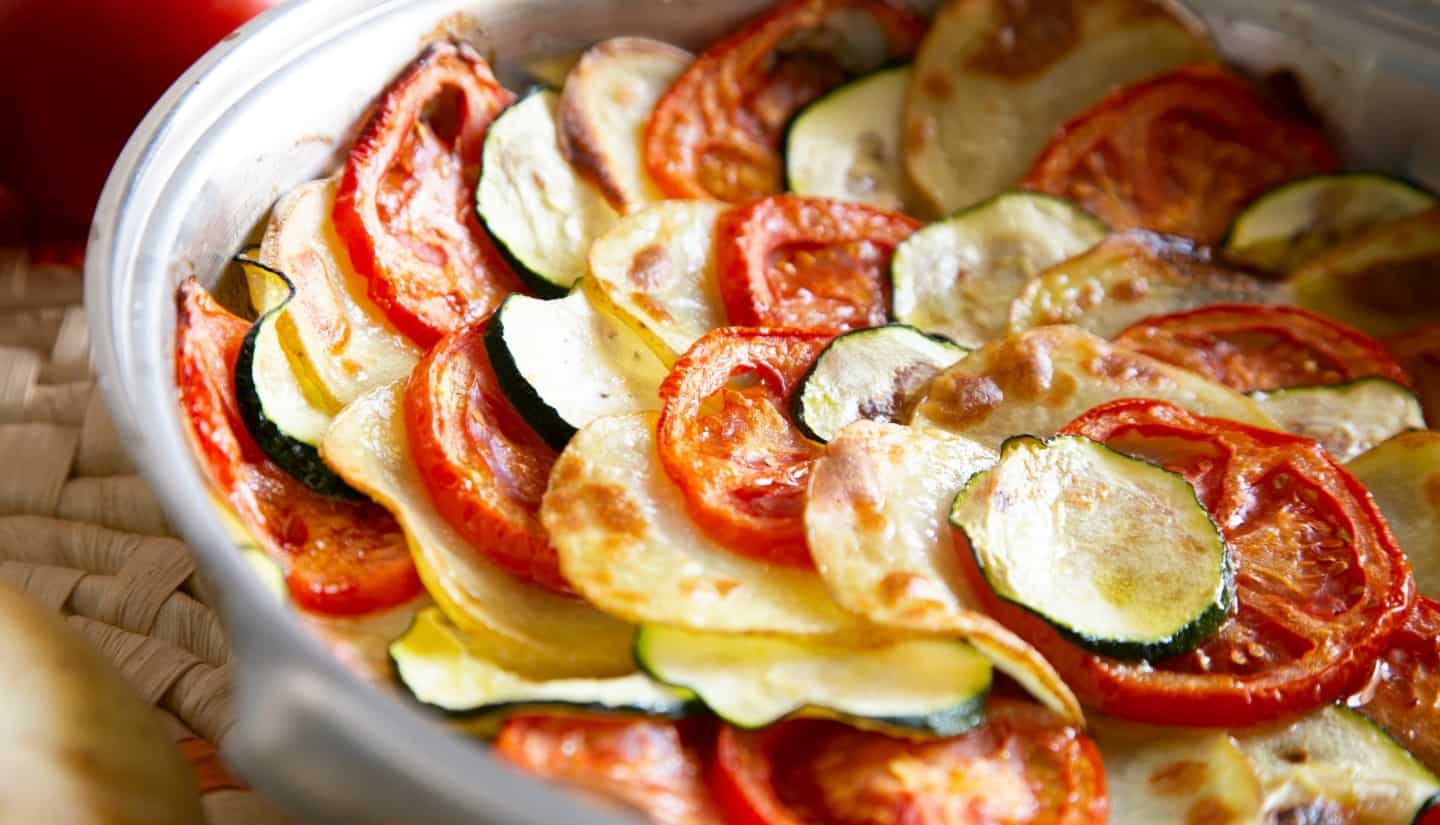 I refuse to let it go to waste, however, and the zucchini bread I made was a bust.
So.
I happened upon a recipe that sounded yummy and had other vegetables in it so it would be easier to "sell" it to my kids when I served it.
Cheesy Vegetable Skillet

Ingredients:

For the bottom of the pan:

2-3 tablespoon extra-virgin olive oil
2 tablespoon minced onions
1 tablespoon minced garlic
1 teaspoon dried thyme
½ teaspoon sea salt

For the veggies:

1 zucchini
1 large potato
2 medium tomatoes
1-½ tablespoon extra virgin olive oil
¼ teaspoon dried thyme
¼ teaspoon sea salt
¼ teaspoon black pepper
½ – ¾ cup grated Parmesan or Romano cheese

Instructions:

Preheat oven to 375 degrees
Slice zucchini, potato and tomatoes into round thin slices
For bottom of pan: Heat oil in a medium sized cast iron skillet on medium heat. Add minced onions, salt, minced garlic and thyme and cook for a minute. Remove from heat. Spread onion/oil mixture evenly across bottom of skillet.
For the veggies: layer the veggies in a circle around the pan, alternating between each of the 3 kinds. You should be able to get an outer ring and inner ring of veggies. Drizzle olive oil evenly over veggies and then sprinkle thyme, salt and pepper over them. Add cheese on top and cover with foil.
Bake 30 minutes, remove foil and bake for another 15-25 minutes until veggies are soft and bubbly.
This was soooo good.  The seasonings were just right and the vegetables were tender and delicious.  My husband and I ate almost the whole thing between us, the kids each had one of each type of veggie and we shared the rest.  I plan on making this a few times a week until the zucchini is gone, and I hope to experiment with other veggies as well.
Note: prep time is around 15 minutes, cook time 50 minutes and serves 4.  Recipe inspired by: https://deliciouslyorganic.net/vegetable-tian/