When mixed with cream cheese in cheesecake recipes, sour cream gives a creamy texture with a faint tang that is perfect for cutting through the richness of the cheese.
Whether you're craving traditional New York cheesecake or something a little more luxurious like chocolate cheesecake, we've got you covered with this collection of 15 delicious cheesecake recipes made with sour cream.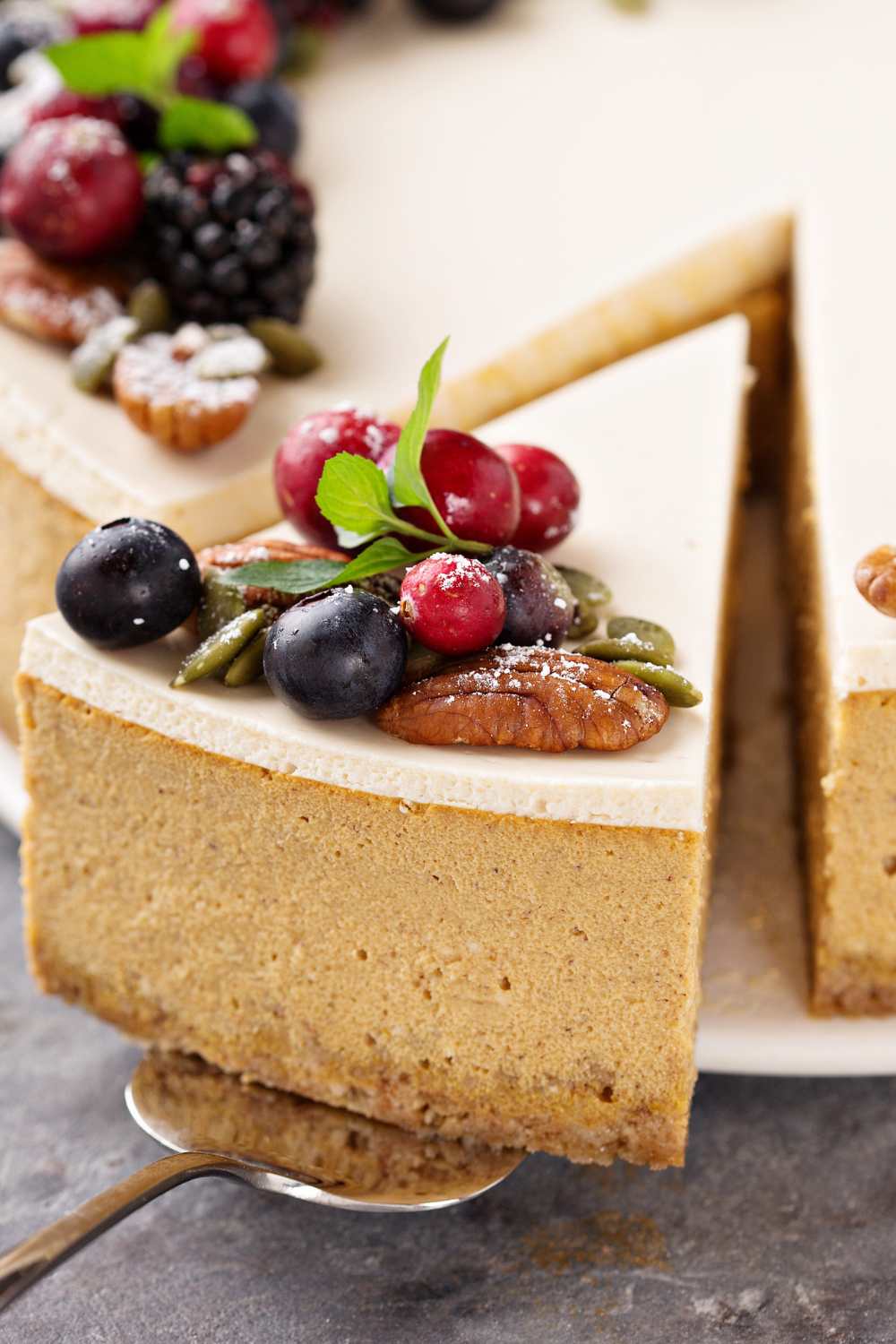 What Makes Cheesecakes With Sour Cream Different From Regular Cheesecakes?
Cheesecakes made with sour cream have a creamier texture and tangy flavor compared to regular cheesecakes. The addition of sour cream gives the cheesecake a smooth and velvety texture that melts in your mouth. The tanginess of the sour cream also balances out the sweetness of the cheesecake, making it a popular choice for dessert lovers.
Can I Use Low-fat Sour Cream In These Recipes?
Yes, you can use low-fat sour cream in these cheesecake recipes. However, keep in mind that the texture and taste may differ slightly compared to regular sour cream. Low-fat sour cream contains less fat and may not provide the same level of creaminess and tanginess as regular sour cream. If you prefer a richer and tangier taste, it's best to stick with regular sour cream. But if you're looking for a healthier option, low-fat sour cream can still work well in these recipes.
15 Cheesecake Recipes With Sour Cream
There's something for everyone among these 15 sour cream cheesecake recipes, which range from traditional New York-style to creative takes using fresh fruits:
Indulge in the creamy richness of White Chocolate Raspberry Cheesecake, a perfect dessert to impress your guests or indulge yourself. The graham cracker crust forms a crunchy base that complements the smooth and velvety texture of the cheesecake.
The sweet-tart raspberry fruit spread adds a fruity burst of flavor, while the chunks of white chocolate scattered throughout the cake give it a subtle sweetness. Top it off with a generous dollop of whipped cream and fresh raspberries for a decadent finish. Trust us, this cheesecake will be a show-stopper at any gathering.
This classic cheesecake recipe with sour cream topping is a dessert that never goes out of style. The crust is made from a blend of graham cracker crumbs, melted butter, powdered sugar, and allspice, providing a deliciously crunchy base for the creamy filling.
The filling is made with cream cheese, eggs, sugar, and vanilla, resulting in a rich and velvety texture that will melt in your mouth. The sour cream topping is the perfect finish, adding a tangy and sweet flavor that perfectly complements the cheesecake. Don't forget to chill the cheesecake overnight for the best results, and consider topping it with cherry pie filling for an extra touch of sweetness.
The rich tastes of chocolate and brown sugar in Brown Sugar & Chocolate Swirl Cheesecake are a wonderful match for the smooth and silky texture of cheesecake. The crunchy graham cracker crust is infused with cinnamon, adding a subtle warmth to each bite.
But that's not all – a generous drizzle of maple syrup and a sprinkle of chopped walnuts take this dessert to the next level. Whether enjoyed as a show-stopping dessert for a special occasion or as a delightful indulgence on a cozy night in, this cheesecake is sure to satisfy your sweet tooth cravings.
This delightful dessert combines the tangy flavors of lemon and raspberry into a creamy, smooth cheesecake. The crust is made with a buttery graham cracker crumb that provides a deliciously sweet contrast to the tart fruit flavors of the filling.
The raspberry swirls throughout the cheesecake create a beautiful, marbled effect that is sure to impress your guests. Whether you're celebrating a big event or simply want a sweet treat, this cheesecake will hit the spot. With its irresistible flavor and beautiful presentation, this Lemon Raspberry Swirl Cheesecake is sure to become a new favorite in your dessert repertoire.
Get ready to savor the perfect fall dessert with this pumpkin cheesecake recipe. The graham cracker crust is buttery and crunchy, providing a lovely contrast to the creamy, spiced filling. The addition of pumpkin puree adds a delightful richness to the cheesecake, while the sour cream topping provides a tangy balance.
This cheesecake is the perfect dessert to impress your guests at any fall gathering or to simply indulge in at home with a warm cup of coffee. Don't forget to chill the cheesecake overnight for the perfect texture and flavor.
Chocolate lovers, rejoice! This chocolate cheesecake is the ultimate dessert that you've been dreaming of. Featuring a luscious Oreo crust and a creamy filling made with cream cheese, sugar, and melted chocolate chips, this cheesecake is a decadent treat that's perfect for any occasion.
Be sure to follow the instructions carefully, including the water bath and cooling process, for a perfectly smooth and velvety texture that's simply irresistible.
Escape to a paradise of flavors with this Almond Joy Cheesecake. The crust is made of a heavenly blend of shredded coconut, toasted almonds, flour, cornstarch, and sweetened condensed milk, while the creamy filling is a decadent mix of cream cheese, sour cream, granulated sugar, eggs, and coconut cream.
The chopped Bounty candy bars throughout add a delightful crunch and the rich chocolate ganache on top makes this cheesecake a true masterpiece.
Take a break from traditional baked cheesecake and try this refreshing Key Lime No-Bake Cheesecake. The zesty flavors of key lime juice and lime zest perfectly complement the smooth and creamy filling made with cream cheese, sugar, and vanilla.
The graham cracker crust provides a delicious base for this no-bake dessert. Chill for a few hours and enjoy a slice topped with whipped cream for a tangy, tropical treat.
Treat yourself to a slice of heaven with this New York Cheesecake with Cherries! The recipe features a classic buttery cookie crumb base, creamy cheesecake filling, and a sweet cherry topping made from scratch.
Whether you're serving it at a dinner party or indulging in a slice all to yourself, this dessert is sure to be a crowd-pleaser. Plus, it's easy to make ahead of time and can be chilled overnight, allowing you to enjoy your time with loved ones instead of slaving away in the kitchen.
If you're a fan of fruity and creamy desserts, you'll love this Lemon Blueberry Cheesecake recipe. The crust is made with graham crackers, butter, and sugar and then baked until golden brown.
The cheesecake filling features cream cheese, eggs, sour cream, lemon zest, and fresh blueberries, which are coated in flour to prevent them from sinking. The cheesecake is baked in a water bath to ensure a smooth and crack-free finish. Chill in the fridge overnight and serve with fresh blueberries on top for a delicious and stunning presentation.
Creamy Cappuccino Cheesecake is the pinnacle of decadence, with its ideal blend of chocolate, coffee, and cream cheese. Made with a crust of chocolate cookie crumbs and a creamy filling of Philadelphia cream cheese, eggs, and sour cream, this cheesecake is elevated by the addition of instant coffee granules and coffee-flavored liqueur.
Melted semisweet chocolate gives it a smooth, velvety texture, while whipped cream flavored with coffee liqueur and confectioners' sugar adds a luscious finish. Serve with chocolate leaves and fresh blackberries to impress guests or savor it as a decadent treat for yourself.
Say hello to your new obsession, the Salted Caramel Cheesecake! With a buttery ladyfinger and pecan crust, and a creamy filling made with sour cream, cream cheese, and eggs, this cheesecake is elevated by the addition of homemade caramel sauce, giving it a perfect balance of sweetness and saltiness.
Don't skip the step of wrapping the springform pan in aluminum foil and baking it in a water bath to ensure a smooth and even texture. Serve this cheesecake chilled and topped with extra caramel sauce and a sprinkle of sea salt for a luxurious dessert that is sure to impress.
Enjoy a slice of heaven with this recipe for Banana Cream Cheesecake. The thick and creamy cheesecake filling offers a nice contrast to the Nilla Wafer shell, which is buttery and crumbly. Banana puree is used to flavor the filling, while sour cream is mixed in for a tart contrast.
The cheesecake's velvety consistency pairs well with the topping's airy fluffiness. This already decadent dessert is elevated to new heights with the addition of sliced bananas and drizzles of caramel or chocolate syrup. This Banana Cream Cheesecake will be the talk of the party if you serve it after dinner.
Treat yourself to the rich and creamy goodness of this Apple Crumble Cheesecake recipe. This dessert is an excellent way to end any meal, with its heavenly combination of flavors and textures. The cheesecake filling is ultra-smooth and silky, with the right amount of sweetness and tanginess from the sour cream.
The cinnamon-sugar-coated apples add a refreshing fruity taste and a pleasant crunch, while the crumble topping gives the dessert a satisfying texture. Each bite of this cheesecake is an explosion of flavors that will leave you wanting more.
Fall in love with the luxurious taste of this Maple Walnut Cheesecake recipe. The creamy cheesecake filling, made with full-fat cream cheese and sour cream, is smooth and velvety, with a subtle hint of maple and bourbon that adds a delightful depth of flavor.
The brown sugar walnut crust adds a perfect nutty crunch that perfectly complements the cheesecake filling. The maple walnut topping is a perfect balance of sweet and savory, with the richness of butter and the crunch of toasted walnuts. Serve this indulgent dessert chilled, with a cup of coffee or tea for a truly satisfying experience.