When I was in high school I used to watch the Sunday morning home improvement and real estate shows that were broadcast out of Chicago. I would watch Bob Vila fix up amazing old historical homes and check out high end condos for sale on the Gold Coast. I didn't realize it then, but my fascination with these shows would eventually drive my desire to go to Architecture school and my interest in Historic Preservation.
But, I also learned about Habitat for Humanity watching those Sunday morning shows and while I have never had the opportunity to work on a Habitat project, for me, being the Architect for a Habitat for Humanity home is one of my bucket list items. I dream of one day being able to volunteer my time to provide a safe, quality and affordable home for someone who needs and deserves it.
So much goes into a Habitat project. In addition to volunteers, there are other aspects of the process that make home ownership possible.
Whirlpool and Habitat for Humanity
For over 16 years, Whirlpool has partnered with Habitat for Humanity developing active programs in over 45 countries and committing over $90 million dollars. During that time, Whirpool has donated more than 168,000 ranges and refrigerators to Habitat which helped over 85,000 families. Whirpool also donates products to the Habitat ReStore which has helped raise millions of dollars.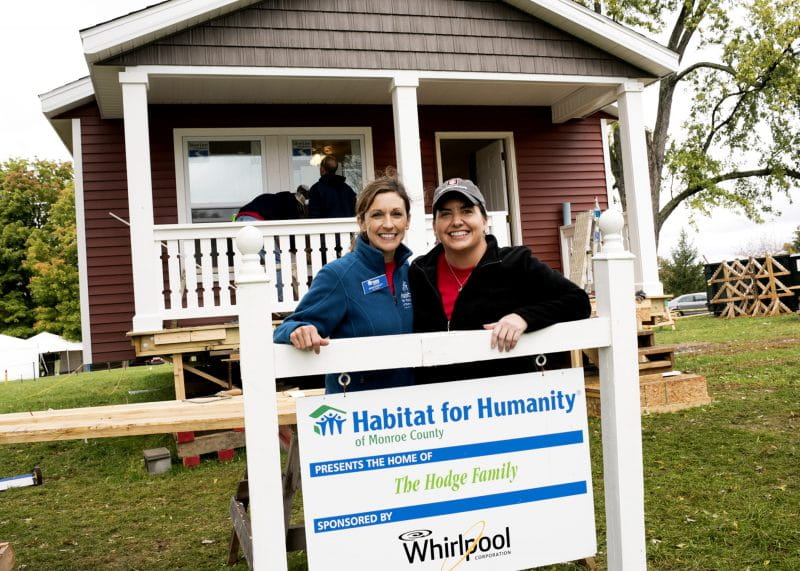 Whirpool believes that simple acts of care have the power to change the world!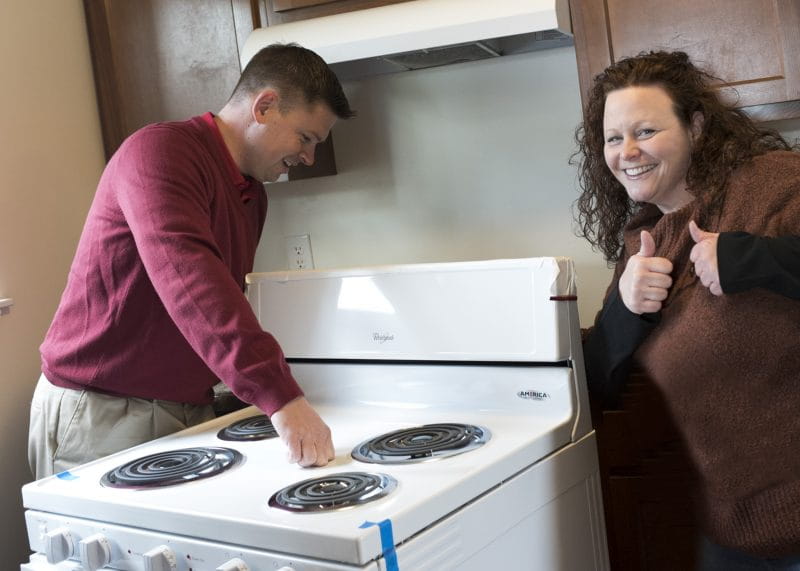 Imagine a needy family moving into their hard earned Habitat home for the first time and not having the appliances they need for their family. Imagine now, that their home is filled with brand new Whirlpool appliances!
In order to help recognize the partnership between Whirlpool and Habitat for Humanity, hhgregg has some great deals on new Whirlpool ranges, refrigerators and dishwashers. You can check them out online and in stores. I love the idea of providing a Whirlpool dishwasher to a family in need. In many ways this simple item so many of us use every day can seem like a luxury to someone who has never earned their own home. And the Whirlpool dishwasher sounds amazing!
Focused cleaning technologies like the TargetClean™ option help you stop soaking and scrubbing casserole dishes and brownie pans while Silverware Spray showers utensils to virtually eliminate rewashing. With an EZ-2-Lift™ adjustable upper rack, you'll be able to fit tall pitchers and other large items in the bottom rack with ease. And, this dishwasher cleans a lightly soiled load in half the time with the 1-Hour Wash cycle, so you have clean dishes when you're in a hurry.
#EveryDayCare
Habitat has a profound effect on communities but there are other ways to help in your local area that are just as important:
Helping a neighbor who can't afford to hire someone to fix something when you have the skills to do it.
Volunteering at your child's school.
Donating gently used items to your local church.
Providing gifts for needy families during the holidays.
Inviting a military hero to a holiday dinner.
Shopping a local small business even if it costs a little bit more.
And so much more.
My family and I believe in helping our neighbors. We believe in supporting each other, trading skills and turning to our local businesses first when we need something or need something done. We also believe strongly in donating to the local food pantry. No one should go hungry. Our kids love to help, especially when it comes to helping other children. Recently a young boy needed treatment for a disease and my daughter was asking us every day if she could bring more money in to donate. Of course we always gave her some and encouraged her desire to help someone else.
You too can get involved in helping Habitat for Humanity by joining Whirlpool in their mission.
The Every day, care Project from Whirlpool takes their dedication to helping families thrive to the streets. It empowers people to help share their simple acts of kindness so that they can be celebrated. Because the little things matter. The little things can change lives.
To join Whirlpool in their mission, share your Every day, care story on your social media channels.
What simple acts of caring have you done?
#EveryDayCare
Other ways to help:
Join our newsletter!
Subscribe to get updates and great stuff via email including subscriber-only goodies like free printables and giveaways.