Cauliflower, the versatile cruciferous vegetable, is a popular low-carb substitute for starchy ingredients. When combined with the irresistible gooeyness of cheese, it creates a delectable duo that satisfies even the pickiest eaters. From cauliflower mac and cheese to cheesy cauliflower fritters, these 15 cheesy cauliflower recipes are sure to please any cheese lover's palate.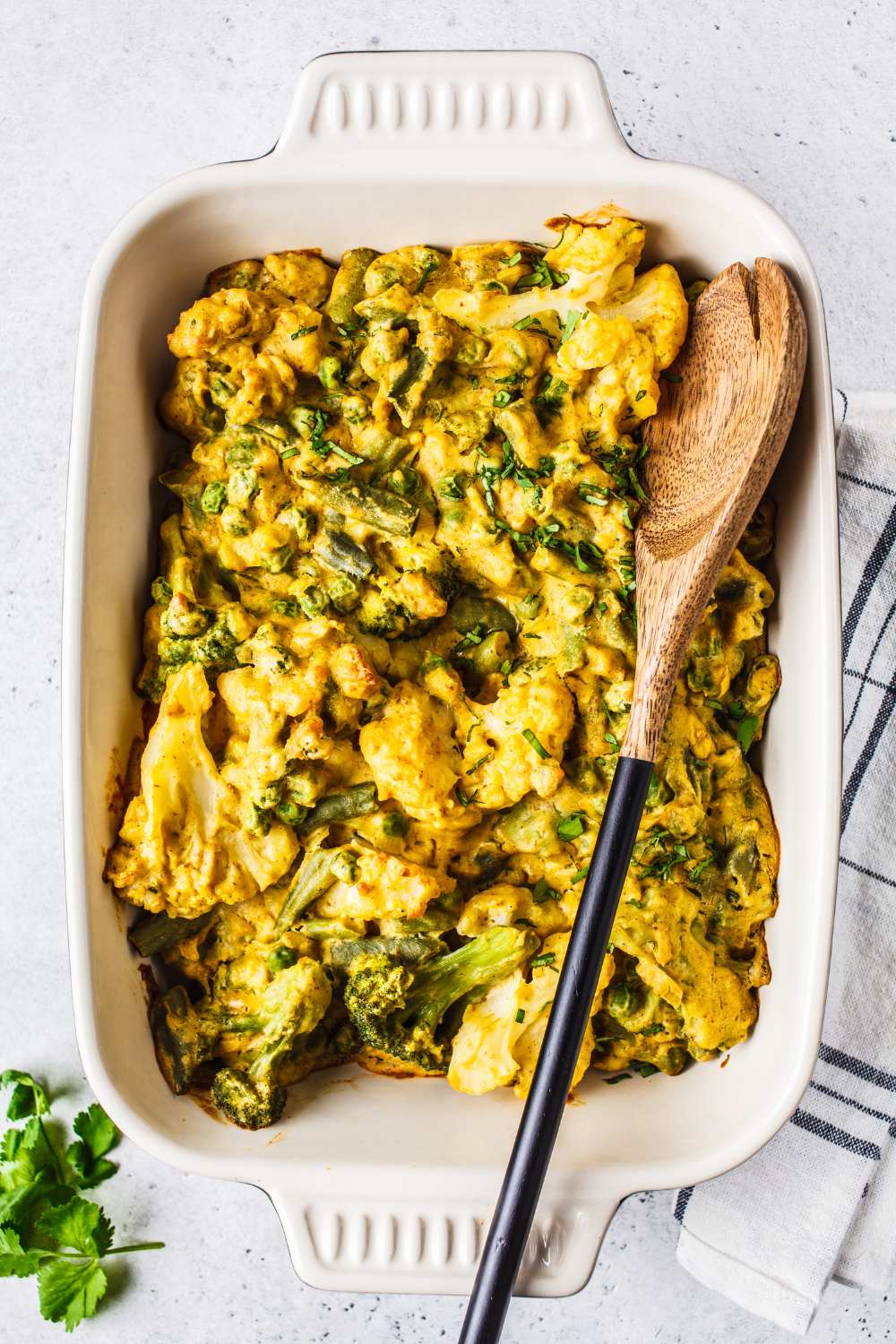 You'll love these 15 cauliflower dishes with cheese, from crispy calzones to creamy soups:
This Cheesy Cauliflower Bake is a creamy, savory dish that's perfect for a cozy night in. Chopped bacon adds a smoky flavor, while the combination of cheddar and parmesan cheese creates a rich, cheesy sauce that coats the tender cauliflower florets.
Sautéed onions and garlic add depth of flavor to the dish, while almond milk and flour create a silky, gluten-free sauce. Topped with chopped chives for a fresh burst of flavor, this bake is the ultimate comfort food. Bake it for 20 minutes and enjoy a hearty, delicious meal!
Loaded Cauliflower Steaks are the perfect meal for anyone looking for a hearty, filling vegetarian dish. This recipe takes cauliflower to the next level by cutting it into thick steaks and seasoning them with a blend of paprika, garlic powder, salt, and pepper.
Topped with crispy bacon, melted cheddar cheese, and fresh green onions, this dish is a flavor explosion that will leave you feeling satisfied and full. Serve it with a dollop of creamy sour cream and you'll have a dish that's perfect for any day of the week.
Crispy bacon and a combination of thyme, chili powder, and nutmeg give this Cauliflower Cheese Soup a salty crunch that complements the silky smoothness of the soup base and the rich, warm flavors imparted by the melted cheese.
The melted shredded cheddar cheese adds a delicious, cheesy flavor to the soup that will make you want more. You may eat this dish on its alone, or with some warm, crusty bread. Get comfy and enjoy a warm bowl of comfort food.
These Cauliflower Cheddar Fritters are the perfect solution if you're looking for a tasty and wholesome way to increase your vegetable intake. Using white cheddar cheese, panko bread crumbs, and a spice mixture, this recipe turns ordinary cauliflower florets into a delicious and crispy main course.
These fritters can be made in no time and are delicious as a snack or an appetizer. Top them up with sour cream, green onions, or minced parsley, and serve them hot. Get the stove going, grab a spatula, and get ready to devour some deliciousness!
Get excited to experience a fantastic twist on classic comfort food! This Cauliflower Mac & Cheese will make you feel warm and cozy like you're wrapped in a soft blanket on a chilly day. This dish takes the creamy, cheesy goodness of traditional mac and cheese and elevates it with tender, roasted cauliflower for a delightful, wholesome meal.
With the subtle kick of cayenne and a hint of Dijon mustard, your palate will dance with joy! Gather your family around the table and savor this lovely, heartwarming meal together.
Welcome to a world of scrumptious veggie tots that will have you and your loved ones craving more! Our Garlicky & Cheesy Carrots and Cauliflower Tots are the perfect way to introduce more vegetables to your meals without sacrificing flavor.
These crispy, golden nuggets are packed with the delightful combination of cauliflower, carrots, and two types of cheese, along with a medley of herbs and spices. Share the fun of making these irresistible tots together, and enjoy them as a snack or a delicious side dish. Don't forget your favorite dipping sauce to create a memorable dining experience!
Get ready for a delightful twist on a classic steak dinner with our Cheesy Cauliflower Steaks! These hearty "steaks" are a delightful way to enjoy a meatless meal packed with flavors that will leave you feeling satisfied. Brushed with a blend of olive oil, butter, and a mix of spices, these cauliflower steaks become even more irresistible when topped with a generous layer of parmesan and cheddar cheese.
The final touch of fresh cilantro adds a burst of color and a hint of earthiness. Serve these showstoppers as a main course or a scrumptious side dish and watch them disappear from the plate!
Unveil the deliciousness of this Garlicky and Cheesy Cauliflower Broccoli Bake, a warm and comforting dish that's perfect for any night of the week. This recipe combines two of our favorite veggies, broccoli, and cauliflower, with the savory flavors of garlic-infused olive oil and a creamy, cheesy sauce.
The vegetables are cooked to perfection, then smothered in a homemade cheddar cheese sauce with a touch of dijon mustard and smoked paprika. Topped with mozzarella and baked until bubbly and golden, this dish is a scrumptious, veggie-packed masterpiece that's sure to become a family favorite.
Introducing a delightful Cauliflower Quiche Crustless recipe that's perfect for a hearty brunch or a light, wholesome dinner. This savory dish combines earthy mushrooms, smoky bacon, tender zucchini, and cauliflower rice, all held together with a mixture of eggs and cheddar cheese.
The quiche is seasoned with salt, white pepper, and fresh parsley to bring out the delicious flavors of each ingredient. After baking to golden perfection, this crustless quiche is ready to be served and enjoyed.
These tasty and cheesy cauliflower bites are created with finely chopped cauliflower, sharp cheddar cheese, mozzarella cheese, breadcrumbs, and a mixture of spices including garlic powder, onion powder, and smoky paprika.
They are delicious whether pan-fried, baked, or air-fried, and make a great snack or starter. You may add some heat by dipping them in a combination of ranch dressing and buffalo sauce. These nibbles are so delicious, you'll forget you're really eating veggies.
This cheesy cauliflower breadsticks recipe by top LA blogger, Posh in Progress, is the perfect low-carb and gluten-free option for dinner. With just three simple ingredients, it's easy to whip up and packed with flavor.
Thaw the riced cauliflower bags, squeeze out as much water as possible, and combine with cheddar cheese, mozzarella, eggs, and spices. Spread the mixture onto a baking sheet and bake until golden brown. Flip and top with more cheese before returning to the oven until everything is melted and browned to perfection. Enjoy hot out of the oven for a delicious and satisfying meal.
Cauliflower rice pilaf is the perfect way to enjoy a healthy and flavorful side dish. Fragrant whole spices add a subtle warmth and depth of flavor to this dish, while turmeric powder gives it a vibrant golden color.
Chopped vegetables, including carrots, bell peppers, and snap peas, provide a satisfying crunch and complement the tender riced cauliflower. Finish with a squeeze of fresh lemon juice and a sprinkle of garam masala for a burst of tanginess and spice. This dish is perfect to serve as a side or even a light main meal.
This recipe of cheesy roasted cauliflower shells is excellent for those cold winter nights. The creamy and cheesy sauce coats soft pasta shells and roasted cauliflower in this flavorful entrée. The cauliflower takes on a richer taste and more satisfying texture after being roasted.
The nuttiness and chewiness of the whole wheat shells provide a welcome contrast to the smoothness of the cheese sauce. Parents and kids alike will enjoy this simple recipe. It's ideal for a relaxing evening, and you get to enjoy some additional vegetables.
On chilly winter days, a cup of this creamy cauliflower and potato soup is the perfect way to warm up. The use of chicken bouillon, garlic powder, and nutmeg contributes to the rich flavor of this soup. On the other hand, the use of frozen cauliflower and carrots makes the preparation of the soup much simpler.
To make the dish creamier and cheesier, a can of cream potato soup that has been condensed and shredded cheddar cheese is mixed in. The end result is a cheesy, comforting soup that will be a hit with every member of the family.
Buffalo cauliflower calzones are a delicious twist on traditional calzones. These calzones are stuffed with roasted cauliflower coated in a spicy buffalo sauce, ricotta cheese, and melted mozzarella cheese. The dough is rolled out, filled with the cauliflower mixture, and then baked until golden and crispy.
The buffalo sauce adds a spicy kick to the dish that is sure to please. These calzones are perfect for game day or a fun dinner with friends and family. Don't forget to sprinkle the breadcrumbs on top for added texture and flavor!
Can I Use Frozen Cauliflower For These Recipes?
Yes, frozen cauliflower can be used for most of these recipes. Just make sure to thaw and drain it well before using. It may require slight changes in cooking time or texture, but the taste should still be delicious.
Which Cheese Pairs Best With Cauliflower?
Cauliflower is a versatile vegetable that can pair well with a variety of cheeses. For a classic mac and cheese, cheddar is a popular choice, while Parmesan adds a salty depth of flavor to roasted cauliflower dishes.
Creamy ricotta and tangy goat cheese can also be used in dips and casseroles. Ultimately, the choice of cheese will depend on personal preference and the specific recipe being used.